Hawgsmoke 2016
The 47th Fighter Squadron continued where they left off in 2014 by winning Hawgsmoke 2016 and solidifying the unit as the bastion of the BMGR within the A-10 community.
Article by Steven Valinski
Photos by Isaac Lebowitz and Steven Valinski
June 19, 2016
Hawgsmoke 2016 concluded June 4, 2016 with the host team, the 47th Fighter Squadron (47 FS), capturing another Colonel Al "Mud" Moore Trophy for top overall team. The previous Hawgsmoke competition, in 2014, was also won by the 47 FS.
Termites
With a lineage that dates back to 1940, the "Termites," also known as the "Dogpatchers," are an A-10 training unit under Air Force Reserve Command (AFRC) and based at Davis-Monthan Air Force Base, Arizona. According to the USAF, the 47 FS mission is: "To train, educate, and mentor the world's finest attack pilots for the Combat Air Forces while honing the core competencies of A/OA-10 instruction, operations management and aircrew life support. To further develop the leaders, wingmen and warriors at all ranks to meet the challenges of leading our service today and into our future."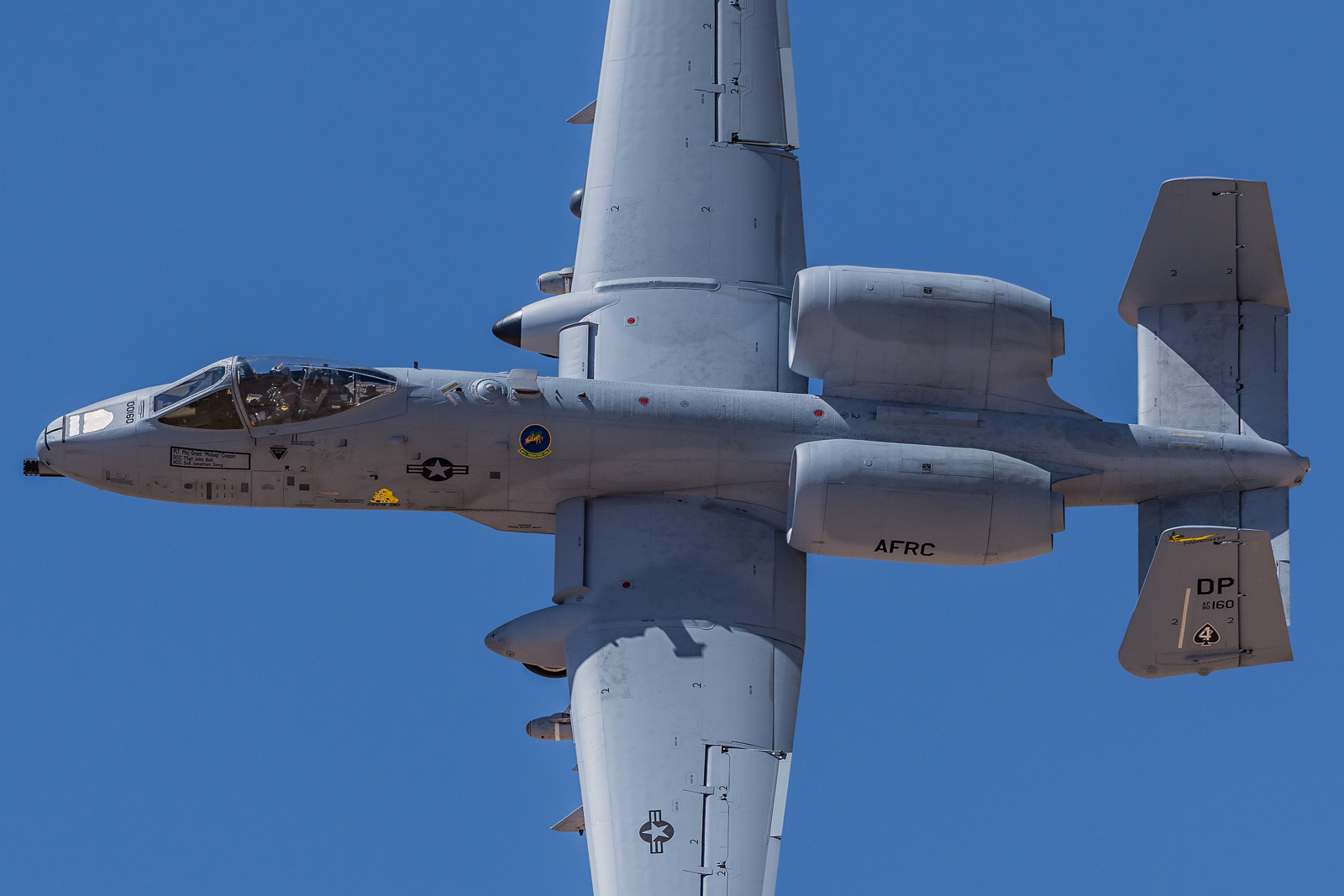 According to Major Kyle "Swat" Lanto, an A-10 instructor pilot with the 47 FS, two-thirds of the unit includes pilots that have other full-time careers outside of the military. But, as a training unit, they are top-heavy with more experienced officers. According to Lt. Col. Brett Waring, 47th FS Hawgsmoke project leader, "Our squadron decided we were going to go with all of our younger pilots. Because, as a training squadron, we are very heavy on rank and experience. So a lot of Lieutenant Colonels in the squadron, a lot of field grade officers, and we have four captains in the unit. Since our mission is primarily to train new A-10 pilots, we decided that our four captains were going to represent the squadron."
As a unit with part-time military aviators, using their most "junior" aviators, their victory is even more impressive. "The old guys can still do it pretty well," said Maj Lanto referring to the unit's 2014 victory. It appears they continue to do it well.
Hawgsmokin'
Hawgsmoke is a biennial gunnery and tactical range competition featuring the Fairchild Republic A-10C Thunderbolt II, affectionately known as the "Warthog".  Hawgsmoke was born from the USAF's "Gunsmoke" competition which featured all the tactical fighter aircraft the USAF flew. Lt. Col. Waring elaborates, "Hawgsmoke is a big deal for the A-10 community. It used to be a big deal for the entire Air Force when all of the tactical aircraft would get together prior to 1995 and execute competitions such as this. When that died off, the A-10 community kind of stood up and said: 'We're going to do this amongst ourselves'. So every two years we pull everybody together. And it's not just about the good times, it's not just about 'chest thumping' who's the best, although there is a little bit of braggadocio that goes along with being a fight pilot, everybody does want to be number one…but, the best part about this is bringing the community together, and that's not just the A-10 community, it's this community. Everybody loves airplanes, they love the city we live in, and we want to showcase what we do where we live, and who we do it for."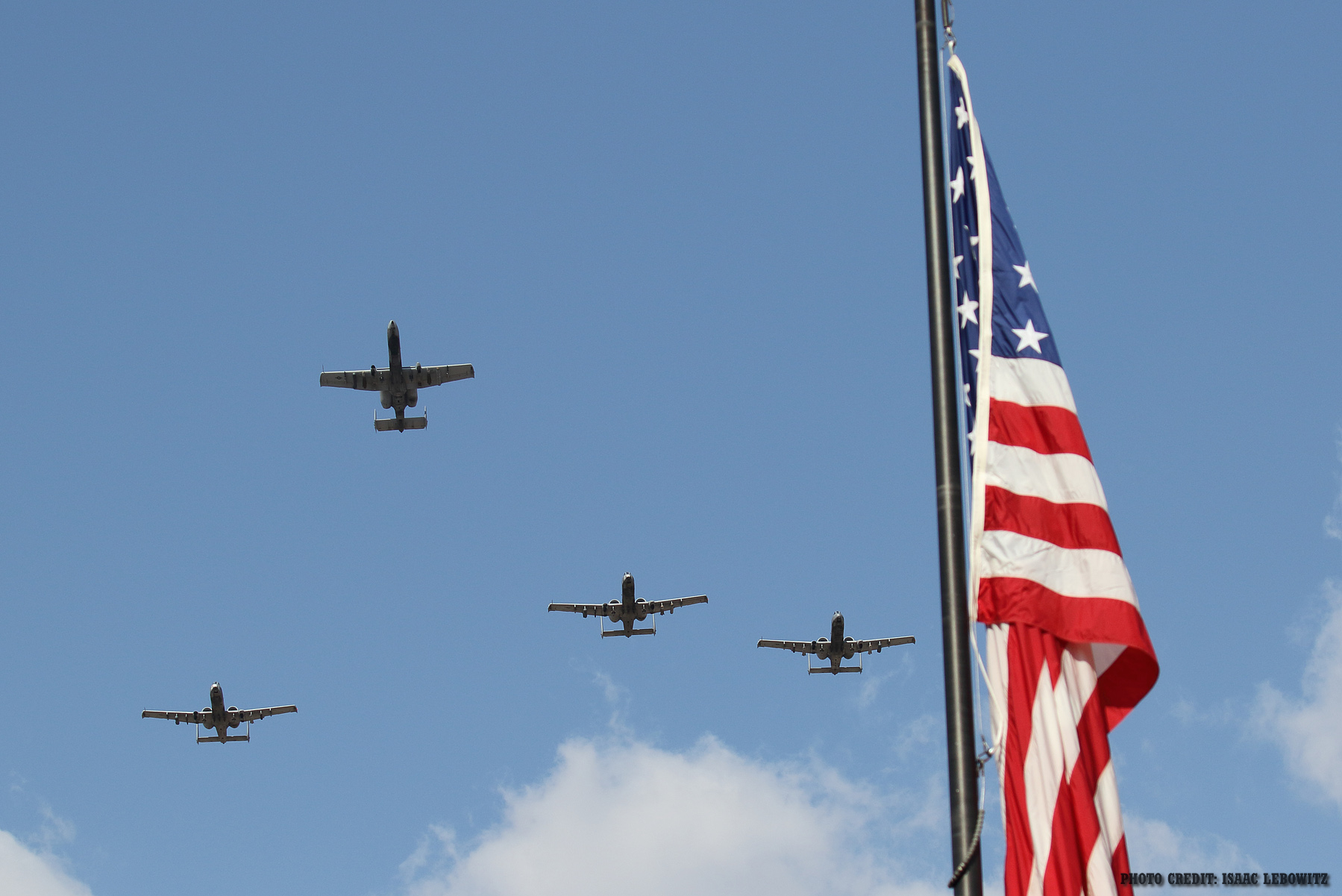 Hawgsmoke 2016, like previous Hawgsmoke competitions, kicked off with a very special ceremony to remember and honor fallen A-10 pilots, also known as Hog Drivers. Lt Col Waring elaborates, "The first thing that we do at every Hawgsmoke is we remember our fallen. So, we will gather all the Hog Drivers that are here, all the maintenance folks that could make it as well. Again, highlight that bond. And we are going to read the names of every A-10 pilot that has died over the years. Some of those are combat fatalities, some of those are pilots that, ultimately, lost a battle with cancer, some of those are pilots that went down in training accidents. But, there's a long list that takes about four-and-a-half minutes to read. That, every two years when we do this, unfortunately, we have to add names to the list."
After the reading of the last roll call, a missing man formation of A-10s flew overhead while current Hog Drivers honor the fallen with a single shot of whiskey. The shot glass was then destroyed in remembrance of old friends and colleagues.
Hawgsmoke 2016 featured 13 A-10 units from across the U.S. including one unit from Korea (Osan). However, not all units sent aircraft. For example, it was not feasible or cost-effective to bring in A-10s from Korea for a deployment of a few days for a competition.
Hawgsmoke 2016 was hosted by the 47 FS at Davis-Monthan AFB in Tucson, Arizona with the ceremonies and other gatherings taking place on the base, and the competition itself taking place on the Barry M. Goldwater Air Force Range, known as the BMGR.
Mayhem at the BMGR
The heart and soul of military aviation training in Arizona and neighboring areas is the BMGR. Located in the southwest portion of Arizona, the 1.9 million acres of land and 57,000 cubic miles of airspace of the BMGR is primarily utilized by the USAF and USMC. On any given day, A-10s, F-16s, AV-8's, F/A-18s, even F-35s, are pounding the desert and obliterating targets at the BMGR.
The BMGR was both battleground and playground for Hawgsmoke 2016. The place where the culmination of years of training manifests itself within a friendly competition. While the elements of the competition draw on the strengths of the A-10, the challenges differ from previous Hawgsmoke competitions. According to Kirk "Flash" Davidson, a former electronic warfare officer on an F-4G Wild Weasel who now acts as range Safety officer, laser safety officer, JTAC Coordinator, and other roles at the BMGR, the winner of Hawgsmoke determines the events and scoring for the next Hawgsmoke. So, the 47 FS not only hosted, but also created the framework for Hawgsmoke 2016.
Lt Col Waring explains further, "The other tactical pieces tend to change each iteration based on what's currently going on downrange. What tactical scenarios do the pilots want to work on and what are the things that are most important to that unit. For example, one time, we went out and focused on AGM-65 Maverick missile employment. We had a convoy of about eight to ten vehicles and the test was: 'how many of those vehicles can you hit within a five minute window with those Maverick missiles.'"
"The last time we did it here at Davis-Monthan, we wanted to focus on one of our other missions which is Combat Search and Rescue. So, for ten minutes, each four-ship had that limited window with which to go out find and do the initial authentications for a simulated downed aviator. So, this year, we're focusing on the precision engagement capabilities of the A-10C and the pilots will have a 10 minute window with a, fairly, pre-planned scenario, to go out with threat templated on the ground that they will have to contend with and see how many targets they can kill, of different types, in a very realistic scenario in just a ten minute window," Lt Col Waring added.
This organized mayhem draws on the need for precision targeting that A-10 units are facing in current conflicts. Utilizing a Scorpion Helmet Mounted Cueing System (HMCS), an A-10 pilot can take advantage of the virtual Heads Up Display (HUD) for rapid and effective target acquisition.
For Hawgsmoke 2016, a series of range events at the BMGR represented the competition. The events took place as follows: "They'll start their ten minute window on the tactical range. So, they will have ten minutes to kill as many targets as they can. Then they will have a ten minute transition time to go over to the conventional range…..during that time they will start off with our high altitude dive events. So, the first one will be a 45 degree high altitude dive bomb. They will release the bomb just under 10,000 feet above the ground at a 45 degree angle. Then they will move down to a manual delivery. So, using a little bit of 'Kentucky windage,' if you will, they will turn off the computed sites and they'll manually drop two bombs from a 30 degree dive angle a little bit closer to the ground. Then, they will drop down for the low-altitude events where they'll run in, depending on their qualifications, between 100 and 500 feet, do a 'pop-up delivery', acquire the target, and release the bombs at low altitude. Then they will come back around and do two passes of long range strafe. So, they will be opening up the gun inside of one mile. Then they'll finish that up with two passes of low angle strafe. Again, with a degraded gunsite to kind of test their manual capabilities, at a slant range of about 3 to 4 thousand feet," Lt Col Waring explained the day before the range events.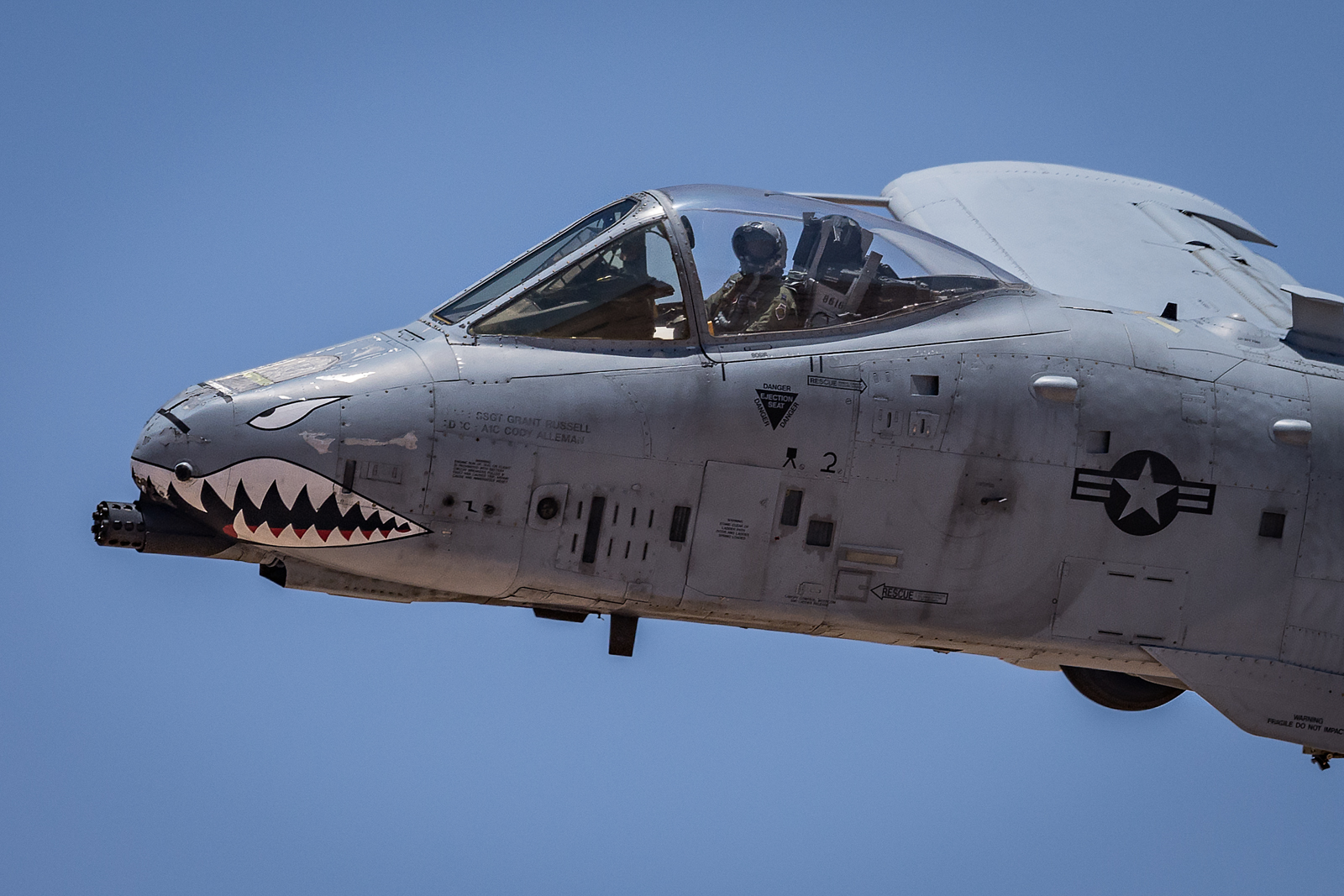 According to "Flash," scoring for the Hawgsmoke 2016 events was determined by the guidelines set forth by the 47 FS as the host unit. The actions during the events are captured by a television scoring system with cameras in the main tower and cameras in the flank tower that help triangulate on the target to determine if, and where, the target was hit. Immediate feedback on scoring was not provided to the pilots. Instead, scores were provided to a Hawgsmoke 2016 HQ for posting at a later time. This helped build some anticipation for the competing units.
More than This
While Hawgsmoke 2016 highlighted the capabilities of the beloved A-10 "Warthog" and the Hog Drivers, it also highlighted the bonds within the units such as the bond between the Hog Drivers and their crew chiefs. According to Lt Col Waring, "One of the most poignant salutes that you ever see is when air aircraft leaves its parking spot and that crew chief pops that last salute to the pilot and pilot returns it."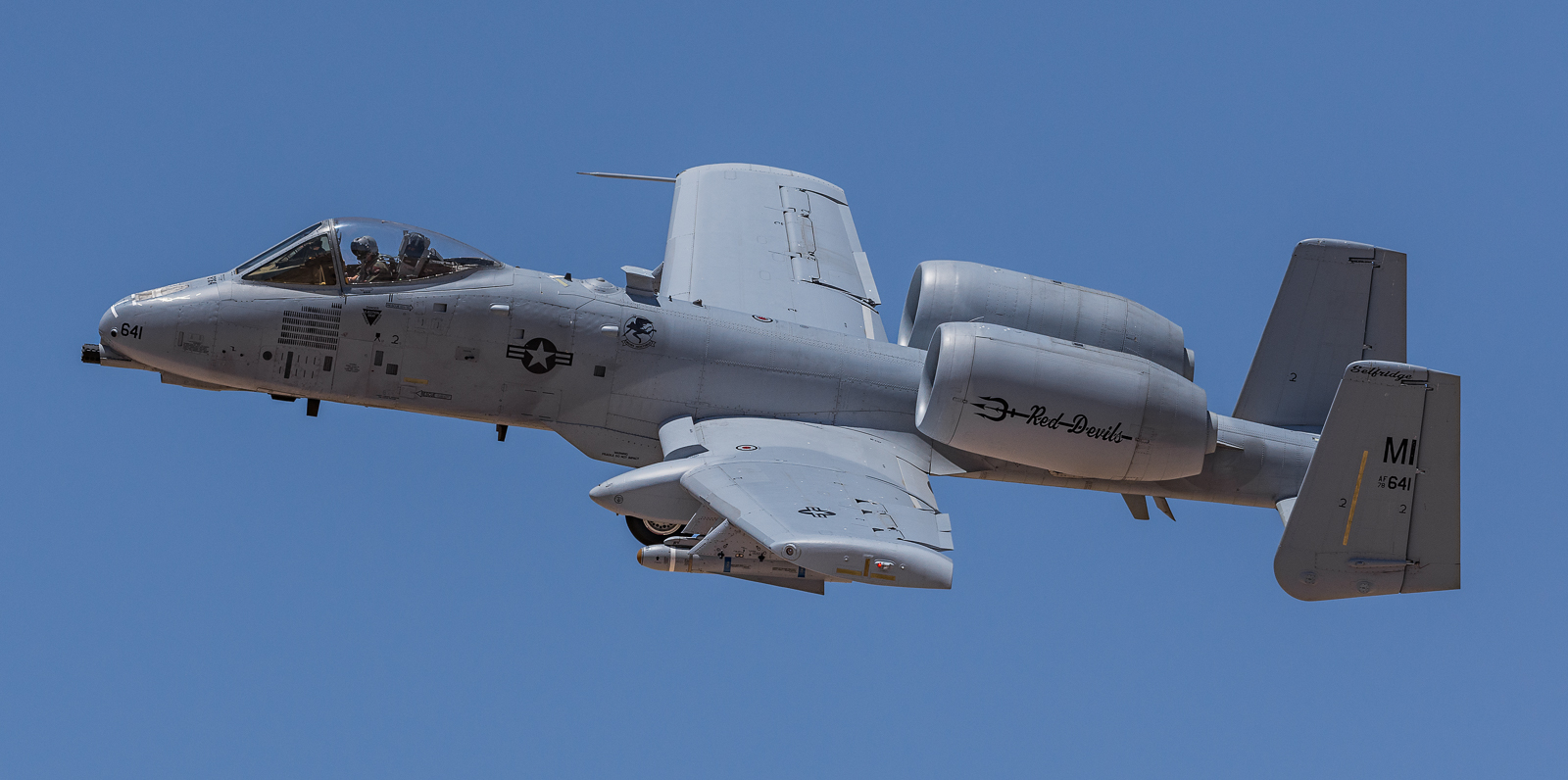 The phrase first coined by Aristotle: "The whole is greater than the sum of its parts" certainly applies to any team, but is especially true for military units where risk is high. The maintainers, pilots, weapons loaders and other unit members need a unique synergy to minimize these risks. Training together, day-in-and-day-out, helps lead to proficiency, trust and, ultimately, respect.
For this reason, the importance of these roles was emphasized in other ways. The crew chiefs were tasked with drawing on their creativity and having some fun making a video emphasizing the bond between pilot and crew chief. The weapons loaders had a competition of their own, where three to four teams would compete to see how quickly they could load an A-10. They were provided with awards as well.
With several A-10 units deploying over the past few years, years of training quickly can become real-world application in present conflicts. Optimal readiness needs to be maintained by every member of the A-10 unit because they could be called upon at any time. For this reason, Hawgsmoke 2016 was much more than a competition. It was a chance for these units to showcase and apply what they have learned, while forging bonds as a unit and a community. Ultimately, Hawgsmoke 2016 was a time to remember and a time to create new memories…together.
APD would like to give special thanks to the outstanding ACC 355th FW PA team and the 47th FS for their gracious hospitality throughout Hawgsmoke 2016.
Hawgsmoke 2016 Results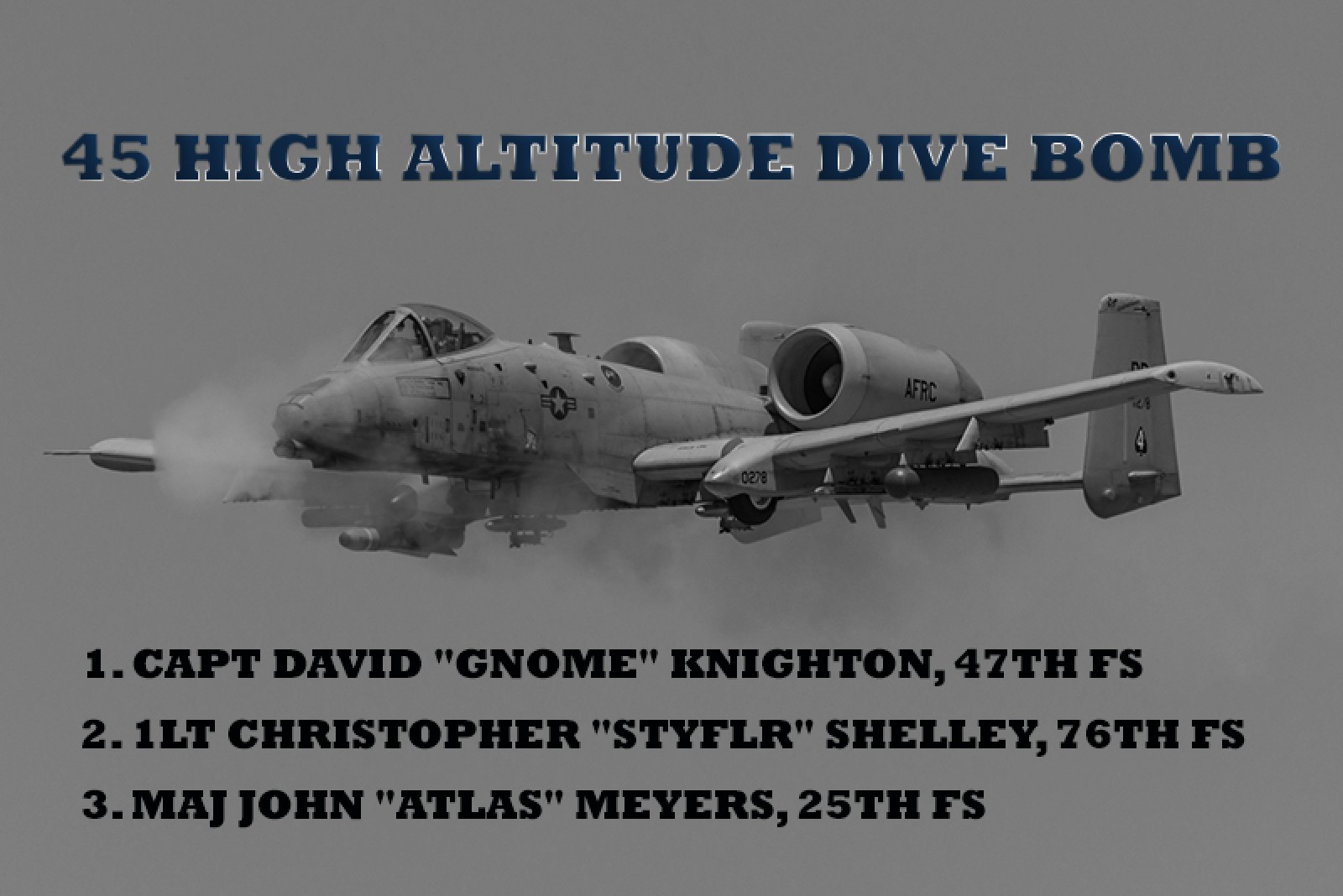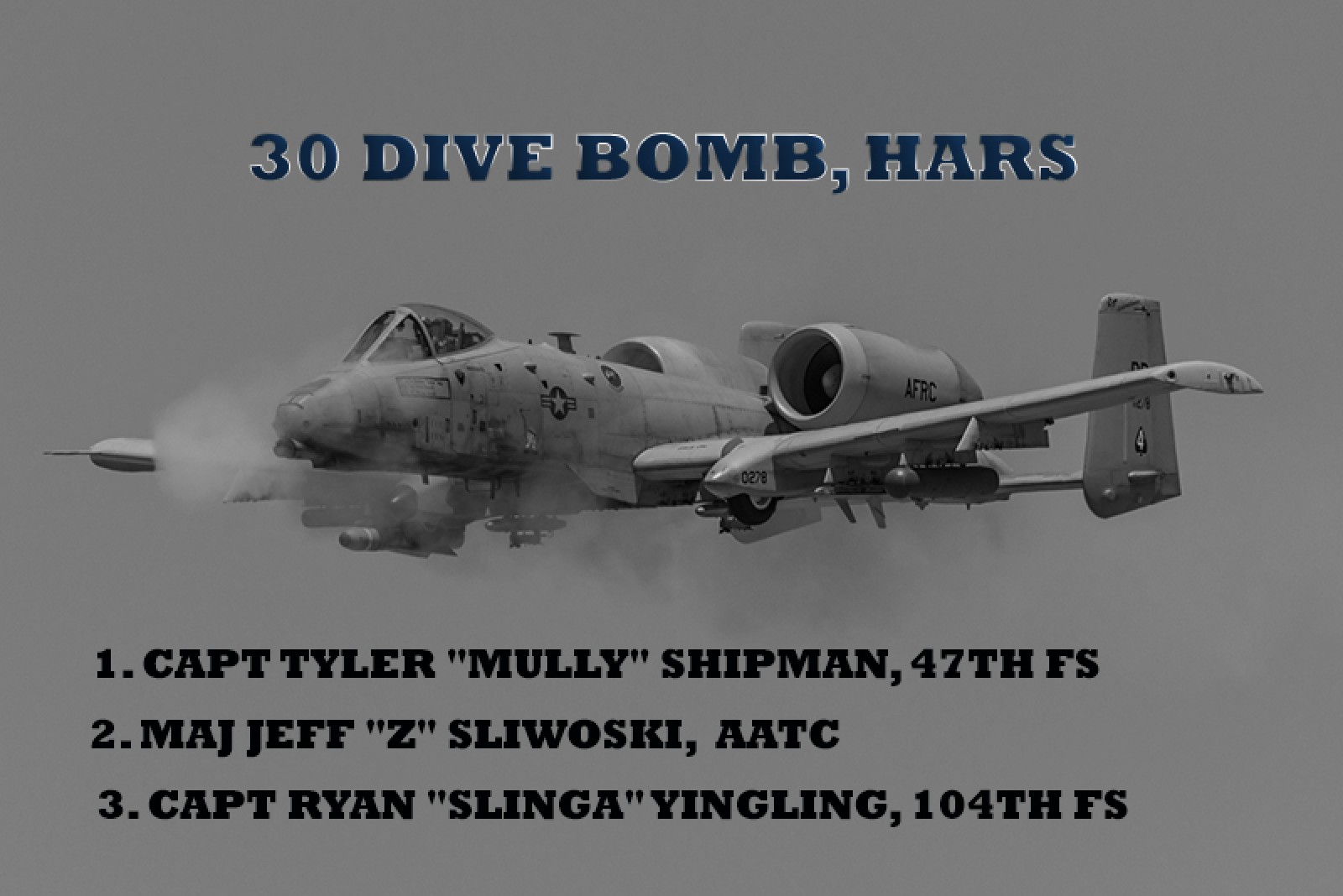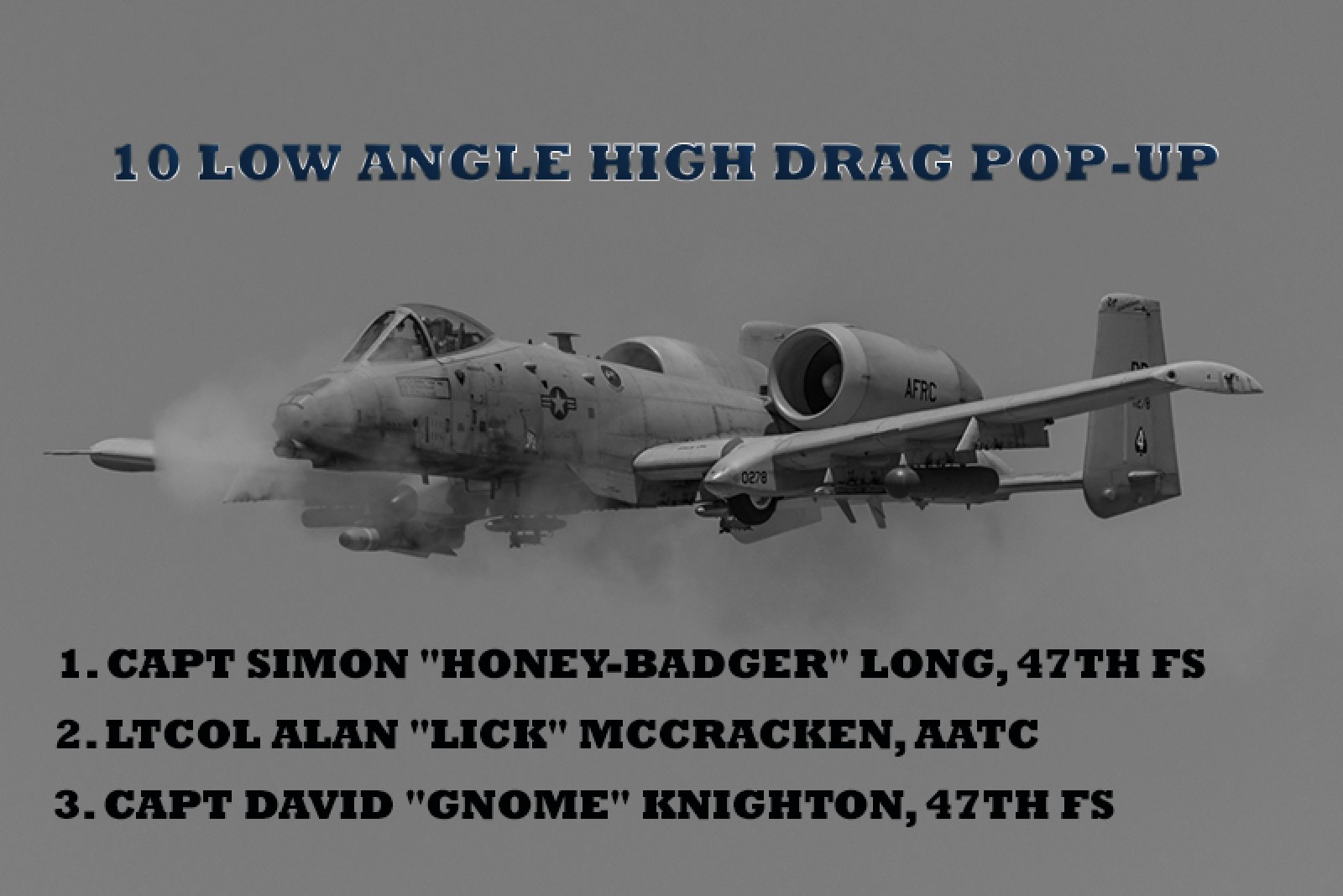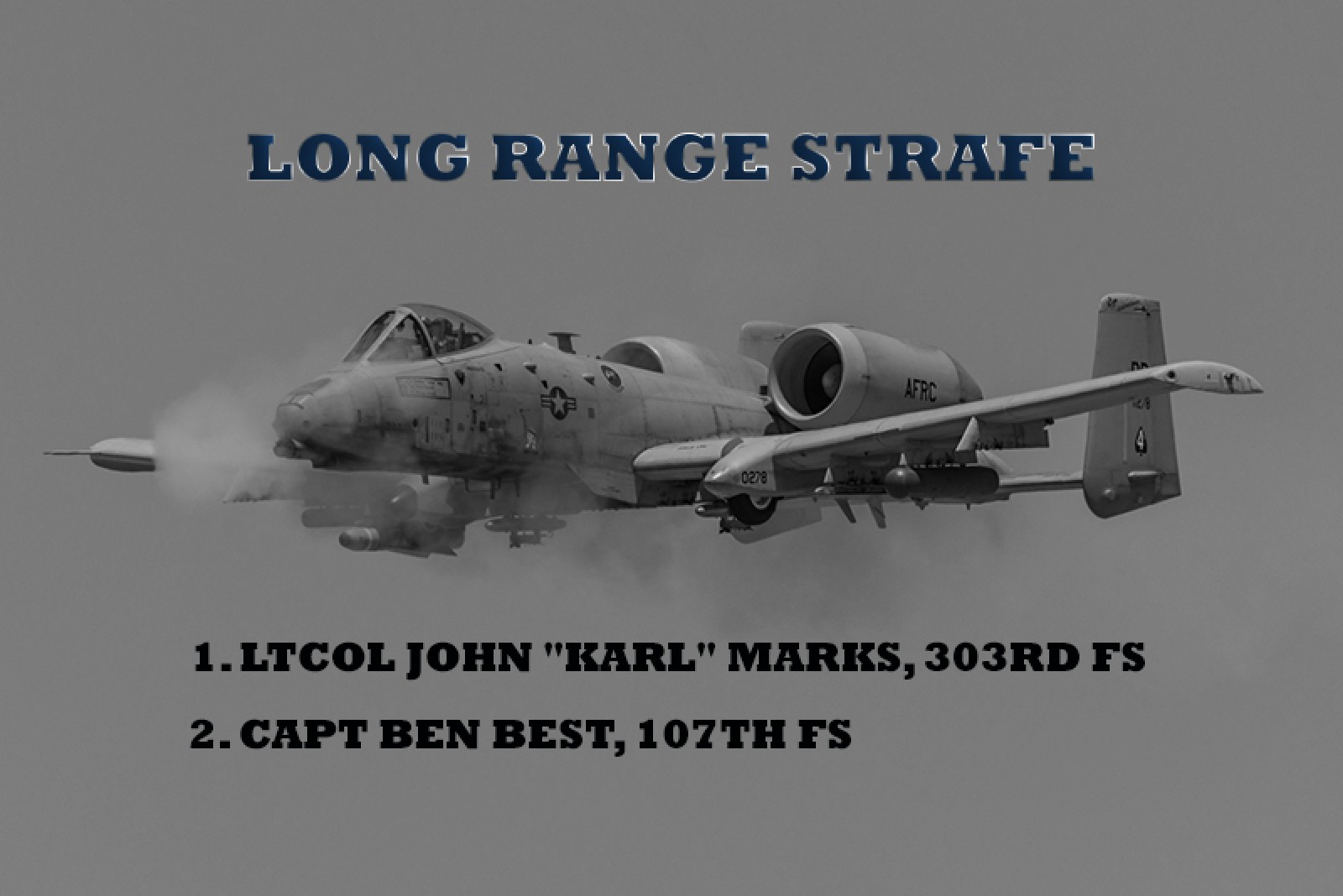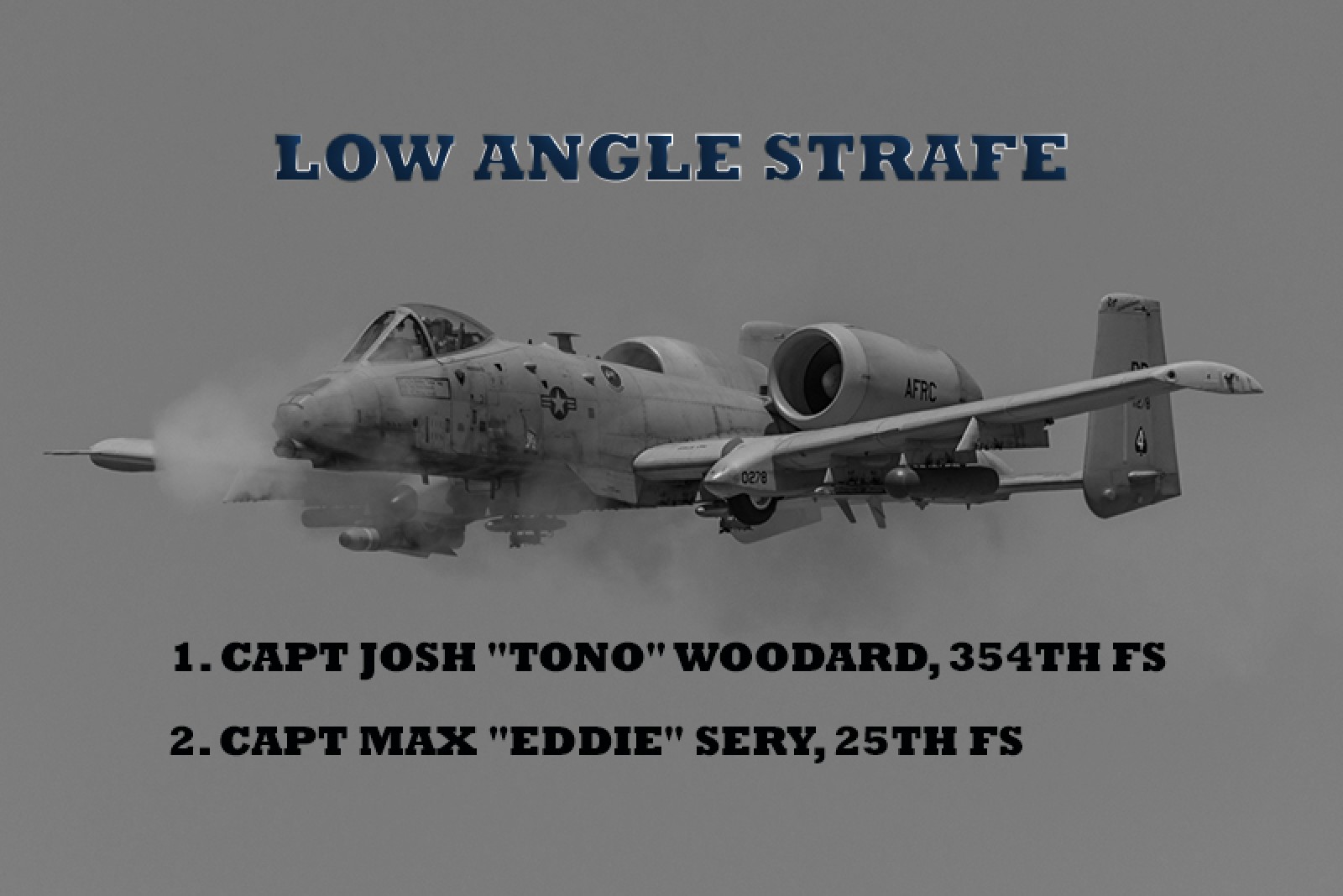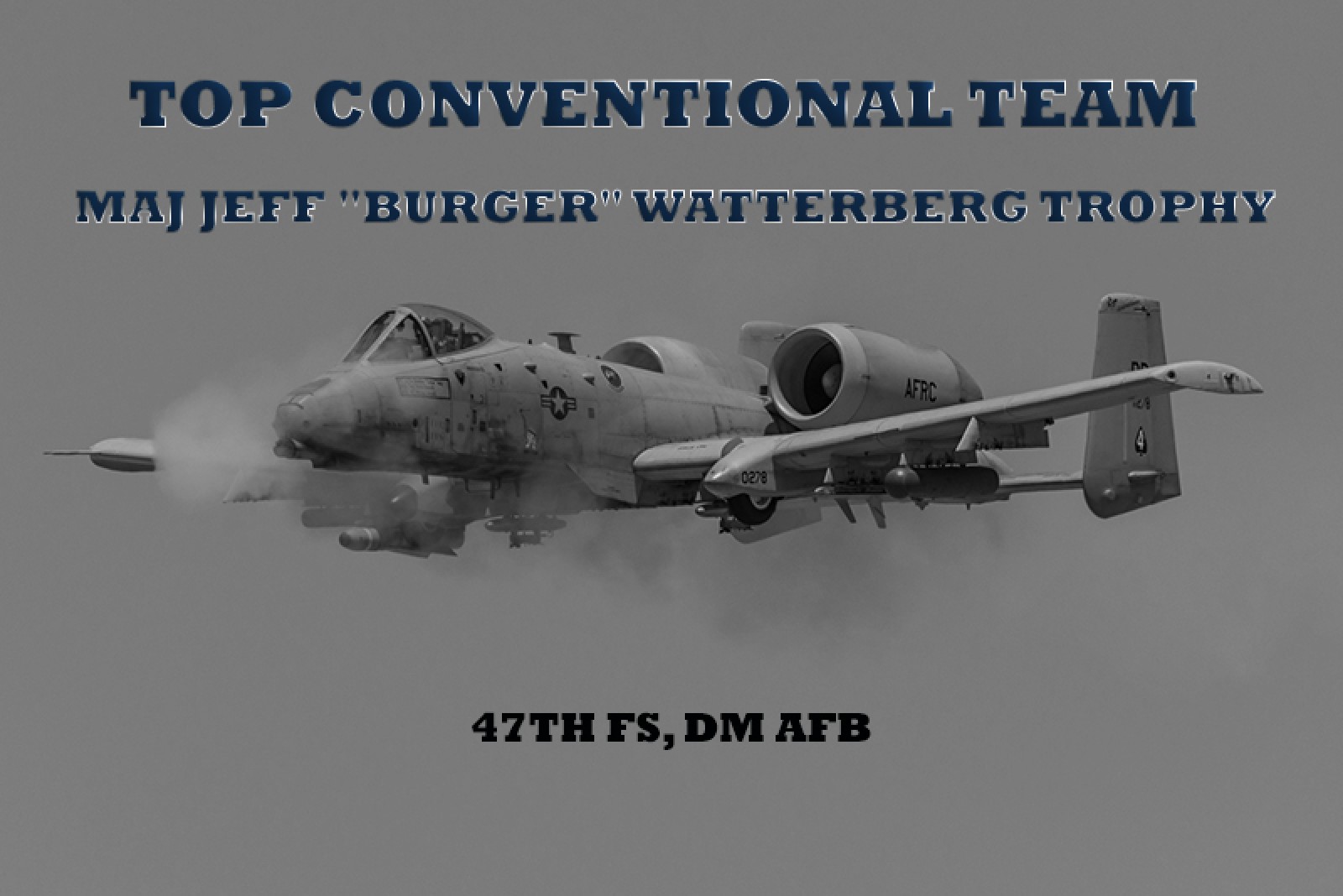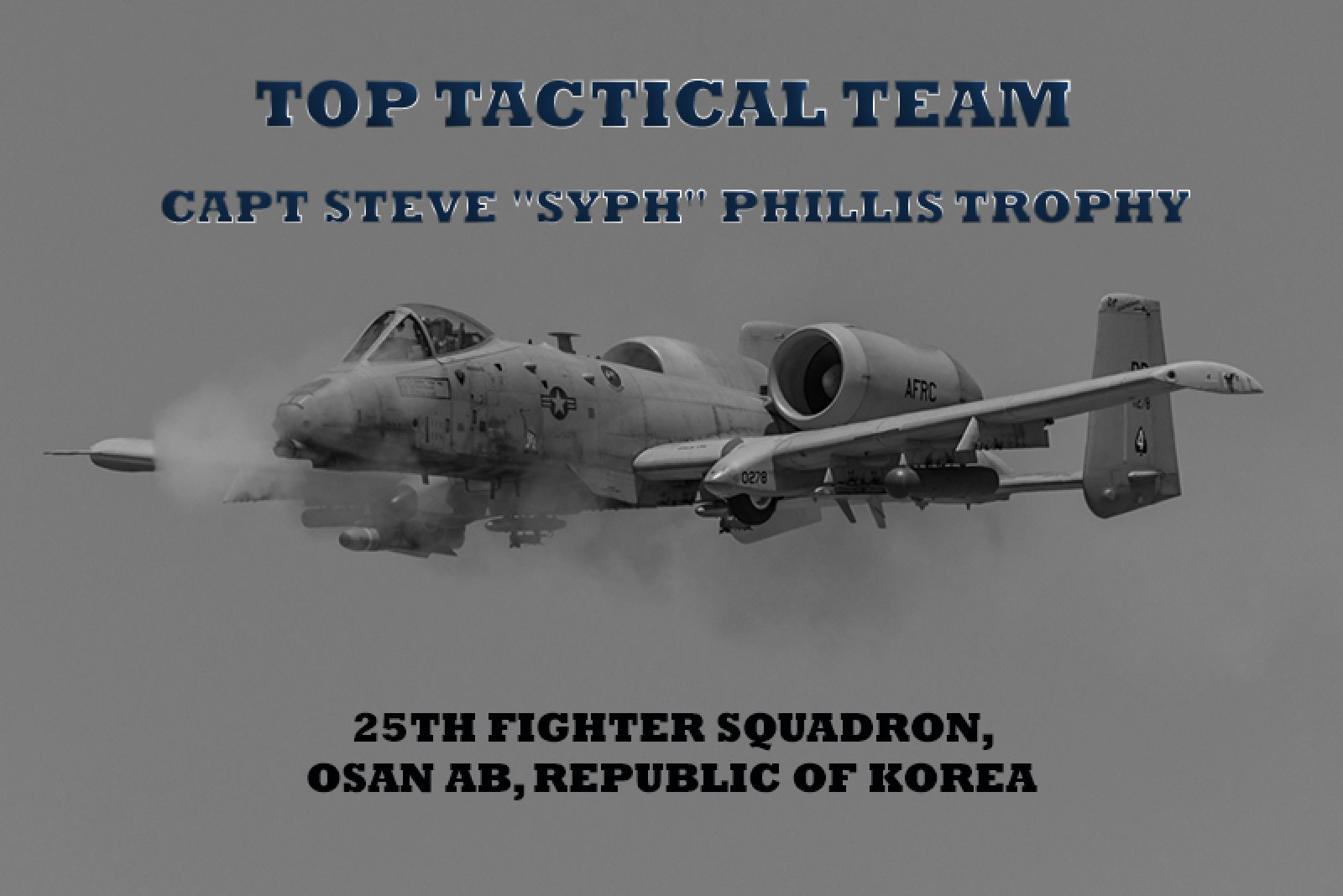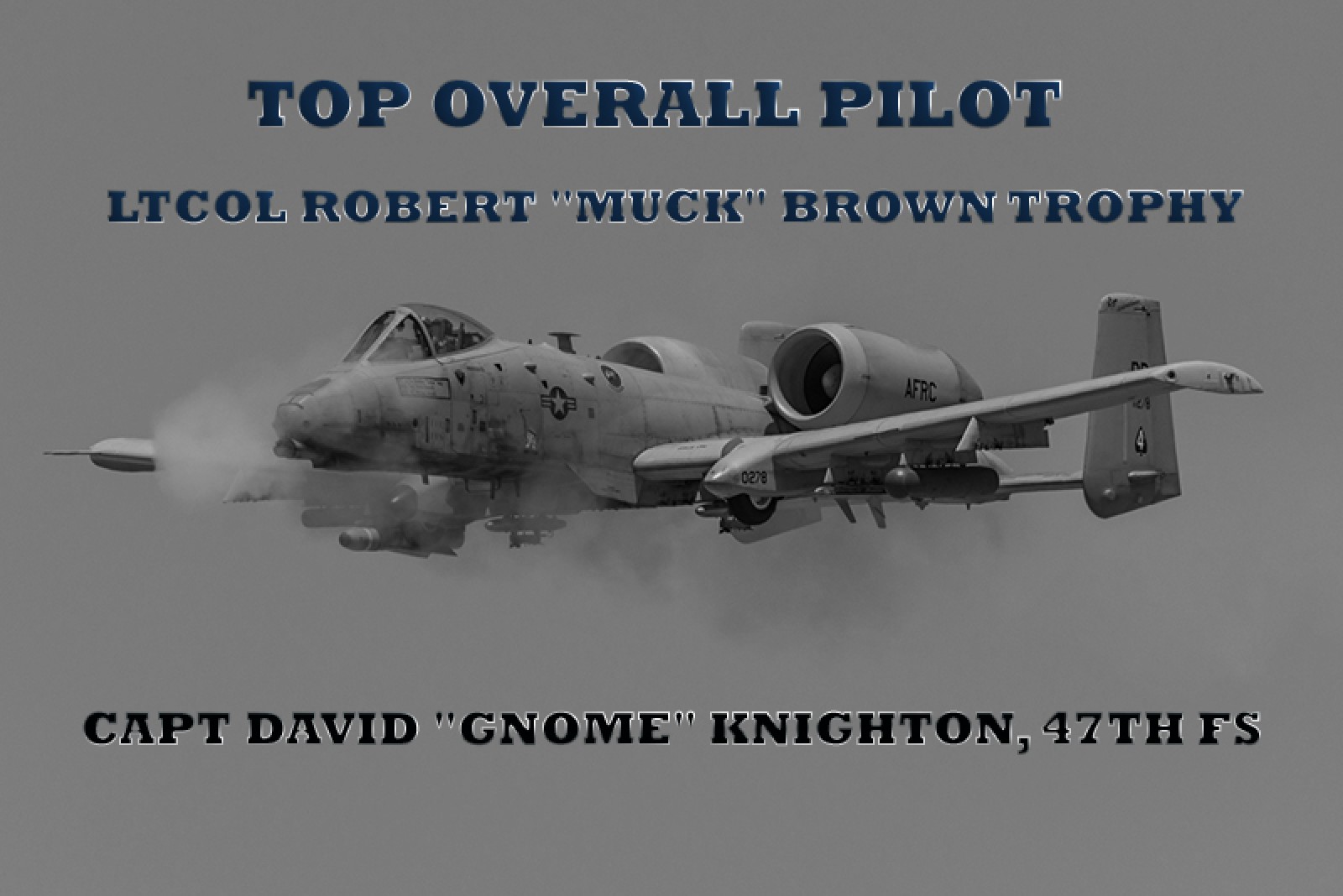 Click on an image below to page through the gallery: