WTI 2-15: Raising the Bar for Marine Corps Aviation
Article and Photos by Steven Valinski
May 5, 2015
In March, over 270 aviators and support personnel arrived at Marine Corps Air Station (MCAS) Yuma for the latest bi-annual United States Marine Corps (USMC) Weapons and Tactics Instructor Course (WTI), WTI 2-15.
Facilitated by Marine Aviation Weapons and Tactics Squadron One (MAWTS-1) since 1978, this seven-week course provides advanced tactical aviation training designed to produce weapons and tactics instructors. As Major Douglas Seich, MAWTS-1 operations officer stated in a Marine Corps interview earlier this year: "WTI is characterized by advanced tactical training that encompasses full-spectrum operations. So, what that means is when units come here, and individuals train via WTI, we expose them to mission sets that they, perhaps, haven't seen before in order to prepare them for combat".
WTI can be viewed along the lines of a "train the trainer" course in advance tactical aviation. WTI graduates are expected to deliver the course material and lessons-learned at WTI to their respective squadrons. This helps provide standardized practices throughout the Marine Corps aviation squadrons. As Maj Seich elaborates: "WTI is important to the Marine Corps because of the product it produces. For a training continuum within the Marine Corps, one of the cornerstones of WTI, again, is the production of that Weapons and Tactics Instructor that goes to the fleet and serves in that training office billet. That Weapons and Tactics Instructor is the training expert, and the continuity in the fleet, to ensure, not only his unit is trained, but adjacent units can be assessed or helped to train them as well. And, serve in key staff officer billets to help facilitate training throughout the Marine Corps. They do that (through) a number of venues, whether that be a Marine Air Group Weapons and Tactics Instructor billet or a mass role in the Marine Air Training Standardization Squadron".
A WTI flight instructor, who asked to be referred to as "Tank", told Aviation Photography Digest: "the vast majority of WTI graduates are returning directly to individual squadrons to be training officers. All of the training they received at WTI is handed directly through their individual squadron training plans". This makes WTI graduates the subject matter experts (SME's), in terms of advanced tactical aviation, for their squadrons.
To be selected to attend WTI, aviators have to already be advanced with a certain degree of experience. Tank explains: "Students are nominated by their respective Marine Air Groups (MAGs). This happens via their Squadron Commanding Officer and Training Officers.  Requirements and pre-requisites vary from division to division, but ultimately each student is one step away from holding the highest level of qualification, a Weapons and Tactics Instructor.  In the F/A-18 Division, students must be a Mission Commander and have graduated from either the Marine Division Tactics Course (MDTC) or TOPGUN." Participation is not limited to Marine Corps aviators. Aviators from other DoD branches or coalition countries can also participate.
Humanitarian Assistance and Disaster Relief (HA/DR)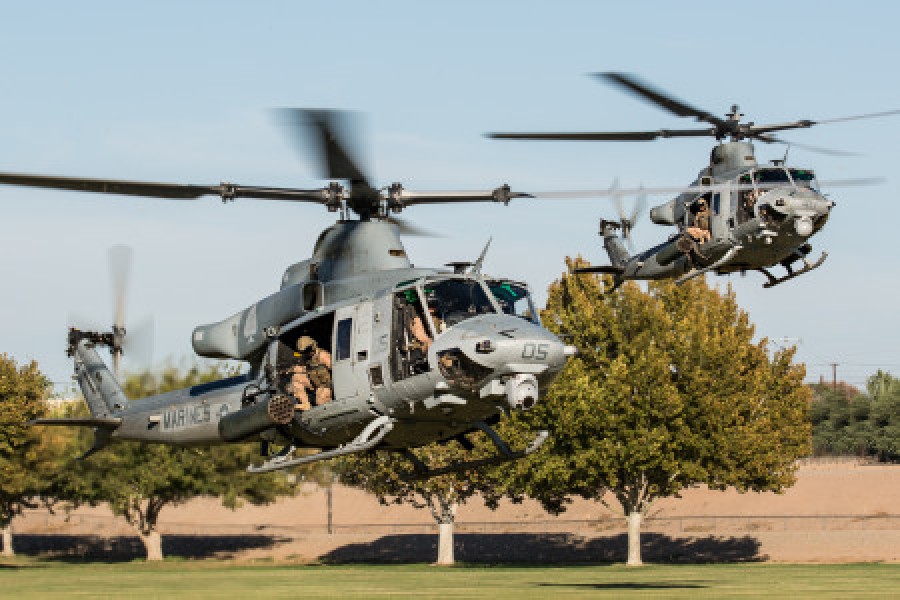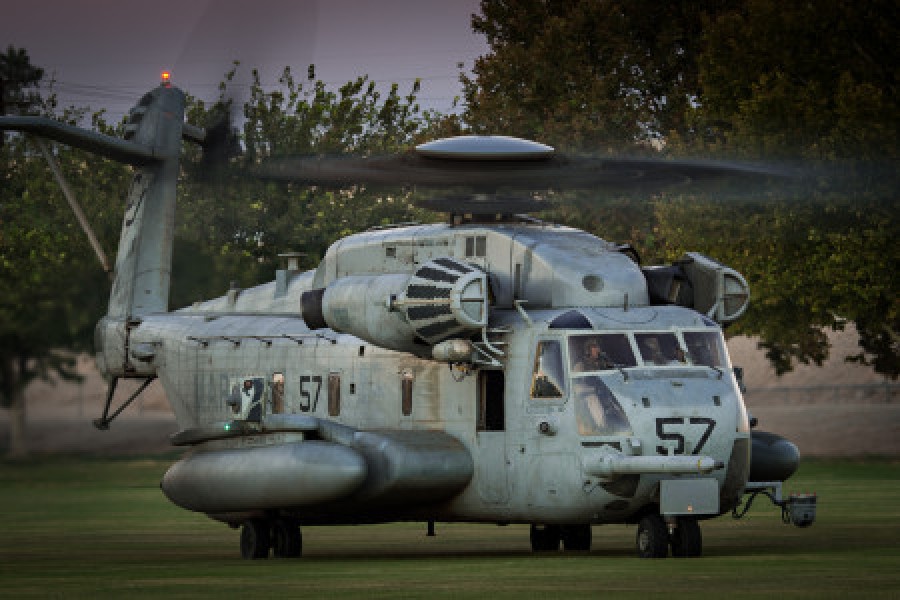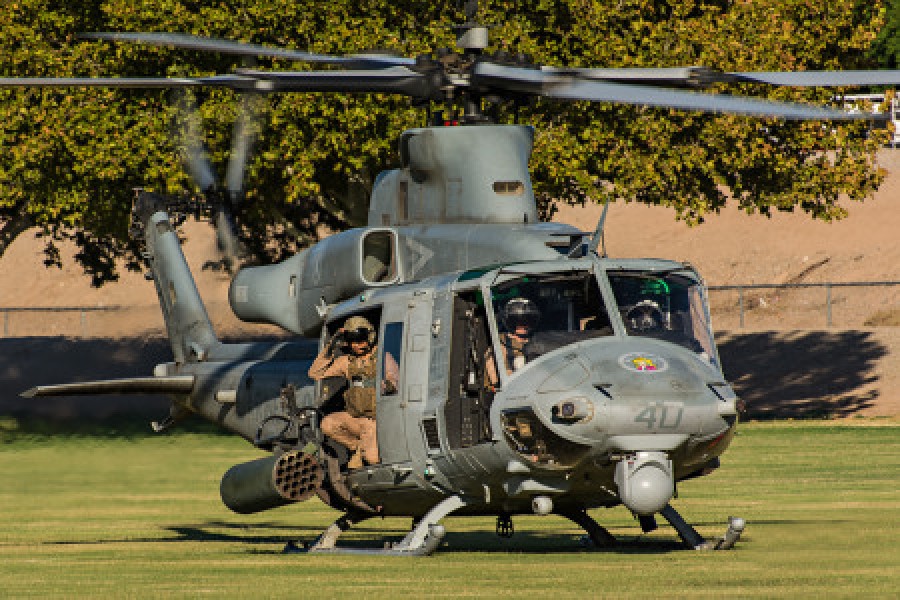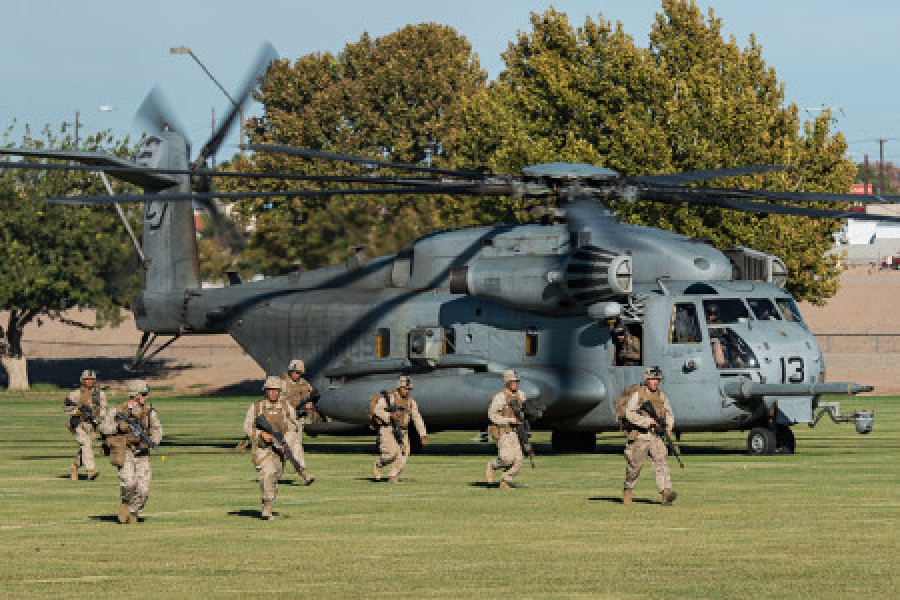 One WTI event that many Yuma, Ariz residents are familiar with is the Humanitarian Assistance and Disaster Relief (HA/DR) event. With main staging areas of a local Yuma park and local area buildings such as hospitals and churches, CH-53's, UH-1Y's, along with ground troops, execute this event in public. While most people associate the USMC with combat, Marines have been performing HA/DR all around the world for decades. This event provides an opportunity to show the public the "humanitarian" side of the Marine Corps, while executing a mission they may be called upon to do at any time.
Over the course of seven weeks, students spend three weeks in the classroom and four weeks flying. While the rigorous curriculum is designed to best prepare aviators for combat, it is constantly evolving to meet current demands and expectations. "The WTI course is constantly evolving to meet the current situation. The most recent change was a complete overhaul of the course construct in order to provide for a more logical flow of events", said Tank.
The four-week flying component consists of several phases that get progressively more complex and allow for increased integration between aircraft types. Tank explains: "The flight phase of WTI follows a specific / common / generic phase.  During specific phase, integration of aircraft is minimal and the specific type/model/series are focusing on more basic skills.  During common phase, more integration is observed but typically not between departments (i.e. F/A-18s integrate with AV-8Bs, but not yet with rotary wing).  In generic phase, the entire MAGTF is integrated and all aircraft are planning and flying together".
The course syllabus for WTI is specific to airframe and role. Some non-aviator roles also participate in WTI. For example, C-130 crews play a vital role in C-130 missions so they are participants. Mission sets and scenarios for WTI are in the form of events. Events can be spread out over multiple days and cover topics such as: Close Air Support, Air to Ground, Long-Distance Insertion (rotor), Anti-Air Warfare and Air to Air. Staying true to the mantra "train as you fight", live ordnance is used whenever possible during WTI. As Tank explained: "Whenever possible, live ordnance is used. Some target sets are restricted to inert ordnance based on the complexity of the target area (i.e. Urban target training ranges). The ratio is approximately 1:1 in the F/A-18 Division."
Towards the end of WTI, the apex of classroom and flight training is realized with sophisticated events during the final week of WTI known as FINEX. "FINEX stands for Final Exercise. It is broken down into FINEX 1-3. The flow is one plan day followed by execution. FINEX 1-3 is the final week of WTI from Monday to Saturday", Tank elaborated. FINEX 1 is Tuesday, FINEX 2 is Thursday, with FINEX 3 on Saturday of the final week.
Maintenance
With the fast pace dictated by the WTI course, and the amount of missions that need to be completed, the always-important role of the maintainer is even more critical during WTI. "Our mission is to maintain and fix aircraft to accommodate students during the daily flight schedule," said Master Gunnery Sgt. William Lloyd, the maintenance chief for MAWTS-1 in a Marine Corps interview. "Depending on the evolution there can be over 60 aircraft operating at one time," said Lloyd. "These types of aircraft operated more than 8,000 flight hours in multiple training scenarios during the last class."
According to a USMC report, extensive maintenance support is required to meet the maintenance demands of WTI. These demands translate to approximately 18,500 maintenance hours for rotorcraft and more than 8,200 hours of maintenance for fixed-wing aircraft during WTI.
With a demanding flight schedule and environmental challenges such as the desert heat in Yuma, Ariz and occasional high winds and blowing dust, Marines have to stay focused and on task. "Any lapse in attention to detail can result in an aircraft mishap," said Lloyd. "I cannot over emphasize the importance of ensuring that every component and fastener is where it is supposed to be."
Logistics
Another challenge presented by WTI is logistics. All the equipment and gear needed for WTI had to be moved from the participating squadrons to MCAS Yuma to support WTI. "Two months before the start of the course, Capt. Craig Sisson, the ground logistics officer for MAWTS-1, and I will travel to the East and West Coasts to communicate the units' needs during a logistics planning conference to key unit leaders planning for WTI," said Gunnery Sgt. Ryan Lowe, the logistics chief for MAWTS-1 during a Marine Corps interview. "During each class we have approximately 12 additional units. It's our job to coordinate with them to make sure they receive all of the right gear, such as generators, fuel bladders, shower trailers, mobile laundry facilities and tactical vehicles at the right place and at the right time."
Captain Craig Sisson, the ground logistics officer for MAWTS-1, said in a Marine Corps interview: "Approximately 3,329 tons of gear will be moved for this class (2-15). This is significant, because the majority of the gear came from the East Coast. There were approximately 447 tractor trailers sourced to transport all of this gear to support the additional troops."
While months of planning is needed to prepare for WTI, often adjustments to the plan need to be made to account for other changes or delays. Capt. Sisson elaborated, "Logistics is never the exact same task day after day. It's constantly a changing scenario with every course. Logistics is crucial. If one unit does not receive its tactical gear on time, it can back up other units causing a domino effect, in turn, affecting us to ultimately fail our mission. Failure is simply not an option."
WTI 2-15
The classroom portion of WTI 2-15 began in early March. Over 80 pilots and 190 support personnel participated. Over 85 aircraft were brought in for WTI 2-15, with additional support provided by aircraft based at MCAS Yuma (EX- F-35, F-5), civilian contract aircraft, and some from other DoD branches. While the additional aircraft used represented several different USMC squadrons, participants represented many additional squadrons. The importance is in the distribution of aircraft type so that all the airframes the Marine Corps flies is represented.
Participating USMC Aircraft by Type
Fixed-Wing Aircraft (30)
4 – McDonnell Douglas F/A-18A/C Hornet
6 – McDonnell Douglas F/A-18D Hornet
8 – McDonnell Douglas AV-8B Harrier II
3 – Northrop Grumman EA-6B Prowler
5 – Lockheed Martin KC-130J Super Hercules
2 – Lockheed Martin KC-130T Hercules
2 – AAI RQ-7B Shadow
Rotary Aircraft (55)
14 – Sikorsky CH-53E Super Stallion
16 – Bell Boeing MV-22B Osprey
11 – Bell UH-1Y Venom
9 – Bell AH-1W SuperCobra
5 – Bell AH-1Z Viper
F-35 Integration
The Lockheed Martin F-35B Lightning II has been integrated into WTI since 2014, but this was in roles limited to SCAR (strike coordination and reconnaissance), escort and area defense missions. While the F-35 is not fully integrated yet, WTI 2-15 saw the F-35 become more dynamically involved. "The F-35 pilots have flown in close air support (CAS), armed reconnaissance (AR), and anti-air warfare (AAW) missions thus far in WTI.  They're also scheduled to participate in the long range strike to Nellis Tuesday (4/21) and flying armed reconnaissance in FINEX-2 Thursday (4/23). The most dynamic integration so far has been with the F/A-18s during AAW where they executed 4th/5th generation integration TTPs (also known as fighter integration)," according to Lieutenant Colonel Todd Rampey, the executive officer of MAWTS-1.
According to the USAF, FINEX 2 "employed the F-35Bs as part of the "Blue" strike package whose objective was to degrade, depress and destroy integrated air defense systems and other ground targets on the NTTR, which were guarded by "Red" adversary aircraft from Marine Corps Air Station Yuma, Arizona, and Nellis Air Force Base, Nevada."
Because of the USAF's success in integrating 4th and 5th generation aircraft during exercises such as Red Flag, the USMC reached out to them to help integrate the F-35 into WTI. "What we've done is we've leveraged the Air Force heavily because the Air Force is way ahead of the game in terms of fourth to fifth integration — integrating fourth-gen assets like the F-15 (Eagle) with fifth-gen assets like the F-22 (Raptor). Now as the F-35 has come along, which for the Marine Corps the F-35 is going to (initial operational capability) around July, we need to be postured to teach tactics to the F/A-18 community so the Marine F/A-18 fleet will be able to start integrating with the F-35s," said U.S. Marine Corps Major Geoff Franks, MAWTS-1 weapons school instructor and  F/A-18 Hornet instructor pilot, in a USAF interview.
The Nevada Test and Training Range (NTTR) was utilized because of its ability to provide challenges the complex system of the F-35 was built to handle. According to USAF Colonel Thomas E. Dempsey III, NTTR commander: "The NTTR ties all domains — air, space and cyber — into operational realistic training and readiness, so the Marines choose this as their battle space for their graduate-level graduation exercise because we, in an operationally-integrated mentality, offer the best battle space to get at the systems and the complexities that the F-35 brings. That's the thing about the NTTR that sets us apart from everybody else is not just the physical land space, but the systems that we can challenge aircrews with. We offer the most comprehensive environment for warfighter realism training."
According to Lt Col Rampey, the first F-35 student class is scheduled for WTI 2-16 (spring of 2016).
Multi-Force Participation
While WTI is a USMC course, participation comes from a variety of DoD forces. The USAF participated with E-3 Sentry's from the 964th Airborne Air Control Squadron. The 21st Fighter Squadron, which trains pilots from Taiwan at Luke AFB, participated with F-16 Fighting Falcons. 116th Air Control Wing (116 ACW) participated with a Northrop Grumman E-8 Joint Surveillance Target Attack Radar System (Joint STARS). B-52 Stratofortress bombers from 23d Bomb Squadron also participated. Other USAF aircraft/units also participated.
SMART-1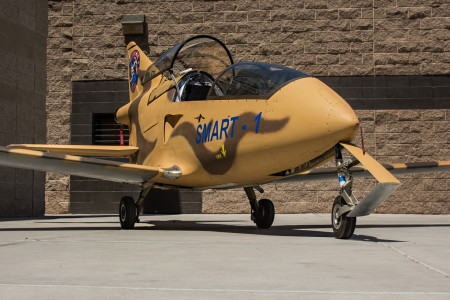 The Small Manned Aerial Radar Target Model-1 (SMART-1), also known as the BD-5J, is a small, manned, high speed jet capable of emulating a threat such as a cruise missile. This aircraft is typically launched from uncontrolled airfields to have the flexibility it needs to operate, while minimizing the safety risk. SMART-1 jets are operated by Aerial Productions International, Inc.
The aircraft is certified by the United States Department of Defense as a cruise missile surrogate. The SMART-1 has been used by several DoD departments. With a 1-2 hour flight endurance and 24,000 ft. ceiling, SMART-1 can pose an effective threat within a flexible range. The SMART-1 was utilized for WTI 2-15.
From the U.S. Navy, Air Test and Evaluation Squadron Nine (VX-9) participated with F/A-18 Hornets and Air Intercept Controllers. From the U.S. Army, the 10th Special Forces Group (Airborne) utilized the RQ-7 Shadow. 108th Air Defense Artillery Brigade also participated.
To help provide a full-spectrum of assets and threats, much like Red Flag, WTI incorporates electronic, cyber, and space threats as part of the package. U.S. Marine Corps Forces Cyberspace (MARFORCYBER), U.S. Joint Functional Component Command for Space (JFCC Space), U.S. Joint Electronic Warfare Center (JEWC), and other electronic, cyber, and space components are involved.
Non DoD aircraft, in the form of civilian contracted aircraft, are also regular participants in WTI. ATAC (Mk-58 Hawker Hunter and F-21 KFIR), SMART-1 jets, MI-24D Hind and a Antonov An-2 from Vertol Systems Co., Inc. and Omega tankers were some of the civilian aircraft utilized for WTI 2-15. As Tank mentioned to Aviation Photography Digest: "privately-contracted aircraft are used when organic military support is not available. Omega tankers are another example of privately-contracted aircraft supporting the course."
WTI 1-16 and Beyond
With Marine Operational Test and Evaluation Squadron Twenty-Two (VMX-22) transitioning from MCAS New River to MCAS Yuma, one can expect a smoother, more efficient, transition from testing new weapons and technologies, to implementing them. This will further validate the importance of WTI as new weapons and technologies are put to use quicker, maximizing their combat advantage. VMX-22 will also be expanded to include several examples of every airframe the USMC flies.
With the F-35B scheduled to reach initial operational capability (IOC) with the US Marine Corps (USMC) in July 2015, we will see the F-35 integrated more into WTI events. With assistance from the USAF, and it's lessons-learned from exercises such as Red Flag, the F-35's Gen 5 capabilities can be maximized while improving the effectiveness of the Marine Corps Gen 4 fleet.
Moving forward, new and upgraded airframes will also be incorporated into WTI. The Boeing Insitu RQ-21A Blackjack and the Sikorsky CH-53K King Stallion are two examples of this.
Ideally, the USMC would like to have all their aviators participate in WTI, but this is not operationally feasible. The current "train the trainer" approach helps reduce bottlenecks in learning and implementing new weapons and technologies.
While MAWTS-1 is the USMC's university for the development and sharing of advanced aviation tactics and techniques, WTI will continue to be the delivery method of choice for years to come. With an always-evolving curriculum, one can be certain that USMC aviators will continuously maintain the highest degree of readiness and capability.
Aviation Photography Digest would like to thank 1st Lt. Joshua Pena, Sgt. Cody M. D. Haas, I MEF Public Affairs, and MAWTS-1 for their hospitality and assistance with this article.