We Seek and Strike FIRST!
Royal Australian Air Force's No.1 Squadron the 'Fighting First' making team work a priority during Pitch Black 2018
Report by Jaryd Stock
Photos by RAAF, Willian Nguyen Phuoc and Jaryd Stock
September 5, 2018
The 'Fighting First' is the Royal Australian Air Force's premier strike and air supremacy squadron and is based at RAAF Base Amberley. It was the Squadron of choice for the Australian Government in 2014 when the then Prime Minister, Tony Abbot, announced its commitment to fighting in the Middle East supporting the U.S. war on terrorism. The Australian Defence Force supported the government's commitment instituting Operation OKRA. As a part of OKRA eight F/A-18F Super Hornets were deployed by No.1 Squadron.
Exercises like Pitch Black keep the 'Fighting First' at the top of their game, their motto is "Videmus agamus" which is latin for "We Seek and We Strike" and at big air defence exercises where there are multiple scenarios with multiple aircraft in Large Force Engagements with a dynamic ever changing air warfare environment, helps and keeps those effective skills that are valued by the aircrews to honing their abilities to seek and strike and making sure they are the first to do it,  this working towards perfection in how they operate keeps the 'Fighting First' at the top of the RAAF's Air Combat Group.
There has been a lot of change recently for 82 Wing which is the umbrella unit of No.1, No.6 Squadron's. Last year No.6 SQN completed their exchange of F/A-18F Super Hornet operations converting to EA-18G Growler operations by acquiring twelve Growlers via the United States Foreign Military Sales program. As a result, the existing  twelve F/A-18F's that were being operated by No.6SQN in the Operational Conversion Role for new pilots converting to the Super Hornet were transferred to No.1 SQN, creating a Super Squadron of twenty-four F/A-18F Super Hornets.
Last year No.1 SQN was tasked to head back to the Middle East to once again be a part  of coalition strikes in Syria and Iraq combating terror cells made up of ISIS members, this marks probably the busiest time in the recent history of the squadron for all personnel that are a part of the "Fighting First'. Having recent experience in conducting mostly air to ground or strike scenarios in the Middle East, maintaining an edge in air to air combat and retaining that currency is also a top priority for the personnel at No.1SQN, hence why big air control exercises are important for all squadrons participating.
A high level standard of readiness, ready to deploy at a moment's notice to anywhere in the world where a conflict is situated is a top priority for the squadron and making sure the 'Fighting First' are at the top of their game is the Commanding Officer for No.1 Squadron Wing Commander (WGCDR) Jason 'Gam' Gamlin.
APD was privileged to speak exclusively with WGCDR Gamlin at the RAAF Base Darwin open day, he sat down with us to explain why these exercises are important for his team and how they have deployed to Darwin from Amberley in effect splitting the Squadron in two for the deployment whilst back at Amberley essential training for the newer aircrews is carried out.
"We always love coming to Darwin, it's a fantastic place to conduct an exercise, but to have all these assets participating this year in the airspace we have which is huge, the airspace alone is bigger than most countries in terms of size there are very few restrictions in the airspace, and that airspace is what we love about being up here."
"And we've spoken to the international participants and they love it here because they have those airspace constraints and here they can spread their wings and really integrate with everyone else in a large area which is a great opportunity for them, and that's a big draw card for Pitch Black."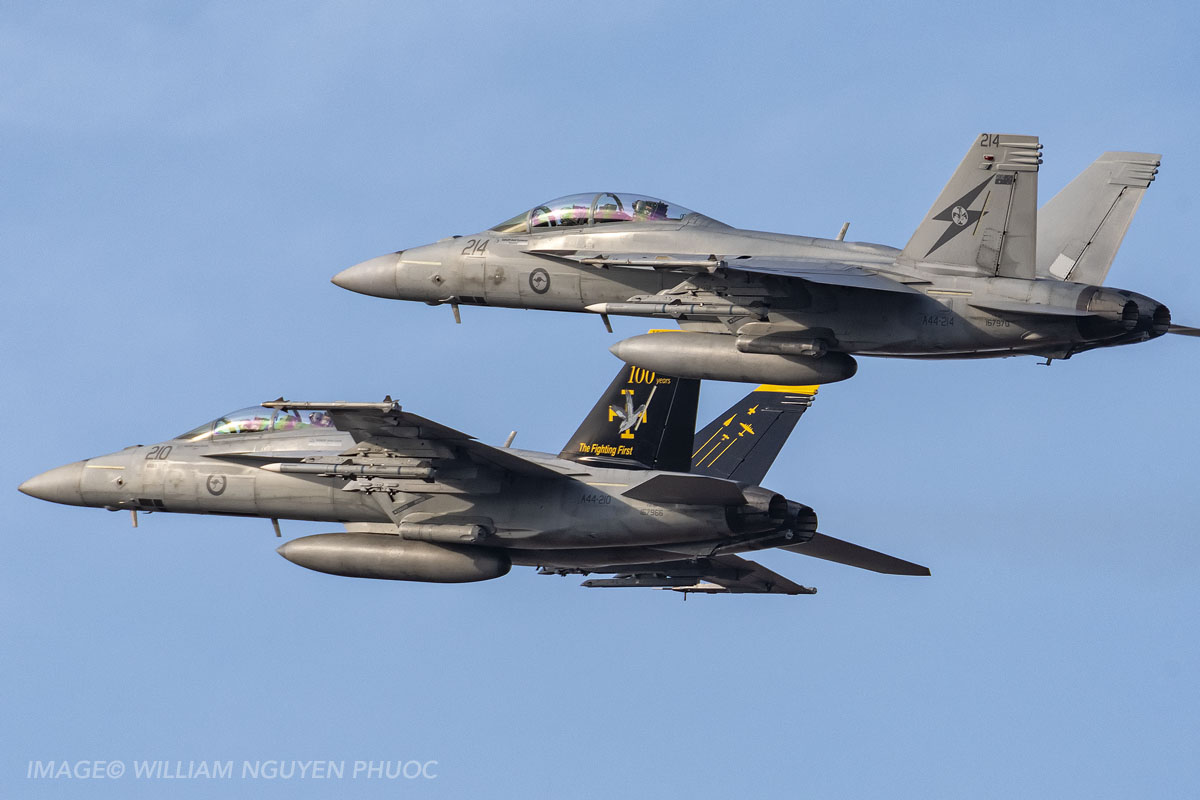 Having 24 aircraft as part of its Squadron and to have an extra 11 EA-18G Growlers with No.6 SQN also based at Amberley, the two units have been able to work together on their deployment to Darwin from Amberley. By doing that, it has also helped in honing the two squadrons personnel's abilities to work together to minimise logistical problems that may arise when deploying in a detachment to any base around the world or in this case to Darwin.
This is an important factor because, as stated, the 'Fighting First' is the Australian Governments go-to Squadron, if any strike or air supremacy skill sets are needed in any coalition force for any conflict the government deems necessary to employ the RAAF ACG. It is likely then, or near impossible that the "Fighting First " would deploy to a combat zone without the RAAF's new Electronic Warfare abilities that No.6 SQN now possesses, especially in the strike capability.
Until the F-35A comes online from 2020 with the first two F-35's being delivered in December 2018, the two squadrons from 82WG will most likely be the units of choice for the government and always deploy together, with the "Fighting First" benefiting from No.6 SQN's abilities to nullify the enemies radar and communication networks basically rendering the enemies assets to zero impact, thus allowing No.1 SQN to do what its motto says 'Seeking and Striking' and always being the first to do so.
A recent example of this was the mission scenario in Pitch Black involving the escort of a C-27 and C-17 in two different areas within the Pitch Black airspace, with a 78-3 kill ratio for Blue Air against Red Air both No.1 and No.6 Squadrons were a part of the LFE for Blue Air.
There is no doubt that even with only two Growlers operating in this particular mission in the two separate lanes in the airspace, the one for the C-27 and the one for the C-17, in a limited capacity for the exercise that it helped contribute in a large way to helping the Squadrons,  including the 'Fighting First', get into the contested airspace hunt for simulated targets on the ground and in the air and nullify those threats against Blue Air.
For the personnel from No.1 SQN, WGCDR Gamlin explains how that experience is for his team to get away from the squadrons home base of Amberley to Darwin.
"Well the team has launched up to Darwin as one and six squadron working together to make that happen, and the benefits is having a common flight line and the benefits of working together are great for us."
No.1 SQN Senior Engineering Officer Squadron Leader Dominic Pace oversaw the integration and said the process was relatively straightforward.
"Number 82 Wing expects this form of integration will be a common feature of future operational commitments and will enable Air Force to extract the best capability outcomes from the F/A-18F and EA-18G platforms" SQNLDR Pace said.
The similarities between the two aircraft meant maintenance teams could easily transfer their skills and work on both on the same flight line, which may be pretty straight forward at home at Amberley where they share the same apron and flight lines and the HQ's of both squadrons are few meters away from one another with 82WG HQ just across the street at Amberley.
Corporal Nicholas Jarrett, Aircraft Technician from No.1SQN said the two aircraft are not very different from a mechanical point of view and obviously, coming from the famous Boeing stable, shares a lot of commonality between the two airframes.
"So that's been an easy transition for us and it's great for the two squadrons to be working together" CPL Jarrett said.
All maintenance personnel serviced both aircraft types and administration and logistics personnel conducted duties in support of both squadrons prior to, during, and for their return to Amberley.
No. 6 SQN Flight Line Desk Sergeant Daniel Johnson said the two squadrons shared work spaces and ideas during the fast paced exercise. "Everyone's got different backgrounds and experiences and we're able to rely on a more diverse workforce" SGT Johnson said.
Leading Aircraft Women Vanessa Noal from the No.6 SQN Administration team said she worked with new people with different kinds of skillsets.
"You see how they would do things differently to what we would, so we are definitely gaining ideas that we probably wouldn't have got if we had just come on our own," LACW Noal said.
Not only is flying in this huge airspace a great aspect for Squadrons aircrew such as those from the 'Fighting First' but also the fact that personnel on a logistical and also a maintaining level gain interoperability not only with other international participants during the exercise but also between other RAAF units.
For 1 Squadron though, this training is something that you cannot gain anywhere else, these large air control exercises are crucial to the development of personnel and their skills that are needed to engage with large force employment (LFE) training and mission planning, especially for those aircrew who if needed will be called upon if tensions between two opposing parties break out and they are required to intervene.
WGCDR Gamlin explains exactly what LFE training in Pitch Black helps with in the team he leads.
"Well the way it works is that Pitch Black it gives us the opportunity to go and grab our younger aircrew who are going through their upgrade missions and they go and do their upgrades as what we would call mission commanders, so they are in charge of the whole packages sent out into the airspace."
Contributing to maintaining a team approach in training and to grow the skillsets, a third of the squadron is back at Amberley with the younger aircrew continuing to conduct their own vital training.
Currently No.1 and No.6 Squadrons aircrews new to the squadrons convert to the F/A-18F by heading over to the United States once they have graduated from No.76 Squadron at RAAF Base Williamtown. They will then train with United States Navy's F/A-18E/F Super Hornet equipped VFA-106 'Gladiators' at Naval Air Station Oceana in Virginia where they will gain qualifications for Super Hornet operations during an intensive nine month course and aircrew for No.6 SQN go to NAS Whidbey Island in Washington to train with VAQ-129 'Vikings'.
Once the aircrews get back from the United States, No.1SQN have a training program where the personnel will again go through a syllabus.
WGCDR Gamlin explains that even though the 'Fighting First' are in Darwin and making a priority in training the aircrew in Pitch Black, there is also emphasis on training the up and coming aircrew.
"At the moment we have the operational part of the squadron like we have here and also the training flight portion of the squadron back at Amberley doing the training activities with the guys and girls coming back from the U.S. Navy, and that is always constantly going on."- he says.
"So while we are here there is still a third of the squadron back at home in terms of aircraft and aircrew and yet probably a halve to two-thirds of the maintainers back at home still turning everything over day in day out and doing what the equivalent of 2 Operational Conversion Unit is doing back in Williamtown, but just on a much smaller scale."
Asked if those crews that are still at home base during Pitch Black 2018 will be available to come to Pitch Black in 2020…
"They won't be up to that stage in their role within the squadron up to that point as our categorisation cycle is for their first tour in the squadron to be three to three and a half years, so it's  around about that three year mark where they are in that part of progression."
By 2020, those aircrews will be in around their two years with the squadron and they will be doing their C-cat, our pairs lead at that stage they will not be doing any of the four ship package commander roles but those aircrew will be a part of the four ship packages. Thus they will be working within the four-ships being the number three.
Even with the title of the RAAF's biggest squadron in terms of number of aircraft operated No.1 SQN is always maintaining an edge by putting an emphasis on training capable personnel either if they are relatively new to the squadron or if they are now seasoned members of the 'Fighting First'.
Big air control exercises like Pitch Black give a unique training opportunity to those aircrews and are essential for the various squadrons participating.
The 'Fighting First' is one such squadron that will give their own personnel a great amount of knowledge not only how to plan and implement tactics for missions in the future but also to help teach their maintainers how to work as a coordinated and cohesive team with other squadrons also taking part.