VFC-111 SUNDOWNERS
"Florida's Bad guys"
Report and photos by George Karavantos
April 11, 2020
At the southern part of the US continent where the famous 0 mile and the closest distance from Cuba lies, stands the Naval Air Station Key West base. The airfield is located on Boca Chica Key, one island before Key West, approximately 200 km south of Miami. The original name for NAS Key West is Boca Chica Field and its history goes back to 1823 when it was first established as a Naval Base.
During World War I the base was expanded and in 1917 it became a Naval Submarine Base. The first naval flight was also recorded that year. After the War, the base was decommissioned and reopened again just prior to World War II when the United States entered the War. After World War II, NAS Key West was retained as a training facility but became the focal point during the Cuban Missile Crisis in 1962.
Due to its superb flying weather, many historic and famous squadrons were detached or permanently located there. Air Test and Evaluation Squadron (VX-1) was established at NAS Key West and for three decades was conducting airborne anti submarine warfare systems evaluations out of Boca Chica. In the 1970s, Tactical Electronic Warfare Squadron 33 (VAQ-33) relocated to Key West with a mix of aircraft and remained there until it was decommissioned in 1993.
During the same period, the famous Reconnaissance Attack Wing 1 relocated as many as 10 Vigilante squadrons to Key West. Several other permanent detachments were the ones of the Fighter Squadron 171 (VF-171) with F-4 Phantom II from the 70s through the 80s and the famous Fighter Squadron 101 (VF-101) from the 60s till 2005 with F-4 Phantoms and F-14 Tomcats. Fighter Squadron 45 (VF-45) was also based at NAS Key West to provide air combat adversary services with A-4, F-5E/F and F-16N aircraft.
Today, Naval Air Station Key West constitutes the home of the famous Fighter Composite Squadron 111 (VFC-111) "Sundowners", an Active -Reserve squadron which operates the F-5N and F-5F aircraft.
THE DOWNERS
Back in the 80s, due to the Cold War, the US Navy was maintaining many F-5 aggressor squadrons in its inventory. On the west coast, they were based in NAS Miramar and NAS Lemoore, California and later on in NAS Fallon, Nevada and on the east coast, in NAS Oceana, Virginia and NAS Key West, Florida plus the Marine Corps Air Station in Yuma, Arizona. After the fall of the Berlin Wall in 1989, the Naval Reserve decommissioned most of them. Since 1996 the only adversary squadron was the VFC-13 "Saints" in Fallon, which maintained a temporary detachment in Key West.
This detachment became permanent in 2005 allowing the following year the reactivation of the VFC-111 "Sundowners", adopting the identity of the former VF-111 "Sundowners" based at Naval Air Station Miramar, California which had been decommissioned on March 31, 1995. VFC-111's "Sundowners" nickname originates from Fighter Squadron 11 (VF-11) and refers to the unit's mission to shoot down Japanese fighters or "suns" during World War II.
Since its establishment, VFC-111 flies a handful of colourful F-5N Tiger II aircraft which are maintained by the civilian contractor PAE Applied Technologies maintenance team. Officially, in contrast with the U.S. Air Force, the U.S. Navy does not recognize a direct lineage with disestablished squadrons. However, unofficially, the Naval Aviation community strives to retain traditions and history whenever a squadron designation and name is resurrected in a new unit.
VFC-111 operates as part of the U.S. Navy Reserve's fleet adversary program, providing dissimilar air combat training to fleet strike fighter and Marine fighter attack squadrons, as well as U.S. Air Force, Air Force Reserve and Air National Guard fighter squadrons. Every day, streams of colourful adversaries go head-to-head with fleet pilots as they learn how to become better in dogfights and aerial combat in different Dissimilar Air Tactics scenarios.
VFC-111 is actually an Active-Reserve Integration (ARI) unit composed of both Regular Navy and Navy Reserve personnel. The squadron is composed of experienced active duty junior officers, full time support reservists, and selective reserves. Its main advantage is its proximity with the Gulf of Mexico, a vast airspace over the sea without any other air traffic nearby but also its favourable weather conditions with sunshine almost all year round.
VFC-111's unique location at NAS Key West, home of the Navy's Strike Fighter Air Readiness Program (SFARP), eliminates costly adversary detachments and also provides a significant portion of adversary support to all F/A-18 Fleet Replacement Squadrons (FRS) in the Navy and Marine Corps. Some of them are VFA-106 at NAS Oceana, Virginia, VFA-122 at NAS Lemoore, California, VMFAT-101 at MCAS Miramar, California and more recently VAQ-129 at NAS Whidbey Island, Washington equipped with EA-18G Growlers. With Navy's and Marine Corps' establishment of F-35 Fleet Replacement Squadrons like VFA-101 at Eglin AFB, Florida or VFA-125 at NAS Lemoore and VMFAT-501 at MCAS Beaufort, South Carolina will keep the VFC-111 busy in providing training support to them as well.
NORTHROP F-5 TIGER II
The F-5 was developed by Northrop (now Northrop-Grumman) in the early 1960s as a low cost lightweight, multi-role Mach 1 capable fighter aircraft which proved to be very popular in the export market with 36 different nations. More than 2200 were built by Northrop and under co-production and licensing agreements with Canada, The Republic of China, the Republic of Korea, Spain and Switzerland.
In December 1970, a new version was developed to offer more manoeuvrability, featuring a greater wing area with bigger Leading Edge Root Extensions (LERXs). Avionics were upgraded with the Emerson Electric AN/APQ-153 series radar. The aircraft received more powerful J-85 engines and more fuel capacity. The first flight of this improved F-5 took place on August 11, 1972 and designated F-5E Tiger II.
It was first delivered to the US Navy in 1975 to serve as an aggressor for trainees at the prestigious Naval Fighter Weapons School (NFWS), better known as "Top Gun" based in California, Miramar. Nearly forty-five years later, the Phantoms and the Tomcats of the participant squadrons have given way to the Super Hornets, but the Tiger II is still there to play the role of the "Bad Guy"!
Initially, ten F-5E and three F-5F two-seats were delivered from the US Air Force to Top Gun, as well as VF-43 "Challengers" and VF-126 "Bandits", assuming the role of the enemy in dogfight training. The aircraft had great resemblance with the MiG-21 Fishbed mainly because of its small size and performance similarities to the Soviet fighter which was at that time widely in service with the air forces of the Warsaw Pact. This agile hunter was very much appreciated by the instructors but not so much by the trainees…
When the US Air Force retired its fleet of F-5Es and F-5Fs in 1990, some of the aircraft were reassigned to the US Navy's adversary squadrons. But these aircraft were pretty old. Some of them were almost near the end of their service life. In 2003, thirty-six units of this aircraft, still considered very economical, were in service, each averaging seven thousand flying hours. After planning to equip them with a fourth-generation pulse Doppler radar to improve their performance or even exchange them with older F/A-18A/Bs, it was finally decided to keep them in service under the same status. But the needs were constantly increasing, especially among the Marines where a dozen of aircraft was no longer sufficient to cover its training needs. So the US Navy had to look for new fighters and replace these older ones. Finally the solution came from Switzerland.
Signed on March 7, 2003 between the Pentagon and the Swiss government, the contract was for the sale of 44 F-5Es at the time when the Schweizer Luftwaffe was reducing its fleet size due to budget constraints. These former Swiss aircraft, with only two thousand five hundred flight hours on each airframe, were delivered between 2004 and 2008 and were sent to Northrop Grumman Technical Services at the Naval Depot in Saint Augustine, Florida for several modifications for their new assignment within the US Navy.
A project comprising nearly six hundred modifications, the most important of which were the installation of a new oxygen generating system, new inertial navigation system, new display with multifunction touch screen, embedded GPS, new fibre optic gyro, ALR-87 radar warning receivers, ALE-40 chaff and flare system, automatic flaps and finally anti-skid braking system. These aircraft were renamed F-5N and they are recognizable by their different wing leading edge roots extensions (LERX) and their flat nose, hence the nickname of "Platypus".
The remaining Navy's F-5F Tiger IIs were too costly to maintain, had very little service life left and needed to be retired. So the US Navy replaced them by using the airframes of the Swiss F-5Es that had recently purchased. The three new F-5F, nicknamed 'Franken-Tigers', were built using parts from Navy's two-seat F-5F Tiger IIs and from the single-seat, former Swiss Air Force, F-5Es. What they actually did was to take the two-seat cockpit section and the tail section of the old Navy F-5Fs 75-0756 (of VFC-111), 75-0753 (of VFC-13) and 84-0456 (of VMFT-401) and bolted these on to the newer centre section of the former Swiss F-5Es (81-0834 / J-3075, 76-1586 / J-3061 and 76-1580 / J-3055).
The first 'Franken-Tiger' made its maiden flight on November 25, 2008 and was delivered to Marine VMFT-40 on December 9, 2008. The second was delivered to VFC-111 on December 19, 2008 and the third was delivered to VFC-13 in January 2010.
This programme was completed on April 29, 2009, when the 44th aircraft left the facilities of Northrop in Florida. Thirty of these airframes were equally distributed between VFC-13 and VFC-111 of the US Navy along another 11 which were given to the VMFT-401 at Yuma.
TODAY'S OPERATIONS
Most missions nowadays are flown in the Key West complex located in the Gulf of Mexico and the Straits of Florida off the shores of Cuba. Within minutes after take-off, all aircraft are in the space over the vast Key West complex.. The entire area is covered by the Tactical Aircrew Training Combat System (TACTS) and is almost entirely devoted to dissimilar air combat training.
Real-time tracking of aircraft engaged in air combat is provided by the TACTS, which has a replay function to help assess each aerial duel with aircraft potion data and the outcome of each missile shot. Naval Air Station Key West was the first navy installation to receive the P5 Combat Training System/Tactical Combat Training System (CTS/TCTS) in 2006. This system, developed by Cubic Defence Applications, allows interoperability with the US air Force and other ally units that use P5 system and has proved to be a valuable asset for VFC-111.
This P5 system, in combination with the P5 instrumented pod, offers very detailed insight of the performance of the individual strike fighter. It also provides adversary pilots with valuable information: allowing them to continuously improve tactics and skills.
The pod is mounted to the missile launch rail of the left wingtip of each F-5. The GPS-based pod provides precise, continuous tracking of each aircraft involved in the mission and collects a diverse cache of in-flight data, including real-time kill notification to the aircrew and real-time weapon scoring for long-range weapon shots. A P5 pod can support up to 100 aircraft in a single exercise has a range of 80 nautical miles in air-air scenarios and 125 nautical miles in air-ground missions. Data is downloaded to the ground stations in real time, such that when all players have returned to base, all data will be ready for debriefs.
THE EPILOGUE (OR NOT?)
Recently the US Navy announced that is planning to remove these formidable fighters from service between 2028 and 2030 when they will have reached their eight thousand flight hours limit while at the same focusing on upgrading to a standard more than a MiG-21 threat level simulation.
Northrop's small flexible fighters are considered ideal for the role of enemy threat simulation as they are simple to maintain, without complex systems, at low operating costs. Their value is so important that the US Department of Defense USD718 billion Fiscal Year (FY) 2020 budget included USD39.7 million to acquire a further 22 F-5E/Fs from Switzerland, to supplement and in some cases replace the 43 aircraft currently in service.
In the meantime, in order to reduce the pressure on the existing fleet distributed among the three squadrons, NAVAIR (Naval Air Systems Command, the US Navy unit responsible for the integration of aircraft systems) continues to seek other Tiger aircraft around the world while considering the potential modernization of these new cells (radar, jammers, helmet visors, etc.). The problem is that these aircraft, as they are today, are only realistic simulations of MiG-21 level threats, a limitation that could be overcome if the US Navy decides to modernize these 'adversaries' planes.
The other solution studied by the Pentagon would be to confine this mission entirely to private companies. In October, USAF awarded four companies with USD 6.4 billion in five-year AdAir (Adversary Air) contracts. One of these private companies, Tactical Air Support Inc (TacAir) based in Reno, Nevada acquired a fleet of 21 ex-Jordanian F-5E / Fs in 2017and immediately began developing an upgrade for its new aircraft at its facilities in St. Augustine, Florida. The company was awarded in late 2018 with a five-year, USD 107 million contract from the US Navy to provide adversary services, in addition to training for air and ship crews to counter electronic threats.
Other companies such as Draken International, have recovered South African Cheetahs and Spanish Mirage F1s, or ATAC (Airborne Tactical Advantage Company), which recently bought sixty-three French F1 Mirage which are being assembled and tested in Fort Worth, Texas.
For sure Northrop's little hunter still has a few more years ahead of it and it is very possible to see more used F-5s coming to form new units or back up the existing ones. Some also believe that the Tiger II might become the A-10 of the US Navy in terms of replacing it with something else.
Until then, these slick old but still deadly silhouettes will be screaming over the sunny skies of Key islands!
Long live the Tiger!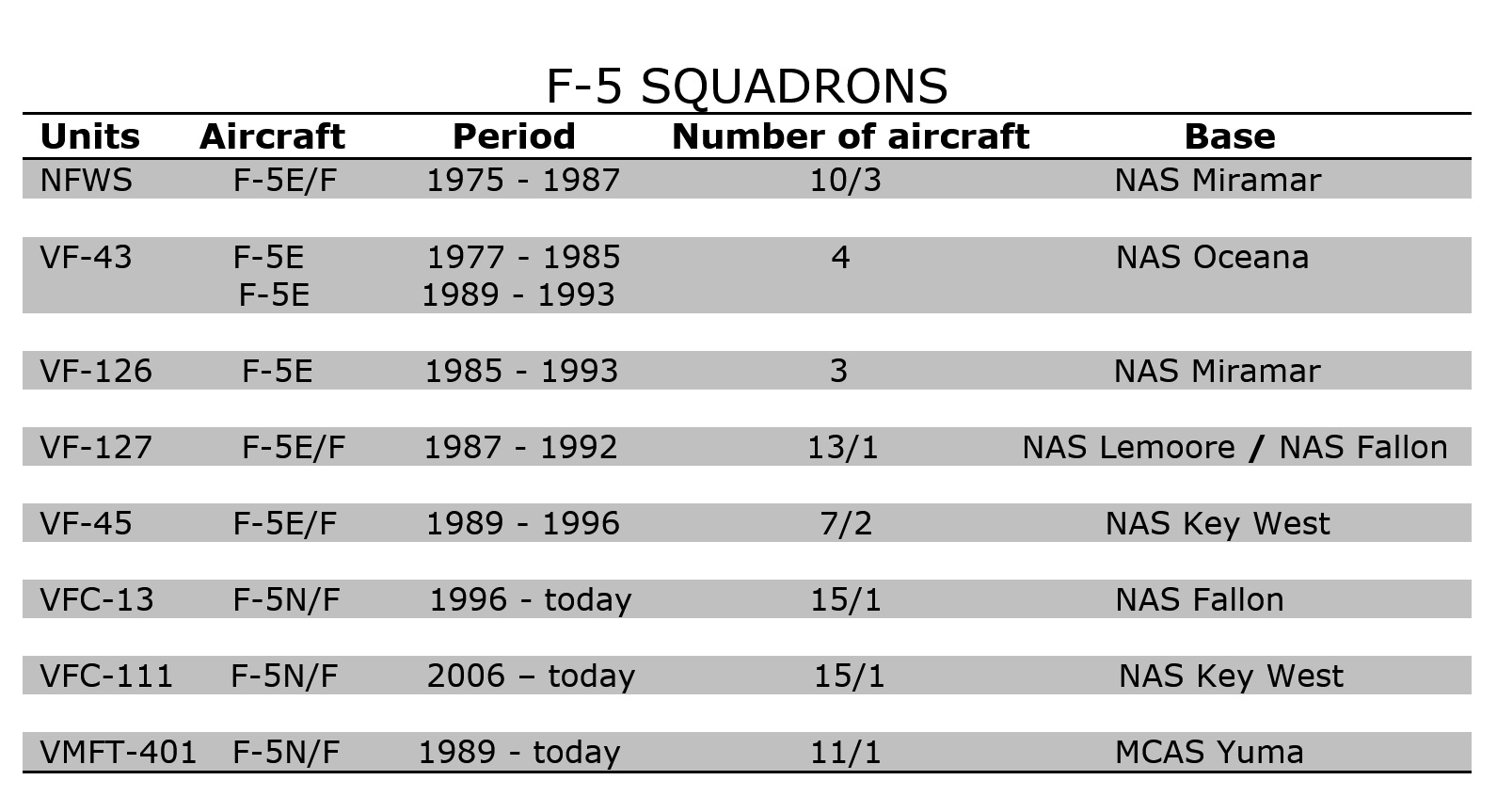 – In order to be able to fly for a longer period of time, all the F-5s carry an external centre fuel tank. This tank degrades their performance in terms of G forces but offer greater endurance.
– The Squadron owns a based fixed simulator which is used mainly as an emergency procedural training or checking. Each pilot has to pass each year an emergency procedures check.