The 'ABE' participates in RIMPAC 22.
Aircraft Carrier USS Abraham Lincoln CVN-72 with Carrier Air Wing 9 gets ready for Rim of the Pacific in Hawaii.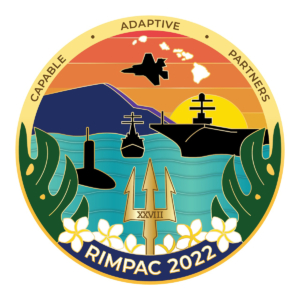 Article: Jaryd Stock
Images: Jaryd Stock, Chris S & USN
Rim of the Pacific (RIMPAC) has returned to Hawaii with the maritime exercise kicking off Wednesday the 6th of July, with the aircraft carrier USS Abraham Lincoln (CVN-72) nicknamed 'The ABE' steaming into Pearl Harbour for the biennial exercise after its Western Pacific (WESTPAC) cruise.
The 28th edition of the maritime exercise is based in and around the Hawaiian Islands and Southern California and running through to August 4th, RIMPAC is the world's largest international maritime exercise with the participation of twenty-six nations, 38 surface ships, four submarines, nine national land forces, 31 unmanned systems, approximately 170 aircraft and over 25,000 personnel participating.
 RIMPAC 2022 Commander, U.S. 3rd Fleet, Vice Admiral Michael Boyle welcomed participating nations and forces returning to a full-scale exercise to demonstrate a wide range of capabilities and foster cooperative partnerships.
 "RIMPAC provides realistic, relevant training that increases participants' abilities to plan, communicate and conduct complex maritime operations" Vice Adm. Boyle said. 
"We can already interoperate across all domains, it's a common part of the national agenda. RIMPAC presents an opportunity to find the mission sets that overlay and strengthen interchangeability amongst our partner nations." 
RIMPAC 2022 provides a unique training opportunity designed to foster and sustain cooperative relationships that are critical to ensuring the safety of sea lanes and security on the world's interconnected oceans.
This year's exercise program will include gunnery, missile, anti-submarine and air defence exercises, as well as amphibious, counter-piracy, mine clearance, explosive ordnance disposal, diving and salvage operations.
Onboard the Lincoln is Carrier Air Wing 9 (CVW-9) based at naval Air Station Lemoore, California and has been embarked onboard the carrier since the ship departed San Diego back in January 2022.
U.S. Navy Captain Amy Bauernschmidt, the carrier's commanding officer, and is the first woman to lead a nuclear carrier in U.S. Navy history and took command of the ship in August 2021. She previously was the carrier's executive officer from 2016-2019 and has over 3000 hours flying Seahawk Helicopters and previously being the Commanding Officer of Helicopter Strike Maritime Squadron 70.
APD were able to speak with Capt Baurenschmidt onboard the 'The ABE' as the ship prepares to depart Pearl Harbour to participate in RIMPAC drills, She details what roles the ship and CVW-9 will play in the exercise and how the integration of key assets will help build on interoperability between nations participating.
"The Abraham Lincoln strike group left San Diego on January 3rd on a routine deployment and since then we've completed over 18,000 flight hours (CVW-9) and sailed nearly 70,000 nautical miles and trained with various partners in the Indo-Pacific Command's AOR (Area of Responsibility) with RIMPAC being our last exercise to participate in and we are excited to be here."
"For us RIMPAC offers us a unique opportunity to work with 26 other partner nations, and its unprecedented to have this many nations working as a team together and it's an incredible opportunity to make sure we know how to communicate that in essence we speak the same language.
By that I mean, that we know how to operate our aircraft our ships and how we operate the ships with each other and just making sure that when we need to rely on these skills that we are going to hone over these next couple of weeks and on follow on deployments, that we have those skills already in place."
Interoperability is the name of the game for exercises like RIMPAC, the only way nations can build on working together either in humanitarian assistance disaster relief (HADR) or in combat operations is to train together and this is what RIMPAC brings on the large scale, there are new capabilities that are participating in RIMPAC for the first time.
For instance this marks the first time the newly commissioned Royal Australian Navy Supply Class Auxiliary Oiler Replenishment ship HMAS Supply will participate in an international exercise, carrying-out replenishments at seas with participating navies especially working with the Abraham Lincoln and other flat tops.
"Most U.S. Navy personnel based on the West Coast of the United States will in their time in the Navy have participated in a RIMPAC and we all have great stories of what we have learnt integrating with people, that may sound simple since they all call over the same radio frequency and talk to each other, but what we have found is it is always not that simple." Capt Baurenschmidt stated.
"We are really building on those relationships here in the in-port phase of the exercise, we get to know who we are working with, we get to know who we are talking to on the other (ship's) bridge and its absolutely critical because wether we work together in humanitarian assistance or wether we are conducting flight operations, wether we are operating in close proximity together.
And we have many new firsts here at RIMPAC with the Australian Supply ship (HMAS Supply) that will be working with us, there are a lot of new commanders from various nations that will be taking over various aspects of operations and so we cannot simulate this in any way shape or form, the only way you get better at operating with each other is to operate with each other."
Apart of CVW-9 for the first time is the deployment of the F-35C Lighting II operated by U.S. Marine Fighter Attack Squadron VMFA-314 and the CMV-22 Osprey operated Fleet Logistics Support Squadron 30. There is a reason as to why there is a silhouette of the F-35 in the offical emblem of RIMPAC, and it highlights the superiority in the air by this 5th generation aircraft and the abilities it brings to enhance maritime assets on the water.
The two additions to the the air wing are apart of the U.S. Navy's Air Wing of the Future, and we'll talk exclusively about them in our next article based on CVW-9 conducting flight operations onboard the 'ABE' during RIMPAC.
Capt Baurenschimdt was able to detail to APD what it has been like integrating two new platforms to the Air Wing she said, "This is the first time the Marines have integrated a F-35C into a Air Wing and deployed onboard a carrier, the USS Carl Vinson has deployed with a U.S. Navy F-35C embedded with its air wing, and its the first time the CMV-22 Osprey has deployed on a carrier as our Carrier onboard Delivery aircraft.
They are both incredible platforms, as always when you introduce something large and new there are going to be some growing pains and some lessons learnt, but generally speaking it has been a flawless integration and they (Squadrons) have done an outstanding job."
Ma'am continues, "Its been great to also have marines onboard there are not that many carriers and air wings that deploy with United States Marine Corps and that has been an exceptional experience.
And then working with the CMV-22 everything has its challenges like I said, but by and large they have completed their mission each and every single day we've asked them too, and we incorporated quite a few lessons learnt from the USS Carl Vinson and then in turn we are turning all these lesson learnt operating these platforms onto the next carrier."
The crew of the USS Abraham Lincoln are incredibly resilient especially spending months at sea in the Western Pacific and will be looking forward to getting back home to loved ones and friends but they are incredibly excited to participate in RIMPAC and work with international partners to build on the foundations of friendship and working together as a team.
Our next article on RIMPAC will focus on USS Abraham Lincoln at sea conducting Flight Operations so stay tuned for more!
A special thanks goes out to the RIMPAC PA team and Capt Amy Baurenschmidt for your time.