Best Buddies
RAAF F/A-18F Super Hornets seen with "Buddy" Refuelling Pod for the first time at Talisman Sabre 2021.
Report by Stocky
Photos by Stocky and Daniel Vorbach
July 19, 2021
With the opening ceremony of Talisman Sabre 21 held last week at Royal Australian Air Force (RAAF) Base Amberley the current three tipped spear of Air Combat Group's strike capabilities were on display with the EA-18G Growler (A46-302), F-35A Lightning II
(A35-036) and the F/A-18F Super Hornet (A44-210) providing a fantastic backdrop to formal proceedings.
With the F-35 looking like a clean shaven embodiment of 5th generation low observable stealth aircraft, it was up to the EA-18G and F/A-18F to look like a age old prized street fighter that you just wouldn't want to mess with, as both aircraft were loaded up to the max with their hard points carrying something showcasing the range of abilities both aircraft can carry out, it was awesome to see!
But something was different with the "Fighting First's" F/A-18F, loaded up with a variety of munitions on it's wing-tip and pylon stations consisting of AIM-9 and AIM-120's air to air missiles highlighting the Rhino's capabilities as a air to air fighter, and also air to ground munitions like JDAM's and the GBU-10 Paveway II. All of this was on show to the world highlighting No.1 Squadron's capabilities of strategic strike and air defence/ air attack roles the Super Hornet conducts.
But for the first time the RAAF revealed that the centre line fuel tank loaded to the centre hard point on Rhino A44-210 was not your regular fuel jug. Underneath strapped to the centre line hard point was an Aerial Refuelling System pod or as the U.S. Navy has nicknamed it the "Buddy Pod", most likely a Cobham 31-300 series ARS pod, the same pod the U.S. Navy uses with it's fleet of F/A-18E/F Super Hornets operating from aircraft carriers when deployed apart of a Carrier Air Wing.
A Australian Defence Force spokesman was able to confirm to APD that the RAAF have purchased an initial six ARS pods and have been using them for some time since receipt of aircraft (that would mean since the aircraft was delivered back in 2010), although this is the first time they have been revealed publicly.
According to the Cobham website, "The 31-300 Series "Buddy pod" is mounted on the centre line hard point with the pod having an internal capacity of 300 gallons (1,135 litres) of fuel and is capable of pumping fuel to a receiver aircraft at a rate of 200 gallons a minute with a drogue pressure of 35 to 55 psi."
Additional fuel can be transferred through the pod from the internal and external fuel tanks of the tanker aircraft, example being the five tanks a U.S. Navy F/A-18E/F operate with from an aircraft carrier. A ram air turbine located on the front of the ARS pod drives a hydraulic pump when the pod is activated, generating hydraulic power to drive the hose reel and fuel pump motors, which allows a hose and drogue system to operate the AAR function.
With Australia being a huge island continent it has always been suggested by some military aviation critics that since the RAAF retired the much loved General Dynamics F-111C/G fleet which were operated by No.1 and No.6 Squadrons, that the range on the current F/A-18F Super Hornets, EA-18G Growlers and soon to be retired F/A-18A/B Classic Hornet fleet as well as the new F-35A Lightning II were well below the benchmark the F-111 had set in reaching out to strike targets far off the Australian mainland.
Even with the addition of seven KC-30A Mutli Role Tanker-Transport aircraft now operated by No.33 Squadron the strains of operating the KC-30 fleet providing AAR to fighters from RAAF's Air Combat Groups units, as well as conducting other operations including providing VIP flights for Australian Government officials, has been noted especially since the F-35A Lightning II, which is a thirsty aircraft, has come online and now achieved Initial Operating Capability.
It has been evident at exercises stretching back through 2020 to Talisman Sabre 2019 that the F/A-18A/B Classic Hornet aircraft that have been participating in the exercise, have been seen operating with three external fuel tanks. That generally suggests that those aircraft aren't been supported by AAR during those sorties, and that the KC-30's have been tasked to support F-35A, F/A-18F and EA-18G operations at that time.
But it seems that the "Buddy Pod" system is another capability that has been revealed by the RAAF to be another way of extending the range of strike packages in particular No.1 and 6 squadrons conduct together, since the only aircraft that can refuel off the ARS pod is those designed to refuel from a hose and drogue system, which could include the new Loyal Wingman Unmanned Aerial Vehicle under joint development between the RAAF and Boeing Australia.
The U.S. Navy primarily use the "Buddy Pod" system on a their Echo and Foxtrot Super Hornet's to supplement fuel to aircraft returning back to the aircraft carrier. As was seen in Talisman Sabre 2019 around 25% of the F/A-18E/F Super Hornets from Carrier Air Wing 5 embarked onboard USS Ronald Reagan (CVN-76) were operating in tanker configuration with two external fuel tanks under each wing and the ARS pod on the centre line station.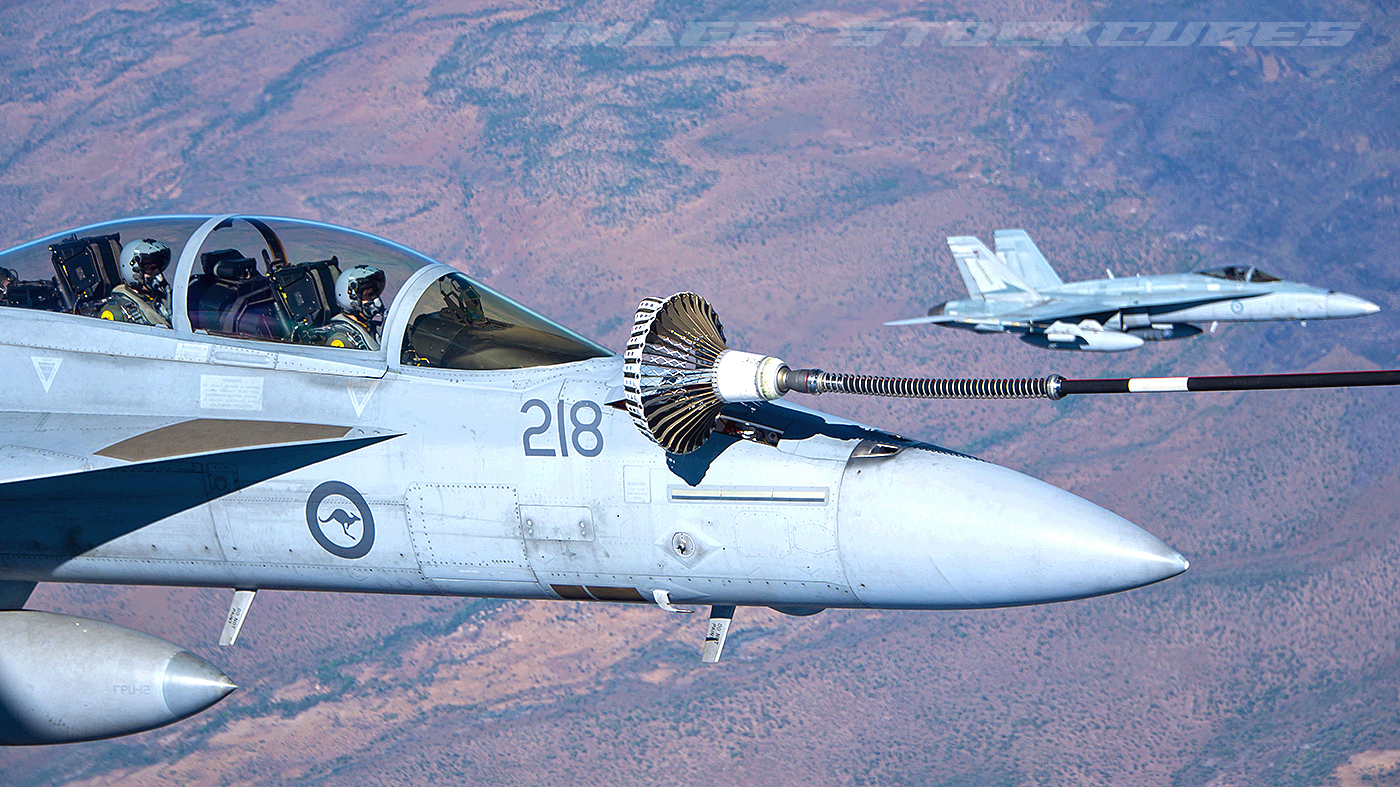 The role of the tanker configured Super Hornets was to supply fuel to returning aircraft after completing their missions, ensuring a safe return to the carrier just in case there were some returning aircraft that didn't successfully complete their TRAP onboard the carrier the first or second time. Occasionally the tanker Super Hornets have been apart of a strike package emanating from the aircraft carrier ensuring greater range but usually strike packages have been supported b y U.S. Air Force KC-10 Extenders and KC-135 Stratotankers.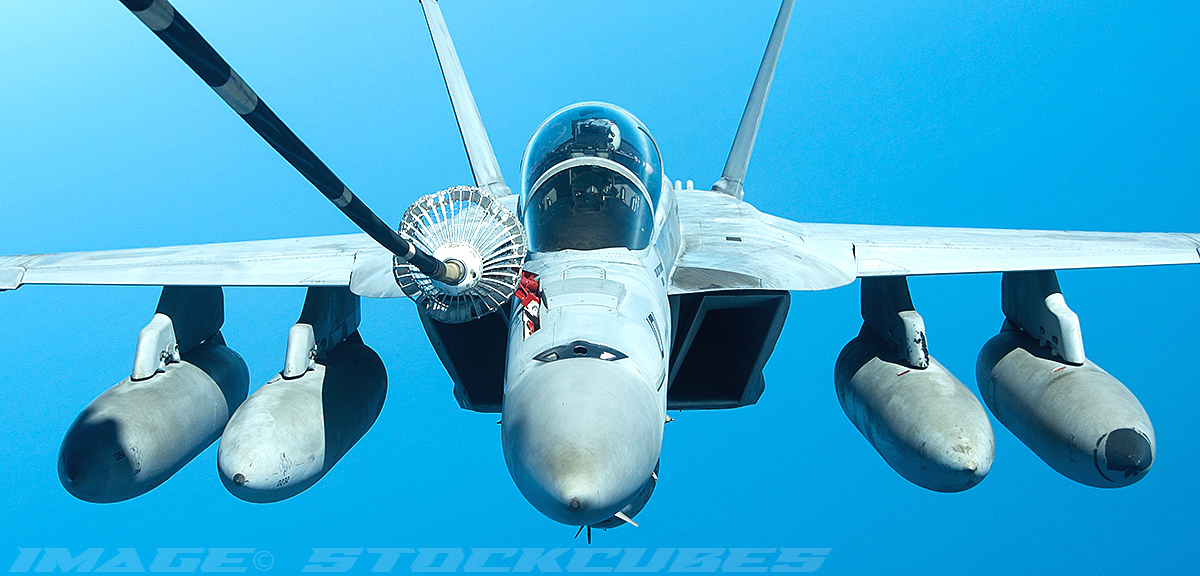 So future theoretical RAAF strike packages in a conflicted airspace with this new capability could look like being a three tier system. What do we mean?
Well out the back, or the third tier, you would have support of KC-30's providing AAR to F/ A-18F's out of harms way together with a E-7 Wedgetail providing the C2 piece (Command and Control) to the strike aircraft.
The second tier could consist of F/A-18F Super Hornets mixed with EA-18G Growlers, with the Super Hornets providing AAR capabilities to Loyal Wingman UAV's and EA-18G's which are under control of either a Weapon System Operator sitting in the wizzo seat (back seat) in the Super Hornets or crews onboard the E-7A, thus extending the range of the Loyal Wingman which according to Boeing have a range of more than 2000 miles or 3,218 kilometres.
With the first tier being F-35A Lightnings at the tip off the spear softening up opposing air defences either on the ground or in the air and then feeding real time information back to the E-7 crews or mission commander, thus enabling them to direct F/A-18F with their Loyal Wingman all the while the EA-18G's are conducting Electronic Warfare disrupting opposition radar and communications keeping the opposition forces wondering where these strike packages are coming from, allowing Loyal Wingman UAV's to gain further reach into any conflicted airspace.
This is just a theoretical way explaining in "layman's terms" the RAAF could use the "Buddy Pod" to extend the range even more for strike packages to reach further away from the Australian mainland, in either case it adds to the capability the F/A-18F Super Hornet already boasts and helps the RAAF in being able to reach further over this wide stretch of land we call Australia ensuring greater security in protecting the nation's borders.