The Osprey's Nest!
Royal Australian Navy HMAS Canberra embarks MV-22 Osprey's during Exercise RIMPAC 22.
Article: Jaryd Stock
Images: Jaryd Stock, Chris S, Ryan Imeson & ADF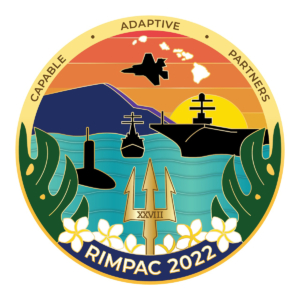 Apart of this years Royal Australian Navy's (RAN) contribution to exercise RIMPAC 22 is the HMAS Canberra (Pennant LO2) led task force made up of three ships and one submarine, the ships include the Landing Helicopter Dock HMAS Canberra, Frigate HMAS Warramunga (FFH-152), Replenishment Ship HMAS Supply (A-195) which is participating in its first RIMPAC exercise since being commissioned in 2021 and submarine HMAS Farncomb (SSG-74).
The ships departed Fleet Base East, Sydney on June 6th to begin the RAN's third regional presence deployment of the year. The deployment will last for four months and will incorporate a number of exercises beyond RIMPAC.
During RIMPAC, the Canberra will be joined by a Royal Australian Air Force (RAAF) contingent of two P-8A Poseidon's with crews from 10 and 11 Squadrons based out of RAAF Base Edinburgh operating from Joint Base Pearl Harbor-Hickam in Honolulu, as will Navy clearance divers and Army personnel aboard the Canberra, with a MH-60R Romeo Helicopter from RAN's Fleet Air Arm 816 Squadron embarked onboard the Warramunga.
The purpose for RIMPAC and what the Australian Navy gets out of an exercise like this is to start with completely integrating with partner forces, making sure they are embedded from start to finish in everything they do and that's starts at the top from the command and control down to the most junior members of the team.
The Canberra is designed for amphibious operations with the ability to project air and surface operations, amphibious landings have been known to be the most difficult and complex of military operations, requiring intricate coordination of numerous military specialties, which includes air power and naval power, naval gunfire, naval transport, logistical planning, specialised equipment, land warfare tactics and extensive training in the nuances of this maneuver for all personnel involved.
Commanding Officer of HMAS Canberra Captain Jace Hutchison was able to explain to APD what the ship and her crew would be doing in RIMPAC 22 especially with cross deck operations of international participants rotary wing aircraft.
"Well firstly we look forward to the opportunity to participate in a very large exercise that RIMPAC presents and in particular we are very fortunate to be apart of a large amphibious manoeuvre by the Amphibious group which is made up of four big deck ships (USS Essex, HMAS Canberra, ROKN Marado, ARM Usumacinta).
And exercises like this continue to work on our interoperability with partners and to also continue developing our own skills, and the Canberra is apart of the 1760 amphibious manoeuvre group, while HAMS Warramunga will be operating as surface combatant across a number of task groups with HMAS Supply supporting all ships participating."
Back in the 2016 iteration of RIMPAC it marked the first time the HMAS Canberra participated in the Hawaiian Islands for the exercise working with U.S. Navy and U.S. Marine Corps. During that exercise a first was conducted with MV-22 Osprey's from VMM-165 "White Knights" landing on the LHD for the first time in trials that would see the aircraft type cleared for flight operations onboard the ship.
Back then it took teams from the RAN and USMC twelve months to work together to come up with ideas and work out any issues before the cross deck flight operation occurred and it proved to be very successful. It showed that for the RAN that it was capable in adjustments and being agile in hosting a whole range of aircraft and not just the standard Seahawk or Taipan operations that are normally associated with flight operations onboard the Canberra.
During the trial conducted back in 2016 USMC Major Brandon Woods who was detachment commander from USS America (LHA-7) and apart of VMM-165 (Reinforced) at the time, stated that these trials are focusing on a future time when the MV-22's can operate anytime from an Australian ship.
"In the future what we want is we show up in theatre and the Australians are there working together with Osprey's, and we can land on the ship take off from the ship where we don't have to go through this whole interoperability process, we can conduct the mission and complete it successfully."
Fast forward six years and the success of those trials have enabled the HMAS Canberra to host two USMC MV-22's Osprey's From VMM-363 "Red Lions" that will be embarked onboard the Canberra, which will mark the first time a detachment of MV-22's have operated from an Australian ship for the whole duration of an exercise.
"This is one of the primary objectives for this years RIMPAC exercise for us is to operate MV-22's which is a major milestone for us and we will also be conducting operations with another sweep of aircraft from the Marines other than the MV-22's." said Captain Hutchison
"And this is the next step in our amphibious capabilities we've got authorisations to cross deck most aircraft from across the world but to have MV-22's embarked onboard that is another step up for operations onboard to have an aircraft consistently  and in an enduring manner from the platform because it brings about another level of complexities.
So for doing this for a three weeks duration we are going to learn a whole lot off lessons not only from the Australian side but also the United States side, and that will mean we will continue to leverage that in the future."
Apart of the Australian continent for RIMPAC is the single Sikorsky MH-60R Romeo from 816 Squadron which is homebred at HMAS Albatross south of Sydney. The Helicopter is embarked on the Warramunga and is conducting a variety of surface and underwater type training operations, and this training is vital for the squadron to hone skills and integrate with key partners.
When speaking of 816 squadrons involvement in RIMPAC, Capt Hutchison stated, "So we have one MH-60 Romeo's operating from our frigate the Warramunga and its a similar process to the MV-22's and their integration with the Canberra, And Warramunga will be operating in different task groups doing a variety of operations sometimes as an opposing force and sometimes as a friendly force.
So 816 squadron will be able to integrate their MH-60 Romeo to integrate with partners as a command type asset (Or C2 piece) so the helicopter and the crew will be able to be used wherever mission planners se fit to use it with whatever the scenario might be."
The training the crews will get from RIMPAC will enhance future operations working with one another, the deployment of MV-22's onboard the Canberra also highlights the strong relationship already forged between the Australian Defence Force and the U.S. Marine Corps, especially as the Marine Rotational Force-Darwin deploys to Australia for six months every year.
Apart of that deployment is the MRF-D Air Combat Element which is this year led by VMM-268 "Red Dragons" with 10 MV-22's operating from RAAF Base Darwin.
RIMPAC 2022 gives the crews of especially HAMS Canberra and her sister ship HMAS Adelaide the ability to possibly work with the MRF-D ACE during future exercises, which is something that maybe pursued during another iteration of the MRF-D MAGTF deployment.
In any case the lessons learned from RIMPAC 2022 and operating Osprey's from the Canberra will help the Royal Australian Navy move forward for better planning and facilitating flight operations onboard the Navy's two Landing Helicopter Docks with that aircraft type, wether it be from the U.S. Marines, U.S. Air Force or the Japan Maritime Self Defence Force.