STRIKING FIRST
RAAF's Premier Squadron the 'Fighting First' at Pitch Black 2016
Report and Photos by Jaryd Stock
One of the many units that participated in Exercise Pitch Black 2016 is a squadron that, in 2016, is celebrating its long and proud history in its 100th year of operations. The Royal Australian Air Force's premier fighter squadron, Number 1 Squadron 'The Fighting First' (1SQN) based at RAAF Base Amberley in Queensland.
The Fighting First headed to RAAF Base Darwin with nine F/A-18F Super Hornets and personnel from the unit transiting from Amberley to Darwin via a KC-30A from 33SQN which is also a Tennant at the Royal Australian Air Force's premier base in Queensland. The KC-30 also dragged or refuelled the 9 Super Hornets on a 4 hour flight from Amberley to Darwin. A C-17 from 36SQN also based at RAAF Base Amberley was used to haul equipment needed during the three week long exercise.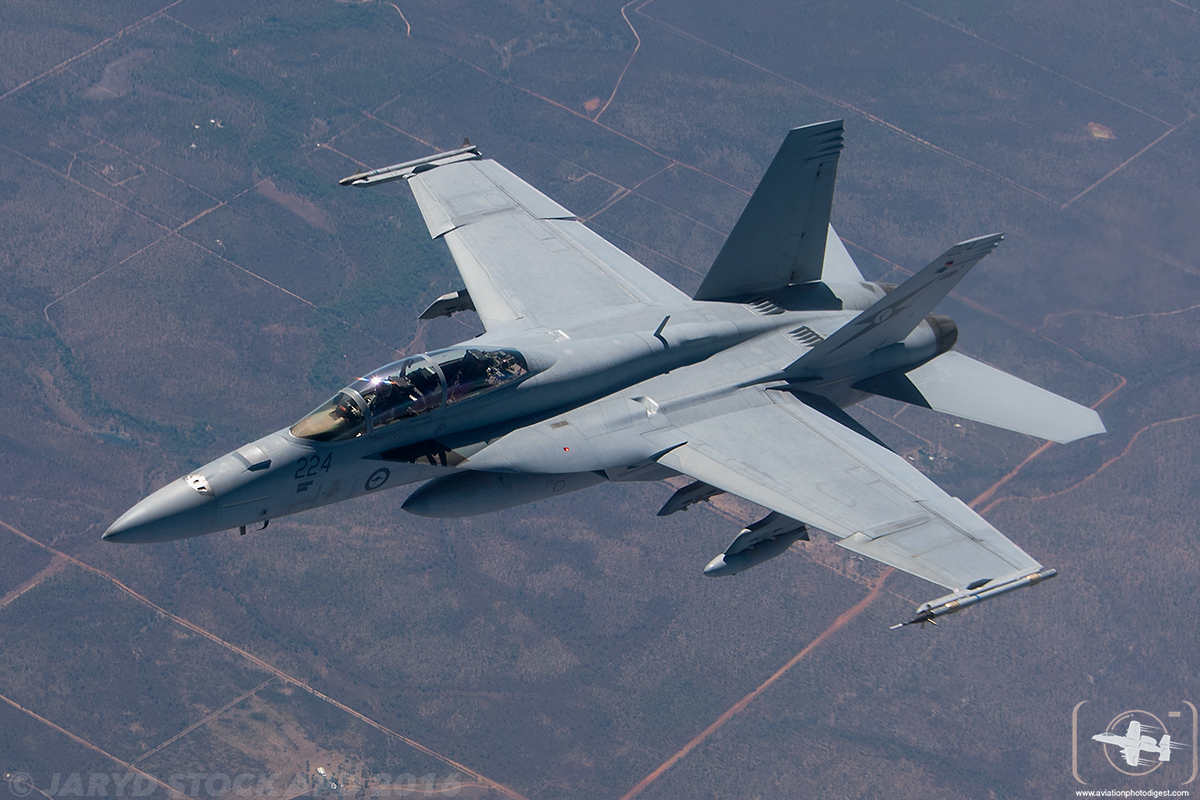 Exercises like Pitch Black offer the various units within the Australian Air Force an opportunity to train and grow in their understanding of how to work better together, as well as with international participants partaking in the exercise. This is no different for the men and women from 1SQN. Their focus during the exercise was to gain a better understanding of working together and dealing with several variables, to gain interoperability between those flying the aircraft to those ground crew and ground technicians as well as those participating units, this exercise is very important for the men and women from the 'Fighting First'.
APD had the privilege of speaking to a Weapon Systems Operator (WSO) from 1SQN during exercise Pitch Black. The WSO named 'Whippet' (full name and rank withheld) stated that the focus of the exercise was to gain full operability with the Pitch Black participants.
Whippet states, "With different nations here at Pitch Black that operate different systems, gaining understanding of one another and how we operate is the essential focus of the exercise and especially for us in understanding and learning the different nuances especially from the foreign participants. So in the event if something did go from a push to shove and we had to do this for real in a real time operation, we are a step ahead on knowing the intricacies of operating with different countries. And that can range from the high end operations down to little things, for instance we might fly in a formation, and call that formation something different to what other international units call that particular formation, and so now by training together when we are flying together we don't start wondering what we are doing. We know down to the smallest detail what we are doing, and that may be a simple illustration, but it's highlighting the benefit of what Pitch Black offers to 1SQN. So to put simply from the top down being the tactical world down as I said the smallest detail, we are all on the same page when planning and flying the missions."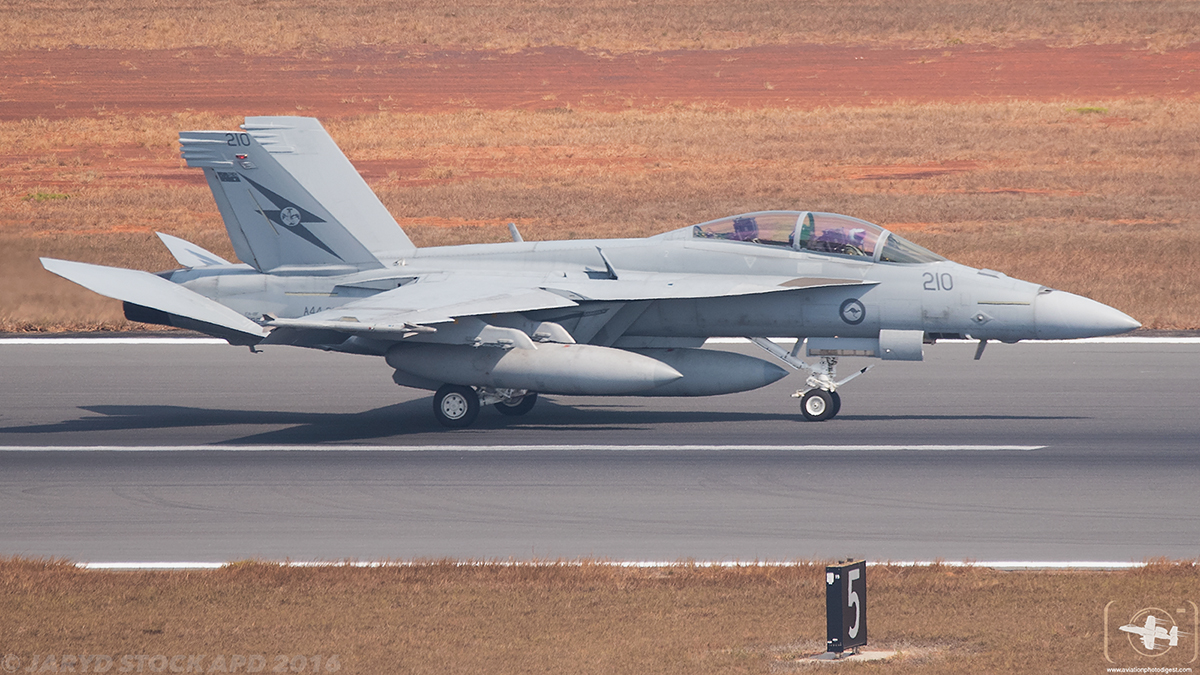 1SQN flew numerous roles including defensive counter air and air to ground strike missions. The 'Fighting First' was a part of the Blue force predominately during the exercise, but on occasions aircrew and aircraft were tasked to provide Red Air (the opposing force to Blue Air) with assets for whatever scenario was planned in a sortie during the exercise which required them to be a part of the Red Air task force. Asked if they were mixing the units together during this missions, and roles, 'Whippet' states, "Well up here we are more mixing in the roles not really mixing the packages so to speak, for example we are not putting a four ship package together made up of two F/A-18's and two F-16's, but during this exercise you will have formations of Fighters from participating countries conducting the strike role or escort role but we are not mixing the aircraft within the roles, just mixing the roles as a whole, and we are not combining those formations as such." The Fighting First conducted pretty much all roles as Blue Force. Specifically, Offensive Counter Air (OCA) in all roles from Sweep to high value unit (HVU) escort (C-17, C-130 etc., insertion etc) also Strike – (including Strategic Attack, Close Air Support, and Air Interdiction).
'Whippet' goes on and explains another role that 1SQN is conducting, Dynamic Targeting Package Commander. This involves helping to prioritise and refine dynamic targeting tasking from C2 agencies. The WSO is able to 'rack and stack' these requests, on forwarding to the rest of the strike package a more succinct task that is fully integrated into the current strike plan.
A new chapter for the 'Fighting First'
Pitch Black was a special exercise for the men and women of the 'Fighting First' but for one in particular this was the beginning of adding to and the continuation of a great legacy that has been since the Squadrons founding one hundred years ago.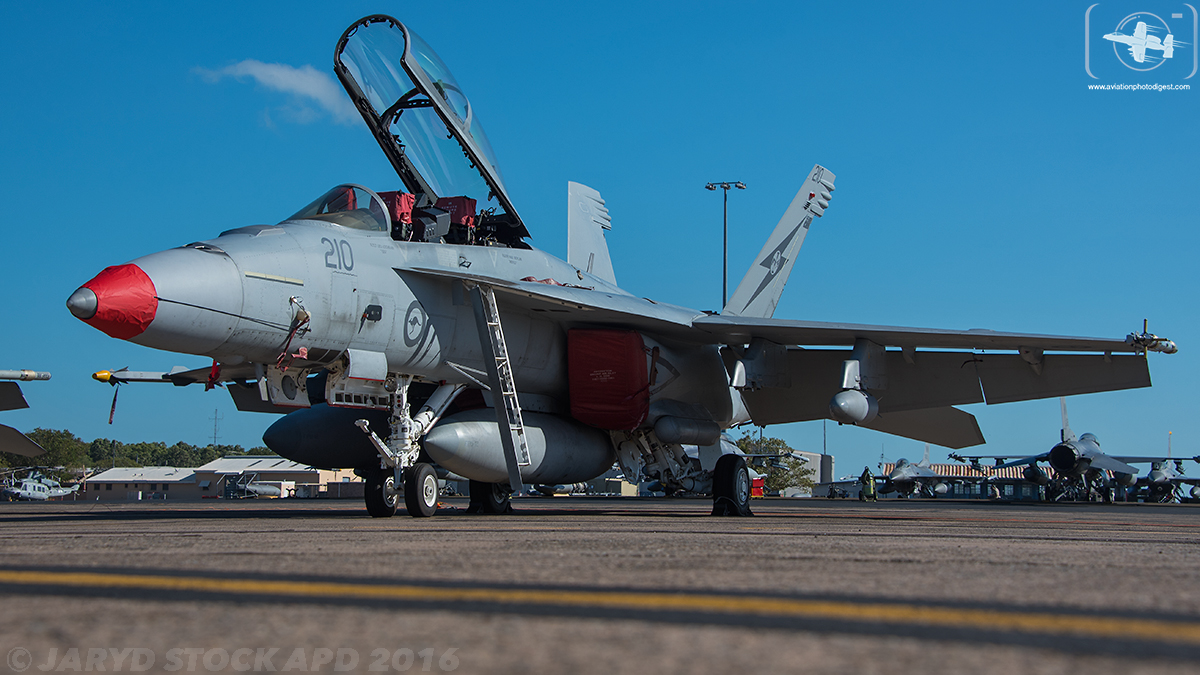 Several weeks earlier prior to the exercise a change of command ceremony was held at Amberley where the unit celebrated Wing Commander (WGCDR) Steve's last three years as Commanding Officer (CO) of the Squadron and welcomed in WGCDR Jason who was handed commission as Commanding officer of 1SQN. Pitch Black was the first exercise that was conducted under the guidance and leadership of WGCDR Jason.
APD had the privilege to talk exclusively to WGCDR Jason on the team's performance during Pitch Black. When asked about his role during the exercise and the personal enjoyment he received leading a dedicated team during the exercise WGCDR Jason stated, "The Fighting First is a great and fantastic unit. I'm incredibly blessed to be CO of Australia's premier fighter Squadron, with such a high calibre work force. I really enjoyed PB16, especially what the Squadron was able to achieve through the hard work of so many great members of the Fighting First."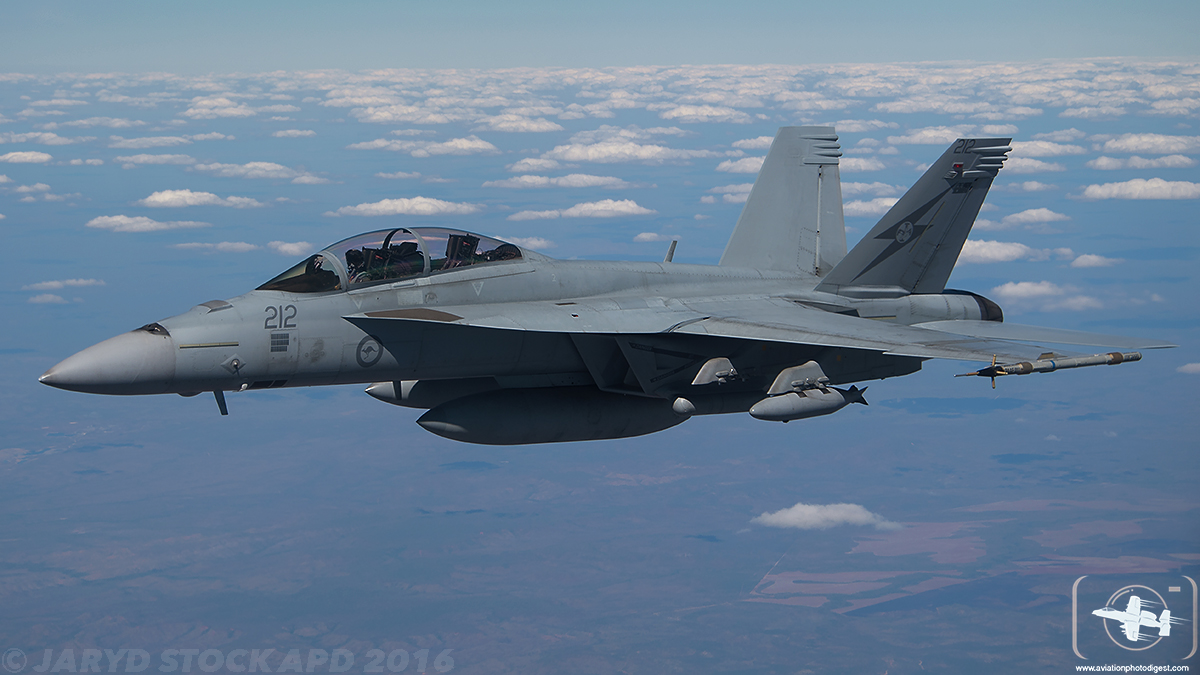 With every new WGCDR that has been handed the role of commanding officer and having the duty of leading a team of men and women from a particular RAAF Squadron, there are certain particulars that are vital to ensure a cohesive team, making sure to abide by values and standards set previously by former CO's and yet providing a new set, or providing a vision for the men and women under their command. Exercises like Pitch Black enable the WGCDR's to see in a high tempo environment what effect these standards and plans have on the team.
WGCDR Jason stated that this was a great exercise to start with under his command, and especially as major changes to the Squadron are in store for late in the year. He continues on, "The Fighting First is undergoing a transformation with the transition of all of the F/A-18Fs (24) to 1 Squadron by the end of this year",(as No 6 Squadron transitions to the EA-18G Growler which will arrive in Australia in 2017).
"This means a significant change in the Fighting First's structures to provide airpower for Australia. Pitch Black 2016 was used as an opportunity for us to bed down new maintenance procedures and 'technician to aircraft' ratio's. This was incredibly important for us to test and adjust from what we had planned 'in theory', to the 'reality' of a high tempo exercise with live weapons. The maintenance team of the Fighting First exceeded all expectations, maintaining exceptionally high serviceability rates during the exercise. We learnt some excellent lessons, and we found we were able to adjust our plan accordingly."
He continues, "I won't go into specific numbers of how many men and women from 1SQN attended Pitch Black, however as previously mentioned we ran much lower 'aircraft technicians' to 'aircraft' ratio's. And Pitch Black provided the opportunity we needed to bed these ratio's down, and we were very pleased with the results."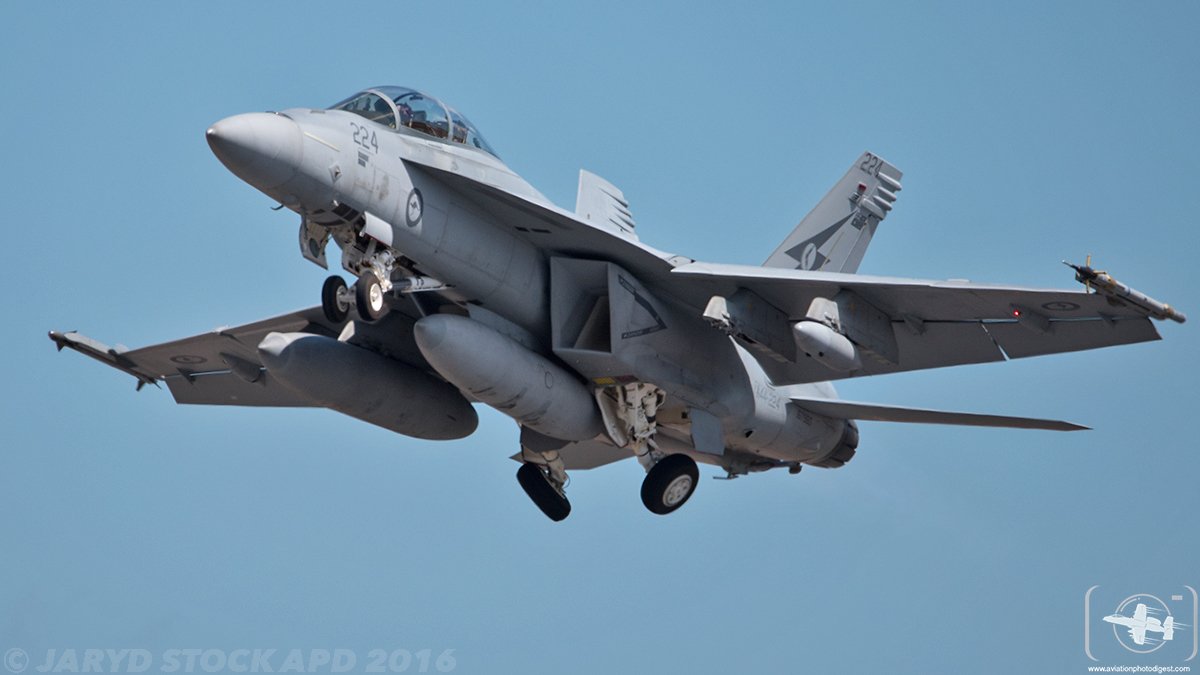 In a momentous year the 'Fighting First' continues the role that has been assigned to them as being the premier Fighter Squadron of the Royal Australian Air Force. Continuously training, learning and working together to become a better team that works as one to conduct those roles assigned in a proficient and effective manner. Pitch Black enables all Squadrons participating in the exercise, especially the 'Fighting First', to enhance the teamwork that is fostered. Not only between units but within the units to a level that is held to a very high standard in a high operational environment that is more of what to expect in real time operations, if they were ever undertaken anywhere in the world.