The Indian Air Force headlines participation in Red Flag-Alaska 16-1
Report and Photos by: Peter van den Berg
May 17, 2016
RED FLAG – ALASKA
Red Flag–Alaska is a Pacific Air Forces-sponsored advanced aerial combat training exercise. The accredited exercise is a successor to the previous COPE THUNDER exercise series in the Western Pacific and Alaska. Red Flag–Alaska is held at Eielson Air Force Base, Alaska. It was moved from Clark Air Base, Philippines, in 1992 after the eruption of Mount Pinatubo forced the curtailment of operations on June 15, 1991. COPE THUNDER was re-designated RED FLAG–Alaska in 2006.
Eielson Air Force Base and Joint Base Elmendorf-Richardson are both home to RED FLAG–Alaska. Each exercise is a joint tactical air combat employment exercise which corresponds to the operational capability of all participating units. Exercises often involve several units whose military mission may differ significantly from those of other participating units. These factors are all taken into consideration by the exercise planners as to give participants the maximum training possible without being unfairly disadvantaged during simulated combat scenarios.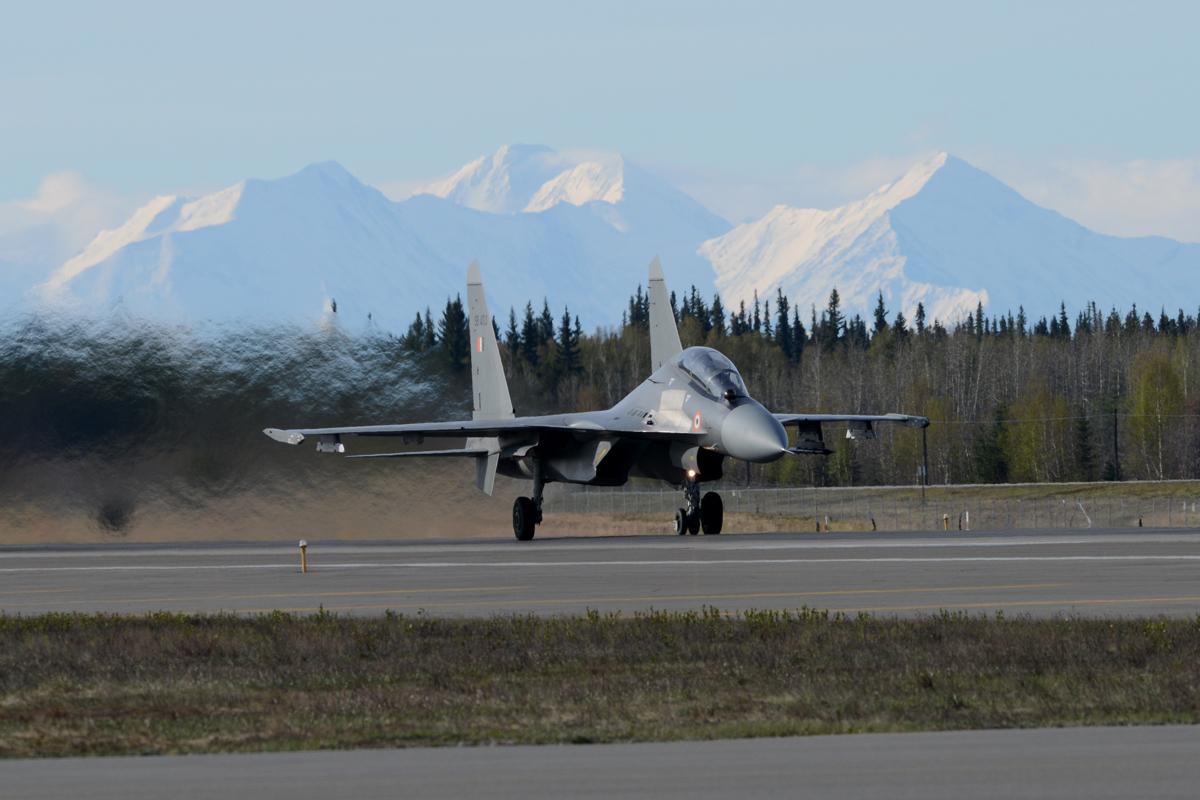 Prior to Operation Desert Storm in 1991, less than one-fifth of the U.S. Air Force's primary fighter pilots had seen actual combat. While this percentage of combat-experienced pilots has increased in recent years, at the time, a high percentage of pilots had no combat experience. Analysis indicated that most combat losses occurred during an aircrew's first eight to ten missions. RED FLAG– Alaska's goal is to provide aircrews with these first vital missions, increasing their chance of survival in combat environments.
An average RED FLAG-Alaska exercise sees more than 1,000 people and up to 60 aircraft deploy to Eielson AFB, and an additional 500 people and 30-40 aircraft deploy to Joint Base Elmendorf-Richardson. Most participating units arrive a week prior to the actual exercise, allowing for one or two range orientation flights. This gives aircrews the time to hone up on local flying restrictions, receive local safety and survival briefings, and work on developing orientation plans.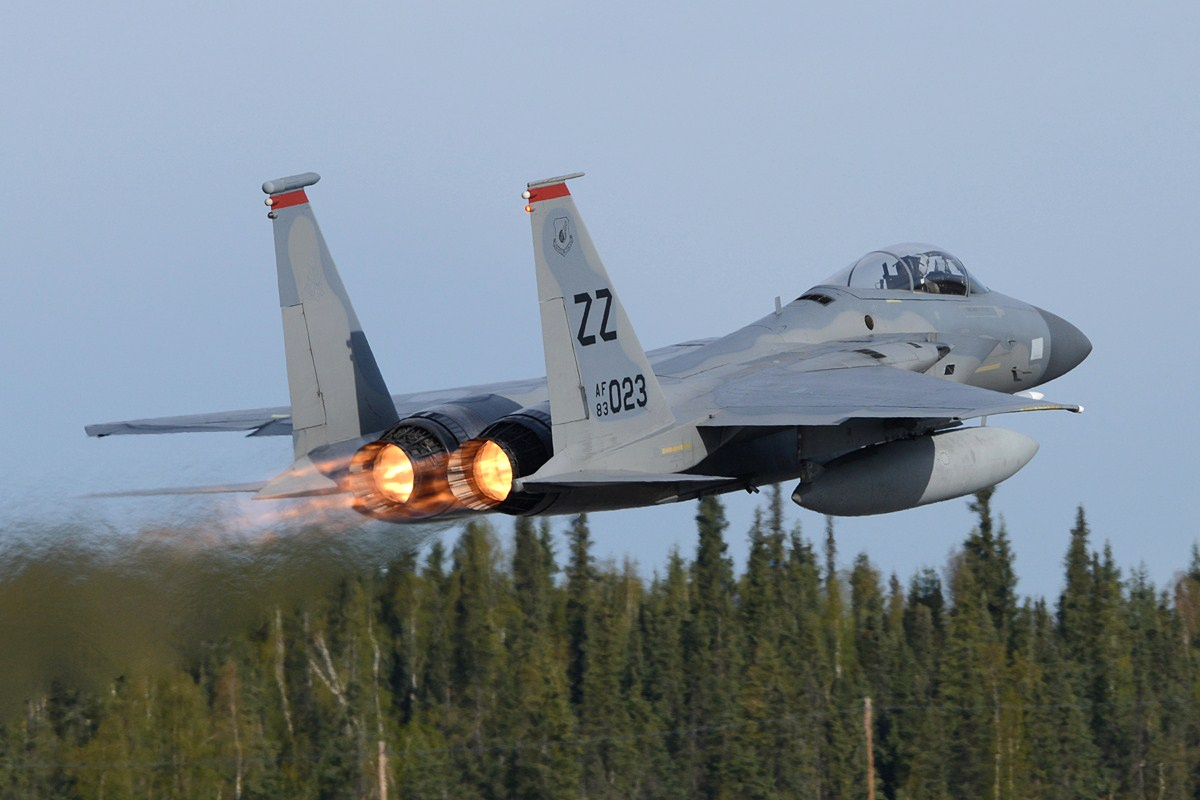 Aircrews are then subjected to every conceivable combat threat during the two-week employment phase of the exercise. Scenarios are shaped to meet each exercise's specific training objectives and all units are involved in the development of these exercise training objectives. At the height of the exercise, up to 70 jet fighters can be operating in the same airspace at one time. Typically, two combat training missions are conducted each day during the exercise.
All RED FLAG–Alaska exercises take place in the Joint Pacific Alaska Range Complex (JPARC) as well as a portion of Western Canadian airspace. The entire airspace is made up of extensive military operations areas, special use airspace, and ranges for a total airspace of more than 67,000 square miles.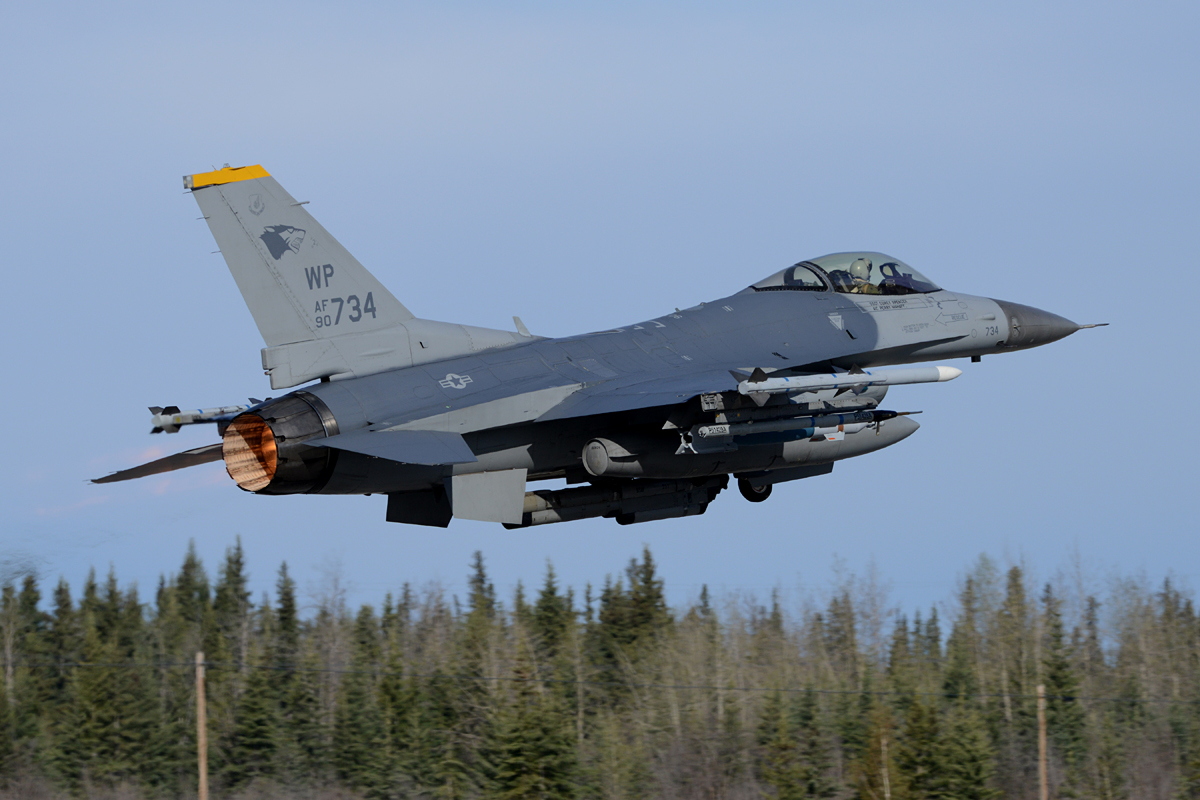 Thousands of people from all four branches of the US Department of Defense (DoD) as well as armed services of multiple countries around the world have taken part in RED FLAG–Alaska and COPE THUNDER exercises. Each year, more than 5,000 people are deployed to RED FLAG–Alaska and participating aircrews fly over 4,500 missions.
RF-A executes the world's premier tactical joint and coalition air combat employment exercise, specifically designed to replicate the stresses that warfighters face during their first eight to ten combat sorties. RF-A has the assets, range, and support structure to train to joint and combined war fighting doctrine. This is done against realistic and robust enemy integrated threat systems in a safe and controlled environment.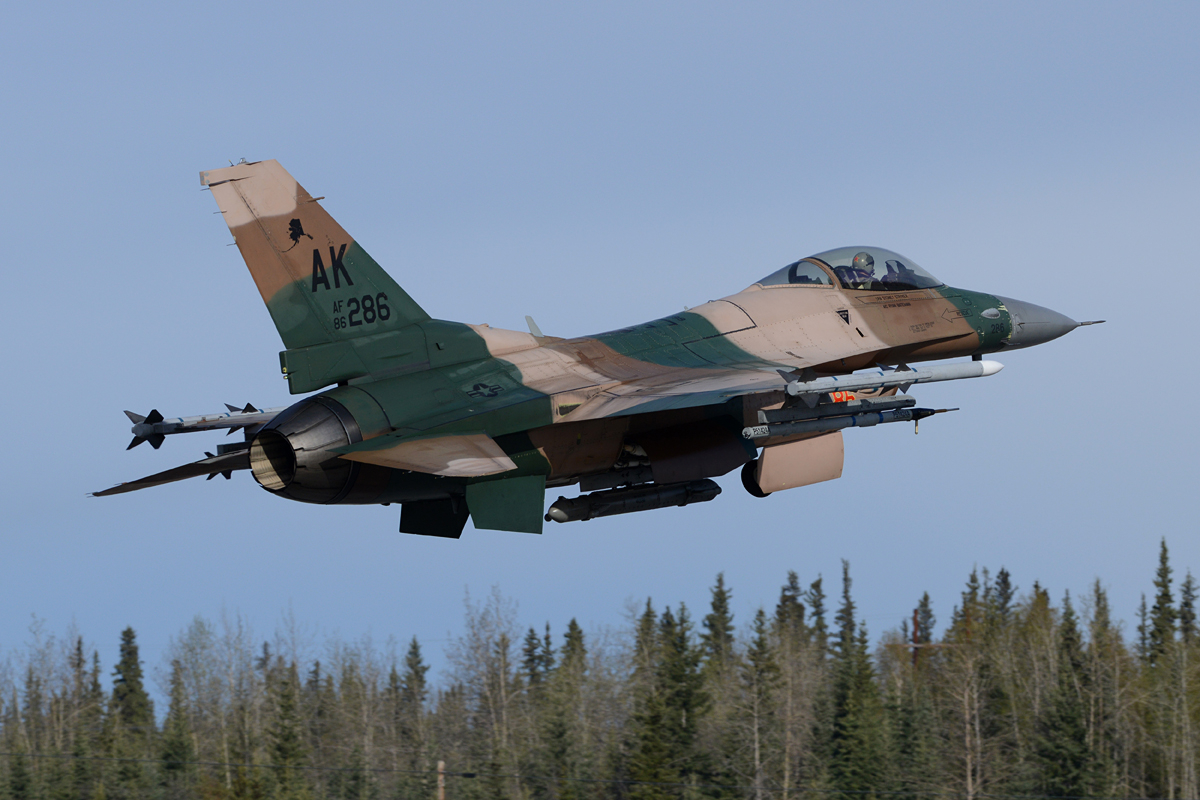 Units:
• The 18th Fighter Squadron (18 FS) was converted to the 18th Aggressor Squadron as part of the change from COPE THUNDER to RED FLAG–Alaska. This squadron trains in the same manner as the aggressors at Nellis AFB, learning the flying styles and abilities of foreign air forces in order to train pilots against realistic opposition. Aircraft changes entail sending all 18 of its Block 40 F-16 Fighting Falcons to Kunsan Air Base, Korea, and receiving 18 Block 30 F-16Cs from Kunsan in return. The 18th Aggressor Squadron was officially established on August 24, 2007.
• The 168th Air Refueling Wing, stationed at Eielson Air Force Base with its KC-135 Stratotanker. The unit transfers more fuel than any other Air National Guard tanker wing and is the only Arctic region refueling unit in the United States.
The host unit at Eielson is the 354th Fighter Wing (354 FW) assigned to the Pacific Air Forces Eleventh Air Force. The 354 FW's primary mission is to support RED FLAG – Alaska, providing joint offensive counter-air, interdiction, close-air support, and large force employment training in a simulated combat environment.
Eielson AFB was established in 1943 as Mile 26 Satellite Field. It is named in honor of polar pilot Carl Ben Eielson.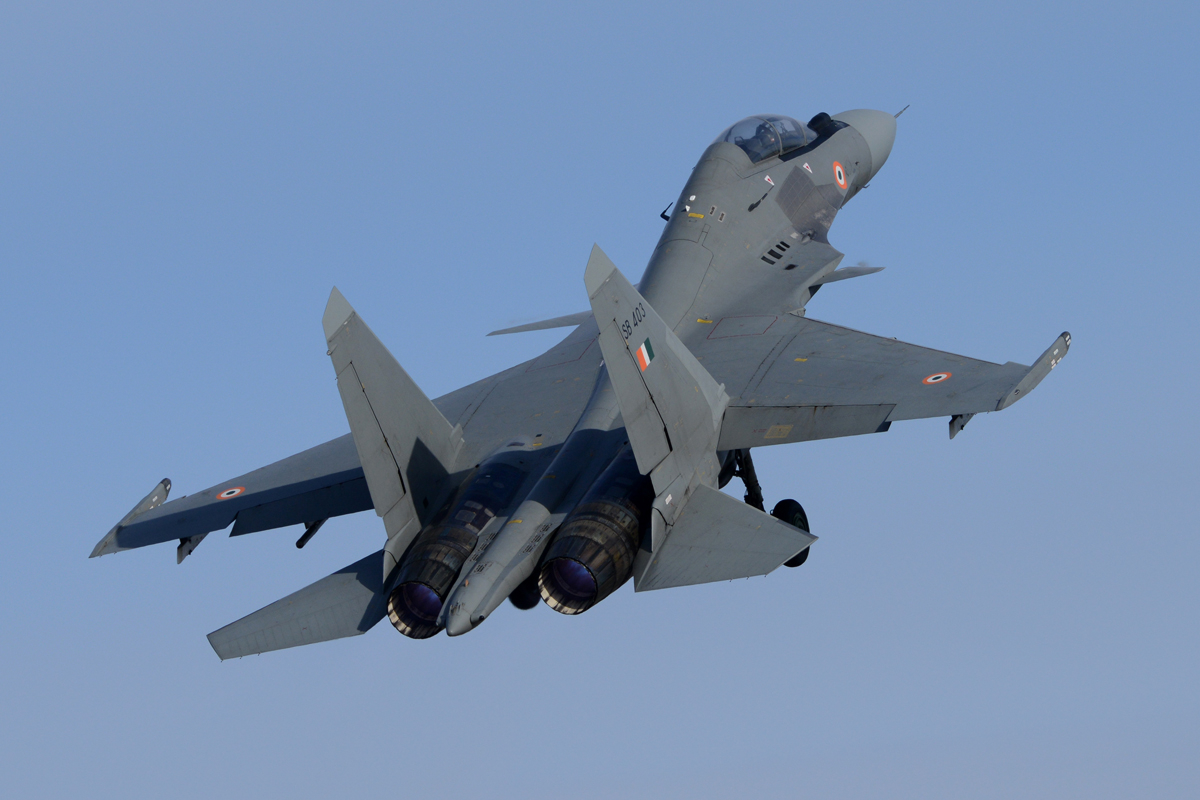 Red Flag-Alaska 16-1
Red Flag–Alaska 16-1 began on April 28, 2016 and ended on May 13, 2016. The exercise took place at Eielson and Elmendorf.
The list of participants in this exercise at Eielson AFB was as follows:
• 18 AGRS Eielson 12x F-16
• 67 FS Kadena 12x F-15C
• 80 FS Kunsan 12x F-16CM
• Indian AF 15 Sqn + 30 Sqn 4x SU-30 MKI
• Indian AF 14 Sqn + 228 Sqn 4x Jaguar
• Indian AF 2x IL-78
• 168 ARS KC-135R
• TTF 909 ARS KC-135R
• 210 RQS HH-60
The Indians were the main highlight of this exercise. Wing Commander and spokesperson of the Indian Air Force, Ms. RC. D'Silva, explains that this is the first time that two different aircraft types participate in an overseas exercise. The SU-30s have been in Europe a few times and the Jaguars participated in a 2004 Cope Thunder exercise in Alaska. The SU-30MKIs participated in a 2008 Red Flag exercise at Nellis AFB, but RF-A 16-1 marked the first time of these two types flying an overseas exercise together in the USA.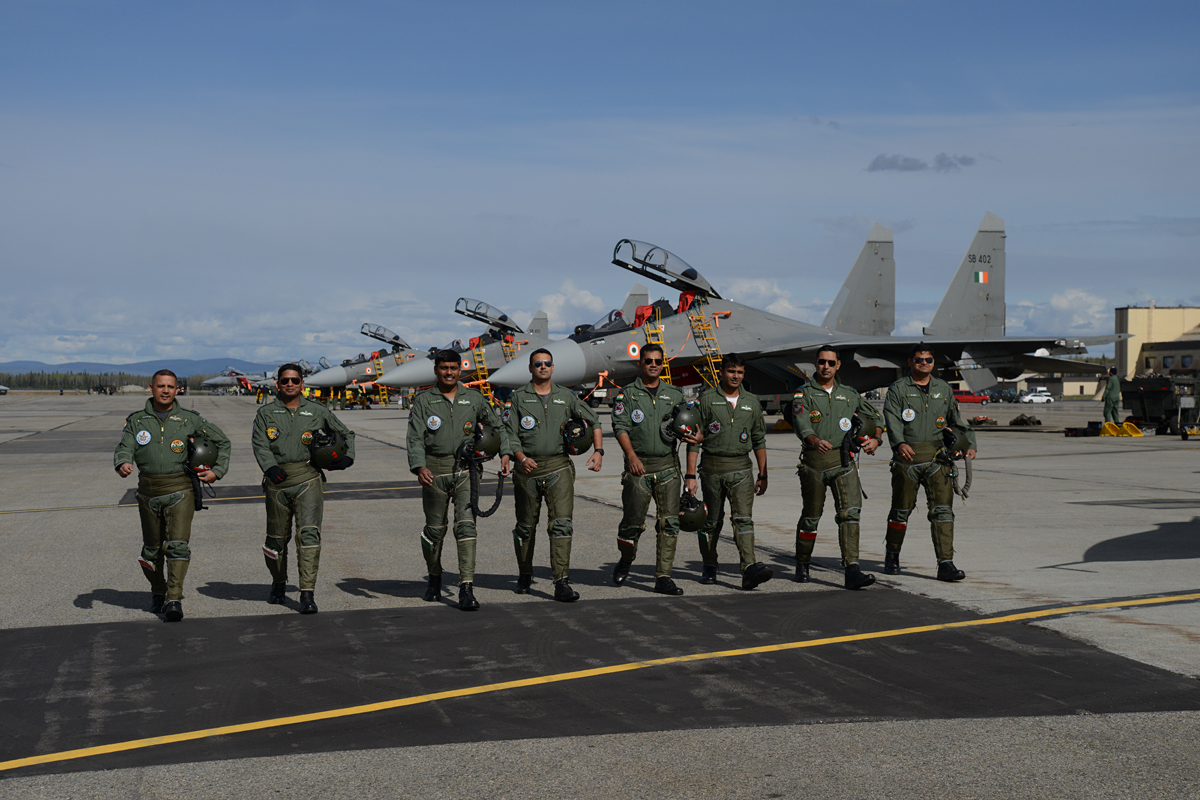 Group commander D. Kukreti, who participated as a pilot in the 2004 Cope Thunder exercise, now returned as Group Commander for RF-A 16-1. D. Kukreti explains that the Jaguars are manufactured under license in India itself and that it is a full-upgrade jet which is capable of flying up to par with the other participating aircraft.
The decision to take part in the RF-A became definite in 2015. The units have been training since November of that year in order to be prepared for the rather difficult and complex exercise that RF-A is. The training consisted of three phases. Units trained individually in the first phase, whereas they were merged in the second and third phase to practice with the Red Flag script.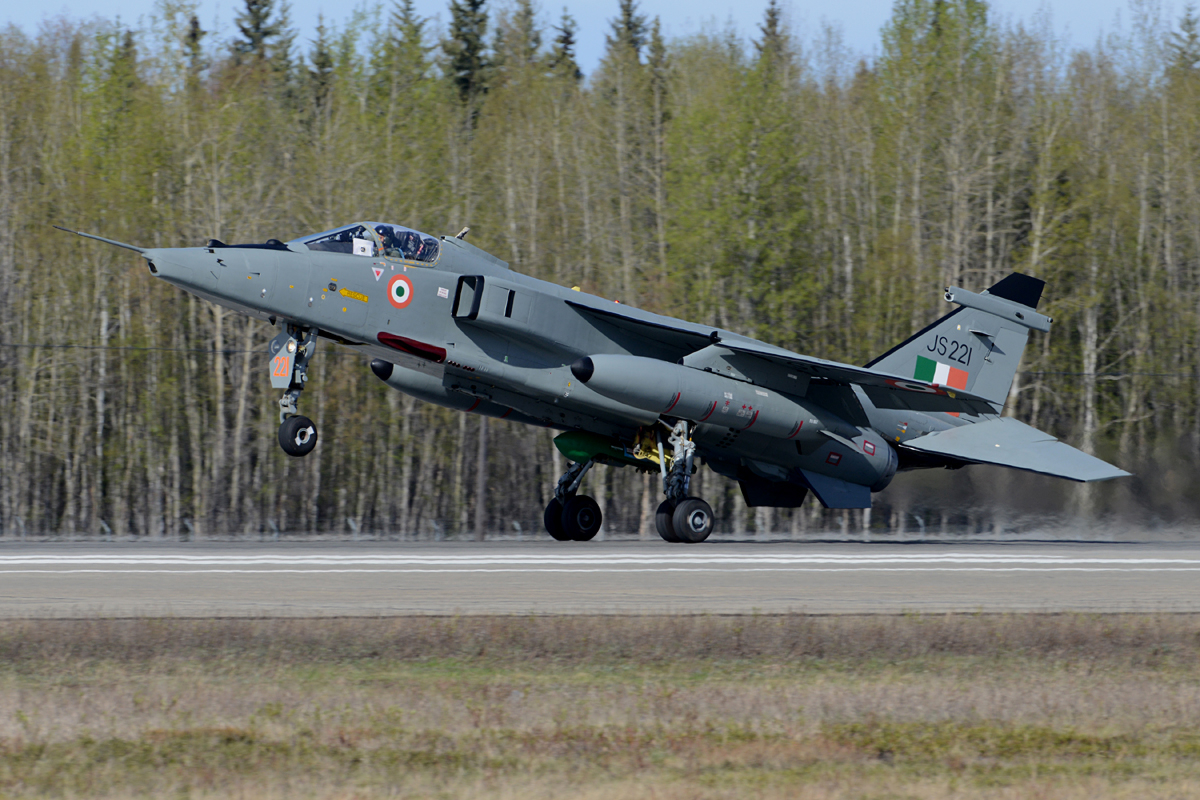 The Indians took a rather long route to get to Alaska. This was decided upon based on weather conditions and accessibility along the route. D'Silva indicated that the first stop from India was Bahrain. They then flew via Egypt, Istres (France), Beja and Lajes (Portugal) to Canada. In Canada, stopovers were made at Gander, Trenton, and Cold Lake to eventually end the journey at Eielson AFB in Alaska.
Each unit brought double the amount of pilots, explains Group Commander Kukreti. Eight pilots were flown in for the Jaguars and a total of sixteen for the SU-30MKI. Selection of the pilots allowed to participate in the exercise was not only based on experience. Younger, less experienced pilots, were also selected.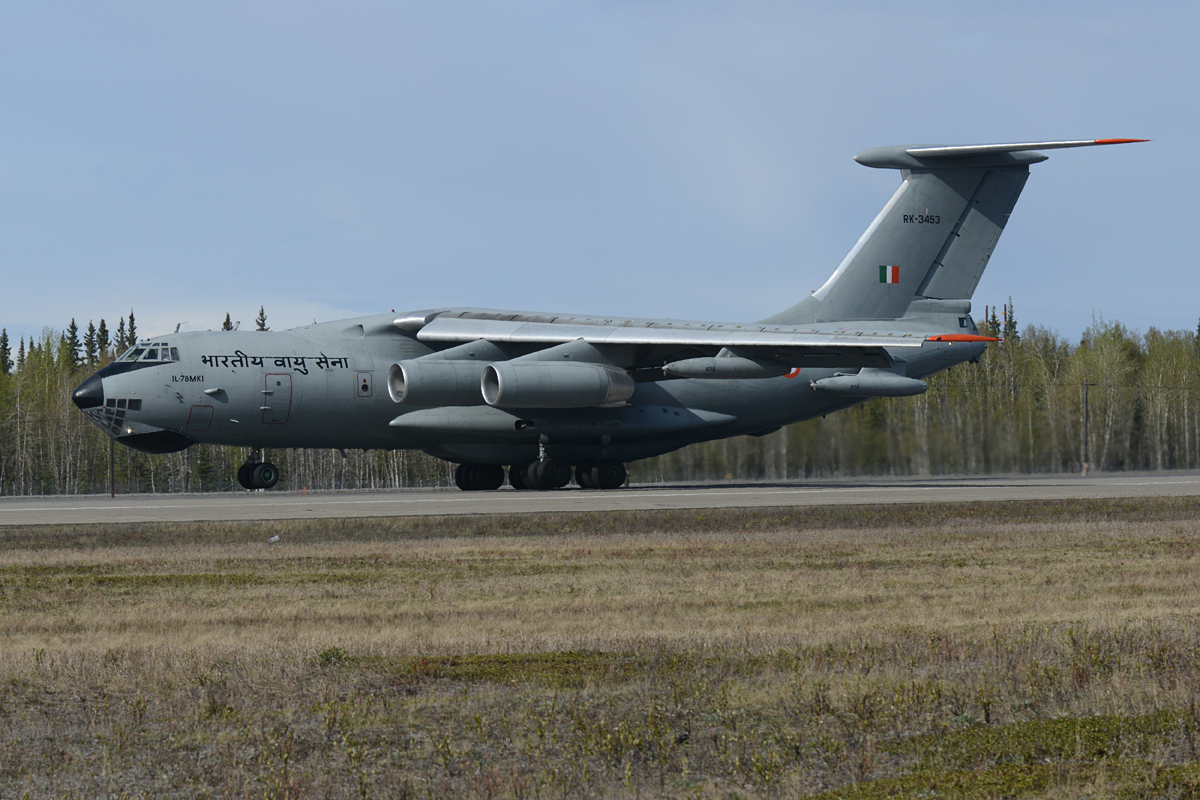 A total of ten missions were flown by both the SU-30MKI and the Jaguars. Five in the first and five in the second week of the Red Flag exercise. The Jaguars were usually classified under the blue team and the SU-30MKIs had a supporting, defensive task. Main challenges for these pilots were training with other foreign units and the intensive program. Another challenge was to turn the learning effect and information from the mission debriefings into knowledge to be brought back home to India.
Special thanks to 1st Lt. Zani, Public Affairs – Eielson AFB.
Click on an image below to page through the gallery: