Red Flag 16-2: NATO Forces Developing Synergy
Article and Photos by Steven Valinski
March 30, 2016
NATO, or the North Atlantic Treaty Organization, is an alliance that consists of 28 member countries that dates back to the signing of the North Atlantic Treaty on April 4, 1949. The basic premise of the North Atlantic Treaty is for member countries to be unified in defense in the case of outside aggression towards a member country.
The U.S. has been part of many smaller coalitions the past few decades that do not always include NATO partners. Australia and New Zealand are prime examples of this, they are key coalition partners but not part of NATO. This is due to the NATO partnership being more of a post-WWII Atlantic alliance.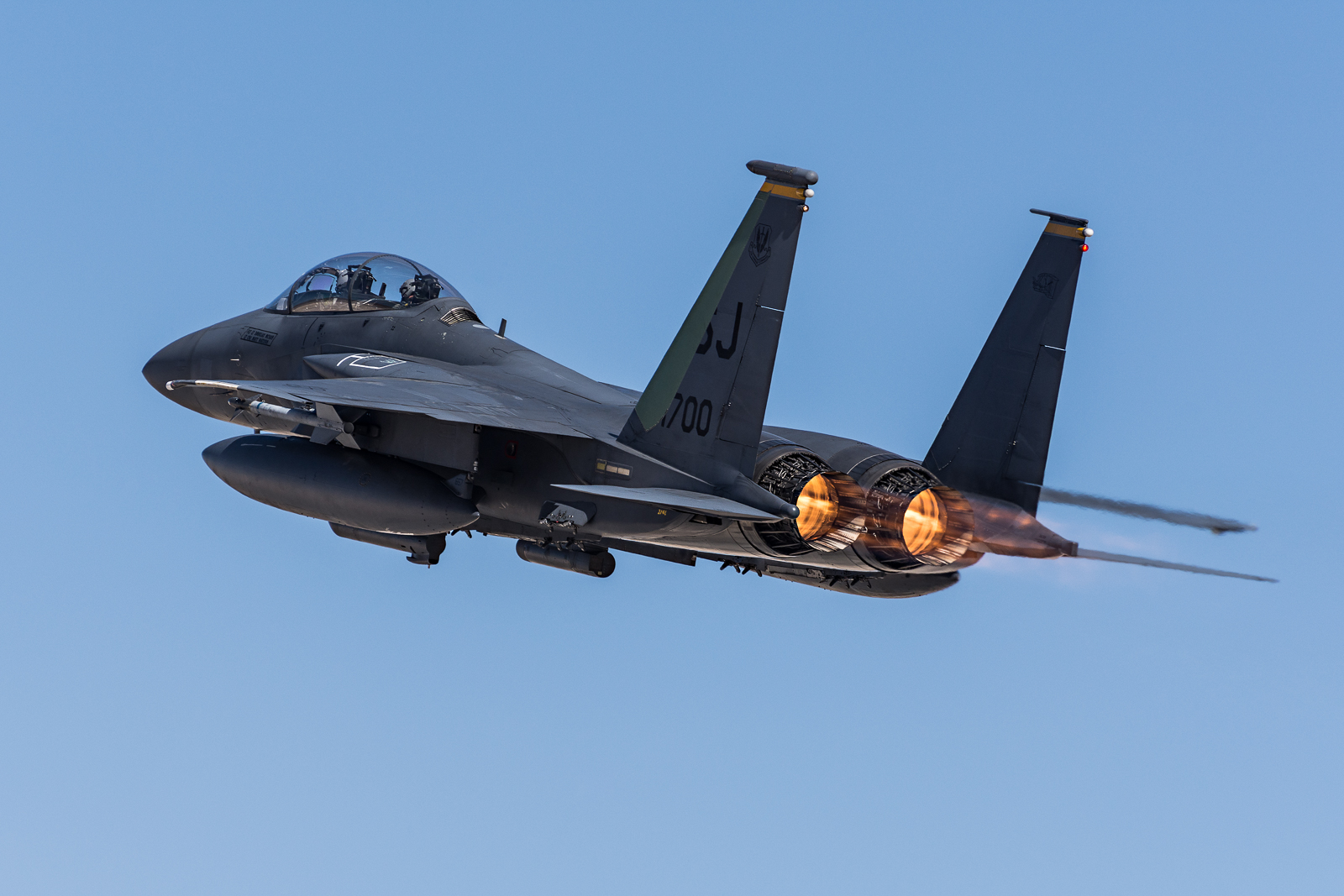 These smaller coalitions have helped provide opportunities for these forces to integrate during many of the conflicts the U.S. has been involved in over the last few decades. In addition, military exercises such as Red Flag-Nellis (simply referred to as Red Flag), Red Flag-Alaska and other exercises around the world help foster this integration by providing realistic combat scenarios and tasking forces with working together to achieve a common goal.
While Red Flag 16-1 featured the "best friends" coalition of the U.S., U.K. and Australia, Red Flag 16-2 featured "good friends," the U.S., Italy and Turkey.
With a relationship dating back to the 1949 North Atlantic Treaty, during Red Flag 16-2, these countries worked towards a synergy of planning together, flying together and learning together.
Aeronautica Militare
Aeronautica Militare Italiana (AMI) as the Italian Air Force is known, participated in Red Flag 16-2 with their Eurofighter EF 2000's. Italy sent 24 pilots and approximately 180 total personnel representing 4º Stormo (Grosseto), 36º Stormo (Gioia del Colle) and 37º Stormo (Trapani).
This is first time Italy has brought its Eurofighters to Red Flag. With the RAF participating in Red Flag 16-1 with their Eurofighter Typhoons, the Eurofighter continues its presence at Red Flag with the Italian Air Force. According to BAE Systems: "more than 470 Eurofighter Typhoon aircraft have now been delivered and the total fleet of aircraft across an active customer-base of six international operators has accumulated more than 330,000 flying hours with unprecedented levels of reliability."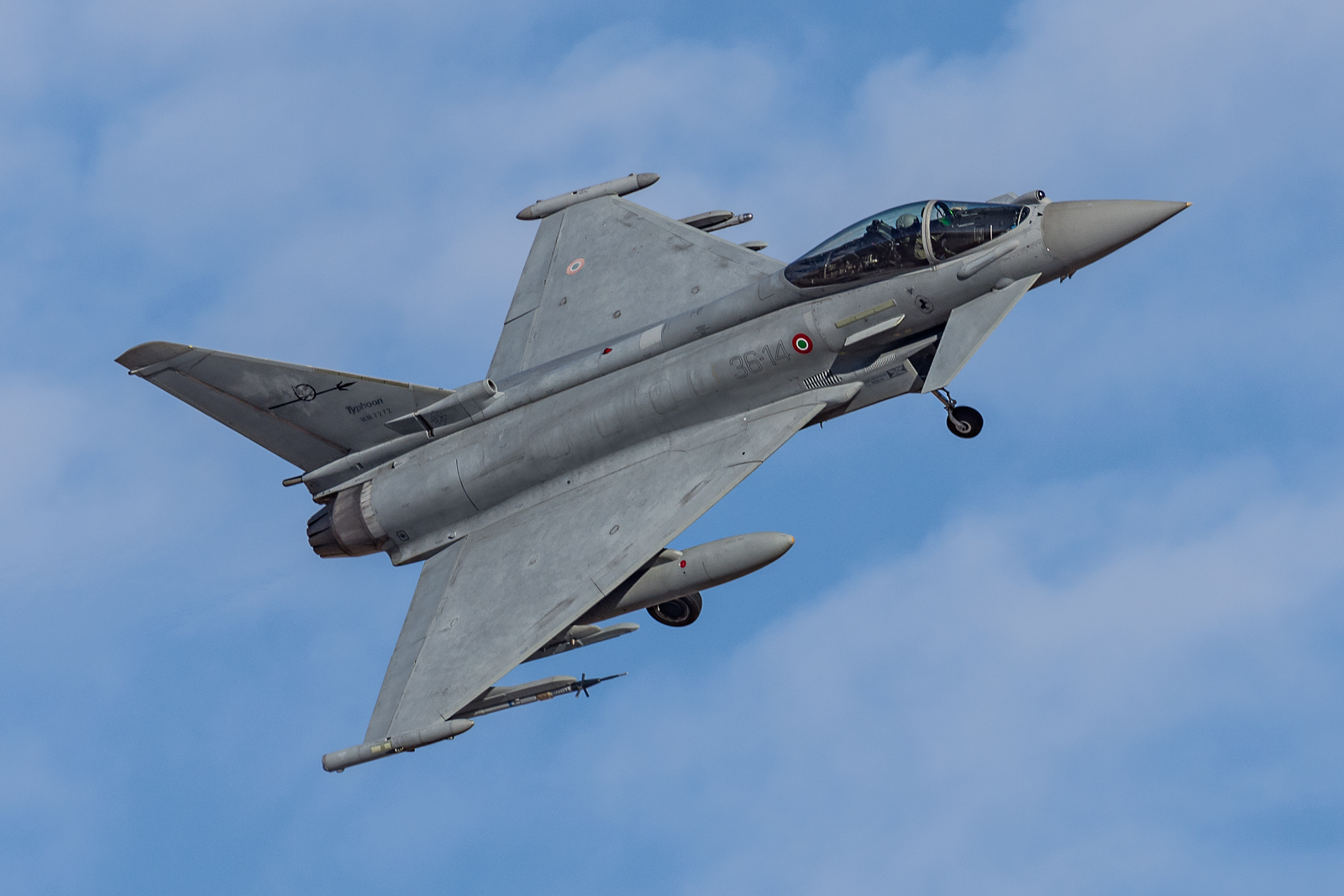 Italy brought eight Eurofighters to Red Flag 16-2. Although five of the Italian Eurofighters were early Tranche 1 production models with air-to-air capabilities, all of the Italian Eurofighters are air-to-ground capable which enables them to act in a "Swing Role" capacity if needed. Three were Tranche 2 production models upgraded with the latest P1E(B) software.
According to Col. Marco Bertoli, Italian air force combat forces command, detachment commander for Eurofighter Typhoon at Nellis, the Eurofighter's role in the AMI is primarily air-to-air but, during Red Flag 16-2, the AMI looked to utilize the Eurofighter's swing role capabilities to help promote the Eurofighter to other perspective buyers. "We are developing a swing-role capability, which is mostly to support the Typhoon's export capabilities for other countries, [we have] actually dropped inert bombs during the exercise," Col. Bertoli said.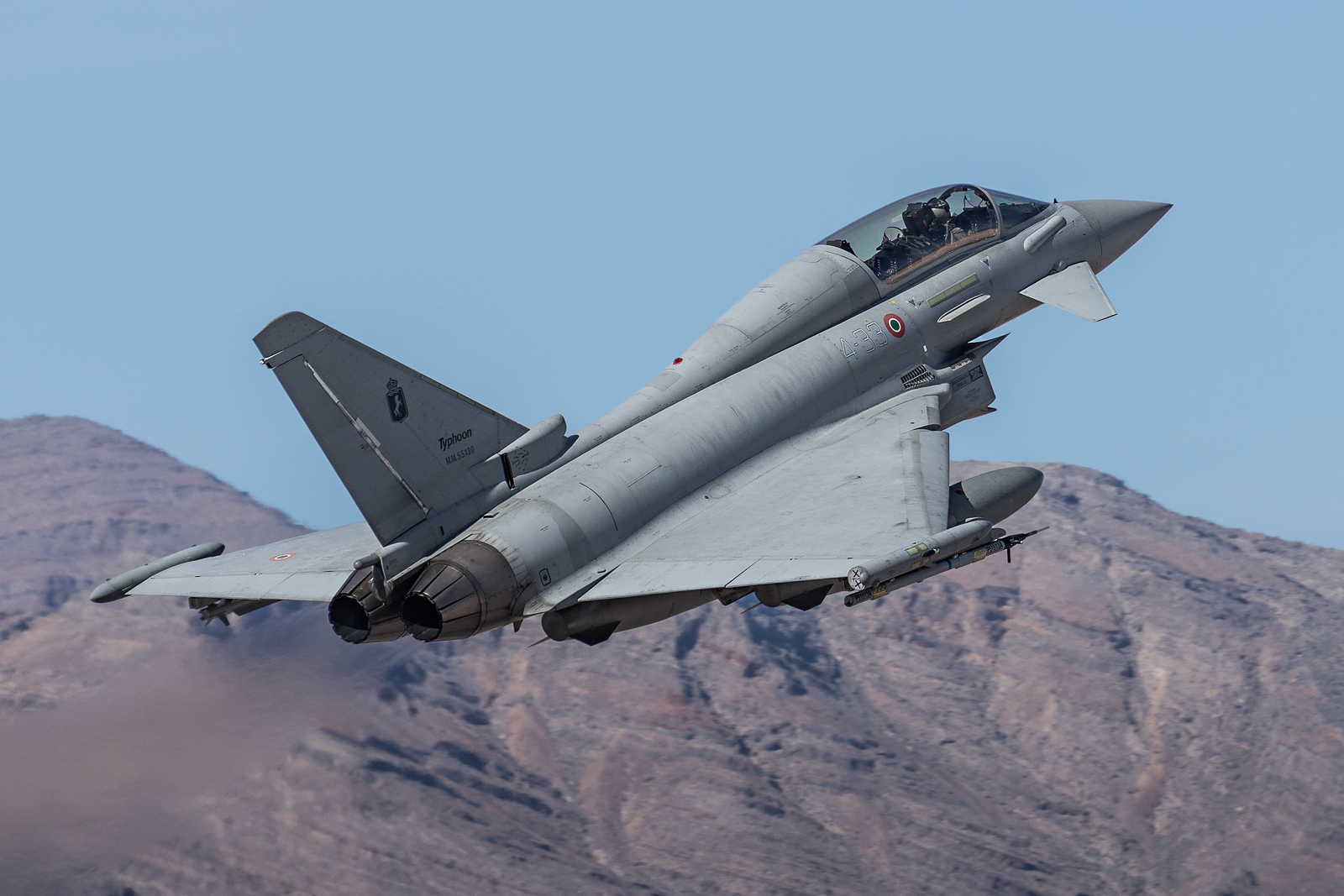 Col. Bertoli was happy to be bringing the Eurofighter to Red Flag 16-2: "I'm very proud to be the commander of the first Italian Eurofighter squadron to take part in Red Flag and I'm really thankful to the U.S. Air Force for having us here and putting together this exercise to benefit our training."
"It has been a great learning experience. I think our Typhoons and aircrews performed very well in this very unique environment," Col. Bertoli said.
With the Gen 4.5 Eurofighter in hand, the Gen 5 F-35 Lightning II JSF in production and the training/experience it has received from Red Flag 16-2 and the Baltic Air Policing mission, the Aeronautica Militare, Italy has significantly increased its potency over the past decade.
Türk Hava Kuvvetleri
Türk Hava Kuvvetleri, or the Turkish Air Force (TuAF), was also a participant in Red Flag 16-2.
Hosts of Anatolian Eagle in Turkey and participants in several European military exercises, the Turkish Air Force has grown accustomed to the integration needed for success in joint force military exercises.
The Turkish Air Force participated in Red Flag 16-2 with F-16 Fighting Falcons from 132 Filo "Hançer," 3rd Main Base, Konya and 141 Filo "Kurt," 4th Main Base, Ankara/Akinci and KC-135R Stratotankers from 101 Filo "Asena," Incirlik.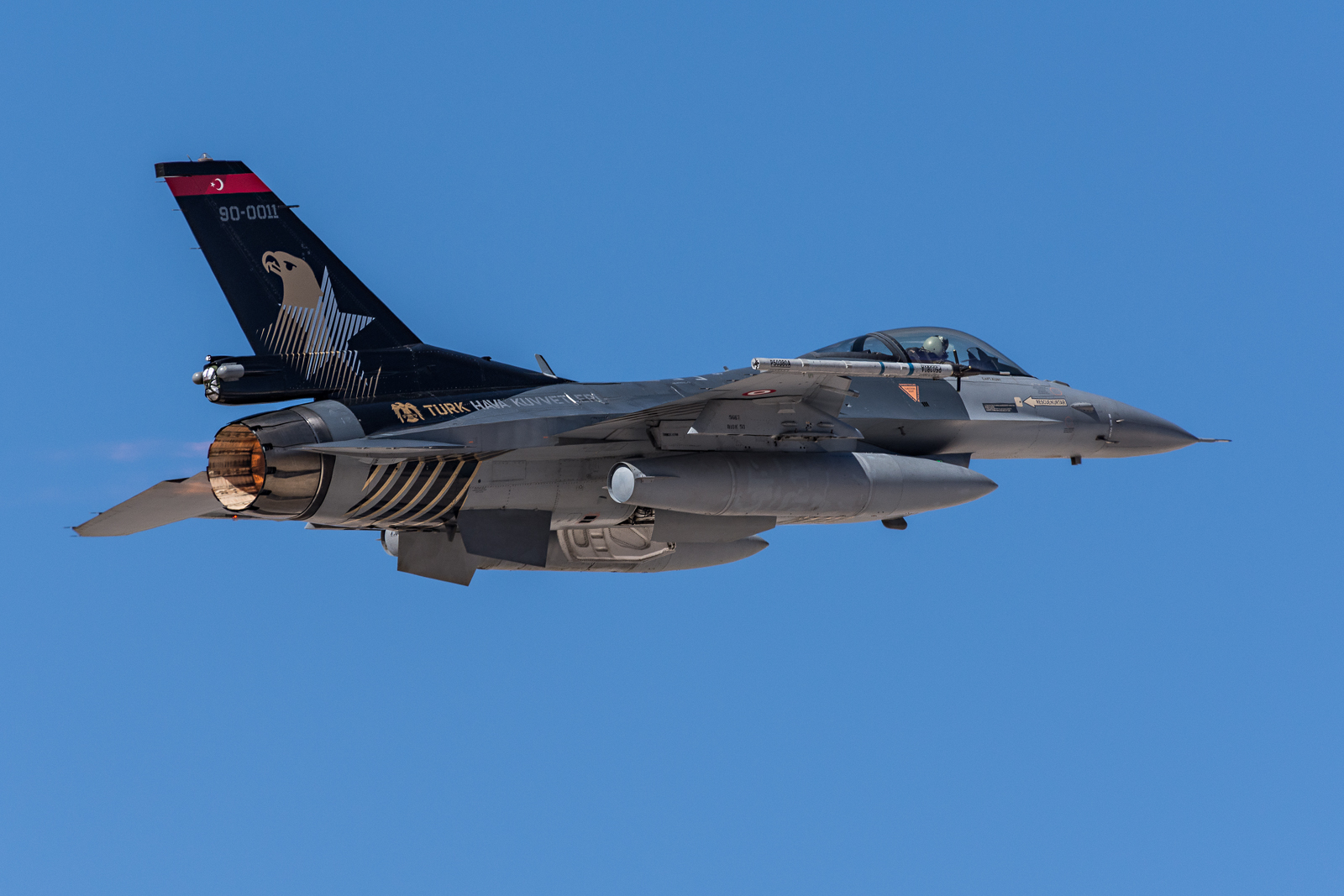 The participating Turkish Air Force F-16s were manufactured by Turkish Aerospace Industries (TAI) under license and are block 40/50 models. Two of the F-16s were the Turkish F-16 demo aircraft and were to be flown at the NAF El Centro Air Show on March 12. Due to complications with the U.S. FAA, the Turkish Air Force was unable to present their demo to attendees of the air show.
The Turkish Air Force also brought two KC-135R Stratotankers to Red Flag 16-2. In an exchange of "best practices" and an effort to learn from one another, the Turkish Air Force and USAF exchanged crews for Red Flag 16-2 refueling missions. According to the USAF: "The U.S. Air Force and Turkish air force flew KC-135 Stratotankers together in formation for the first time March 8 over the Nevada Test and Training Range, northeast of Nellis Air Force Base."
In a USAF interview, U.S. Air Force Capt. David Puchalla, a 350th Air Refueling Squadron instructor pilot had this to say about the TuAF aerial refueling crew: "The Turkish air force KC-135 aircrew, maintenance and accompanying support personnel are the utmost professionals and are highly capable," Puchalla said. "They have been an asset to Red Flag 16-2's Tanker Task Force, and I have no doubts about their ability to fuel the fight of the future. I have witnessed nothing but the best during my flights aboard their Stratotanker."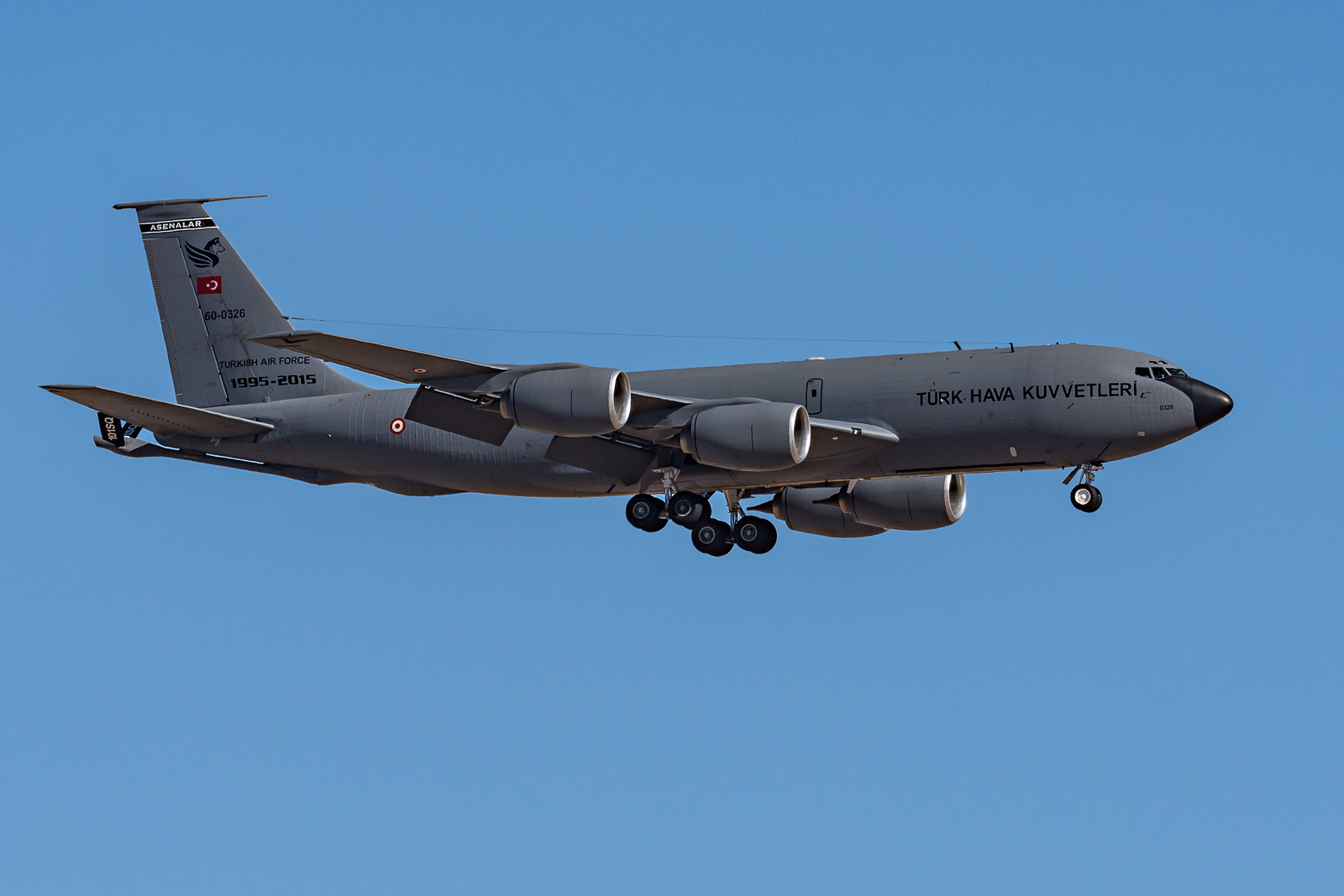 "The ability to interoperate air refueling operations with our Turkish allies showcases a distinct capability while demonstrating new methods of tanker employment," said U.S. Capt. Alex Durstein, a 344th ARS pilot. "The lessons learned at Red Flag will help advance integration with our NATO partners and provide future coalition combatant commanders with increased operational flexibility."
Also part of the F-35 Lightning II JSF program, Turkey has currently set out to replace all its F-16 Fighting Falcons with indigenous fighters such as the TAI TFX by 2023. The TAI TFX is an indigenous air superiority fighter program spearheaded by Turkish Aerospace Industries (TAI) with support from the UK's BAE Systems. While still in the design phase, the TAI TFX will be considered a fifth-generation fighter.
Bombs Away
Participants in Red Flag included two of the most prolific bombers in USAF history, the Boeing B-52 Stratofortress (BUFF) and the Rockwell B-1 Lancer (BONE).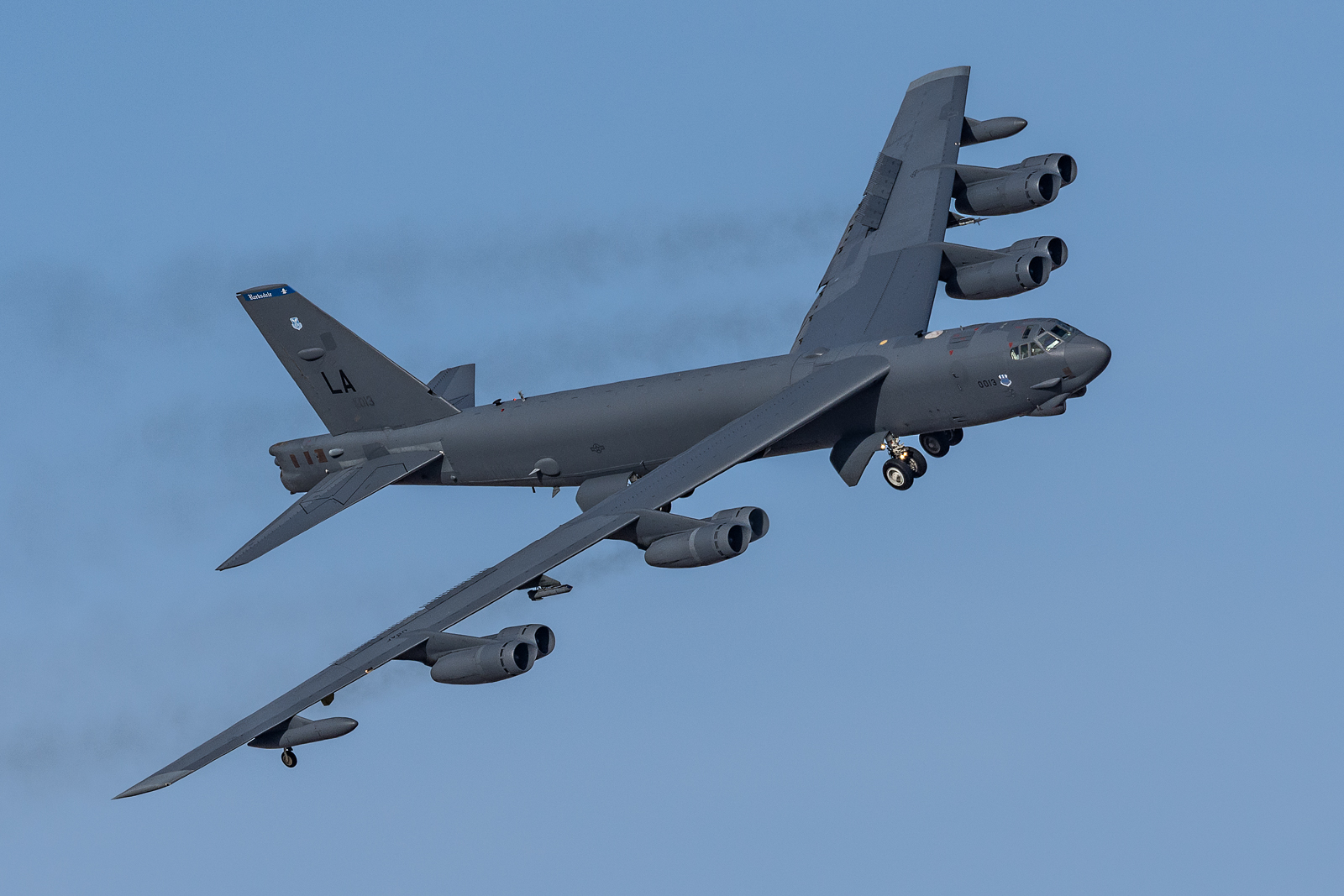 The B-52's were part of the 2d Bomb Wing (2 BW) out of Barksdale Air Force Base, Louisiana. The 2d BW is one of only two B-52H Stratofortress Wings in the USAF. The 2d BW's history with the B-52 dates back to April of 1963 when the Wing took over existing B-52s at Barksdale.
The BONEs were from the 28th Bomb Wing (28 BW) based at Ellsworth Air Force Base, South Dakota. With a motto of "Guardian of the North," the 28 BW has been active for over 60 years.
Having both B-52 and B-1 bombers at Red Flag 16-2 provided strategic and tactical advantages for Red Flag war planners. Each asset has its own advantages and disadvantages that can be utilized or mitigated for the fight. However, any bomber in the USAF is invaluable in the quest for air superiority.
"The U.S. Bomber Fleet continues to remain an integral part of maintaining our nation's air superiority," said Capt. Ryan Kerns, 34th Bomb Squadron B-1 pilot in a USAF interview. "Throughout the years, the way operations are conducted has changed. However, the need for a trained and prepared bomber fleet is a necessary tool for combatant commanders to have. Its support for ground troops and ability to use munitions in support mission objectives remains valuable."
Ground Assist
While Red Flag 16-2 saw integration with other forces (Italy and Turkey) and other aircraft types, forces had to integrate with a variety assets including ground-based forces.
With the USAF, command and control and radar are typically handled by aircraft such as the Boeing E-3 Sentry AWACS. The USMC handles this task differently, from the ground. For Red Flag 16-2, three different units from two different U.S. DoD branches worked together to form a command and control "tripod."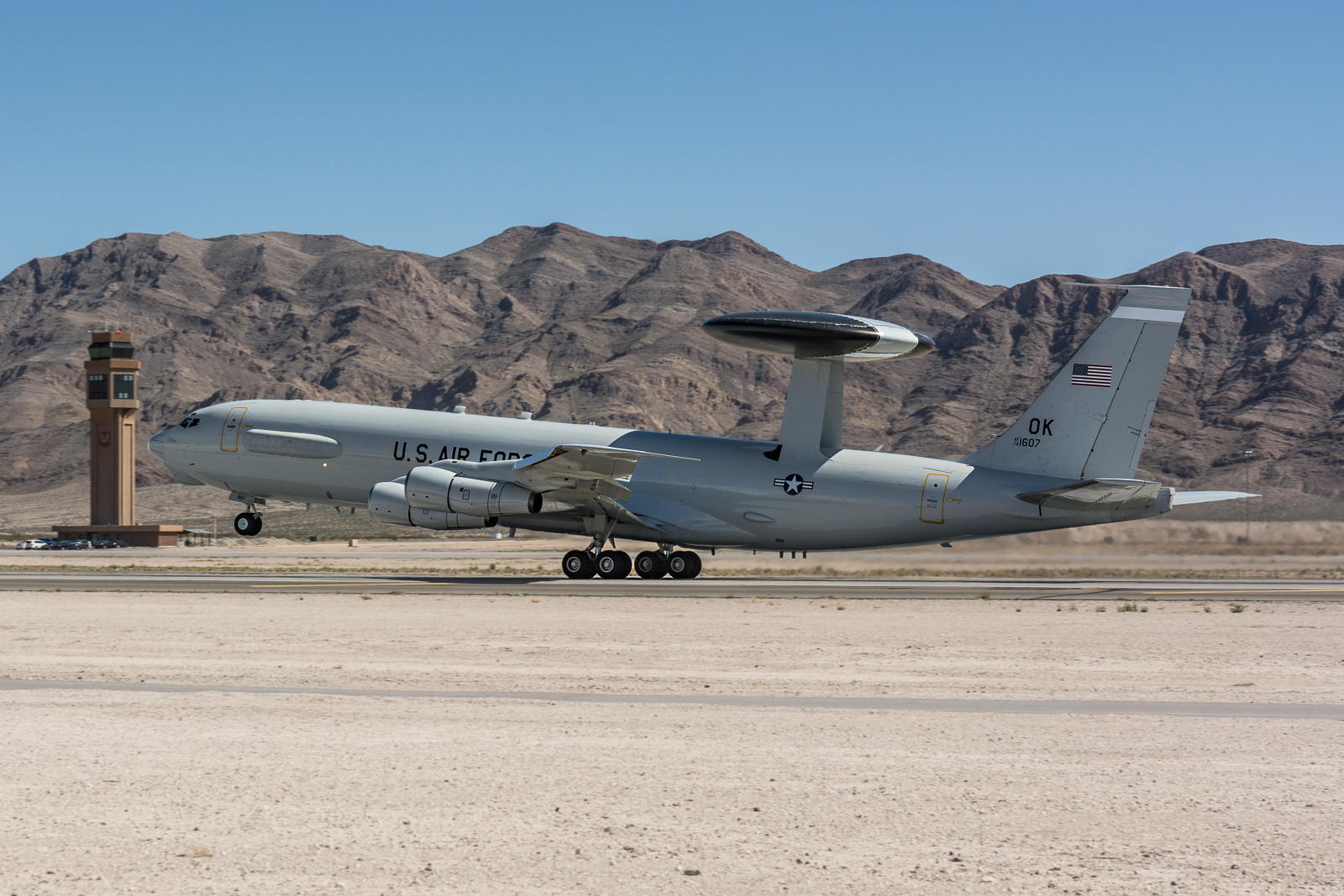 The USAF's 726th Air Control Squadron (ACS) out of Mountain Home AFB, Idaho, and the USMC's Marine Air Control Squadron 1 out of Marine Corps Air Station Miramar, California worked with the USAF's 963rd Airborne Air Control Squadron out of Tinker AFB, Oklahoma and their E-3's to provide a robust battlefield picture during Red Flag 16-2.
With the 726 ACS and MACS1 working together with the ground radar systems, they could communicate with the 963 AACS and create a "big picture" view of the battlefield.
For the USMC, this provides them with an opportunity to work with other DoD units while gaining the experience working within a large-scale exercise such as Red Flag.
"Red Flag is the premier exercise with a very high operations tempo," said Capt. Marco Arriaga, MACS 1 Red Flag 16-2 detachment commander in a USAF interview. "There's so many different mission sets and it's the closest thing to a real-world environment we have."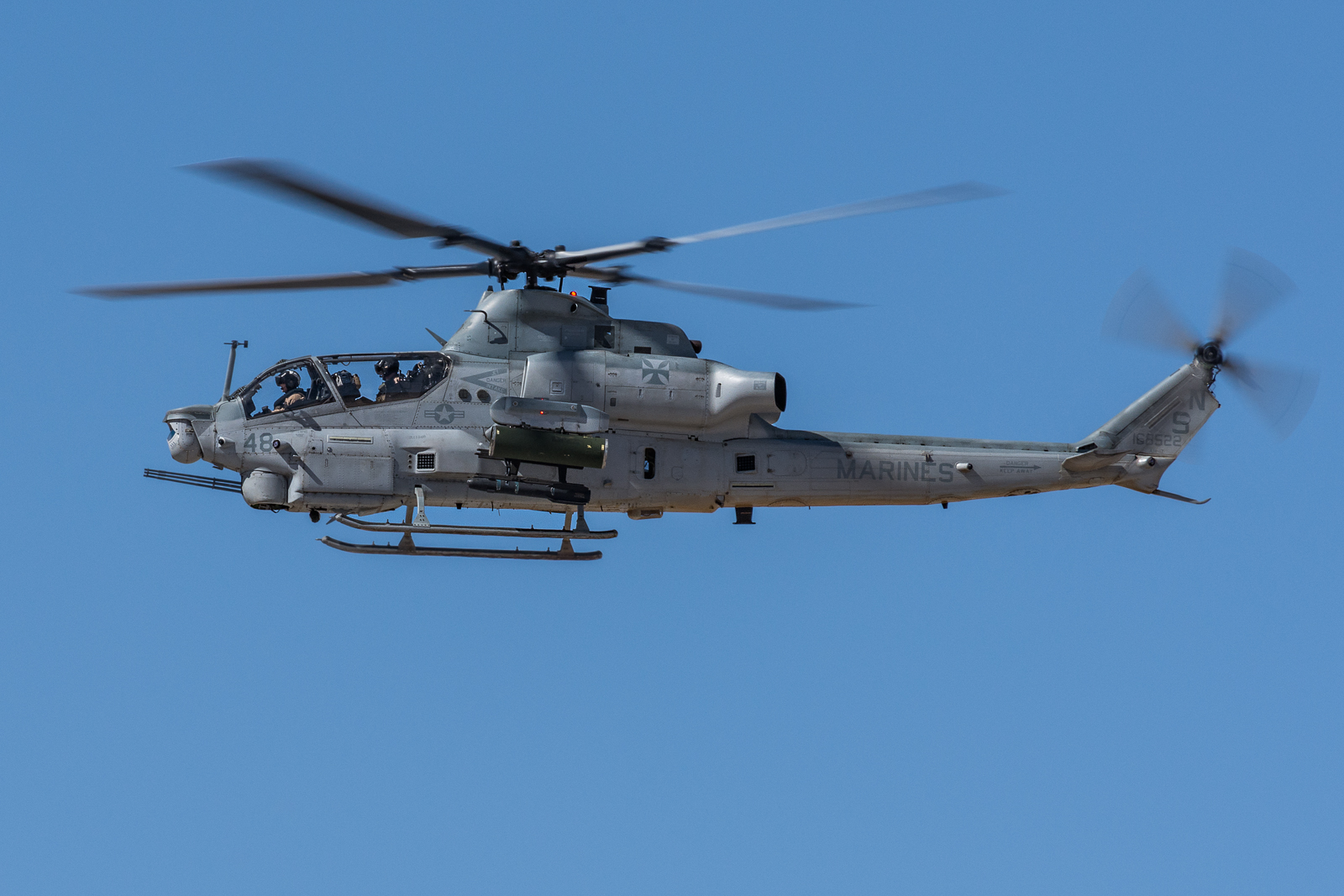 The USMC also provided air support during Red Flag 16-2, presumably to protect the radar stations/ground equipment, in the form of close air support attack assets such as the Bell AH-1W/Z SuperCobra/Viper and the Bell UH-1Y Venom. Both can carry a variety of weapons systems including guns of various calibers and guided and non-guided rockets.
Unlikely Assets
Red Flag 16-2 saw participation from the 435th Fighter Training Squadron (435 FTS) out of Randolph Air Force Base, Texas and the 88th Flying Training Squadron (88 FTS) out of Sheppard Air Force Base, Texas, both flying variations of the Northrop T-38 Talon.
The T-38 Talon is a two-seat jet trainer used by the USAF for training pilots. NASA also flies the T-38 and it is also used to train NATO pilots by the USAF.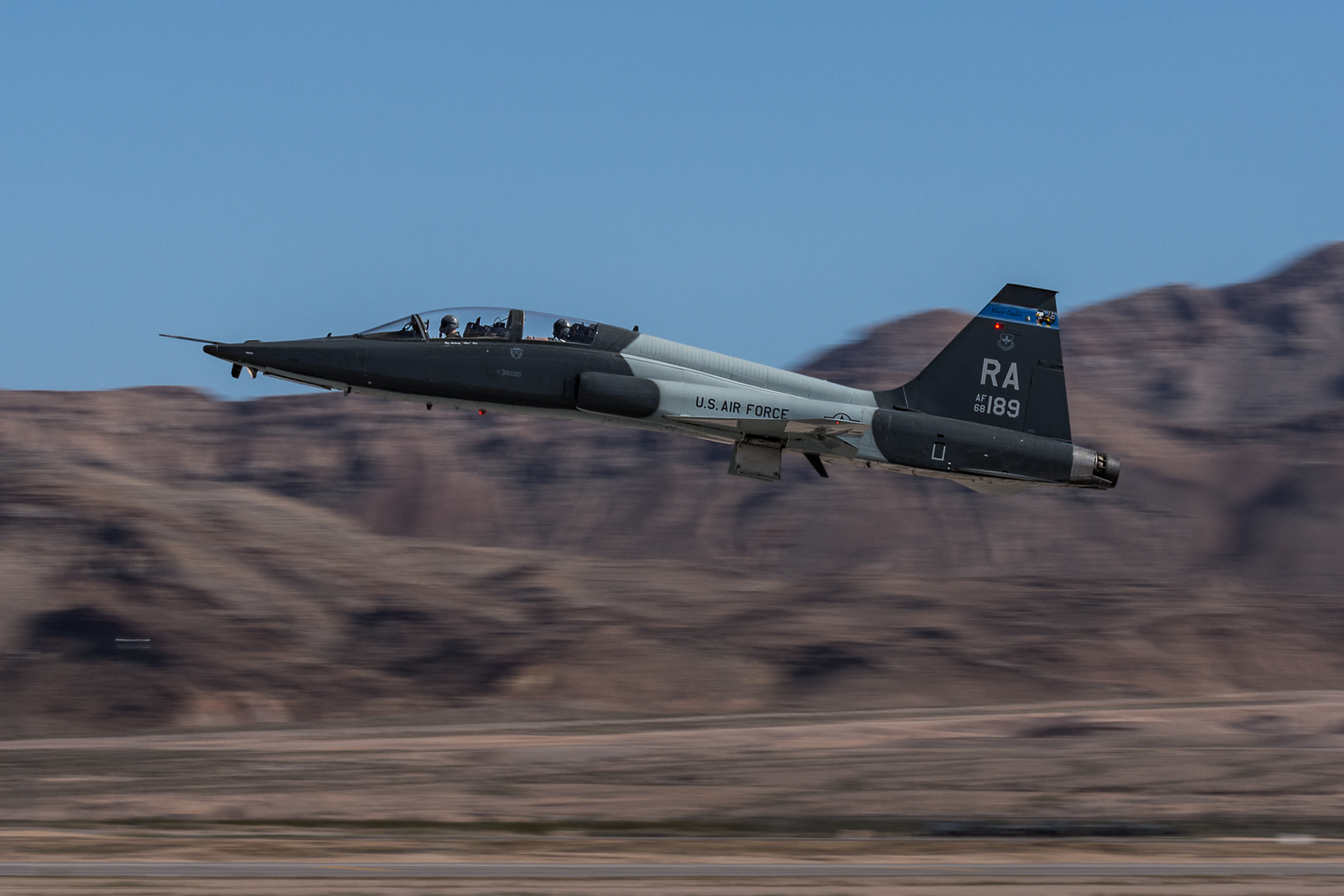 The T-38, while considering its use, is an odd participant for Red Flag 16-2, however, its role was invaluable. The T-38 squadrons were used to augment the existing aggressor force at Red Flag 16-2.
The 64th Aggressor Squadron (64 AGRS), flying the F-16, is currently the only active aggressor unit at Nellis AFB. After the 65th Aggressor Squadron, flying the F-15, was inactivated in 2014, there was a glaring need for more adversary support during the Red Flag exercises. Up until Red Flag 16-2, this was accomplished by an "aggressor by committee" approach, using visiting units on a rotational basis throughout the exercise. With the relatively small size of Red Flag 16-2, in terms of the number of participating aircraft, this approach was not feasible.
While not trained specifically in adversary tactics, the training units have experienced instructor pilots that can prove to be formidable as an aggressor.
Nothing Compares
While a number of 'Flag exercises have been taking place, along with other military exercises, around the world, there is no other exercise that compares to Red Flag-Nellis in terms of being comprehensive and on the same size/scale. Red Flag 16-2 was no different.
"Red Flag 16-2 is an exercise built on years of research and training by the 414th CTS to refine the way we train our U.S. and allied forces to conduct the contingency operations of the future," said Col. Andrew Bernard, Red Flag 16-2 Air Expeditionary Wing commander in a USAF interview. "This exercise not only incorporates the usual threats across the domains of air, space and cyberspace, but also emphasizes total joint-force integration. This is made even more apparent through our incorporation of Army special forces elements, Naval Command and Control and our allied partners' forces."
"The goal of Red Flag 16-2 is to challenge our U.S. and allied forces to properly react to and overcome simulated threats in order to maximize the combat readiness, capability and survivability," Bernard said. "In order to do this, the exercise provides realistic training in a combined air, ground, space and electronic threat environment."
In Chiusura
While on the surface, in terms of number of participants, Red Flag 16-2 seemed to be small compared to other Red Flag exercises, but it certainly did not lack in complexity.
Integration with NATO partners, while dealing with threats in the domains of air, space and cyberspace, while adding additional ground assets to work with, provided a learning environment that compares to no other.
Other Red Flag 16-2 air participants included: the 22 ARW out of McConnell AFB in Kansas flying KC-135s, 77 FS out of Shaw AFB in South Carolina flying F-16CMs, 336 FS out of Seymour Johnson AFB in North Carolina flying F-15Es, 700 AS out of Dobbins AFB in Georgia flying C-130H3s, HSC-21 out of NAS North Island in California flying MH-60s and the 432nd Wing flying the MQ-9.
Also, in a surprise twist, Draken International, with their Douglas A-4 Skyhawks, flew sorties in Red Flag 16-2 March 9th, 10th and 11th. Draken had been supporting the USAF Weapons school on a somewhat "trial" basis. Flying in Red Flag could represent a major step for Draken towards solidifying a more permanent role at Nellis.
Red Flag 16-2 took place from Feb. 29 to Mar. 11, 2016.
Click on an image below to be able to page through the gallery: