REAPERS at RIMPAC.
MQ-9 Reaper Unmanned Aerial Vehicle participating in its first SINKEX
at RIMPAC 22.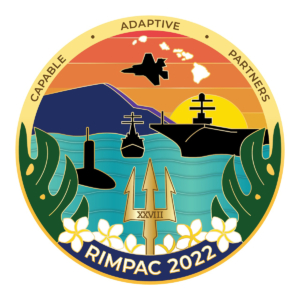 Article: Jaryd Stock
Images: As stated
In the largest maritime exercise to be conducted anywhere in the world to see an aircraft that is predominately used over land is unique to say the least. But Exercise Rim of the Pacific 22 (RIMPAC) has seen the first-ever use of a U.S. Air Force MQ-9A Reaper from the 49th Wing based at Holloman Air Force Base, be operated during a RIMPAC sinking exercise (SINKEX) on July 12th deploying from U.S. Marine Corps Base Kaneohe Bay, Hawaii.
With a number of unmanned assets participating in RIMPAC most notably the three unmanned vessels which is a first for the exercise, the MQ-9 has been able to provide personnel from the 49th Wing experience in operating the aircraft in a maritime environment.
With the MQ-9 participating in the SINKEX it also provided an opportunity for units from Australia, Canada, Malaysia and the U.S. to test weapons and systems in a simulated environment, working against opposing forces and eventually culminating in the explosion of a decommissioned naval vessel and marked a significant development in maritime war-fighting capability.
The presence of the MQ-9A's at the world's largest international maritime exercise provides an opportunity for combined and joint-force collaboration as information correlated from the MQ-9 can then be forwarded to U.S. Navy aircraft with that information so that they can strike the target with the best proficiency.
"They need us and we need them," said U.S. Air National Guard Capt. Phillip West, the RIMPAC MQ-9 maritime force integration lead. "That's where RIMPAC comes into play."
He said the Air Force and the Navy speak different languages, each using their own distinct jargon. Working together on exercises like RIMPAC and the SINKEX promotes smooth communication between the branches. This ensures sharpened combat readiness, increased strategic impact, and strengthened deterrence efforts by providing tactical proficiency to MQ-9A aircrews.
"Participation in the RIMPAC exercise is helping us evolve," said Col. Steven Beattie, 49th Operations Group commander. "We're developing maritime and Pacific (area of responsibility) expertise for our aircrew, maintenance, and support personnel."
With the MQ-9 flying over the ocean as opposed to routine training in remote land locations, the main objective for the SINKEX was the gathering of practical data about operating in a maritime environment as opposed to a desert environment.
"The data that we have in a simulator feeds off of real-world engagements like SINKEX," West said. "With what's called the new Smart Sensor, they're trying to build a database of what ships look like. They need us to actually do it so that they can build a database, and then they can fit it into a simulator so we can practice it and have more efficient training."
Former Navy vessels used in SINKEXs are prepared in strict compliance with regulations prescribed and enforced by the Environmental Protection Agency under a general permit the Navy holds pursuant to Marine Protection, Research and Sanctuaries Act.
Each SINKEX is required to sink the hulk in at least 1,000 fathoms (6,000 feet) of water and at least 50 nautical miles from land. Surveys are conducted to ensure that humans and marine mammals are not in an area where they could be harmed during the event. The ship that was sunk was the decommissioned ex-USS Rodney M. Davis (FFG 60)
"The coordinated firing of anti-ship munitions is a complex activity. This SINKEX demonstrates the interchangeability of the capable and adaptive RIMPAC partners," said Royal Australian Navy Commodore Paul O'Grady, commander of the RIMPAC maritime forces component. "In doing so, significant measures were taken to protect the maritime training environment."
U.S. Navy P-8A Poseidons from Patrol Squadron-10 (VP-10) nicknamed the "Red Lancers" based at NAS Jacksonville also deployed from Kaneohe Bay to take part in the SINKEX was noted firing AGM-84D Harpoon missiles to sink the decommissioned frigate.
Onboard the Nimitz class aircraft carrier USS Abraham Lincoln (CVN-72) launched several aircraft from Carrier Air Wing-9 to participate in the SINKEX as well, with F/A-18E/F Super Hornets, F-35C Lightning II (VMFA-314) MH-60S/R Seahawks all dropping live weapons.
The SINKEX is one of the many unique training opportunities RIMPAC provides to the U.S. military, its allies, and partner nations.