RAAF's Air Mobility Group delivering Aid all over the World.
RAAF's fleet of C-17 Globemasters, C-130J Hercules and C-27J Spartans currently helping in Aid efforts both domestically and Internationally.
Article: Jaryd Stock
Images: Joel Thomas, Steve Austen, Jaryd Stock & RAAF.
Both Domestically and Internationally the Royal Australian Air Force's Air Mobility Group has been tasked with providing humanitarian aid and rescue crews to a number of natural disaster zones.
Yesterday (Friday 10th) Urban search-and-rescue teams left RAAF Base Richmond located just outside of Sydney bound for Türkiye on board a No.36 Squadron C-17 Globemaster III (serial A41-213).
As the death toll continues to rise following the devastating earthquakes with the largest registering nearly 8 on the Richter scale, the need for specialist rescue workers couldn't be more pressing to find those still trapped beneath the rubble of collapsed buildings with the window of opportunity closing fast for those that may still be alive..
In the cargo hold of the Globemaster are 72 urban search-and-rescue specialists from the New South Wales Fire & Rescue AUS-2 Disaster Assistance Response Team.
Team leader Chief Superintendent Darryl Dunbar said the scale of the disaster was unheralded.
"Our team are trained to deal with what we'll face in Türkiye," Chief Superintendent Dunbar said. We're unsure what we will find at first but will do our best to support the people of Türkiye in their hour of need."
The AUS-2 team members are based in the state of New South Wales and include medical, engineering and search-and-rescue specialists.
They are travelling with 24 tonnes of supplies to sustain themselves and therefore not draw on limited resources in Türkiye.
The deployment of the AUS-2 team comes after the Turkish Government requested the provision of search-and-rescue and emergency medical teams to join their response to the disaster with the AUS-2 team set to face some significant challenges.
"It's all about the casualties on the scene, and that will be our focus. The environment will present problems. It's cold and buildings are in a dangerous state," Chief Superintendent Dunbar said.
"We will find solutions to any challenges we face. That's what we train for, and our team are prepared."
Meanwhile in Australia both No.35 and No.37 Squadrons which operate the C-27J Spartan and C-130J-30 Hercules respectively as well as No.36 Squadron, have been busy in Australia's Top End providing crucial evacuation flights and delivering much needed humanitarian aid to local residents in towns that have been affected by 1-100 year floods for Operation-Flood Assist.
The extent of the flooding and the damage that it has caused throughout January is so vast that ate one stage the floodwaters could be seen from space satellites.
Australian Defence Force aircraft (two C-27J Spartan A34-005/ A34-008 & one C-130J-30 Hercules A97-465 deployed to the Kimberley Region) transported more than 20 tonnes of food and supplies from Broome into the isolated town of Derby in Western Australia following a priority request from the W.A. Department of Fire and Emergency Services.
Roads into the town have been cut off by severe flooding that occurred in the aftermath of Ex-Tropical Cyclone Ellie, resulting in food supplies being critically low in the town.
Local transport providers in Broome and in Derby worked with Defence crews to load and unload the food supplies throughout the day.
Deputy Commander of the Task Element Flying Officer Amie Ballon said that there had been challenges to overcome to transport the stores, particularly the cold and frozen foods.
"The cold stores needed to be moved fridge-to-fridge within a time limit of two hours, so there was a logistical piece where we had to get goods to and from the aircraft and load them onto the fridge at the other end within that timeframe," she said.
A second logistical challenge was to coordinate a high volume of Defence aircraft traffic with only a limited amount of space on the Broome airport apron.
As well as the C-130J Hercules and C-27J Spartan aircraft delivering food stores, three Australian Army MRH-90 Taipan and two CH-47F Chinook helicopters were also using the tarmac, while a C-17A Globemaster landed to deliver equipment to Broome.
Ian Sinclair, owner of local business Pearl Coast Distributors, delivered the cold stores up to the C-27J Spartan.
"I've had a number of phone calls from people in Derby very grateful for what Defence has been able to do for them on our behalf," Mr Sinclair said.
The transport operator, who usually operates between Broome, Derby and Fitzroy Crossing, said there is likely to be a long wait before the roads are open to trucks.
"We've been told by the Shire that about 10km of the road has been literally washed away and they're expecting the road to be out of commission for somewhere between two to three months," he said.
Despite the challenges for the RAAF crews and ground staff, Flying Officer Ballon said all members of the team had been happy to assist.
"These are real-time emergency services that we are providing. We are learning lots on the go and everybody is really happy to be here in order to facilitate this for the WA government," she said.
The C-27 in particular has probably found its niche role after critics of the aircraft have said that it has failed in its role that it was intended for as a replacement for the DHC-4 Caribou as a battlefield air-lifter. The 10 C-27J Spartan aircraft operated by No.35 Squadron which are based at RAAF Base Amberley have been busy all over Australia after flooding events have been the hallmark for the country during 2022.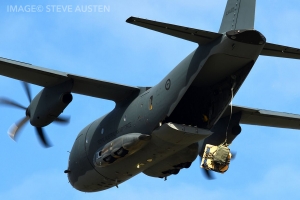 The Squadron has also participated in exercises in the South Pacific and in Guam as well as maintaining a sizeable footprint on the ground at Amberley to respond to government tasking when needed to provide aid to those who need it.
When the Squadron was initially tasked to flood affected areas there were many challenges for the crews to manage.
C-27J captain Flight Lieutenant Pete Wuttke, from No.35 Squadron, said the Australian Defence Force had managed flying operations at Fitzroy Crossing airstrip in conjunction with the airfield operator.
"With the airstrip being underwater, there was a question around the subsoil of the runway pavement, given the size and weight of our aircraft," Flight Lieutenant Wuttke said.
"However, with flights that did commence we were better able to support the emergency service agencies in their efforts."
Four RAAF air traffic controllers, two technicians, and an adapted G-Wagon pre-packed with radio and communications equipment have relocated to the edge of the town's air strip, where they are managing both ADF and civilian air traffic.
Flight Lieutenant Peter Hartley, Officer in Charge of the mobile air operations team, said the air traffic controllers were overseeing about 200 air movements a day at the airport.
"Fitzroy Crossing airport authorities requested the mobile facility through the Department of Fire and Emergency Services liaison office. It has now been approved by the Civil Aviation Safety Authority (CASA)," Flight Lieutenant Hartley said.
"In remote areas such as this, aircraft normally negotiate landings with each other directly but, with so many general aviation and Defence flights due to the flood emergency, we can use our capability to add to the safety of these operations.
The four Air Force air traffic controllers were brought in from different bases in Australia, including Darwin, East Sale and Amberley, and are experienced working with civilian and Defence aircraft.
Flight Lieutenant Hartley said the team was also experienced in remote operations through exercises such as last year's Vigilant Scimitar in Charters Towers and previous deployments such as Operation Bushfire Assist in Gippsland, Victoria.
"Dealing with these types of situations in remote parts of the country is why we train and it's why we're in the ADF, so we're very happy to bring our skills and help in an emergency situation," he said.
As always these humanitarian aid missions are what crews of the RAAF's Air Mobility Group really do enjoy as apart of their service to their country, as they feel they are giving a much needed hand to those in need.