Royal Australian Air Force enters the Electronic Spectrum
RAAF Number 6 Squadron begins EA-18G Growler Operations
Report by Jaryd Stock
Photos Daniel Vorbach and Jaryd Stock with video by Joel Thomas
August 10, 2017
An aircraft that is so much more than just another Super Hornet it is able to control the electronic spectrum, which in modern warfare is absolutely fundamental. It keeps allied and coalition units safer and it can control radar emissions and communications, and it can also weaken opposition forces abilities to utilise their own electronic spectrum such as radar and communications.
And it now allows the Royal Australian Air Force a lot of freedom to manoeuvre that not many nations around the world can do due to the arrival of Boeing's EA-18G Growler.
The Growler is based on the F/A-18F Super Hornet airframe and fitted with additional avionics, enhanced radio frequency receivers, an improved communications suite and radio-frequency jamming pods such as the ALQ-99 Tactical Jamming System that enable it to jam enemy electronic systems.
The EA-18G will provide a complementary capability to the RAAF's F/A-18F Super Hornet based at Amberley and the F-35A Lightning II aircraft which is to be based at Tindal and Williamtown, making the RAAF's Air Combat Group and all 5th generation air superiority fighting force.
Australian Defence, Senator Marise Payne, together with Air Vice Marshal Steven Roberton, Air Commander Australia; welcomed the full fleet of EA-18G Growler electronic attack aircraft to RAAF Base Amberley recently on July 9.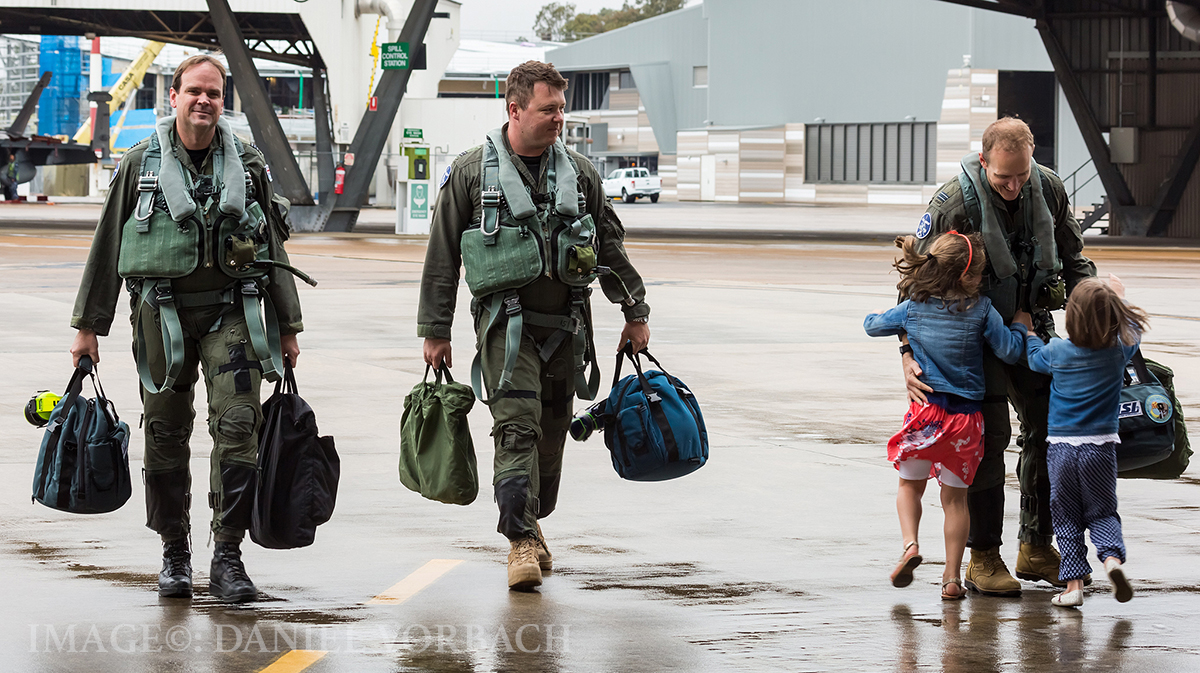 Since the first two Growlers arrived in Australia in February 2017 with the first two Growlers making their first public appearance at the Australian International Airshow, the fleet has grown to the full twelve aircraft and completes Boeing's commitment to the RAAF in providing a Electronic Warfare capability to the RAAF the scale of which previously has never been operated before.
Minister Payne at a ceremony held to mark the arrival into service of all twelve Grolwers said the arrival of the Growler provides a potent and technologically advanced new capability for the Australian Defence Force (ADF).
"Firstly I want to acknowledge and state how proud I am of the men and women from Number 6 Squadron and to Wing Commander Grant Fifeild commanding officer of 6 Squadron who have worked hard to introduce this new capability in electronic attack in to the Royal Australian Air Force and it is a steep change in capability which makes us a very important force in this region, and in the world."
"We are the only country outside the United States operating the EA-18G Growler and the full fleet arrival represents a significant leap forward in joint electronic warfare capability," Minister Payne said.
"This is an amazing achievement for the ADF. These aircraft are able to support the full spectrum of Defence missions, including operations with coalition partners. These operations with Australia's partners were on show during exercise Talisman Sabre 2017 as the United States Navy's Electronic Attack Squadron VAQ-132 'Scorpions' trained along side RAAF's No.6 Squadron from RAAF Base Amberley.
The EA-18G Growlers will work with units from the Australian Army and Navy to deliver a networked joint force able to manoeuvre and fight in the electromagnetic spectrum, which continues the RAAF's plan under Plan Jericho to become the worlds first all 5th generation fighting force.
APD talked to RAAF Air Commander Australia Vice-Air Marshal Steve 'Zed' Roberton who has just taken on the role of ACA and was previously the commanding officer of all RAAF fast jet operations as Commanding Officer of Air Combat Group at RAAF Base Williamtown.
Asked on what was next for No.6 Squadron as the twelve Growlers are now at RAAF Base Amberley Vice-Air Marshal Roberton explains, "Well 6 Squadron have spent a fair amount of time on exchange to the U.S. Navy and based at Whidbey Island near Seattle training with various Electronic Attack Squadrons in the United States."
When the announcement was made for the RAAF to purchase and additional twelve airframes based on the EA-18G variant of the Super Hornet the United States Navy and RAAF established a personnel exchange program (PEP), to embed RAAF pilots and aircrew in operational U.S. Navy Expeditionary EA-18G squadrons. In July of 2013, only three months after signing the FMS for twelve EA-18Gs, it was planned to start training aircrew in October of 2013 at the Fleet Replacement Squadron (FRS), with RAAF aircrew serving two year stints in deployable units by early 2014.
AVM Roberton continues to explain what is next for No. 6 Squadron. "Now that the Growlers have arrived in Australia and have been handed over to the RAAF, 6 Squadron will begin a process of bedding down the training, and that is not just a process for the crews, the women and men that are lucky enough to fly the aircraft, but also those that are on the ground such as the maintainers and those that support the squadron and aircraft."
"But also the team are building up the infrastructure here at Amberley, and also the data support that such a 5th generation aircraft needs; And we are really confident that the team at 6 squadron and the RAAF are on track to deliver that."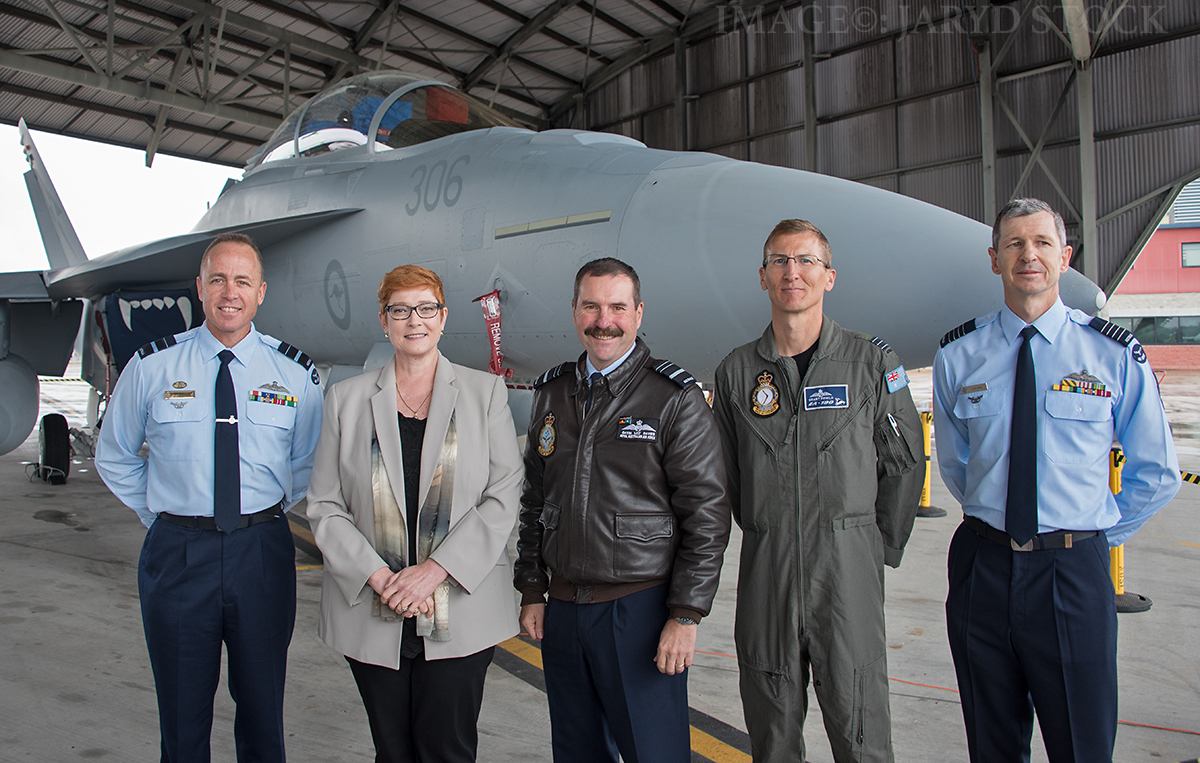 The joy on Air Vice Marshal Roberton's face during the offical ceremony was evident during his speech to all that had gathered to witness another chapter of RAAF history unveiled. He is a man that takes great pride in every single person within the RAAF and he explained why he is so proud of the efforts undertaken by every single person within No.6 squadron.
"I am really proud of the men and women in the RAAF and it's a proud day for the RAAF and the Australian Defence Force in general and it is a real milestone, this aircraft is next generation and it's an aircraft that actually makes our army and naval forces better as well, and this is a real exciting capability for us now apart of the Royal Australian Air Force."
"It's a terrific day for number 6 squadron here at Amberley, and it's another testament not just to the local community of Ipswich but the industry base as well such as the mentioned by the minister."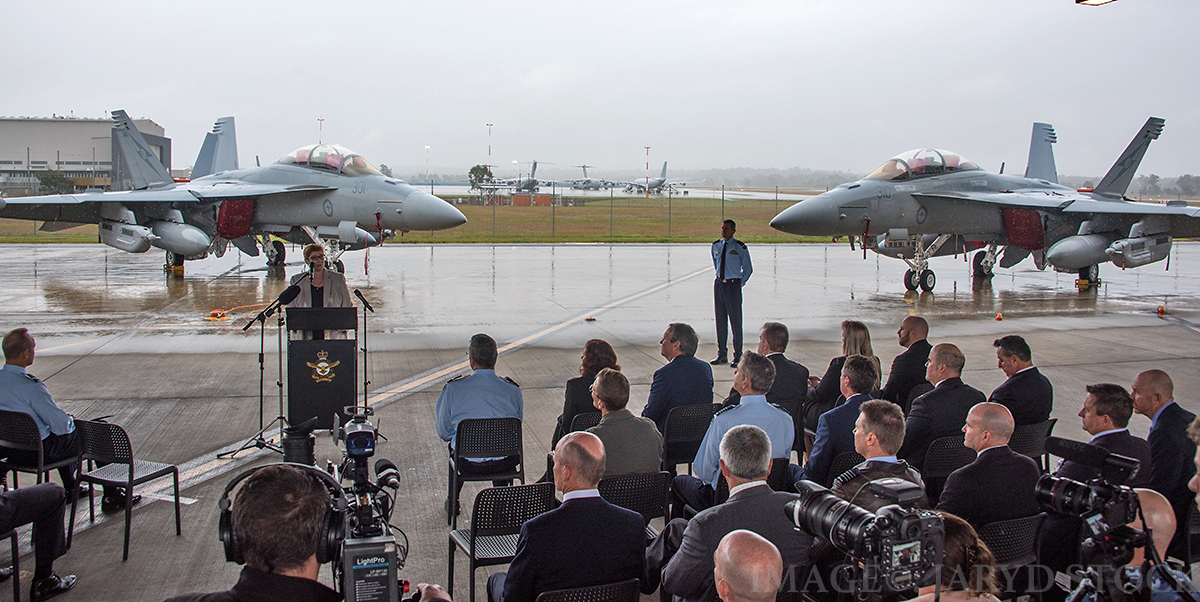 Chief of Air Force, Air Marshal Leo Davies said he was extremely proud of all the personnel who have worked on this project both in Australia and overseas.
"The delivery of this capability shows what our Defence Force members are capable of alongside our US counterparts," Air Marshal Davies said.
"The US Navy has been very generous in their training of our aircrew and maintenance teams, and we have cemented our reputation as credible coalition partners. Australian Growlers have already conducted successful weapon firings and integration flights with RAAF F/A-18F Super Hornets and US Navy EA-18G Growlers as part of Operational Test and Evaluation. We have also had the graduation of the first Operational Transition course."
CAF AM Davies continues, "Through our partnership with the US Navy we are already planning to keep Growler at the forefront of electronic attack capability throughout the life of the aircraft."
"I wish to acknowledge the commitment of RAAF Base Amberley, the Estate & Industry Group and the 6 Squadron families who have generated the home of this exciting new aircraft."