Article by Jaryd Stock
Images by Jaryd Stock, Ryan Imeson, RAAF.
In December 2021, Four Royal Australian Air Force (RAAF) F-35A Lightning II aircraft have touched down at RAAF Base Tindal after the base was certified ready for F-35A operations.
The F-35A, which will be permanently based in the Northern Territory has replaced the F/A-18A/B Classic Hornet that was operated by No.75 Squadron for 33 years.
Minister for Defence Peter Dutton said No. 75 Squadron would operate the fifth-generation multirole fighter jets from the Top End; a strategically important location for national defence.
The Tindal-based F-35As will assure the Australian Defence Force's ability to deter or defeat threats to Australia's interests and strengthen the government's ability to project potent air power into Australia's immediate region.
No.75 Squadron will also be able to capitalise on frequent opportunities to bolster interoperability with United States Air Force (USAF) rotational aircraft deployments such as was recently conducted in November with B-1B Lancers from the 37th Bomb Squadron over the Bradshaw and Delamere training areas in the Northern Territory, under the Enhanced Air Cooperation with the USAF it's expected that 5th Generation training along side F-22A Raptors and other platforms will also take place in the future.
By the time the Air Force is scheduled to declare F-35A Final Operational Capability in December 2023, sixteen of the fifth-generation multi-role fighters will be based at Tindal, and they will be well practiced at operating with Australian coalition partners in the region.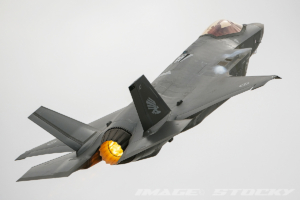 Air Commander Australia Air-Vice Marshal Joe "Vinny" Iervasi spoke with APD detailing the transition from F/A-18A/B Classic Hornet Operations to F-35A Lightning operations for No.75 Squadron.
"The F-35 is a true 5th generation capability, an all knowing and all seeing platform, its ability to fuse everything within the battle space hasn't been seen in any of our previous Air Combat Group platforms."
"With its ability to connect with other platforms, it now takes us to a range of operations that we haven't been able to accomplish before," AVM Iervasi stated.
With the setup in platform from Hornet to Lightning, 75 Squadron are now better equipped to respond to threats, and take action when called upon by Government.
With that platform comes new combat tactics to hone skills and get the best out of the Lightning, and as Air Combat Groups 81 Wing have now fully transitioned to the F-35, crews will be mastering their craft as both a sensor and a shooter.
AVM Iervasi details a little bit more on how that transition has taken place and the capacity in which F-35 pilots are able to work with.
"The F/A18 Classic Hornet systems and tactics were derived upon the fighter principle of mutual support – the ability to support and cover your wingman whilst executing the mission. The introduction of the Super Hornet with enhanced systems and situational awareness enabled us to evolve tactics to extend the way mutual support was achieved and therefore be more dynamic and flexible in execution."
"The F35A has taken that to another level again. So today F35A tactics are almost unrecognisable to Classic Hornet tactics. That has been the true evolution of moving from 4th generation through to 4.5 to 5th generation capability. As Chief of Air Force Air Marshal Mel Hupfeld has said, the F35A replaces nothing and changes everything," AVM Iervasi concluded.
The F-35 Program Prime Contractor, Lockheed Martin is supporting aircraft maintenance at RAAF Base Tindal and the Australian Defence Force are working closely with F135 engine manufacturer Pratt & Whitney to ensure Tindal is effectively set up for long-term engine maintenance supporting 75 Squadron operations.
Nothing beats a Northern Territory sunset, especially as now the local top end fighter combat squadron has had the sun set on Classic Hornet operations. But with every sunset it's guaranteed that there will be a glorious sunrise, that sunrise of F-35A Lightning Operations for No.75 Squadron has now begun.