Pitch Black 2018: SONIC BOOM!
Indian Air Force's 102 Squadron "Trisonics" make their presence felt at Pitch Black 2018
Report by Jaryd Stock
Photos by RAAF and Jaryd Stock
August 6, 2018
This year's Pitch Black was considered one of the best in terms of the various international participants that have featured in this year's exercise utilising various assets and platforms that covers a vast array of aircraft and the way they can be utilised throughout the exercise.
One of those participants was the Indian Airforce (IAF) who was participating in Pitch Black for the very first time. This was a significant moment for the exercise as the IAF deployed 145 airmen with four Sukhoi Su-30MKI Flankers from the 102 Squadron "Trisonics" from Chabua Air Force Station.
The four Flankers were also supplemented by a Lockheed Martin C-130-30J from 87 Squadron from the IAF Special Air Operations unit that would take part in the insertion and extraction of Special Forces and conduct supply drops to ground forces in the Bradshaw Field training area south of Darwin mixing with Royal Australian Airforce (RAAF) C-130J-30's from No.37 Squadron and C-17's from No.36 Squadron all basing out of RAAF Base Darwin. The Indian deployment was supported by an IAF C-17 carrying equipment and support personnel, and a Garud commando unit was also deployed interacting with Australian Army Special Forces.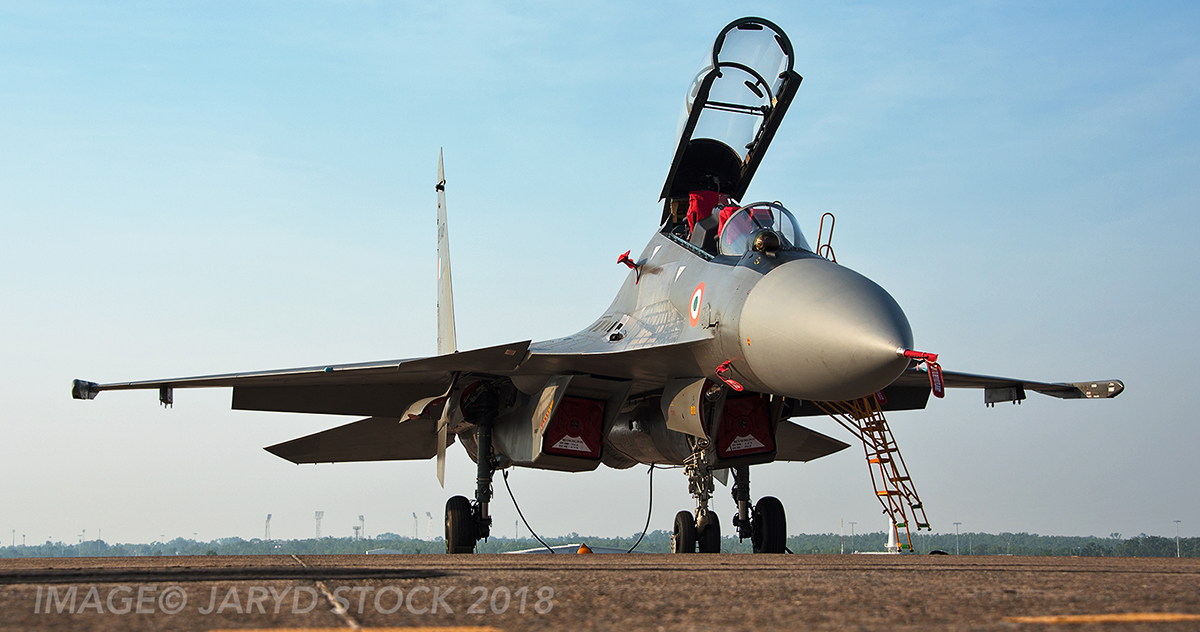 An IAF statement provided on July 26th to Indian media stated that the, "The exercise will provide the IAF a unique opportunity for exchange of knowledge and experience with these nations participating in Pitch Black in a dynamic warfare environment. Participation in multinational air exercise assumes importance in view of the continued engagement of the IAF with friendly foreign countries."
This deployment was to showcase the abilities of the Indian Airforce in deploying to Australia showcasing the ability to deploy anywhere in the Asia Pacific region and act as a "security net" in the region as stated by the Indian government.
The statement also went onto provide further information stating, "The contingent assembled at Air Force Station, Kalaikunda in West Bengal and leave for the exercise on the 27th of July via Indonesia."
"This deployment will be led by Group Captain CUV Rao and would aim to undertake simulated air combat exercises in a controlled environment and mutual exchange of best practices towards enhancing IAF's operational capability," said the IAF statement.
"During the flight from India to Australia, Sukhoi Su-30MKI jets will carry out air-to-air refuelling with IL-78 tanker aircraft before continuing on their own from Indonesia down to Darwin, Australia."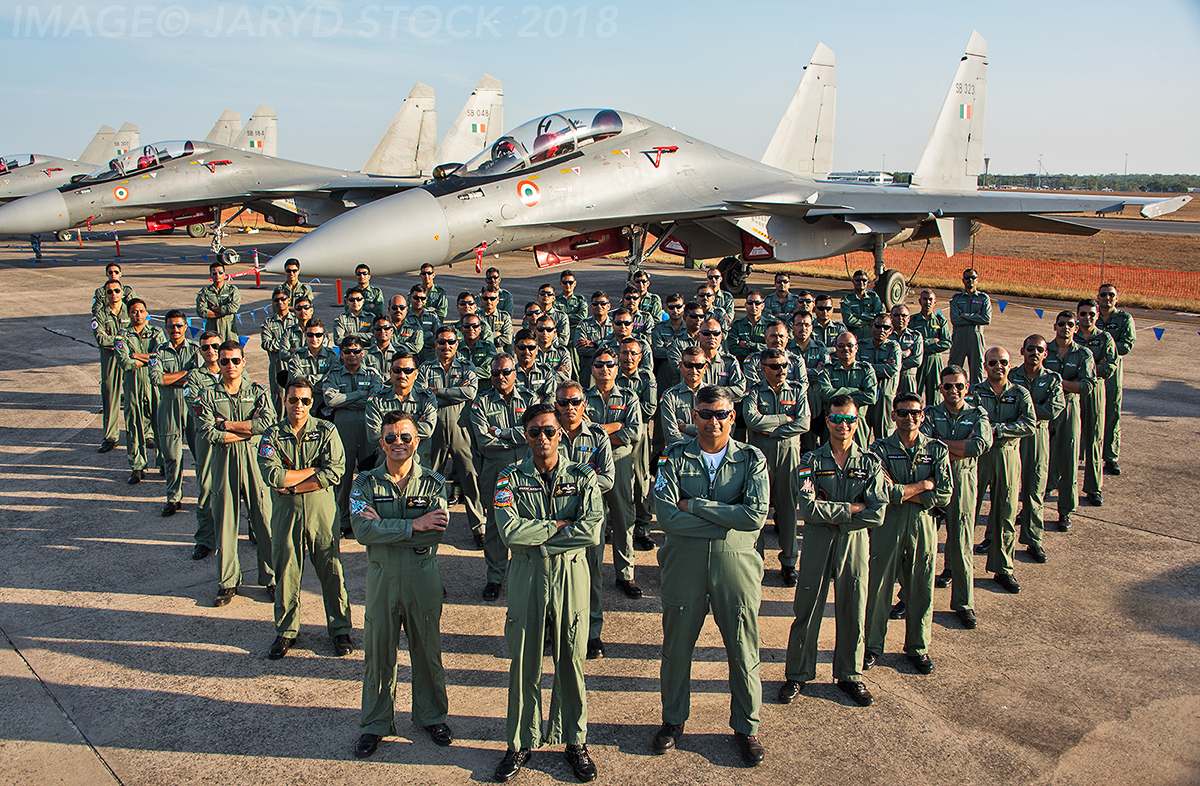 The participation of the 102nd Squadron "Trisonics" marked the second time in Pitch Black history and the first time since Indonesia deployed a mix of Su-27's and Su-30's in 2012 that a Russian designed fighter aircraft had participated in the exercise. Speaking directly with the members of the Royal Australian Air Force all that we talked to stated they were eagerly anticipating seeing what the "Trisonics" were capable of.
APD was privileged to be given access to the 102nd on the first day of Pitch Black and spoke to commanding officer of the "Trisonics" Group Captain Prem Anand, callsign "Andy".
He spoke of the Trisonics build up and deployment to Darwin and that initial planning that started way back in the 2016 edition of Pitch Black and what the Squadron hoped to get out of the exercise training with the other nations participating.
"The Trisonics attending this year, we didn't do much in lead up to the exercise we kept doing bilateral exercises through the year and worked recently with the Republic Singapore Airforce, and the deployment of four aircraft is small so we didn't have to do much planning it was all laid out with exception to coordinating tanker support from the IL-78, and because the C-130 was participating we were able to bring along the supplies needed via the C-130 and also a C-17."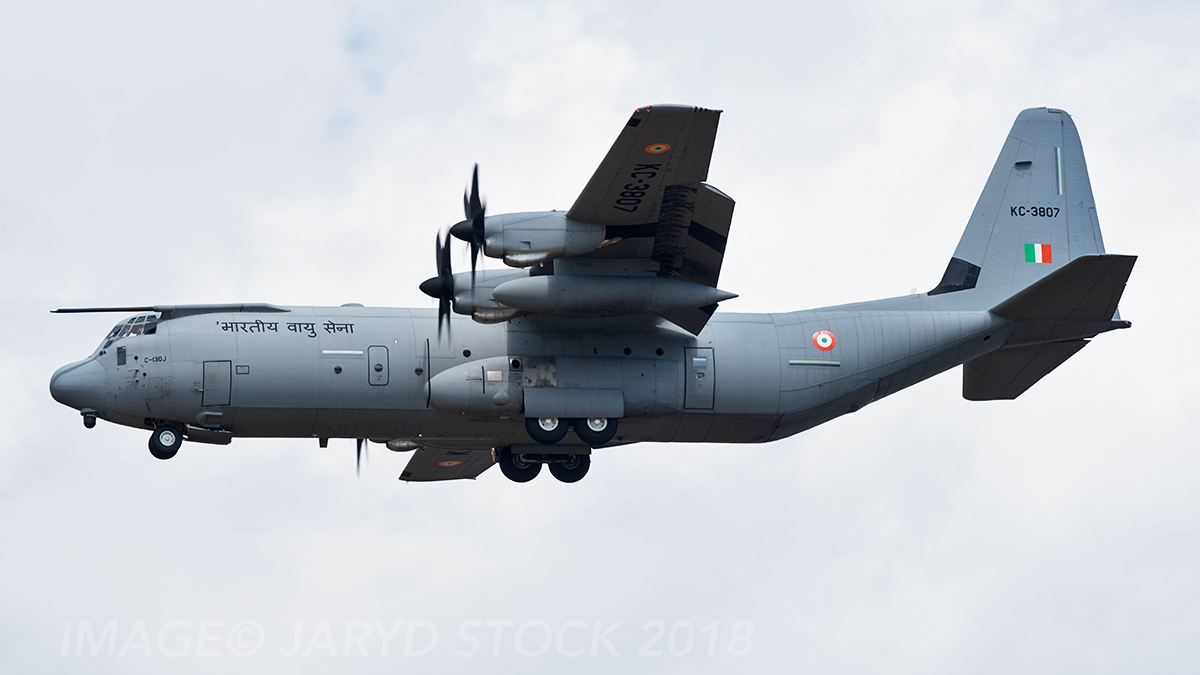 The GPCAPT explains how the IAF got involved with Pitch Black 18, "The Trisoncis deployment started way back in 2016 in the last Pitch Black exercise as the IAF sent observers, and since then the IAF decided that they would participate in 2018 and it just happened to be my Squadron that came to this year's Pitch Black."
The missions during the first week of Pitch Black is designed for a force integration training schedule, where all participants conduct a sortie with RAAF units. GPCAPT Anand stated what the first week had in store for the Trisonics and what the second and third weeks would bring for the team.
"The sorties this week are all designed to be partaken with the RAAF to gain a familiarisation of the area and to gain proficiency in procedures, and we've been talking to the RAAF pilots working with them and so both of us have been learning off each other, and then the RAAF pilots will take us up and we'll conduct missions together, and that gives us a better perspective working together."
RAAF 77 Squadron were tasked to fly with the Su-30's during the first couple days of the exercise, RAAF Flight Lieutenant Vincent a F/A-18A Hornet pilot stated what it was like to fly with the Trisonics for the very first time.
He says, "It's the first time I have ever flown with the Indian Airforce and their Su-30's so it's an experience I'll take from Darwin and will learn a lot from it."
The FLTLT continues, "And today (Tuesday 31st July) we got to take a pair of Su-30's out with us with a pair of F/A-18's for basic fighter manoeuvring, which is dog fighting. We flew out to the airspace in a four ship configuration, we then split then conducted 1v1 dog fighting and then came back to Darwin."
The missions vary for this exercise from strike to air superiority, and for the 102nd, also will be changing up their daily sorties. GPCAPT Anand states, "We are conducting mostly air to air missions here at Pitch Black but we are also doing air to ground as well, and we are a part of a large force whatever is designated from mission planners that is what we will fly."
"For us this training is vital as this is the first time we've participated in this exercise and this is the beginning in working together and this is only going to improve, so the basic objective of this exercise is to gain better interoperability and to learn from each other and get to know each other's good practices."
He goes on, "And it's going to improve our operations so it's only going to improve from here."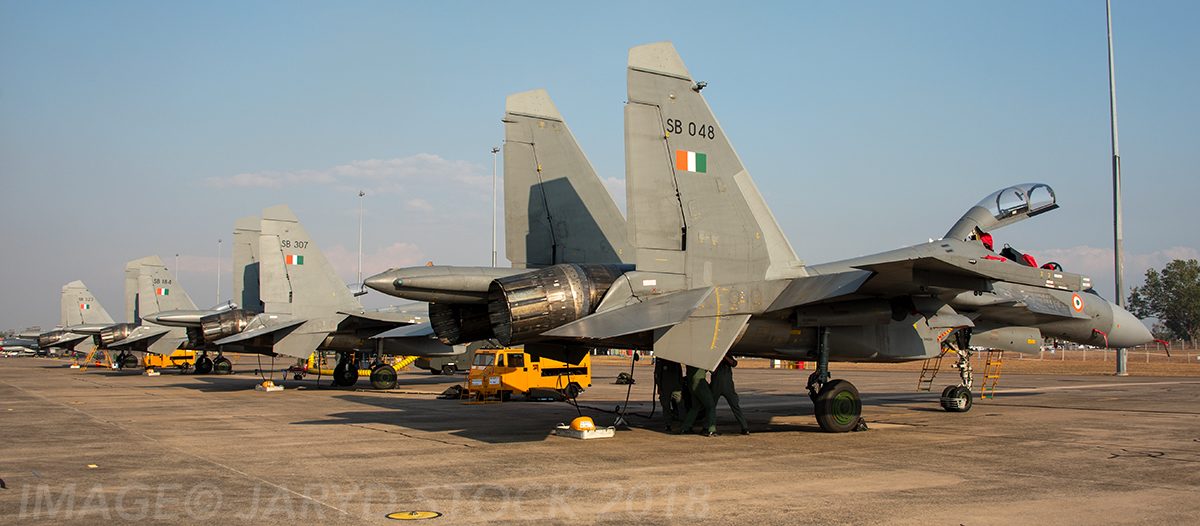 Exercise Pitch Black is a chance for various nations to fly together to gain that interoperability but it's also an exercise that is at an unclassified level. For example some Red Flag exercises conducted at Nellis AFB in Las Vegas are classified exercises due to various reasons from sensitive equipment to various tactics being used during that exercise.
Pitch Black is not that sort of exercise, it focuses on participants mainly flying together to gain a better understanding of each other to learn and grow in their understanding of each other. The Sukhoi Su-30 in general has some unique abilities with its systems, avionics and handling characteristics with the use of forward canards and thrust vectoring nozzles at the end of their powerful AI-31FP turbojet engines.
The Indian media, back in 2015, famously claimed that four IAF Su-30MKI's from 2 Squadron deployed to Royal Air Force (RAF) Coningsby flying against FGR4 Typhoon's in exercise Indradhanush scored a 12-0 win/loss ratio in both Within Visual Range (WVR) and Beyond Visual Range (BVR) scenarios.
This is obviously denied by the RAF and when the issue of BVR was raised to the then 2 Squadron commanding officer he didn't state that such success had occurred. In any-case the Su-30MKI Flanker is a serious bit of kit that can be a handful to deal with especially when it has an awesome suite of capabilities for an aircraft.
Asked if the IAF had brought the full capabilities that this aircraft can bring to an exercise GPCAPT Around stated, "No we didn't, primarily because it's an UNCLASS exercise and we want to leave it at an unclassified level, and we are coming from a very long distance and so for us it's a friendly exercise and we would like to keep it at that."
He continues, "At the moment we are 1v1, 2v2 and what we want to do in Pitch Black is BVR and WVR missions, more aircraft to aircraft and so it doesn't make sense to bring those suites (e.g. radar suites) at all and all that way so the way it is at the moment is good."
"We are also playing in this exercise with simulated weapons and as per whatever is being simulated by mission planners that is what we will be doing, and we are not linked in so we are not using the full suite."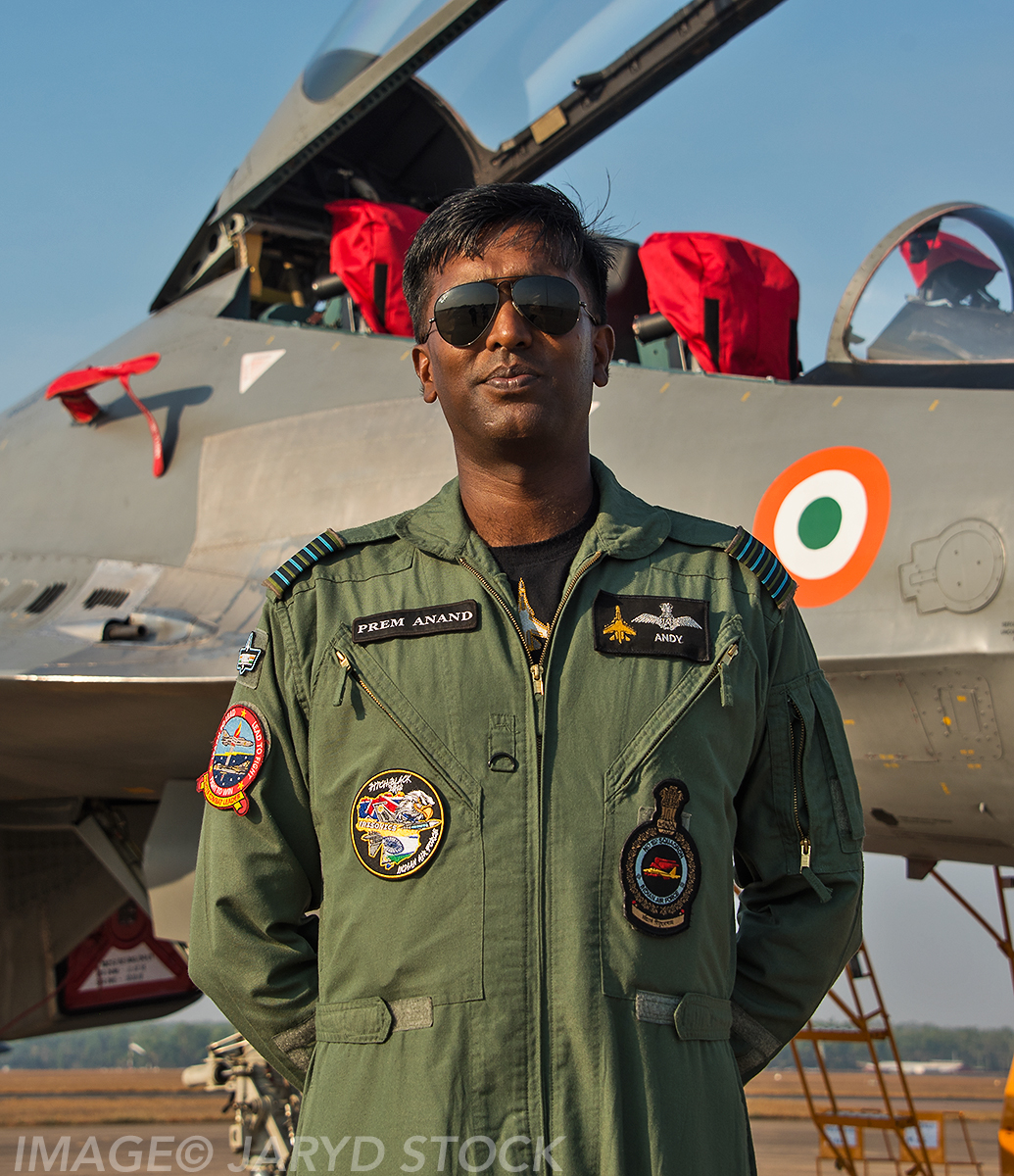 Another bonus for the IAF and in particular the "Trisonics" in this exercise is the opportunity to conduct Air to Air Refuelling (AAR) off the RAAF KC-30A Multi Role Tanker Transport. This marks the first time an aircraft from the Flanker family has conducted AAR with an Airbus KC-30. It is rumoured that the Indian Government is looking at the capabilities that is offered by the KC-30 to replace or supplement existing AAR capabilities, and for many in the Asia Pacific region the KC-30 is proving to be the tanker of choice to replace ageing aircraft already in service providing AAR or to add to their capabilities.
Although the Trisonics were supported across the Indian Ocean by Llyushin IL-78 Midas tankers to Indonesia and then making their own way down to Darwin from there, the return leg will be vastly different.
The RAAF and IAF have worked together to gain clearances before Pitch Black for the Su-30MKI to tank off the KC-30. The first hook up of the Su-30MKI to the KC-30 via the KC-30's wing tip house and drogue system was conducted on the very first day of the exercise.
GPCAPT Anand stated what tanking off the KC-30 entails and the plans for their return trip back to India after the completion of the exercise.
"Today we were good we engaged (first time engagement with the KC-30) and we are good so it is much the same as we are used to, but Pitch Black gives us time to get more familiarisation with the aircraft and it's just getting used to the procedures."
Continues, "We will be taken back to India by the KC-30 so the training here is good."
With these air defence exercises it is all about what the individual squadrons get out of an exercise of this nature and then in-turn learn from it and take back to India. Asked what the Trisonics will get out the exercise the GPCAPT says, "Well it's going to be everything, it's going to be the experience gained by deploying here, and it's going to be those good practices that are employed and also going to be those debriefs but right now at the start of the exercise it's too early to say what we are going to get, but it will be a lot."
Showcasing the Su-30MKI at Pitch Black has many aircrews excited to see what it can do under the control of the Trisonics aircrew. It seems that it is definitely an aircraft capability that the RAAF particularly would like to see the characteristics of and how to utilise that knowledge to the best of their ability.
But the Trisonics attending this year's Pitch Black is also on a political level showcasing two commonwealth countries and bringing them closer together showcasing their partnership to the rest of the Asia Pacific region.
Asked if this was the beginning of stronger relationship between the IAF and RAAF and whether we would see more IAF and conducting more exercises together, GPCAPT Prem "Andy" Anand said, "Absolutely!"
Lead image: © Commonwealth of Australia, Department of Defence