Pitch Black 2018: From Woe to Go
Officer in Command for Pitch Black, RAAF Air Commodore Mike Kitcher gives insight into a typical sortie that is conducted during the second week of the exercise
Report by Jaryd Stock
Images: RAAF and Jaryd Stock
August 16, 2018
Exercise Pitch Black 2018 is planned around a crawl, walk and run phase. Those three elements or phases are designed for each week of the exercise (three weeks in total). Each of those phases is introduced for the aircrews enabling them to ramp up their procedures and operation tempo. When the final week arrives they are at an operational level where they could easily transfer their level of readiness to any conflict in the world where called upon to conduct combat operations and conduct them at ease.
The first week was based on the crawl stage and it is designed to get all participants working together and understanding local procedures and requirements in the airspace provided around the top end of Australia, while harnessing that knowledge to get a better understanding of how to work together for the rest of the exercise.
The first week is based on the Force Integration Training (FIT) module which is designed for all international participants to been taken under the wing as it were one of the host RAAF units. They start in small strike packages in the Delamere or Bradshaw ranges or conduct 1v1 or 2v2 aerial combat scenarios against each other in the associated airspace.
That interaction is ramped-up after the first week to the walk stage, which is in the second week of the exercise, and at the start of that week progressing through to the run phase towards the end of the second week carrying on into the third week. These sorties incorporate those big strike packages these air defence exercises are renowned for where up to one hundred aircraft can participate in scenarios, with examples being from Close Air Support to Escort and Strike to Dynamic Targeting and Electronic Warfare, which is suppression of an enemies radar and communication abilities on the battlefield and in the airspace disrupting their ability to control their forces ability to fight.
Royal Australian Airforce (RAAF) Air Commodore (AIRCDRE) Mike Kitcher commanding officer of Air Combat Group the umbrella headquarters unit that looks after operations for all RAAF fast jet units and currently the commanding officer of Exercise Pitch Black details to APD what is involved in a typical mission in the second week of Pitch Black 2018 and how that is helping shape the skill-set to all aircrew participating in the exercise.
"As you aware Pitch Black has been running for a couple weeks now and so far the exercise has been really successful, and during the second week we have managed to launch (From RAAF Base Darwin and Tindal) some big packages and they are some of the biggest missions that have ever been launched since I have been associated with Pitch Black."
"To give you an insight into how that's going and give a bit of an idea into the missions undertaken, yesterday (Thursday, August 9th) we flew a mission where we had RAAF Classic Hornets (77 Squadron), RAAF Super Hornets one of which I was flying (from 1 Squadron), We also had Indian Air Force Sukhois Su-30's (102 Squadron), U.S. Airforce F-16's (80th Fighter Squadron) also with Indonesian F-16's (3 Skuadran) Singaporean F-16's (143 Squadron) and Thai Gripens (701st Squadron) and a bunch of aircraft that were all designed to escort a couple of transport aircraft."
In the escort scenario that was played out on August 9th during the second week of Pitch Black 2018, a RAAF C-27J Spartan from No. 35 Squadron at an airfield strip in the Delamere weapons range was tasked to provide extraction for ground forces (35 Squadron were also partaking in humanitarian relief missions during the exercise, but due to the complexity of this particular scenario it would suggest the C-27J Spartan and crew seems as though they were operating in the battlefield air-lifter role, with the squadron harnessing their skills to successfully extract ground forces from a conflicted battle-space and return to home base safely).
At the same time a RAAF C-17A Globemaster from No.36 Squadron was on the ground at the Bradshaw Field Training Area also providing extraction for ground forces (presumably special forces but unconfirmed) as now the Squadron has been focusing on harnessing working on there tactical abilities on-top of their airlifted roles commonly associated with an aircraft of that size.
The scenario planned by mission planners was to allow those transport assets apart of Blue Forces to achieve their role in those extractions and then be escorted all the way back to Darwin into friendly airspace.
The fighter aircraft represented by Blue Air Forces were tasked to fulfil their role by protecting those large wing assets in the air and on the ground, by neutralising any threat that was posed to those transport aircraft either by land based anti-aircraft emplacements mainly surface to air missile targets, or threats from the air from Red Air Forces.
AIRCDRE Kitcher explains more of the scenario from a Blue Air perspective, "Well along with the various tankers that were airborne and the E-7 (Wedgtail AWE&C aircraft) that was airborne against a fair bit of red air, we were able to make our way down to Delamere and conduct close air support with our Joint Terminal Attack Controllers (JTAC) down there for around about twenty minutes and that allowed us to simulate destroying some surface to air missiles and that then allowed the C-27 to get airborne and we then escorted that back out of the airspace."
He continues and explains what was happening at the same time at Bradshaw, "At the same time one hundred and fifty kilometres to the west at Bradshaw the exact same thing was happening allowing the C-17 to get airborne as well."
"While that was going on there was dynamic tasking coming in from headquarters whilst we were in the air to attack various targets that were found at very short notice and all of that was occurring whilst there were around thirty to forty red air opponents harassing everybody."
In these missions there are some big numbers to digest, this walk to run phase of the exercise sees the number of aircraft in each sortie increase showcasing the abilities of all participants on what can be achieved together working cohesively as a figurative swarm of insects with one goal in mind working together and seamlessly as that is what these big air defence exercises are all about.
AIRCDRE Kitcher goes on to explain numbers wise what this scenario achieved. "The results of yesterday's mission were pretty impressive really, there were about fifty fighters as well as a round about ten big wing assets as well (e.g. tankers, transport aircraft and C2 piece AWE&C aircraft)."
"And we ended up with about thirty red air aircraft that regenerated about three to four times each, with the kill ratio being 78-3." The win going to Blue Air for this scenario.
He continues, "That was quite an impressive mission to fly and it's to give you an example of what can occur here on Pitch Black. And we have discussed before about the airspace here for the exercise and how that's really second to none, and we really saw in yesterday's mission the benefit of that airspace by red air getting airborne in Darwin and Tindal, then transit five hundred kilometres to the south to commence their holding then they tanked with United States Marine Corps KC-130J Hercules (VMGR-152 'Sumos' from MCAS Iwakuni Japan) operating out of Tindal."
"There was a whole bunch of aircraft take off out of Darwin (Blue Air) and they tanked with Australian KC-30 (33 Squadron) and other tankers that were situated in the airspace one hundred kilometres south of Darwin."
"The exercise commenced from there and the airspace allowed the eighty jets that were out there and all the fixed wing the transport aircraft be a part of one of the best missions I have flown in, so certainly we are seeing some of the benefits to the airspace we have got here and the coalition we have formed here for Pitch Black work quite well together."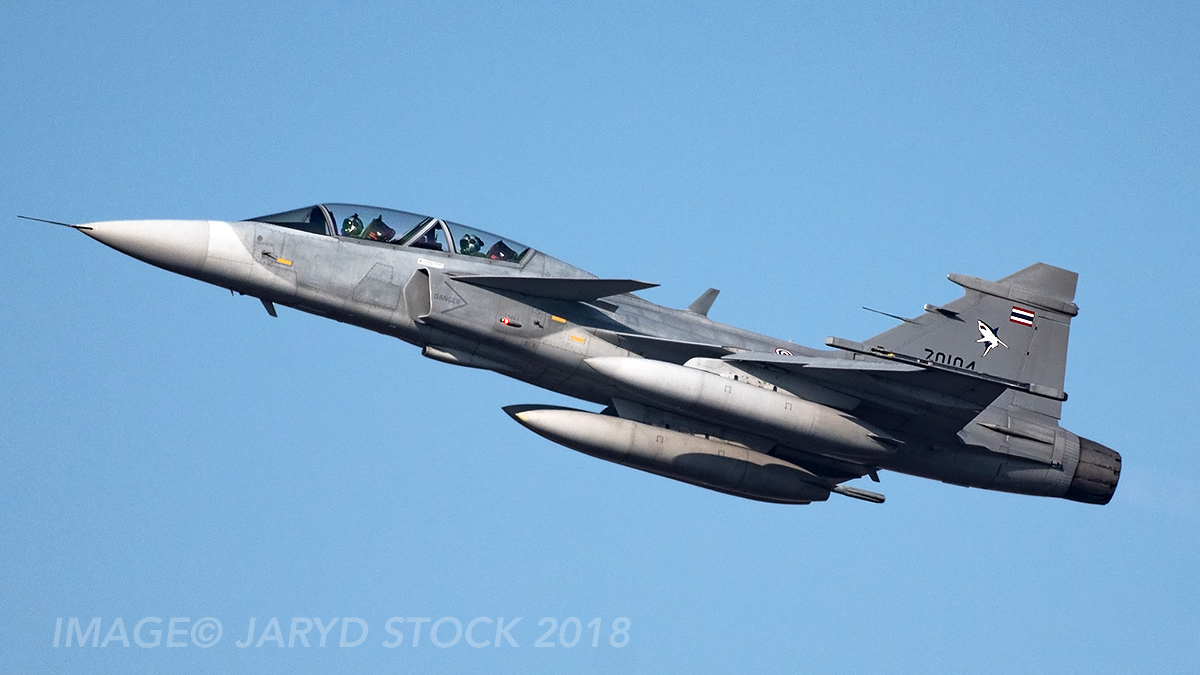 Things seem to be progressing quite well for halve way through the exercise says AIRCDRE Kitcher, and for him and the RAAF commanders overseeing the exercise the pleasing aspect for them has been the progress being made in interoperability between the sixteen nations that are working together in this exercise. The 2018 edition of the Pitch Black exercise sees over one hundred and forty aircraft participating making it the biggest Pitch Black to date and the most complex.
AIRCDRE Kitcher details his thoughts on the benefits this interoperability brings conducting scenarios that are explained in the article.
"One of the most pleasing things for me is to see the way those sixteen nations have combined for an effective fighting force, it's been quite impressive and for me to see it airborne and watch from the ground, seeing those sixteen nations work together."
"In that mission that was conducted yesterday there were eight different nations participating flying on the blue side, and those eight different nations combined together in a mission where it's the best I have seen in a long time and that is one of the best things in this particular Pitch Black and the best thing about having sixteen nations here in the Northern Territory in the airspace we have got available." -He says.
"And there are very few airspaces in the world like we have here in the top end where we can deploy eighty fast jets and fly together en-masse together is complex in its own right and even though this is a unclassified exercise it's still a masse on masse training environment."
The Run phase of the exercise will start on the 13th of August are deliberately and relatively similar to the end of the second weeks missions undertaken. The missions for the second week have been made up of daytime and nighttime sorties for the aircrews, those crews will then swap roles as it were in the third week where the aircrews participating in the nighttime sorties will go into the third week participating in the daytime sorties and vice-versa for those that flew daytime missions in the second week.
The night missions in Pitch Black bring on a whole new meaning to the exercises name, in the Australian outback at night are total pitch black an example of this is even if you fly commercially at night between Darwin and anyone of Australia's main city's if you look outside you cannot make out a single thing that is recognisable. So for participants in the exercise flying night time sorties bring on a new complexity that they have to contend with.
AIRCDRE Kitcher explains what the third week entails for the participants, "Whilst we will be conducting similar missions like strike onto the ranges at Delamere and Bradshaw and providing escort to assets such as the C-17 and C-27 to and from a target area, the complexity of those missions and the aircraft involved might increase just a little bit, but its designed to push the aircrews."
The Exercise officially wraps up at the end of this week on the 17th of Friday.
LEAD IMAGE: © Commonwealth of Australia, Department of Defence