Naval Air Facility El Centro – Photocall
Article and Photos by Steven Valinski
February 27, 2014
Naval Air Facility El Centro, the winter home of the Blue Angels, is located in the heart of Imperial Valley, California, only a two hour drive from San Diego. With no squadrons that call NAF El Centro home, most of their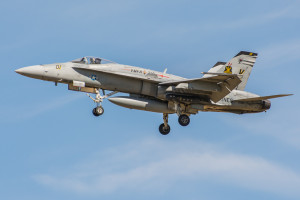 visitors are in the form of transient traffic or squadrons visiting to conduct training. With it's great year-round weather, proximity to ranges, optical landing system, and lighted carrier flight deck landing areas, NAF El Centro provides an ideal training environment. Aviators from the U.S. and foreign military detachments train at NAF EL Centro yearly. For aviation enthusiasts, NAF El Centro can be "feast or famine". When there are visiting detachments, the volume of activity is plentiful, but, with no permanent squadrons, NAF El Centro can be a very quiet base at times.
Over the years, the base leadership on down have been very supportive of aviation photographers and journalists. To show this support, several times per year they hold "photocalls", where photographers are allowed a few feet from the runway in the heart of the action. For aviation enthusiasts, there is nothing like the site of an aircraft launching in front of you, feeling the heat of the afterburner, jetwash blasting in your face, with the lingering smell a jet fuel. A photocall at NAF El Centro provides this experience.
On February 27, 2014, NAF El Centro held a photocall for various aviation photography groups. Many of us arrived early to do some aircraft observation outside the base and watch the Blue Angels morning practice. That plan never came into fruition. There were 25+ MPH winds, which are too dangerous for an aerial demonstration team to practice in. What the Blue Angels do during their performance is dangerous enough without high
winds complicating matters. We were able to catch some visiting and transient aircraft performing "touch and go's" prior to getting on base. For visitors, McDonnell Douglas T-45 Goshawk's from TW-1 out of Naval Air Station Meridian, Mississippi were visiting along with EA-6B Prowlers from Electronic Attack Squadron (VAQ) 129 from Naval Air Station Whidbey Island.
After getting on base, our first objective was to observe and photograph the Blue Angel's afternoon practice. This never happened. The winds continued to gust, so the practice was cancelled. We were then transported to the main runway to photograph normal arrivals and departures. With a Temporary Flight Restriction (TFR) (which may or may not have been lifted) in place for the Blue Angels practice, most local traffic knew to avoid NAF El Centro during this timeframe. After a slow start, the activity began to pick up with some T-45 departures. Later, after the T-45's came back and the sun was setting, a USMC C-130 arrived and two EA-6B's departed.
With the high winds, the day did not quite turn out as planned. A burst of late activity helped remind us that the NAF El Centro photocalls are a wonderful, one-of-a-kind experience, and, it was a privilege to be there so close to the action.
A special "thank you" to Michelle Dee and Kris Haugh at the NAFEC PAO's office and the leadership from Fencecheck, AzAP, and the SoCal Spotters for making this photocall happen.