More KC-46 Pegasus for U.S. Air Force, as 32nd ARS conducts first KC-46 sortie.
Article and Images: Jaryd Stock.
The U.S. Air Force has awarded Boeing a $2.3 billion contract for the ninth production lot of 15 KC-46A Pegasus tanker aircraft, expanding its fleet of the world's most advanced multi-mission aerial refueler. To date, 128 KC-46A Pegasus are on contract with the U.S. Air Force, with 68 delivered and operationally deployed worldwide.
"The combat-ready KC-46A is transforming the role of the tanker for the 21st century," said James Burgess, vice president and KC-46 program manager. "We're proud to work side-by-side with the Air Force ensuring the Pegasus provides unmatched capabilities and continues to evolve for the U.S. and its allies' global mission needs."
The KC-46A Pegasus delivers crucial fuel and data for the fleet, as well as cargo, personnel and aeromedical transportation for joint force rapid mobility, global reach and agile combat employment.
Last year, the U.S. Air Force Air Mobility Command approved the KC-46A for global operations including combat deployment. The Pegasus continues to demonstrate its agile combat employment capabilities, recently completing a 42-hour endurance flight supporting a U.S. Air Force Bomber Task Force mission in the Indo-Pacific region.
During 2022, KC-46A aircraft operating in a series of U.S. Air Force global employment exercises in the European theater, Indo-Pacific region and the Middle East performed at a greater than 95% mission capable rate, demonstrating the aircraft's reliability and combat readiness.
Boeing builds KC-46A aircraft on the 767 production line in Everett, Wash., supported by a supplier network of about 37,000 American workers employed by more than 650 businesses throughout more than 40 U.S. states. With Boeing's in-line production, the KC-46A is designed and built as a tanker from day one — not a post-production conversion — making the Pegasus uniquely suited to integrate advanced technology for fleet data connectivity and combat-ready defensive features, as well as new capabilities as the needs of the mission evolve.
Boeing is on contract for 138 KC-46A Pegasus tankers globally. Boeing has delivered two of six KC-46A tankers to the Japan Air Self-Defense Force, and is on contract for four KC-46A tankers for the Israel Air Force. The expanding global fleet creates commonality and interoperability efficiencies and mission-readiness advantages for the U.S. Air Force and allies.
32nd Air Refuelling Squadron conducts first KC-46A Pegasus mission.
Meanwhile an aircrew assigned to the 32nd Air Refueling Squadron conducted their first sortie with the KC-46A Pegasus Tanker on Jan. 4, 2023, at Joint Base McGuire-Dix-Lakehurst.
The sortie marked the squadron's first opportunity to test a KC-46 local mission from start to finish and execute it exclusively with 32nd ARS aircrew.
"This was an incredible milestone for our squadron," said Lt. Col. Tyler Smith, 32nd ARS commander. As we remain tasked for KC-10 Extender missions, we have had to carefully manage our crew force to ensure we are both maximizing our aircrew conversion to the KC-46 while maintaining a credible crew force to execute global operations in the KC-10. This is our first opportunity and test as a squadron to own a KC-46 local mission from start to finish and be able to execute it with only 32d ARS aircrew."
The 32nd ARS's conversion to the KC-46 started from scratch. On the official first day of conversion, the squadron had five qualified aircrew members. Since then, they've increased their qualified aircrew number to 13.
"By the end of this month, we are expecting to have over thirty qualified pilots and boom operators with another twenty-five working their way through KC-46 training," said Smith. "We've worked very closely with our Air Force Personnel Center's functional manager as we've significantly reprioritized getting crew members through training as quickly as possible."
The conversion to the KC-46 has been bittersweet for the 32nd ARS with the KC-10 having served as the heart and soul of the squadron for more than 40 years.
"The KC-10 has been the aircraft our pilots became Aircraft Commanders and Instructor Pilots on, and the aircraft our Flight Engineers and Boom Operators became instructors and evaluators on," said Smith. "They've seen, firsthand, the incredible capability the KC-10 brought to the fight, and they are extremely proud of being a part of that legacy. At the same time our aircrew are very excited about the KC-46, the advanced warfighting capabilities it now brings to the fight, what those capabilities mean for the Joint Force, and their opportunity to be the ones to transition our squadron to its latest weapon system."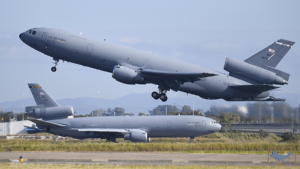 Key to this conversion was the shared knowledge and resources of the 2nd Air Refueling Squadron, which began its conversion from the KC-10 first.
"The 2nd Air Refueling Squadron has been instrumental in our ability to reach this milestone," said Smith. "Because their conversion was ahead of ours, their experienced KC-46 Instructor Pilots and Instructor Boom Operators have been providing the training and development for our aircrew as we wait for more of our pilots and aircrew to complete their training. Establishing close partnerships through the same flights as the 2nd ARS allowed us to leverage their lessons learned and build the best shared practices."
With the completion of this first major milestone, the 32nd ARS will be in an all-out sprint through the rest of its conversion to capitalize on this new weapons system's utility.
"The advanced warfighting capabilities of the KC-46 have already and will continue to redefine how we approach and execute maneuvers for the Joint Force against Near-Peer competitors," said Smith. "For the remainder of our conversion timeline, we will participate in as many joint exercises as we can while partnering and integrating with units from other Major Commands, Services, and Combatant Commands, in a deliberate effort to build our credible capacity as a KC-46 crew force."
This local mission, an important first step in testing, left the 32nd ARS hungry for more and excited to expand the capabilities this new weapon system brings to the fight.
"As we continue to get more aircrew back from KC-46 training we are very excited to start spreading our wings by adding more 32 ARS-owned local missions," said Smith. From there, we look forward to expanding our participation in global KC-46 missions and major exercises."
Through its extensive capability to increase the lethality and tempo of warfighting by integrating the Joint Force, and its ability to maneuver information for the strategic decision advantage of commanders at all echelons, the KC-46 is redefining mobility as a force multiplier.