Luke Air Force Base – F-35 Unveiling Celebration
Article and Photos by Steven Valinski
On March 14, 2014, Luke Air Force Base presented the F-35 Lightning II Unveiling Celebration. At this ceremony, Luke AFB's first F-35A Lightning II was officially unveiled to the public. For the celebration, F-35A tail number 11-5030 (Lockheed Martin production number 100), was proudly displayed while guest speakers spoke about how important the F-35 and Luke AFB are to the U.S. Air Force, while thanking all the individuals and communities involved in the project for their ongoing support. The list of guest speakers included:
–          Brigadier General Michael Rothstein – Commander, 56th Fighter Wing
–          General Robin Rand – Commander, Air Education and Training Command
–          Lorraine Martin – Vice President and General Manager, F-35 Program, Lockheed Martin Aeronautics
–          The Honorable Eric Fanning – Under Secretary of the Air Force
–          The Honorable Trent Franks – United States Representative, 8th District, Arizona
–          The Honorable Jan Brewer – Governor, Arizona
In addition to the above guest speakers, military leaders from F-35 foreign partner countries such as: The United Kingdom, Turkey, Australia, The Netherlands, Norway, and Japan also attended.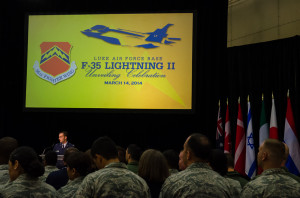 The unveiling signified a new beginning at Luke Air Force Base, which has been responsible for training pilots for over 70 years (which is longer than the USAF has existed). The first F-35A assigned to Luke AFB was assigned to the 61st Fighter Squadron (61 FS) "Top Dogs", which was reactivated in October 2013. This squadron is commanded by Lt. Col. Michael Ebner and is the first of four active training squadrons for the F-35 at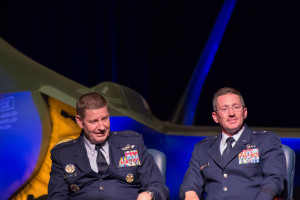 Luke AFB. Luke will receive 144 F-35 aircraft in total and will be responsible for F-35 Joint Strike Fighter training for the United States and the Joint Strike Fighter program's foreign partners.
According to Lockheed Martin, the F-35 "F-35 Lightning II is a 5th Generation fighter, combining advanced stealth with fighter speed and agility, fully fused sensor information, network-enabled operations and advanced sustainment". General Rand, who's father was a former commander of the 61st FS "Top Dogs" from 1954 to 1957, stated that: "The F-35 Lightning II will deliver war fighting capabilities essential to the security of our nation for decades". USAF Under Secretary Eric Fanning added that "this fighter will dominate anything else, anywhere in the world, that any other country produces. It is leaps ahead of anything ever fielded".
In 2012, Luke Air Force Base was chosen as the location of the F-35 pilot training center for the USAF and the Joint Strike Fighter program. Having a history of over 70 years of training pilots, with over 56,000 pilots trained, helped make Luke AFB the leading candidate for the F-35 training center. Arizona Governor Jan Brewer also added that Arizona has the "best year-round flying weather of any State". Add capable facilities, highly-capable personnel, and proximity to outstanding gunnery ranges, and it is easy to see why Luke AFB was chosen for the program. Originally, Luke AFB was slated for 72 F-35A's, but that number has been increased to 144. Luke AFB is scheduled to begin training f-35 pilots in 2015.
A special "thank you" to Capt. Ryan DeCamp , Lt. Candice Dillitte, and their staff for all their help accommodating the media during this event.