FLYING HORSES over Arhnem Land
With the search and rescue effort suspended for 12 Marines from HMH-463 whose two CH-53E Super Stallion helicopters crashed during a night operations training event off the coast of Oahu on January 14, 2016,
Aviation Photography Digest
looks back at the unit's first-ever detachment to Australia as a part of the Marine Rotational Force-Darwin in 2014.
Article by Jaryd Stock 
Photos by Jaryd Stock, Sid Mitchell, Martin Porcelli, and William Nguyen Phuoc (Others as noted) 
January 24, 2016
Foreword
This article was written in 2014 when the first ever Marine Rotational Force Darwin (MRF-D) Air Combat Element (ACE) was introduced to the Ground Combat Element (GCE).
To me, there is something special about HMH-463. The Squadron that is the founding unit for CH-53 Stallion operations in the United States Marine Corps. I remember making the trip from Sydney to Darwin. The anticipation was huge, because since I was a kid, I have seen these mammoth Helicopters on the television. I always wanted to see one in person and in the air, controlled by the best pilots in the USMC.
When we arrived at the training grounds outside of Darwin, we had to wait for the Super Stallion to come in. That sound, it's instantly recognizable, instantly distinctive. All of the sudden, the biggest helicopter serving within any of the United States branches of the military is upon you. At that moment, I thought this is what I've dreamed of, that particular moment transcends anything else that is reasonable and rational. People who love to fly and are pilots know what I'm saying, there are certain moments in your life where, because you are surrounded by something that is aviation related, you just have to soak it all in and experience that moment in time.
After getting up close to the aircraft and getting caught at one stage underneath the Stallions downwash (think the crew saw me by myself and decided to have a little fun!), which is something I don't recommend mind you, it came time to interview the crew of HMH-463.
I can't even begin to say how much fun it was to meet the crew of HMH-463, to get to know them, to talk to the CO in Hawaii and meet the guys that were in Darwin. Then finally get one on one time interviewing them and getting to know what they are about, their likes and dislikes, some even opened up about their families and how much they love and miss them, and how much they love serving their people…. their country…
That is the essence of this article on HMH-463. It is what I discovered spending those few moments with the crew of Pegasus, something that will last with me a lifetime, a lesson learned that I was not prepared for.
The lesson I learned was that the experience of seeing different aircraft I wanted to see since I was a kid was nothing to boast about, so what if I got to see a Helicopter a Jet, or whatever it is that fly's. It is more important recognising that you are in the presence of those that are able to allow you to carry out those dreams, those that will fight to uphold order in the world and will not let it sink into the mire into the cold. They're are the ones that serve, that want you to live freely with your family, even though they are taking time away from theirs and in some instances give their lives to make sure you have that opportunity.
It was of great sadness to hear of the incident in Hawaii and what had happened to a unit that I hold so close, there is no other way to put it but so close to my heart. To think more of it, I was more saddened by what had happened to the loved ones of the 12 Marines, the agony…the pain…
I have been racking my brain trying to think of something I could say that would help in any way,  shape, or form to the crews of 463, to the loved ones of the 12, to the wider community that feels the loss of sons and daughters when something like this occurs.
To be honest I can't think of a singular thing, the only thing I can say is that we are with you, we will be here for you. Yes, you don't know me and I don't know you, but that doesn't matter. We come together in times of utter pain to unite and pick each other up, even though some might not want that help. This is all we can say.
For those that read this article and wonder what they could do if anything to help the families in this situation we warmly invite you to donate to the Wingman Foundation that has set up a charity where donations can be made to support each family of the 12 marines from HMH-463 Pegasus.  The link can be found here:

Please donate generously.
This following article is based on HMH-463 Pegasus training in Australia with the Australian Army, so we thought of turning to someone to express how the Australian Defence Force feels and how we feel when a tragedy like this occurs especially to our friends in the USMC. We think following quote sums everything up:
My thoughts, and those of the Australian Defence Force, are with the families of the 12 missing men.

Their loss is a solemn reminder of the risks all military personnel face in serving our respective nations.

The military aviation community feels the loss of these men more acutely than most, and I offer my deepest sympathy to their families at this very difficult time."

- Chief of the Australian Defence Force, Air Chief Marshal Mark Binskin
–SEMPER FIDELIS
The Pegasus
In Greek Mythology, Pegasus was a demi-god that had the body of a horse with the wings of an eagle. He took direct orders from Zeus, king of the gods. Zeus instructed Pegasus to bring lightning and thunder from Olympus. In another tale, Pegasus carried the Greek hero Bellerophon into battle against the monster 'Chimera'. In both instances, Pegasus was tasked with supplying transportation for Zeus's equipment and also personnel in Bellerophon the hero of many battles.
So it's fitting that HMH-463 (Heavy Marine Helicopter-463) a United States Marine Corps Sikorsky CH-53E Super Stallion equipped unit has the 'Pegasus' as the units name and insignia, and it epitomises and carries out those roles undertaken by that mythological demi-god from days of old.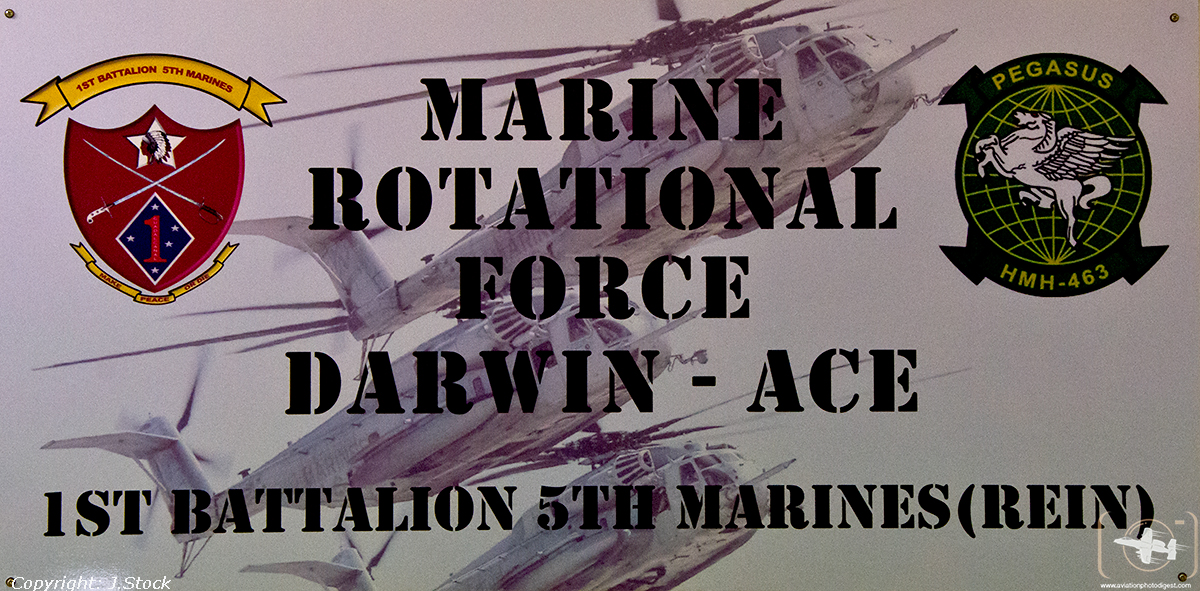 The Marines are coming!
In November 2011, United States President Barack Obama made a brief visit to Australia and visited Canberra and Darwin. Whilst in Darwin, along with then Prime Minister Julia Gillard, the deployment of United States Marine Corps to Darwin and Northern Australia for around six months at a time, was announced. This would be a combined effort as the Marines would be training in that allotted six months with the Australian Defence Force.
For the first few years there was a steady but small influx of Marine personnel, with 2012 being the first time the rotational force deployed with approximately 600 men and women.  In 2014, that number doubled to around 1150 personnel deployed to Darwin for the Marine Rotation Force-Darwin (MRF-D). As a part of the 2014 deployment, a critical element within the USMC, the 'ACE' has deployed as a part of the MRF-D for the first time. ACE is the acronym for Aviation Combat Element and is an essential cog in the Marines wheel. It's the Air Arm within the Marine Air-Ground Task Force (MAGTF). It provides Rotary- wing, Tilit-rotor, and fixed-wing aircraft along with support equipment, pilots and maintenance personnel, and command and control assets that come under the control of the commander of the task force.
In 2014, the first ever rotation of ACE within the MRF-D was given to HMH-463 'Pegasus'. The unit deployed with four Sikorsky CH-53E Super Stallions and around 125 personnel. Its base of operations was at RAAF Base Darwin. The unit is home Based in Hawaii, at Marine Corps Air Facility Kaneohe Bay or "Kay-Bay" as it's nicknamed by personnel based there. The unit is a part of Marine Aircraft Group-24 (MAG-24) and is based alongside HMLA-367 who utilise the use of both the Bell AH-1W Super Cobra and Bell UH-1Y Venom. MAG-24 comes underneath the command of the 1st Marine Aircraft Wing which is headquartered at Camp Foster in Okinawa, Japan. Every unit associated to the MRF-D ACE based at RAAF Base Darwin is under the command of the the 1st Marine Air Wing (MAW), including HMH-463 and also Marine Wing Support Squadron-172 (MWSS-172) which is the ground Unit who's role it is in supplying all the support elements to HMH-463. Based out of MCAS Futenma in Okinawa, MWSS-172 supports the CH-53's with manning the fuel and fire trucks and readying the aircraft for flight. Both units have combined to make up the ACE element for the MRF-D.
HMH-463 has had a busy time in regards to deployments, with four Stallions deployed within the 31st Marine Expeditionary Unit (31stMEU) out of Japan coming under the command of MEU commander and deploying onboard the USS Bohnomme Richard LHD-6 for their spring cruise. Coming under the MEU's command, the units aircraft transfer to commander or home base Squadrons VMM-265 'Dragons' or VMM-262 'Flying Tigers', both units operate the Bell Boeing MV-22 Osprey. Pegasus also have another 4-6 aircraft undergoing exercises back home in the United States at Yuma and other training ranges within the mainland. The number of aircraft within Pegasus fluctuate over time with a core number of around 14-15 aircraft but at times can grow to around 18 airframes within the unit if not deployed.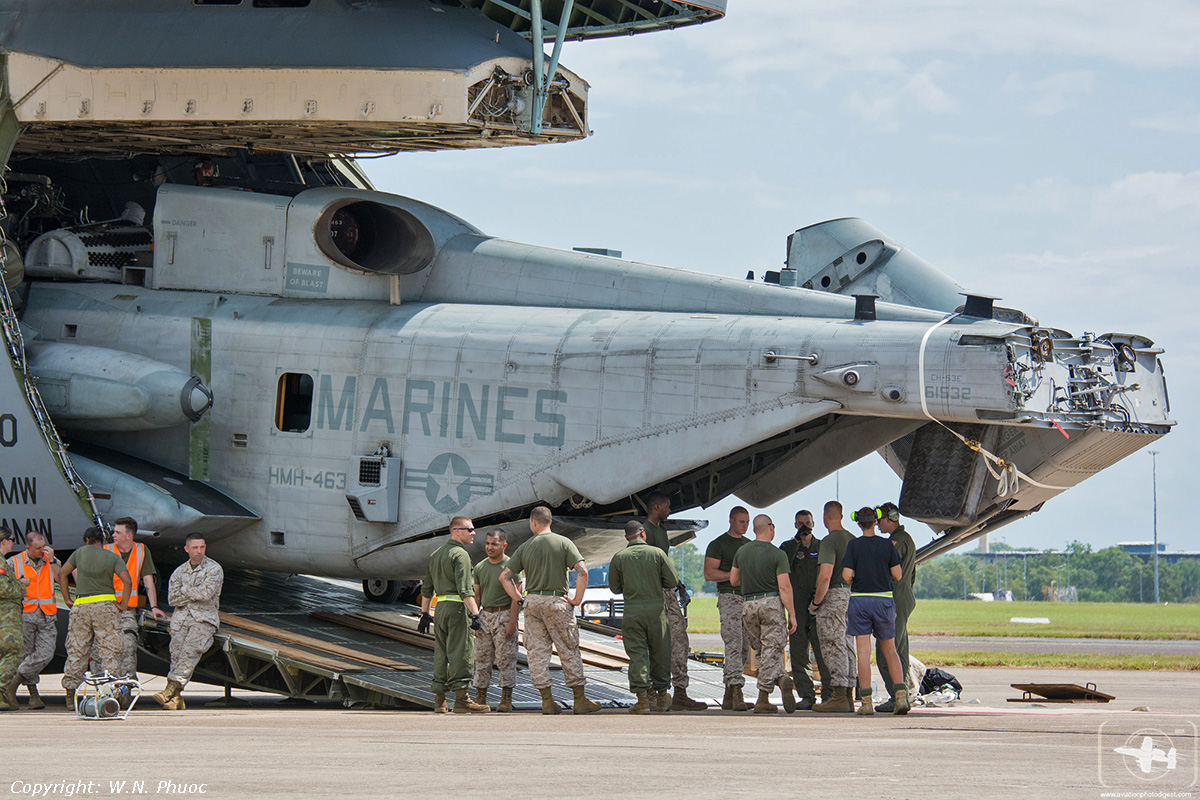 To deploy to RAAFB Darwin, a significant amount of time was needed to prepare the aircraft for transit via a Travis AFB-based C-5B Galaxy and a Hickham AFB C-17 Globemaster. Two weeks prior to transit to Australia, a break down period began in preparing the CH-53's for travel inside the USAF transports. This included getting the aircraft into position or reconfiguring the airframe by dismantling the rotor blades and gear box, and dropping the landing gear and moving the tyres, or lowering the airframe to be able to fit it inside either transport. Then, a fine tooth comb is applied to all the panels as well as the nuts and bolts. Because of the nature of their use, helicopters love dust and this inspection acts as a quarantine against bringing foreign elements to their new surroundings here in Australia. Two CH-53's can fit inside a C-5 and one inside a C-17 with additional equipment and support gear.
The MRF-D ACE brings a unique advantage to training alongside the Marines Ground Combat Element (GCE) and also Australian Defence Force personnel. It brings about interoperability between the two countries. Not only does it give valuable training to the CH-53's crews, but also gives a unique experience to the ADF on how this big Helo can be used in a variety of ways and missions critical to supporting the personnel who are also training on the ground.
Aviation Photography Digest met up with Lieutenant Colonel Keven Matthews, Commanding Officer of the MRF-D who, at the time, was overseeing the CGE squad competition at the training area Kangaroo Flats which is about an hour and a half drive out of Darwin. He comments on what the ACE brings to the Marine deployment this year, "this year we have what we didn't have the other years, and that is that there is two things they do for us, firstly is, assault support,which is moving the Marines dropping them off and picking them up in simulated scenarios around the battle area. And secondly, in this demonstration with the Fire-team they are training in the area of CASEVAC (Casualty Evacuation), with the CH-53 we call them up to land in a nearby field where we are ready to load the simulated patients onboard and get them out of the simulated battle zone".

The crews within HMH-463 have had various amounts of training in different situations and scenarios in the short time since arriving in April. In May, interoperability between the USMC and the ADF went to the next level as exercises were undertaken with Australian Army's 1st Aviation Regiment, the 161st EC665 Tiger ARH unit, at the Mt Bunndy training facility. The exercise was a joint assault on a simulated ground target as the CH-53's were used for inserting Marines on the ground and the Tiger ARH acted as the close air support. Later on in the month, the Stallions took on the unique role of being the refuelling  truck as they undertook Forward Arming and Refuelling  Point (FARP) operations where the crews are trained in operating from a forward point as well as acting as an arming and refuelling  station to the Tiger ARH.
This bilateral training gives both the USMC and ADF the knowledge on how to integrate together and gives each other ideas on how to be more proficient in the future, whether it be in Combat operations, or in a Humanitarian crisis that may unfold. In the future, new exercises will be undertaken giving the crews more proficiency in undertaking different aspects of flying the CH-53's, such as upcoming Air to Air Refuelling operations with VMGR-152 'Sumo's' coming down from MCAS Futenma in Okinawa with their Lockheed Martin KC-130J's. These missions will be conducted over water, giving the crews much needed practice on a challenging aspect to flying operations.
Training in the Top End
With a massive training area to work in, about the size as the state of Connecticut in the United States, HMH-463 was provided with a unique opportunity that they haven't really had before.
Speaking with Captain Thomas Hall, a pilot with HMH-463, a Combat veteran in Afghanistan and a person who "was born to fly helicopters" as he puts it, gives us a unique insight into operations undertaken whilst the unit is in Darwin and in other various roles whilst piloting the massive Helicopter. He said, "with hardly no air traffic around Darwin and working in remote locations it is an absolute treat to fly around here, it gives us a lot of room to move in".
He went on to say, "before a training mission we will get together have a briefing on where 'bouts an area we can look at for conducting various training roles, then go fly around, do a bit of recon on various zones in where we think is a good area to get the helicopters in and out and that will also give the crews a new challenge. So it's great as we get to do a lot of flying and it sure as hell beats driving to these ranges" such as the Bradshaw training area which is around 300 miles South of Darwin. An obvious dig at his USMC counterparts a part of the GCE…and who could blame him with those distances!
Hall went on to say that "for both the Ground and Air Combat Element, the Battalion and HMH-463, the working of what we can do together and see what the CH-53E can offer to the MRF-D getting that opportunity to go out a lot and fly around the place, and finding new places in and around the training area, then working with the Australians to make sure it's not someone's backyard or maybe a swamp with a Saltwater Crocodile infestation"!…as he laughingly suggested, "but we do see a lot of areas in which we could go but we are not here to upset anyone by landing in their field so we just want to make everyone happy and make sure it's an area both the public and ourselves are happy to work in. And, It Is a great experience for us and it gives us more know how on flying, working together as a unit working with our own forces and then in turn working with the ADF as the terrain out here is great and so unique to work in, and we are looking to expand and enhance our training and the GCE's training".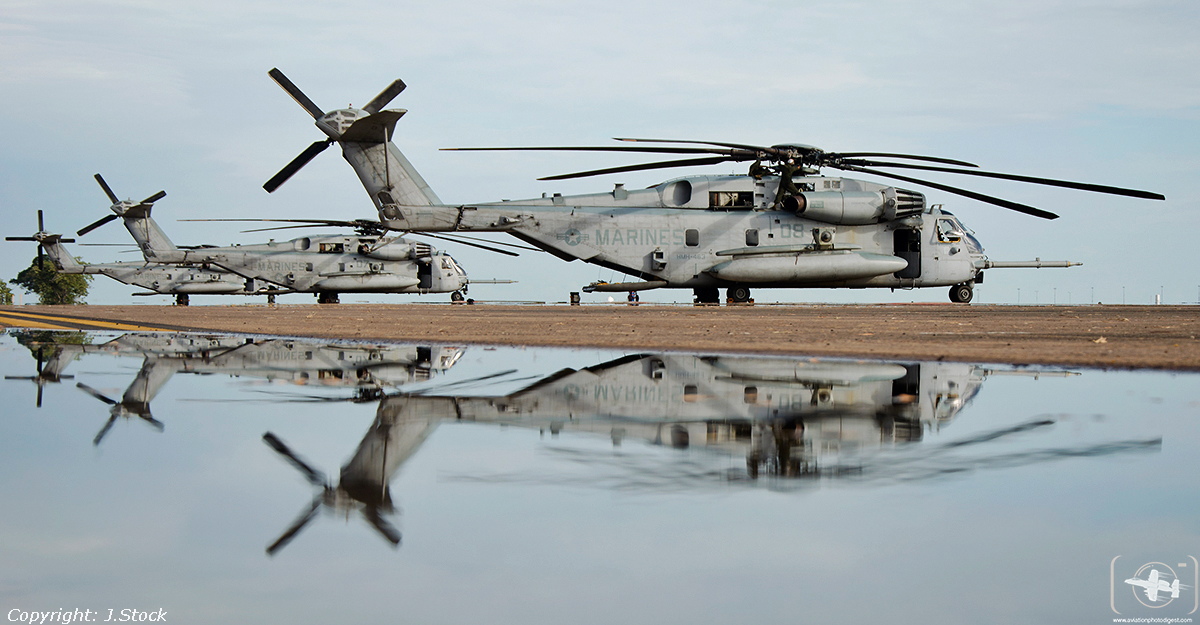 After that initial work of flying or scoping is undertaken, Pegasus' personnel will then formulate when and how these areas can work in with the various roles that can be undertaken and then carried out. "You know one day we are offering GCE the use of a CH-53 in CASEVAC as carried out recently, then we will look at other areas to get experience in, like inserting and extracting Marines into a simulated battle area as was undertaken with the Australian Army's Tiger ARH not long ago. We'll also work with the Australian Defence Force in carrying out roles that will benefit us when there is also a Humanitarian disaster" Captain Hall stated. This training in the area of Humanitarian crisis was clearly evident when the USS Bohnomme Richard LHD-6 with the 31st MEU's ACE onboard diverted to the Philippines after Cyclone Haiyan in 2013 decimated the area. Pegasus's CH-53E's were under the control of the 31st MEU's VMM-265 'Dragons' and played a key role in airlifting supplies in and transporting people out of the decimated areas and inserting troops on the ground to help with the clean-up.
Captain Hall went on to say, "Working bilaterally alongside the Australians gives us so many benefits to both HMH-463 but also the ADF units as well. For the Australians, they get an insight into how we've done things over the years and how we can bring out points to better their training experiences with us, and they have in turn bounced ideas that they have had on to us so we get to understand better and learn on how they do things as they know this area better than anyone, so both countries are really benefiting and drawing closer towards one another in these training scenarios".
"With the training exercise we conducted with the ADF's 161st Tiger unit that provided Close Air Support (CAS), two Tiger ARH helicopters flew into RAAFB Darwin from Robertson Barracks, we all briefed together and basically exchanged the best ideas on how to carry out and execute the assignment, we then took off with two CH-53's and the two Tigers in formation, then the 161st then went ahead punching a hole in front of us taking out enemy positions in a live fire exercise in order to make an area safe for us to unload our packages and GCE," Hall said."The Tigers then remained on station providing CAS using their sensors in order to seek out and ascertain if there were any other threats to the ACE and GCE teams and neutralising those threats to accomplish a successful outcome for us both".
Capt Hall added that "giving us this sort of training is building confidence not only in ourselves but also in seeing how the Australians work" and he also states that "it's getting to the point where we know how the Aussie's now work and we can easily adjust to how they do things and vice versa, and that's experience! And that's when the next exercise we do together comes along, there will be no one who doesn't know what he or she is doing out there and doesn't know what their roles are because we are familiar with each other and that improves the successfulness of each mission we undertake".
And that's interoperability at its finest and exactly what this USMC deployment brought to table here in Australia.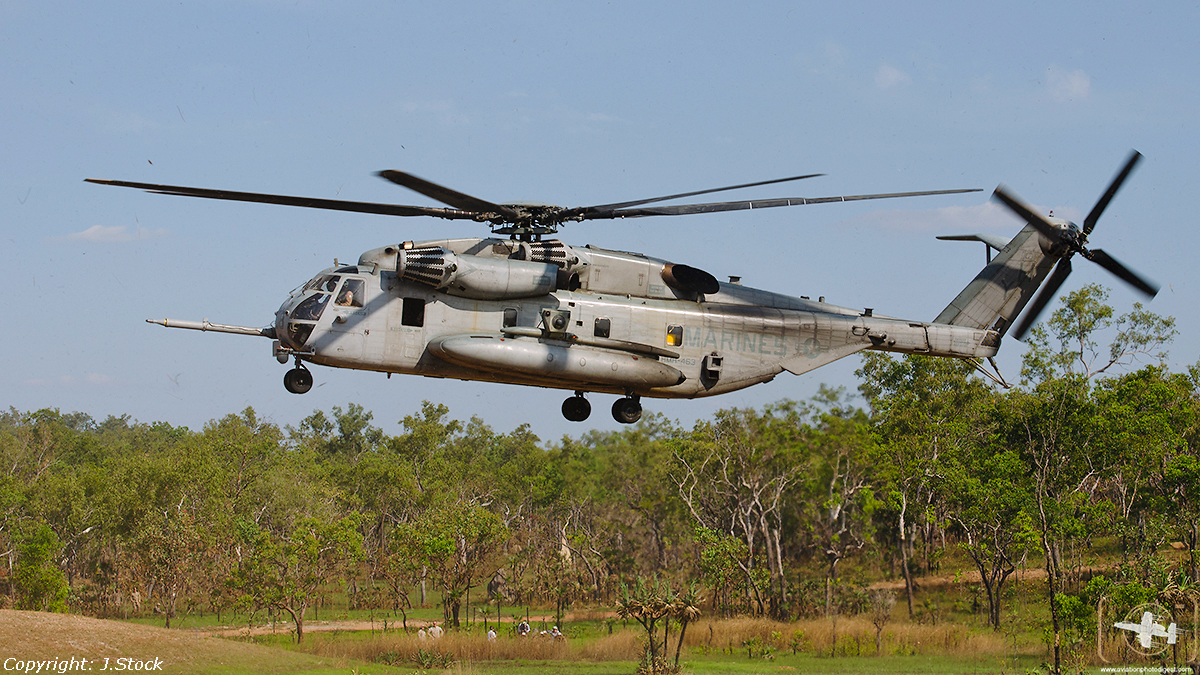 The Cadillac of the skies
Being a BIG machine and the biggest Helo operating within the U.S. armed forces,  Captain Thomas Hall gives us insight to the flight characteristics of the Echo model Stallion. "It's beautiful! It's a real smooth thing to fly especially around places such as Darwin where it's a bit hotter and due to the climate can throw around an aircraft much more, but really the Stallion is a Cadillac, really smooth for a big aircraft. It's great to operate an aircraft that does require an extra set of eyes and requires a full time crew of three to operate. But for such a big aircraft and the added seventh Blade and third General Electric T64-GE-614 engine installed, compared to the earlier models, gives us a lot of power, and when we have to move we can move! For the Stallions size it is quite agile. But as a whole it is just a great machine that just really wants to fly".

There are some rare and unique challenges flying the Stallion, such as landing on a moving target as in the US Navy Landing Helicopter Docks (LHD) Captain Hall explained, "It is hard when your training involves mostly training on land and then you are operating on a flat deck out at sea that's pitching from side to side there is very little space to land on and because you are out at sea which is always moving you don't have the references as you do on land so it makes it a whole lot harder to make sure you land successfully. As well as Carriers, inflight refuelling  from the Marines KC-130J Hercules is also one of the most demanding jobs we undertake, when someone said to me in the past, 'today we are going up doing air to air refuelling ' I thought why the hell would I want to get that close to another aircraft for! But really, now, it's one of my favourite roles to undertake whilst piloting the CH-53."
He went on, "I've refuelled off both the Tango and Juliet models of the KC-130 and they both offer their own unique challenges due to the wind flow that comes off them, due to our size the Hercules crews do feel the wind bashing down on to their elevators from our rotors in their controls so it gives them a challenge as well. And it's fun to see the Hercules crew chiefs eyes get bigger as we move in closer to the aircraft to hook up to the basket. So that gives you an idea on how close we are operating when undertaking the role. But we are always lining up our reference points off the Hercules itself and never chasing the basket as you would never connect if you did and then you would eventually run out of gas, but it's a great challenge and something you can always better yourself at doing so your always improving".
Echo to King
The CH-53 Echo brings a unique role that cannot be replaced even by the faster MV-22 Osprey, it's the heavy lift aspect the Stallion brings that gives the Marines an unrivalled  platform to operate with. With every Generation of the Stallion, each model starting with the Alpha that flew back in Vietnam, has gotten better and can handle and move a bigger payload. The Echo can provide a greater lift than its predecessors with a dual point hook system that can lift 16 tons of material and transporting the load over 50 nautical miles and returning. A typical load would consist of the M198 Howitzer or any light armoured Vehicle, the Stallion can even retrieve a downed aircraft even another CH-53E. But in mid-2014, Sikorsky unveiled its newest incarnate of the Super Stallion the CH-53K dubbed the "King Stallion" in Palm Beach California. Bringing a whole new ball game to the USMC heavy lift capability, it's a new Fly by Wire controlled composite material airframe providing a lighter weight and lower vibration throughout its life, three new General Electric T408-GE-400 that burns less fuel yet providing more power, and a triple hook system to carry outsized loads, with the Kilo model providing three times the lift capability of the Echo model with a sling load and extra weight that can be carried, the operating range doubles just over that of the Echo to around 110 nautical miles and back again in both hot and high conditions.
The new CH-53K took its first flight in October of 2015, and will start operational service around 2019. For now, HMH-463 is very happy with its steam gauged CH-53E and is very happy to be a part of the first ever ACE component of the MRF-D deployed to Darwin. As legends of old, this proud unit with a lot of history, HMH-463 will still be carrying out those tasks set by Pegasus in Ancient Greek mythology with their trusty CH-53E's. Carrying soldiers and equipment to any humanitarian crisis or any war zone all over the world within short notice and in working closely with the allies of the U.S. and coalition partners.
Aviation Photography Digest would like to thank ADF Air Chief Marshal Mark Binskin, USMC LtCol Keven Matthews, USMC Capt Thomas Hall, USMC PAO Lt Jeremy Alexander and ADF 1st Brigade PAO John McPherson.