F-35B DT-III: Synergistic Testing Aboard the USS America
Report by Steven Valinski
Photos by Steven Valinski (unless noted)
December 6, 2016
October 28, 2016 marked the beginning of the final phase of developmental testing for the Lockheed Martin F-35B Lightning II Joint Strike Fighter (JSF). The "B" variant of the F-35 is the short takeoff/vertical landing (STOVL) variant. The F-35B can be land or sea based. At sea, the F-35B is ideally suited for ships smaller than an aircraft carrier known as amphibious assault ships. Amphibious assault ships are designed to carry a Marine expeditionary unit into battle supported by aircraft and rotorcraft. F-35B DT-III took place aboard the USS America off the coast of Southern California. Unlike typical amphibious assault ships, the large deck USS America is aviation-centric and specifically designed to support the F-35B and MV-22 Osprey.

The USS America (LHA-6), which achieved operational capability in 2013, is the latest America-class amphibious assault ship/light aircraft carrier supporting the U.S. Navy. With an overall length of 844 ft. and a displacement of 45,000 tons, the USS America is similar to the size of aircraft carriers supporting other nations. The ship is designed to provide a forward presence as an integral part of a maritime expeditionary force. Along with the F-35B and MV-22, the ship can support USMC and US Navy helicopters. According to an Oct. 31 report by LHA-6 public affairs, enhancements to the USS America include, "enlarged hangar deck, realignment and expansion of the aviation maintenance facilities, a significant increase in available stowage of parts and equipment, as well as increased aviation fuel capacity."
The F-35B, the world's first supersonic STOVL aircraft, is a 5th generation multi-role fighter jet and is currently in service with the USMC, with future operational units from the UK and Italy also flying the "B" variant. This radar-evading stealth aircraft, according to Lockheed Martin, "provides the pilot with unprecedented situational awareness and unmatched lethality and survivability."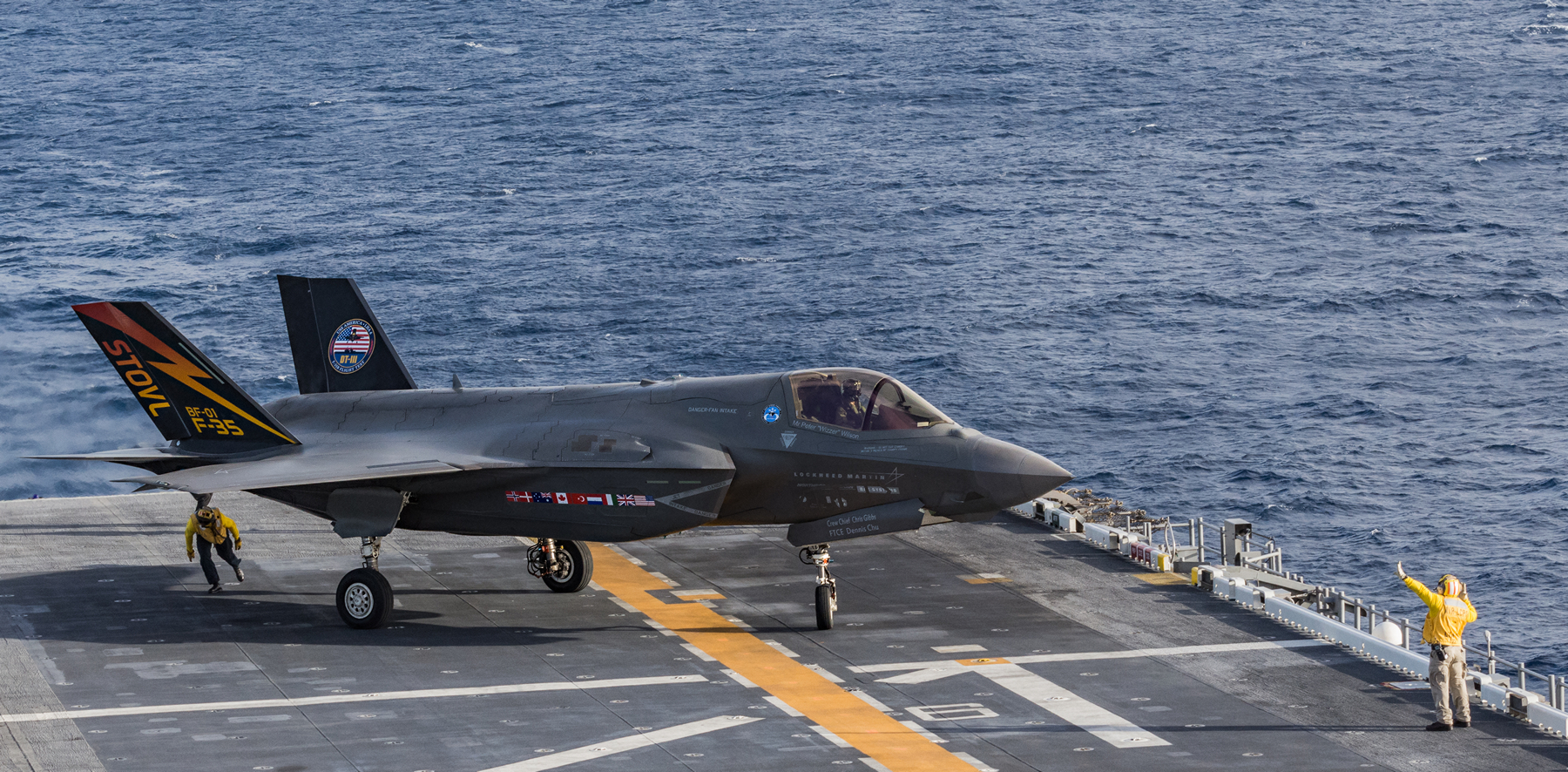 Aside from being a radar evading aircraft, what separates the F-35 from 4th generation aircraft such as the F-16 Fighting Falcon, F/A-18 Hornet/Super Hornet, AV-8 Harrier, Tornado, Typhoon/Eurofighter, Mirage 2000, Rafale and others is the technology incorporated in the aircraft combined with the fact that the F-35 is much easier to fly. Less time and effort flying the aircraft frees up the pilot to spend more time on the warfighting mission.
Major Guyette, a former F/A-18 pilot and now a test pilot with Air Test and Evaluation Squadron (VX) 23 based at Naval Air Station Patuxent River, Maryland (Pax River) explains, "Marines love to fight and we want to practice fighting. If we can't fight, we want to practice fighting. What we don't want to practice, what we don't want to spend time, money or maintenance hours on is practicing how to land."
"This airplane allows us to do that, completely focus on the mission," Guyette added.
With the F-35B being a replacement for the AV-8B Harrier for the USMC, conditions that required a high level of skill from the pilot are less of a challenge in the F-35B. "Last night was dark, it was real dark. It was one percent illumination, overcast, no moon, and raining. In and out of the rain, it was my first time ever landing vertically on a ship at night…and it was fun," Guyette told members of the media on Oct. 31.
He compared the F/A-18 to the F-35 adding, "I flew an incredibly capable airplane for its time, but this is where we need to be."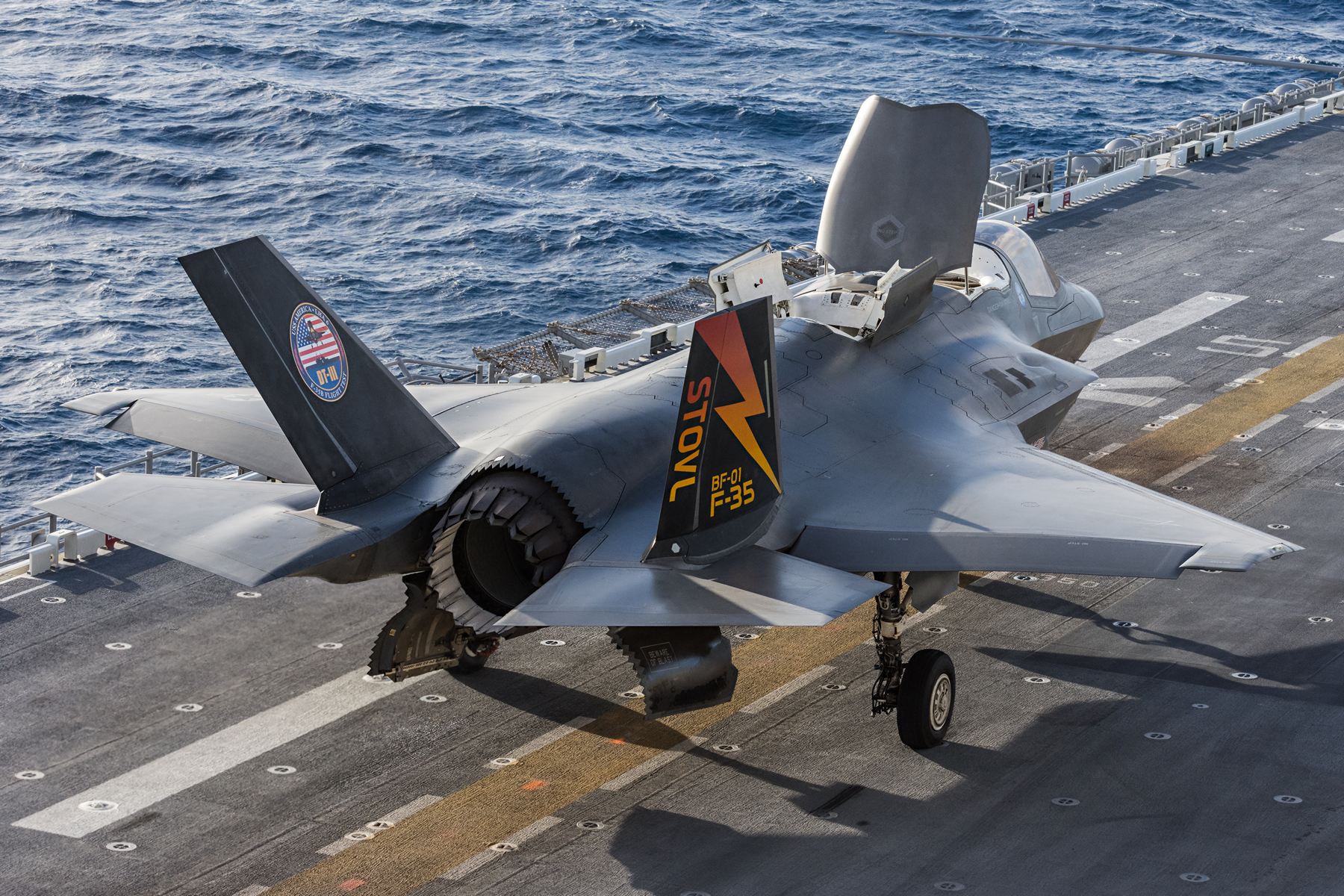 F-35B Developmental Test Phase III (F-35B DT-III), with its three week testing period, featured an integrated and comprehensive test program designed to expand the envelope for the F-35B's operational capabilities while preparing the aircraft and ship's support for shipboard deployment.
This phase of testing brought together a dynamic team of individuals from developmental and operational test groups in an effort to create a synergistic approach to problem solving. Units represented included: VX-23, Marine Operational Test and Evaluation Squadron One (VMX) 1, Marine Strike Fighter Attack Squadron (VMFA) 211, VMFA-121, F-35 Fleet Introduction Team, Marine Aviation Logistic Squadron (MALS) (Beaufort and Yuma) and Fleet Replacement Squadron (FRS).
DT-III was the first phase of developmental testing to include both developmental and operational test groups. This approach streamlined communications and cultivated greater efficiency and partnered on problem solving.
With the F-35B achieving Initial Operational Capability (IOC) in July 2015, F-35B DT-III provided an opportunity to test various loads of weapons within the scope of System Development and Demonstration (SDD).
Andrew Maack, F-35 Integrated Test Force (ITF) chief test engineer elaborated:  "With DT-II, we started carrying internal air-to-air and air to ground weapons. Slightly higher in gross weight, a lot more challenges in terms of cross-winds. With DT-III, we are expanding the envelope to include all of the weapons that we are clearing for the SDD program. That includes all of the external weapons, etc…"
Some of the challenges presented during DT-III included operating within various sea states (3 to 5) including departing with various weapons loads, dropping a percentage of the load and landing at a lighter weight. Maack mentioned that for F-35B DT-III, they were budgeted for 100 dummy/concrete 1000lb bombs for this purpose. Testing also included night operations and precision landings on various designated points on the ship.
F-35B DT-III Key Accomplishments

First integration of ALIS SOU version 2 aboard a ship
First engine and lift fan R&J aboard a L-Class ship
First live ordnance operations aboard a ship
First F-35B integration with AEGIS
First integration with MV-22B Ospreys (2), a UH-1Y Venom and an AH-1Z Viper aboard a ship
Most F-35s aboard the ship, ever – 12. The previous record was six.
First time Operational Test aircraft flew Block 3F software at-sea
First Royal Navy pilot F-35B carrier qualified
Seven aircraft were aboard the USS America for DT-III. This included two developmental test aircraft from VX-23 and five operational test aircraft from VMX-1 and VMFA-211.
With the overall aim to work towards a full shipboard deployment, DT-III functioned as a simulated deployment aboard the USS America. Aside from the F-35B DT-III testing, other aspects of a shipboard deployment were also tested. For example, one of the VMX-1 aircraft on board was designated for the maintainers to tear down and repair components. This challenged the maintainers to do intermediate-level repairs in an austere environment. This led to another set of milestones for the F-35B during DT-III by successfully completing the first lift fan removal and replacement and the first power module and engine swap at sea in the hangar bay of the USS America.
Lt. Col. Richard Rusnok, VMX-1 F-35B detachment officer-in-charge stated: "We're building up an experience level across the fleet, taking a lot of Marines that have never been on ships before, taking a lot of Navy personnel that have never interacted with the F-35 and putting out a representative number of aircraft for what a deployment would look like in the future."
The importance of this testing cannot be understated. The USMC has an aggressive plan for a shipboard presence for the F-35B in the Pacific.
USMC F-35B squadron VMFA-121 will be moving to Marine Corps Air Station Iwakuni, Japan in early 2017 (the first six are scheduled for January, with the remainder to move in the following months) to support the 31st MEU. The USS Wasp (LHD-1), which was modified to support the F-35B, will replace the USS Bonhomme Richard (LHD-6) as part of the Navy's Forward Deployed Naval Forces in Japan. VMFA-121 is expected to have a detachment shipboard on the USS Wasp in early 2018. MCAS Yuma's most recent F-35B squadron, VMFA-211 is scheduled to be aboard the USS America sometime in 2018.
The next USMC F-35B squadron will be Marine Fighter Attack Squadron 122 (VMFA-122) which currently flies the F/A-18 Hornet. This transition is slated for late summer 2018. 
F-35B DT-III eliminated the communication barriers and feedback loops in exchange for an "all hands on deck" approach to testing which will ensure that this aggressive deployment timeline is a success.
F-35B DT-III took place from October 28, 2016 through November 17, 2016. 
Following F-35B DT-III, the USMC and U.S. Navy conducted a F-35B Proof of Concept Demonstration aboard the USS America. According to the U.S. Navy, "the proof of concept demonstration served to explore the best way to integrate a larger package of F-35Bs into the current Navy-Marine Corps structure to bring the most power projection from the sea. It was an opportunity to solidify procedures between the Navy and Marine Corps in preparation for upcoming deployments in 2018." Aviation Photography Digest will be delivering full coverage of this event in a separate report. 
Flight statistics from F-35B DT-III: 60 flights, 53.5 flight hours, 128 VLs, 126 STOs, 2 VTOs.
F-35B Lightning II Completes Operations Aboard USS America (LHA 6)
(U.S. Navy Video by Matthew Short & Jeff Patnaude/Released)