Anatolian Eagle 2022
Report and photos by Peter van den Berg
July 12, 2022
The 2022 edition of the annual Anatolian Eagle exercise took place at the 3rd Main Jet Base Command in Konya, Turkey. AE-22 was held from 16-30 June and organized by the Anatolian Eagle Training Center.
The roots of Anatolian Eagle go back to the first edition in 2001 when modernization of the Turkish Air Force's fighter fleet necessitated a training facility. Gained experience from the conflicts in Bosnia and Kosovo ensured that the Turkish Air Force achieved a level of performance that enabled them to organize their own exercise. Anatolian Eagle was born, inspired by Red Flag and Maple Flag, providing a facility for training with other allied forces. The facilities such as the dining room and ops-buildings on Konya are of the same standard as those of Red Flag or Maple Flag.
Participating countries & aircraft
Anatolian Eagle '22 had 6 different air forces participating with a total of about 50 aircraft with the following line-up:
Turkish Air Force 28x F-16 / 2x F-4E / E-7T / Anka-S UAV / Akinci Combat UAV

Azerbaijani Air Force 2x SU-25

Royal Air Force 4x Eurofighter Typhoon

Jordanian Air Force 3x F-16

Pakistan Air Force 6x F-16

NATO E-3 AWACS
It would be the Azerbaijani Air Force's second time participating, with their SU-25 Frogfoots both featuring mission markings and carrying Talisman ADS pods. One of the Pakistan Air Force's F-16s featured an Indian Flag kill, said to have shot down an Indian SU-30MKI in February of 2020. The Royal Air Force's 3(F) Squadron deployed to Konya to take part in the exercise after having conducted dissimilar air combat training with the Turkish Air Force. The exercise was supplemented by the NATO Airborne Early Warning & Control Force's E-3 Sentry.
It is worth mentioning that the private Turkish defense company Baykar debuted its newest Bayraktar Unmanned Combat Aerial Vehicle during the exercise.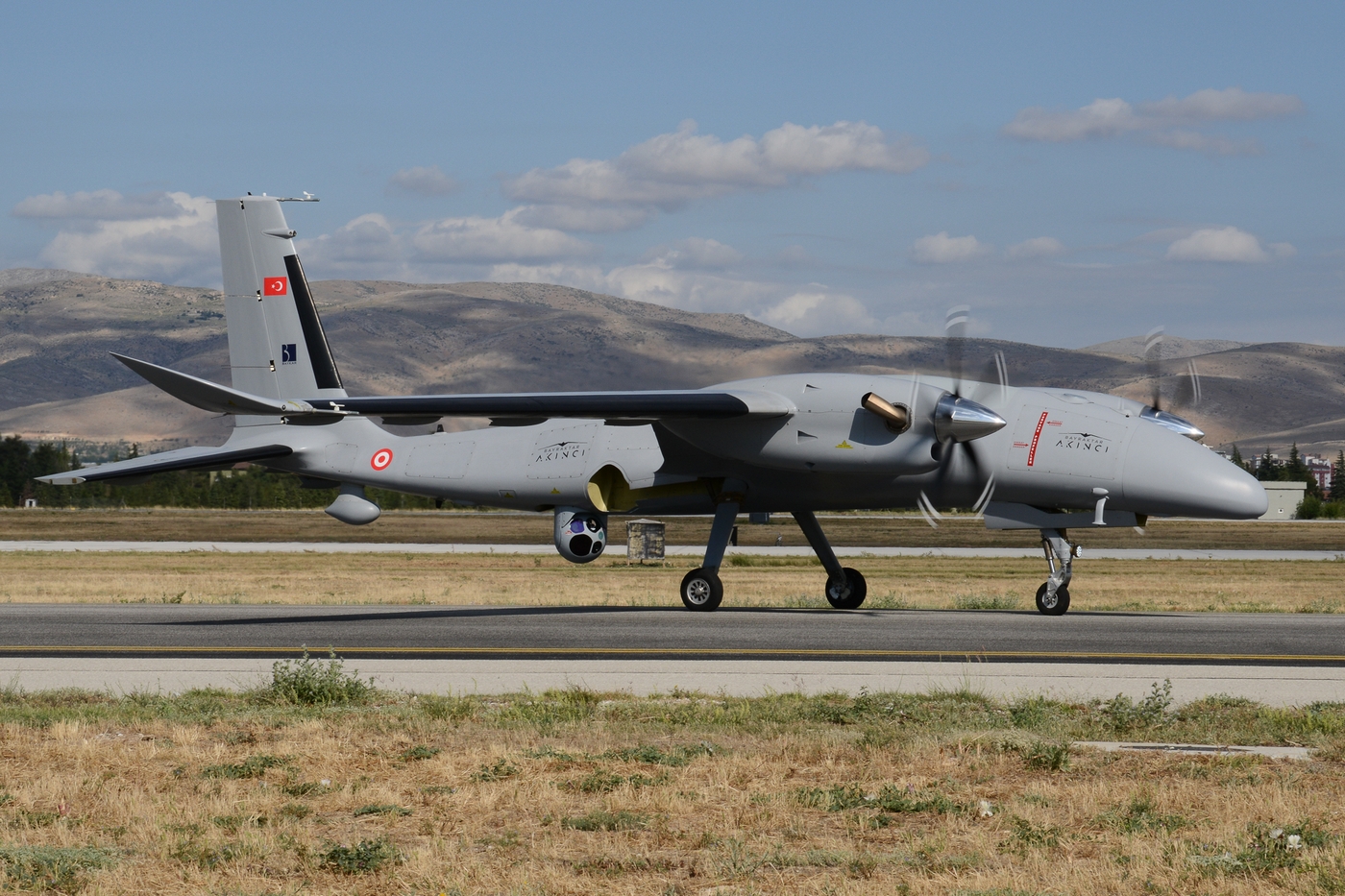 Missions
The main purpose of Anatolian Eagle is to train pilots in a realistic environment; limiting operational loss of life and aircraft. The purpose of inviting different air forces is to learn from each other operationally and bring as many insights to the table as possible. This leads to better readiness for when called upon to combat missions. Missions undertaken during the exercise include Air Surface Force Air Operations, Composite Air Operations (COMAO) and non-COMAO sorties.
The training area stretches from Konya to Ankara and is about 300 by 400 kilometers. Transit times to get to the area are mere minutes, a great advantage over other exercises in Europe. The three air-to-ground ranges often employed are Karamar, Tersakan and Koc. These ranges utilize surface-to-air threats in the form of SA-6, SA-8, SA-11 and ZSU-4 weapon systems for simulating realistic combat missions.
The Red and Blue team each have their own briefing rooms and do not get to meet before the mission. Debriefing is done mutually. Each participating team alternates between the role of Package Lead during the gradually building up complexity of the missions. Two missions were flown per day, during the day. A day-day exercise differs from Red Flag which is often a day-night exercise. 196 sorties were flown, totaling 80 desired mean point of impacts. Anatolian Eagle's goals were achieved on Wednesday, June 29. The closing mission was on Thursday, June 30.
NATO's Deployable Air Command & Control Centre (DACCC) supported the exercise in Konya as part of the coinciding Deployment and Readiness Exercise Ramstein Dust-II (RADU-II/22). AE-22 marked the first time NATO's surveillance and control unit's new Deployable Air Defense Radar (DARS) had been deployed to a NATO nation. During the first week, the DARS was linked with the Turkish control network and provided control of fighter operations. Cooperation with RADU-II/22 and support received from the NATO E-3A was valued by Turkey, enabling honing of skills in working together.
This was underlined by Anatolian Eagle Commander, Turkish Air Force Lieutenant Colonel Turgay Tümer: "The participation of DACCC in Anatolian Eagle is a great example of NATO collaboration. We are pleased to host DACCC personnel here."
NATO's DACCC is based at Poggio Renatico in northern Italy. The multinational exercises to which it deploys prove to be invaluable. "This practical experience to deploy, set up and conduct air surveillance and control and integrate with NATO's command and control network while deployed is a major component of the DARS' training cycle," added Colonel Sieratzki.
This year's edition of Anatolian Eagle at Konya proved to be a remarkable success. Its goals were met, and the participating Air Forces were able to share and hone their skills, becoming better equipped for realistic combat missions.