Shining Diamond
The Diamond series of exercises for the Royal Australian Air Force kicked off in March as the Diamond Shield 2017 exercise began at RAAF Base Williamtown north of Newcastle.
The Diamond Shield exercise is one of the practical components of the air warfare instructors' course (AWIC), whose graduates are experts in Australian Defence Force capabilities and integration across the services, and have technical mastery of their own roles, platforms and systems.
RAAF Air Commodore Joe Iervasi, Commander of the Air Warfare Centre at RAAF Base Edinburgh said that the Air Warfare Centre was created under Plan Jericho to prepare Air Force for the fifth-generation platforms coming into service now.
He states, "The public demonstration at the Avalon International Airshow at the beginning of March of the first two Lockheed Martin F-35A Lightning II's, the Boeing EA-18G Growler and Pilatus PC-21 aircraft has shown that integration of systems across the Australian Defence Force is already taking place."
Air Commodore Iervasi continues on, "For the first time we are bringing together different Defence units in the warfare space to integrate their roles in a process of continuous improvement to match the fifth generation platforms coming into service. As our platforms interact electronically, so too must the human elements to get the greatest benefit from this technology."
"The air warfare instructors' course developed by the Air Warfare Centre has done that and over the next few months each component of the course will prepare our instructors to be effective in the integrated Air Warfare space training them to work as a cohesive team when called upon to work together or to work within their assigned Squadrons.
"Graduates will provide leadership in the development of future tactics and help determine how those tactics can be used to enhance the Australian Defence Force's joint war fighting capability using fifth-generation platforms," he said.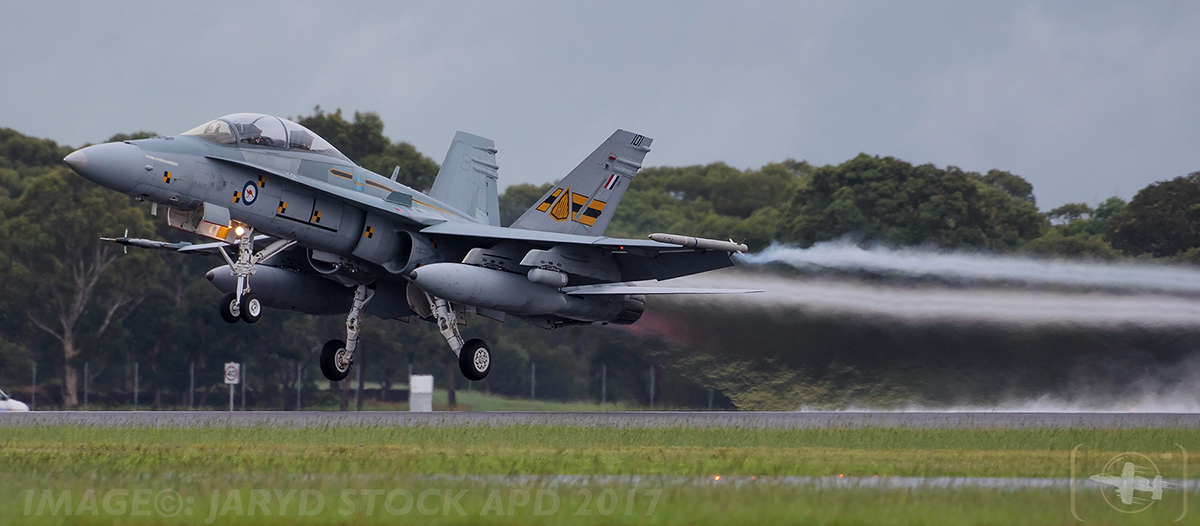 Apart of the Diamond Shield ex program were the United States Air Force 18th Aggressor Squadron (18th AGRS) from Eielson Air Force Base, Alaska. 170 personnel from the 'Blue Foxes' participated in the exercise with 13 General Dynamics F-16C/D block 30 Fighting Falcons, the 18th AGRS were supported by Air National Guard KC-135's drawing them from Andersen Air Force Base in Guam where they had been participating in Exercise Cope North 2017.
Pilots both from the U.S. Air Force 18th AGRS, and from Royal Australian Air Force's Number 3 Squadron and the Air Warfare Centre Instructors Course, RAAF Base Williamtown, logged numerous hours of flight time during the Exercise.
The 18th Aggressor pilots are key components in providing a replicated threat for the students of the AWIC and specifically through the integration of their primary platform; the F-16 Fighting Falcon. For these already experienced RAAF F-18 Hornet pilots, just the visual difference and increased number of aircraft is enough to "change the game".
"Flying against a different aircraft type takes you out of your comfort zone and forces you to fall back on some of your fighter training basics," said Royal Australian Air Force Flying Officer Justin Nash, No.3 Squadron F/A-18A+ Classic Hornet pilot.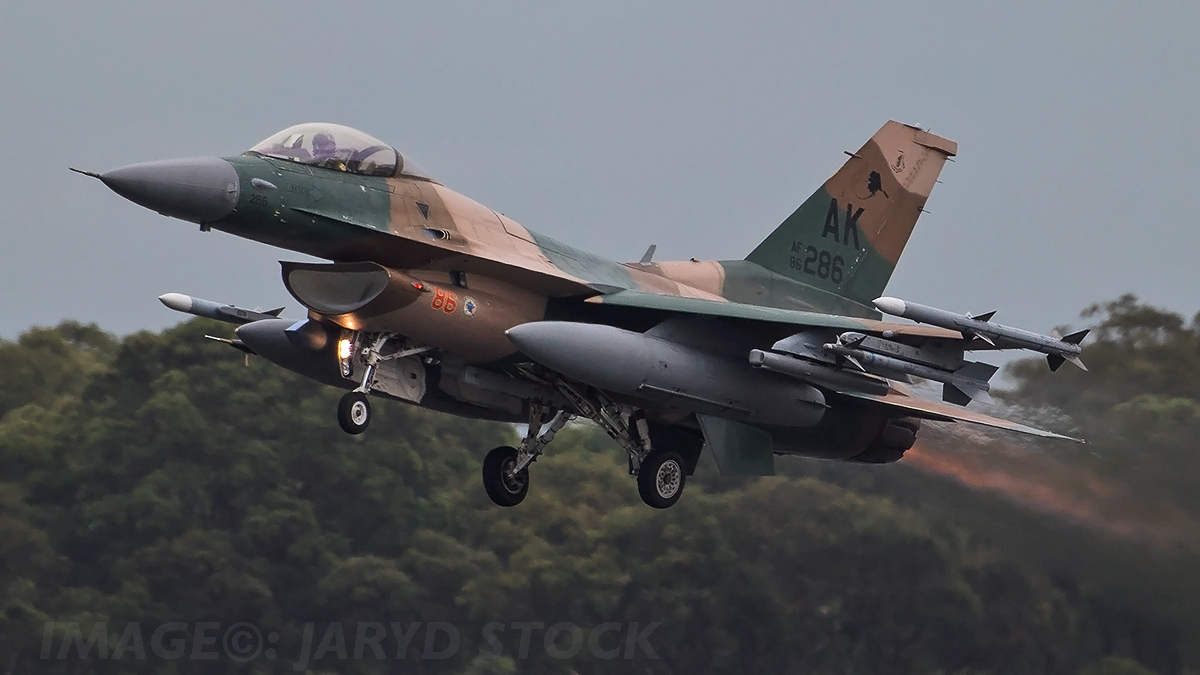 The RAAF No.3 Squadron has a dual-purpose role during Diamond Shield 2017: To provide a service for the 18th Aggressor Squadron by augmenting enemy 'Red Air' pilots, and supporting the AWIC under the tenants of Raise, Train, and Sustain; what the RAAF refers to as their normal operating rhythm.
The 'Blue Air' is primarily provided by the RAAF 2nd Operation Conversion Unit.  2OCU hosts three, six-month courses of initial F/A-18A/B Hornet qualifications, then initiates AWIC during every fourth, six-month period. Much like the U.S. Air Force's Advanced Weapons School for pilots, AWIC serves as the RAAF advanced weapons fighter curriculum, culminating each pilot's arduous training schedule in this joint training exercise.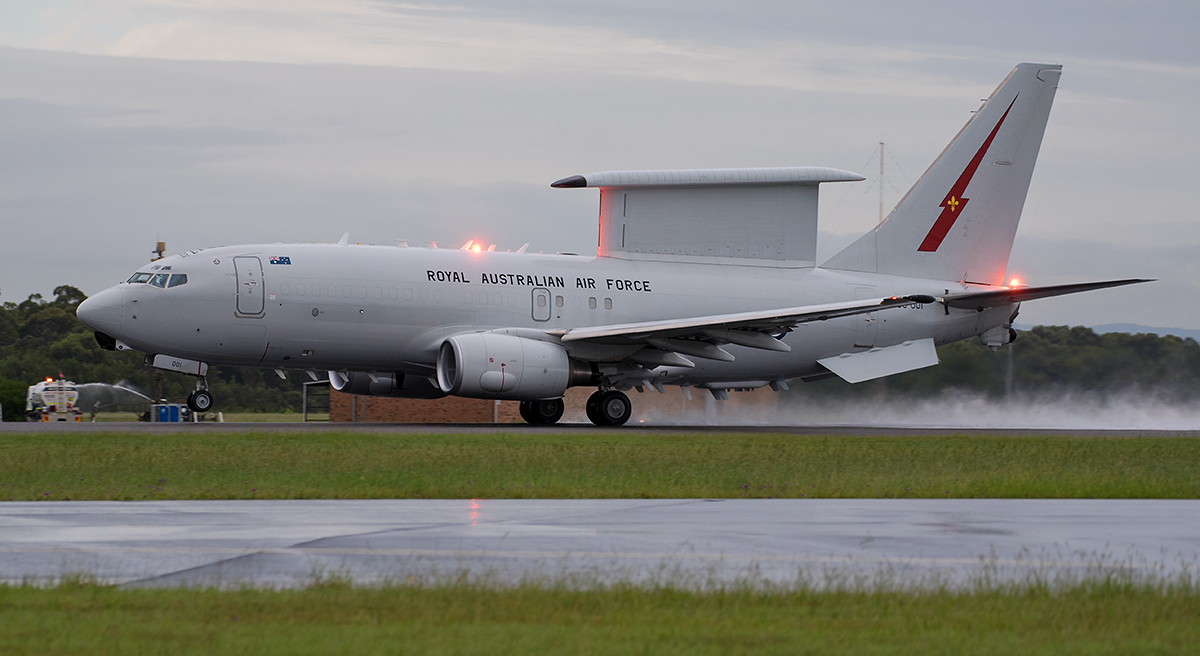 Ex Diamond Shield 2017 incorporated other RAAF assets with F/A-18F Super Hornets from Number 1 Squadron, E-7A Wedgetail AWE&C from Number 2 Squadron, C-17A III Globemaster's from 36 Squadron, the C-130J Hercules from 37 Squadron, AP-3C Orion from 10/11 Squadron's, and the BAE Hawk Mk.127 trainer from 76 Squadron and Eielson's signature Aggressor F-16 Fighting Falcon's.
"Our mission is to replicate an adversary for the RAAF pilots as part of Exercise Diamond Shield 2017," said U.S. Air Force Major Robert "Claw" Carden, a 18th AGRS pilot.
'Blue Air' refers to friendly forces while 'Red Air' applies to those mimicking enemy forces. The objective of this training format is to challenge pilots to anticipate and become more receptive to real-world enemy forces they could potentially encounter during a national or international security threat. "Primarily, we try to replicate real-world threats, be it specific to an aircraft or weaponry," explained Carden. "Since we're flying the General Dynamics F-16 Fighting Falcons with the 'Blue Foxes', we're not actually transforming the aircraft into a Shenyang J-11 or a Mikoyan MiG-29, for instance, so we use our own Aggressor Threat Replication Guide in order to provide replication tactics on how we can adjust our avionics or how we might employ those avionics with our F-16s in order to better emulate a requested adversary."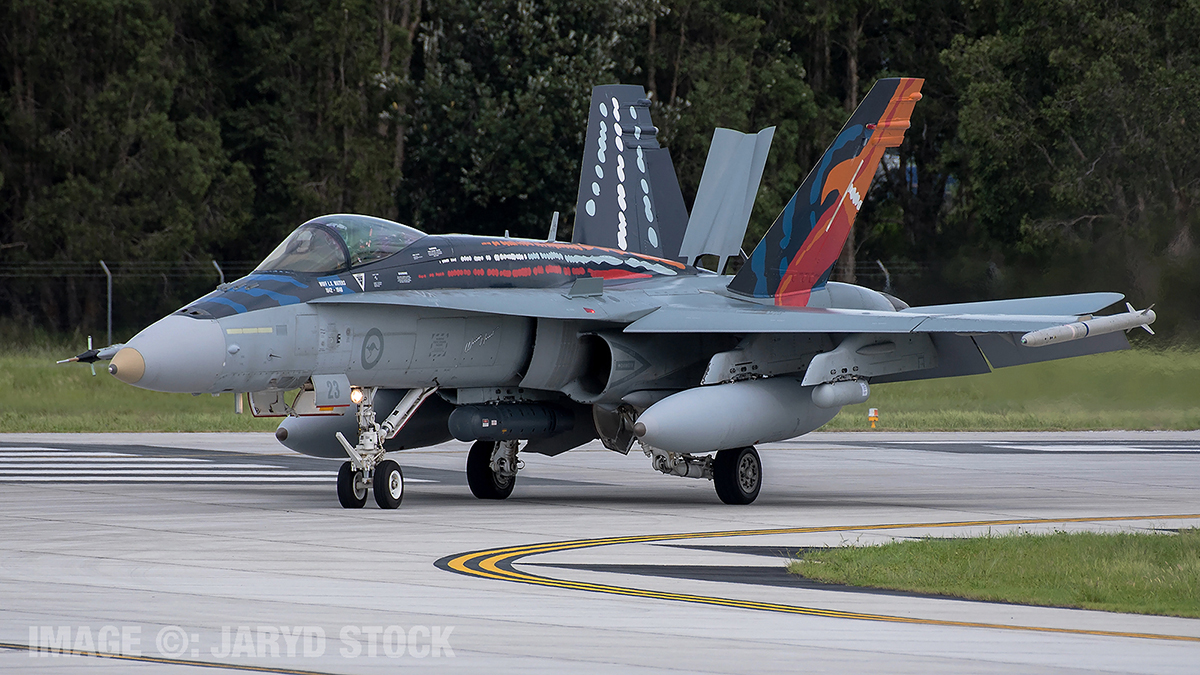 Although it runs only every two years, the six-month AWI course is a vital part of training for its already experienced F/A-18 Hornet students with Diamond Shield being one of the practical exercises. For the Australian Defence Force, the role of the 18th AGRS means earning graduates who are experts, capable of integration across the services and whom have technical mastery of their own roles, platforms and systems.
From the perspective of a supportive agency like RAAF's No.3 Squadron – who provides 'Red Air' augments to the 18th AGRS operating in this environment challenges their TTPs and provides a unique perspective on interoperability they don't often get.
RAAF Flight Officer Justin Nash from No.3 Squadron based at RAAF Base Williamtown states, "The 18th AGRS are some of the best at providing threats, threat replication and for providing the 'Red Air' instruction, But the big thing for us is the different aircraft type and the different types of things they can represent. Its different from what we're used to seeing in our normal training so Diamond Shield is a big favourite for AWIC course."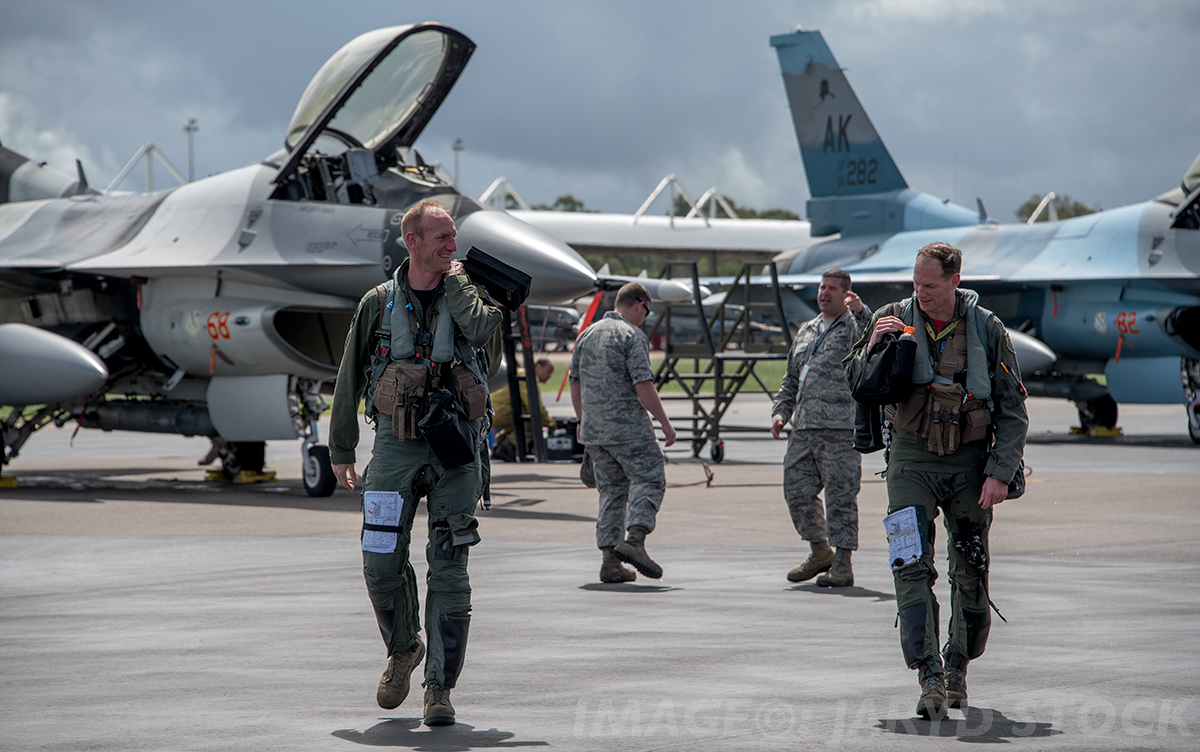 So although the 18th AGRS 'Red Air' pilots don't necessarily integrate with the AWIC 'Blue Air' students, their unique aircraft capabilities, tactical strategies and ability to exploit plans carried out by 'Blue Air' provide valuable insight during mission debriefs and examples interoperability intended by both AWIC and Diamond Shield.
"We're observing 'Blue Air' in either real-time or through our observations while training them and ultimately exploiting and punishing their errors in the air," said Major Carden. "Later, when we debrief and reconstruct the entire mission, the RAAF pilots have the ability to find where those critical breakdowns occurred in their gameplan and hopefully next time adjusting that gameplan so those errors aren't then exploited or at least mitigated from that type of exploitation in the future."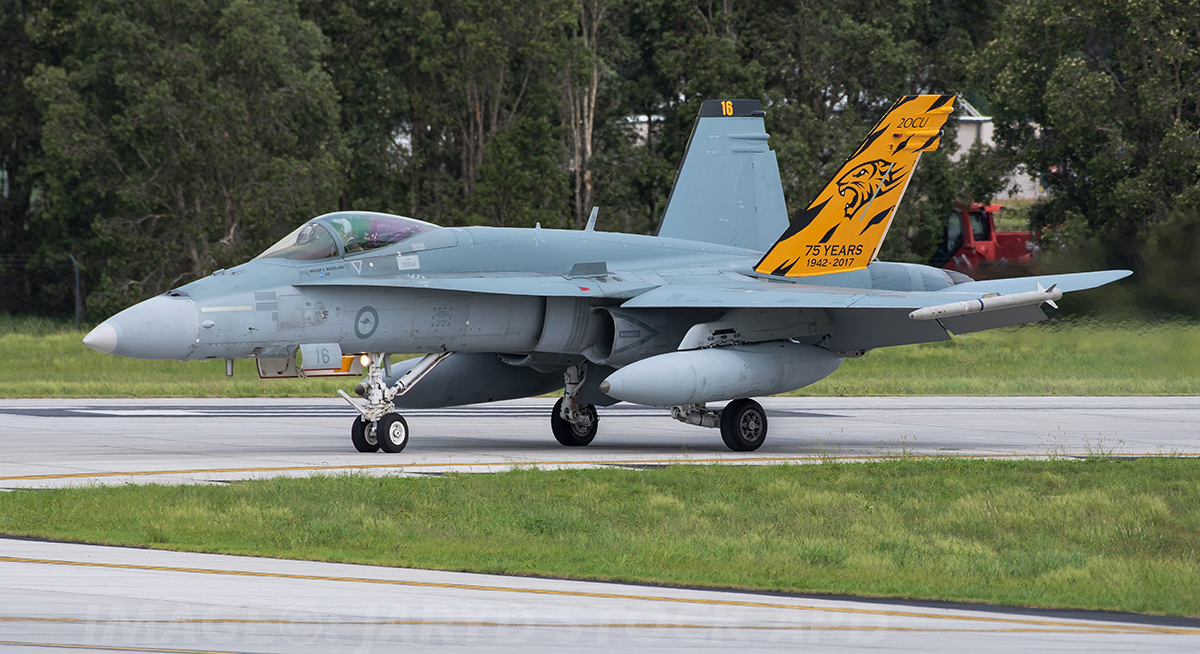 This very process is the foundation of Exercise Diamond Shield, and quite fundamental to the intent of the 18th AGRS overall mission. Their ability to tailor and design to a joint or allied nations desired learning objective is also matched by their ability to perceive real-world events and then communicating that to their joint partners.
"The biggest lesson is the briefs and lectures on global threat situations and what they're advertising as some of the solutions to that," said Nash. "In the actual flying role we have as pilots, we're seeing new tactics and seeing pictures we haven't seen before; this too helps us devise and implement new TTPs that will be picked up by both experienced and newly arrived pilots."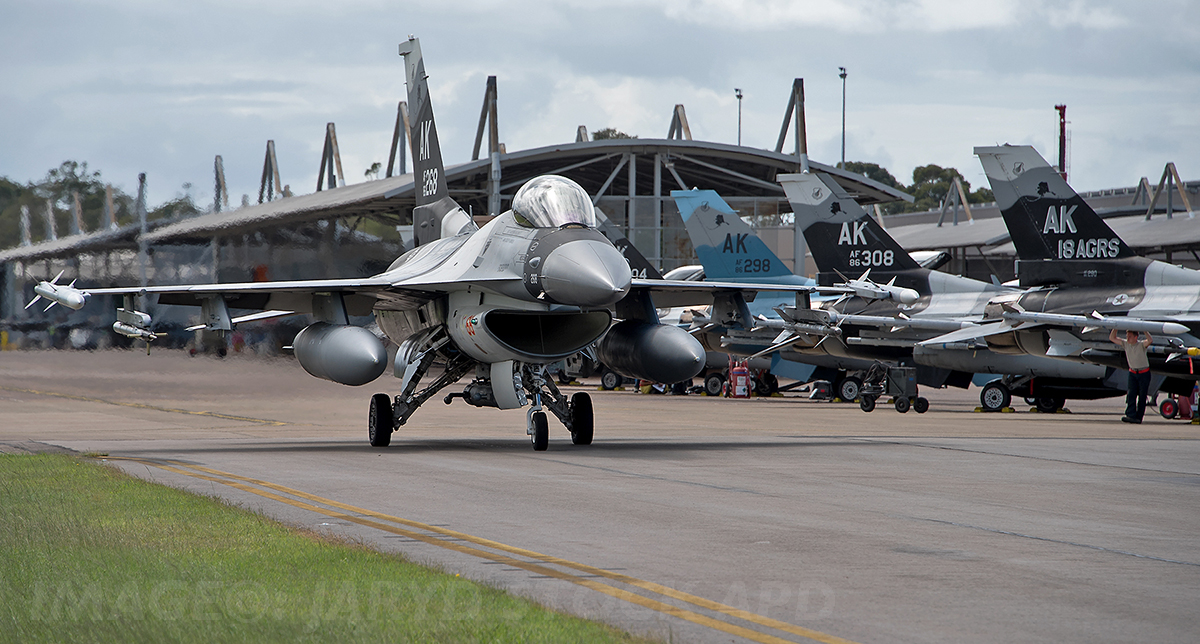 At the culmination of Diamond Shield, the key objective for the RAAF is advancing and sustaining interoperability throughout the Pacific region, while respectively, for the U.S. Air Force, it is also about increasing the capabilities of the pilots charged with providing this world class training.
"They routinely reference interoperability, making a plan that can operate a high level with any joint partner and the closer partners," said Flight Officer Nash. "It is very easy to explain and bring people into the loop; it's very robust and the 18th Aggressors support has been important for developing new TTP's which will make it much easier to be interoperable."
"For a number of younger pilots that have the potential to go back to the Combat Air Force, interoperability and joint integration with our RAAF partners here will help these pilots as they go back to a 'Blue' unit," said Carden. "Knowing they might have seen errors in 'Blue' gameplans – be it planning or execution errors – as prior adversaries, they could potentially exploit those errors so they can apply learned tactics to avoid what they saw exposed while here in the 18th AGRS and enhance our overall Air Force capabilities."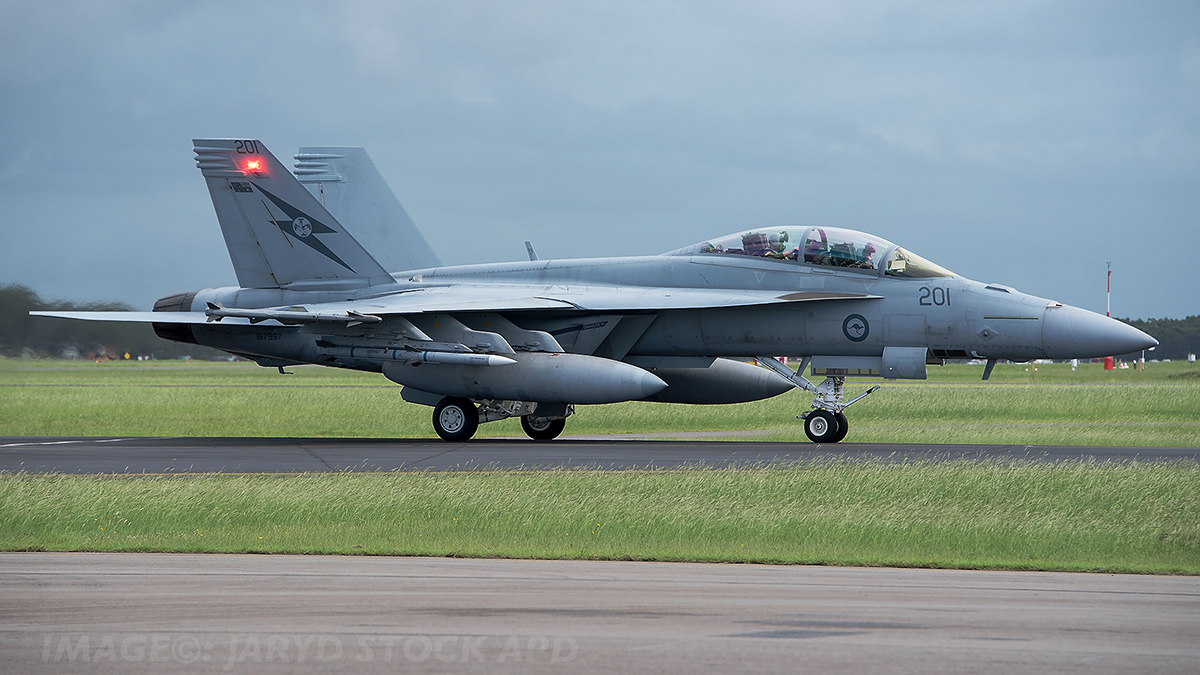 It requires remarkable skill, dedication and discipline to become a military pilot. Despite the nation's colours that don an aircraft's fuselage, or what service affiliation rests on the chest's of its aircrew, a military pilot is a capable and readily accessible force for effectively responding to and neutralising a threat of any magnitude, at any time, or any place.
But it doesn't come without hard work and extensive exposure to tactical exploitation by some of the most well-trained and experienced fighter combat instructors in the world and for the RAAF mixing it with the best adversary Squadron within the U.S. Air Force will go a long way in those participating in the AWIC course to graduate.
Interoperability between two nations military aviation units is not only limited to those that take to the air, it is also a chance for maintainers to hone their skills working with their international partners.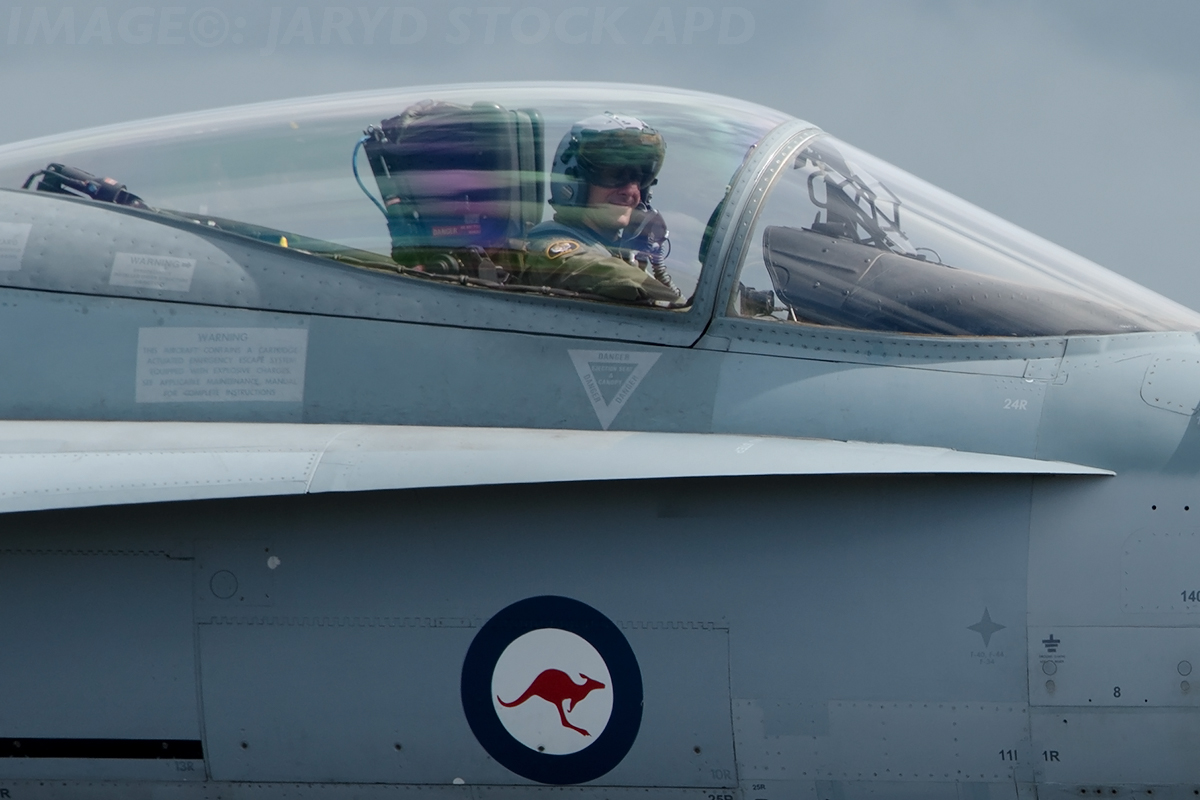 Members of the 18th Aircraft Maintenance Unit accompanying the 18th AGRS to Williamtown were given a chance to see how the Aussies go about there work and how they can learn off each other working on each units aircraft and gaining better understanding of how to work in unison.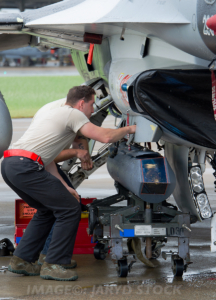 Master Sergeant Joseph Clarke from the USAF 18th AMU deployed with 150 personnel from the 18th AMU to Australia was able to utilise his skill and experience as production superintendent to prioritise maintenance and what aircraft are to be fixed, and also make sure that the supply chain is up to speed just in case for instance there are spare parts that need to be flown in, and asa what aircraft are going to fly to what inspections are due on the 13 aircraft deployed.
With Exercise Diamond Shield 2017 the 18th AGRS and 18th AMU had a very robust schedule, the 18th AGRS flew down to Williamtown from Andersen AFB located in Guam participating in exercise Cope North 2017. The 18th AGRS spent 6 weeks away from Eielson on there deployment to Guam and Australia, 5 of which were intensive flying and ferrying to and from destinations.
MSGT Clarke gives us how his team has been able to showcase to the Australians the very best they can provide whilst on a long deployment. "Well being on the road for six weeks we had to start planning early for whole line of inspections on the aircraft, and make sure that the resources were in place before we headed out from Eielson."
"And we are basically doing the same thing we do at home base we come to work we prep the jets for flying then we are doing heavy maintenance on the jets in the evening when the come back to base like we would usually do when deployed for exercises such as Red Flag. But being in Australia we have seen some unique issues come up whilst we have been here at Williamtown for instance just little things like different power sources the RAAF here have 220 to 240 volt where we operate 110 to 120 volts back in the States. Another example is our stuff (tooling) is the Imperial or standard stuff whilst the RAAF use metric."
"And we have also had to be resourceful to try and figure out how to solve those problems that have been presented to us on this deployment with some of the aircraft that have required some engineering reach back, and they were able to get the mission done."
"And the issue and the challenge there is trying to get parts into Australia and we are overcoming those hurdles that are presenting themselves but we will be good to go."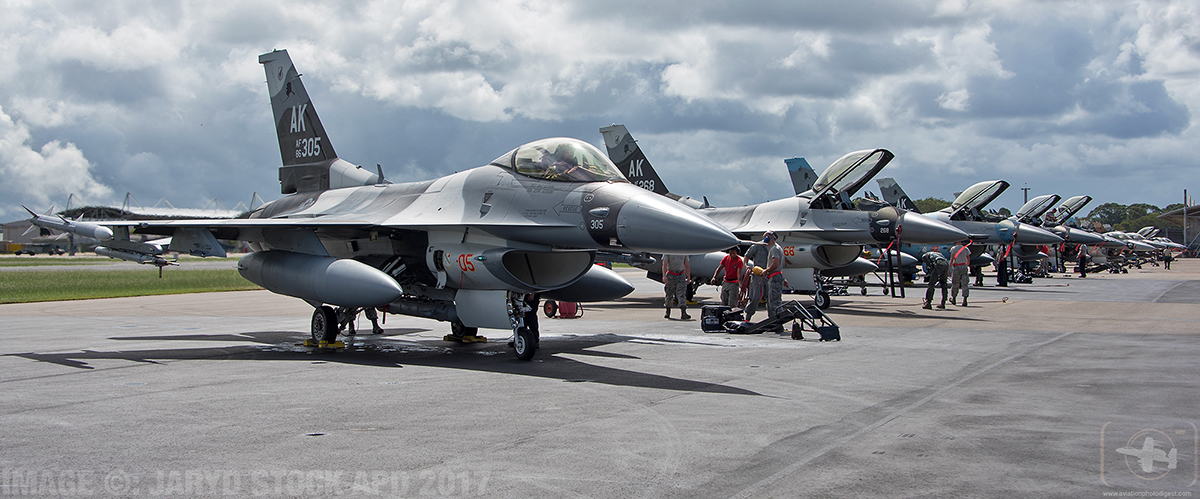 Australian Air Force maintainers from No. 3 Squadron were able to work with the 18th AMU and were able to see how work on F-16's are carried out.
MSGT Clarke states: "Our Officer in charge whilst we are here for AWIC was able to out together a program where maintainers from the AMU and the RAAF were able to work on each others aircraft, we had the Aussies that work on the F/A-18 come down and work on the F-16's so they can see the similarities and the differences, and also how we operate and when we are doing that we want to learn off the Aussies things on how to capitalise our own operations."
"And we are looking for things like what are the RAAF are doing smarter and that we can do and incorporate. For instance there fuel service delivery is amazing and that is really where we have taken notes from that and can learn from what they are doing which benefits us, and that is what it's all about learning and growing."
"Working with our allied partners and the RAAF in this instance is helping build working relationships for the future and the AMU is going to be better off for it in the future."
The Royal Australian Air Force's Air Warfare Instructors Course runs until July.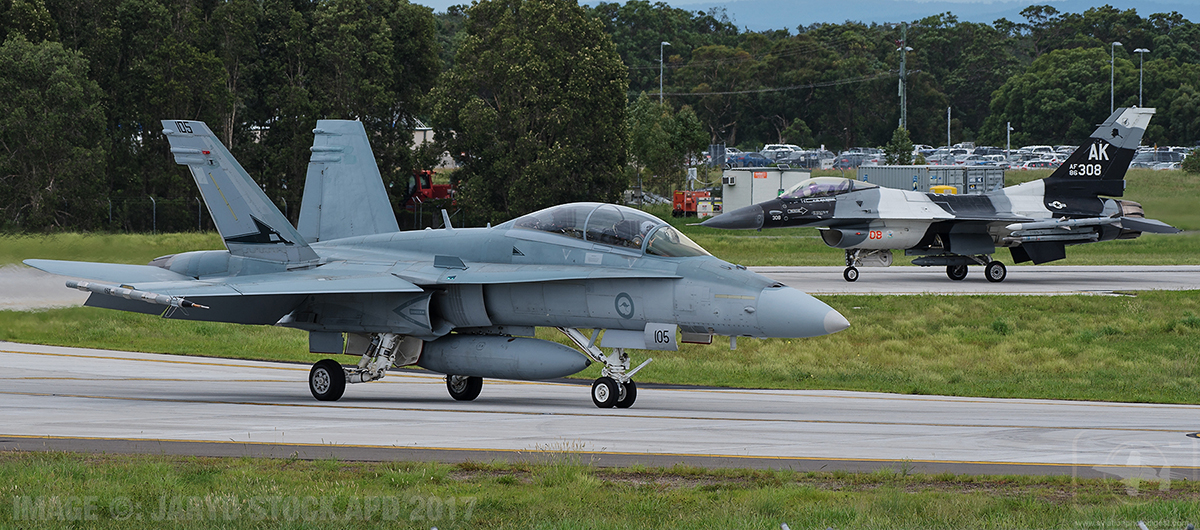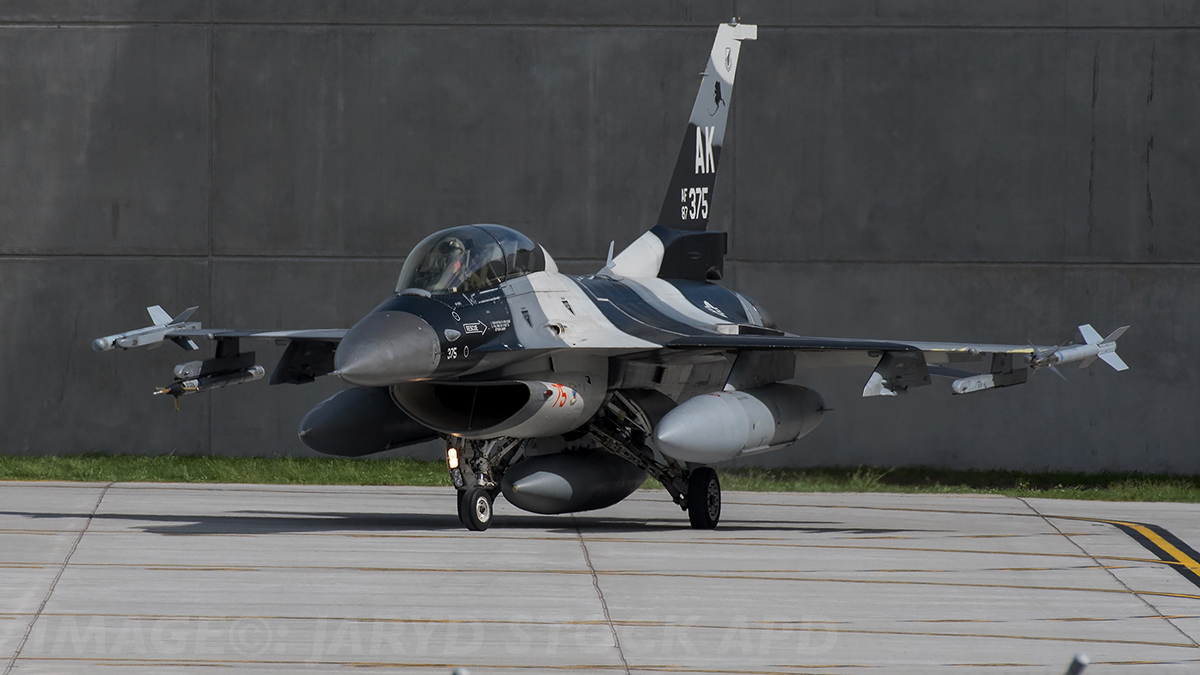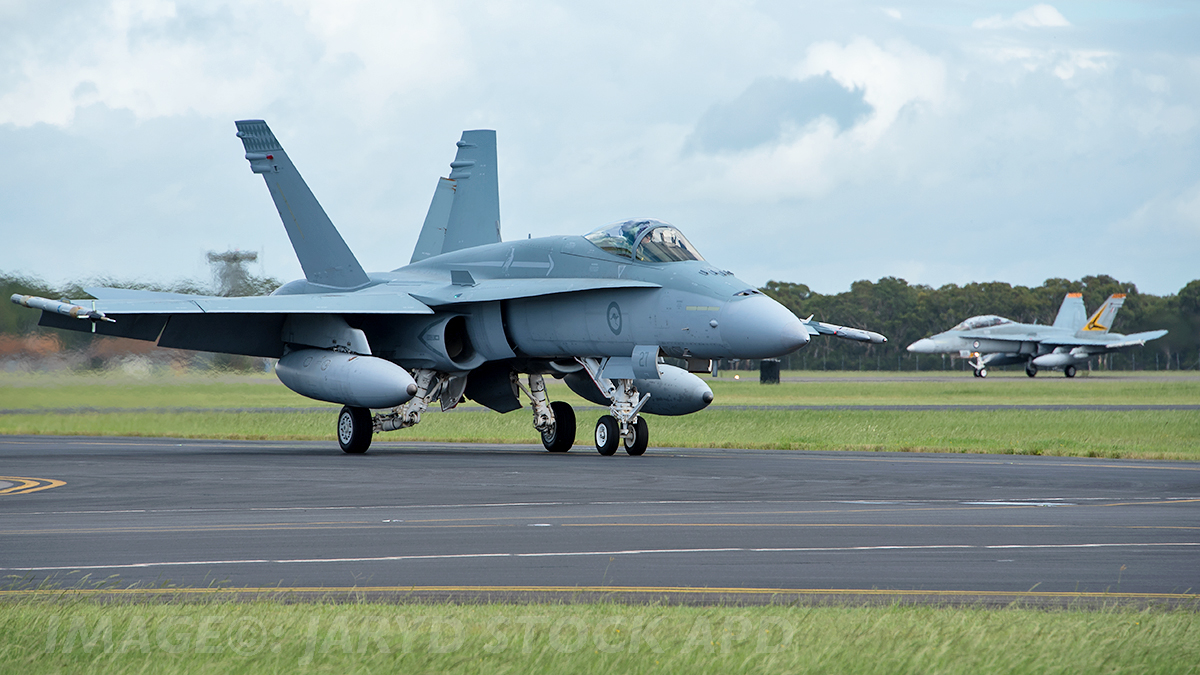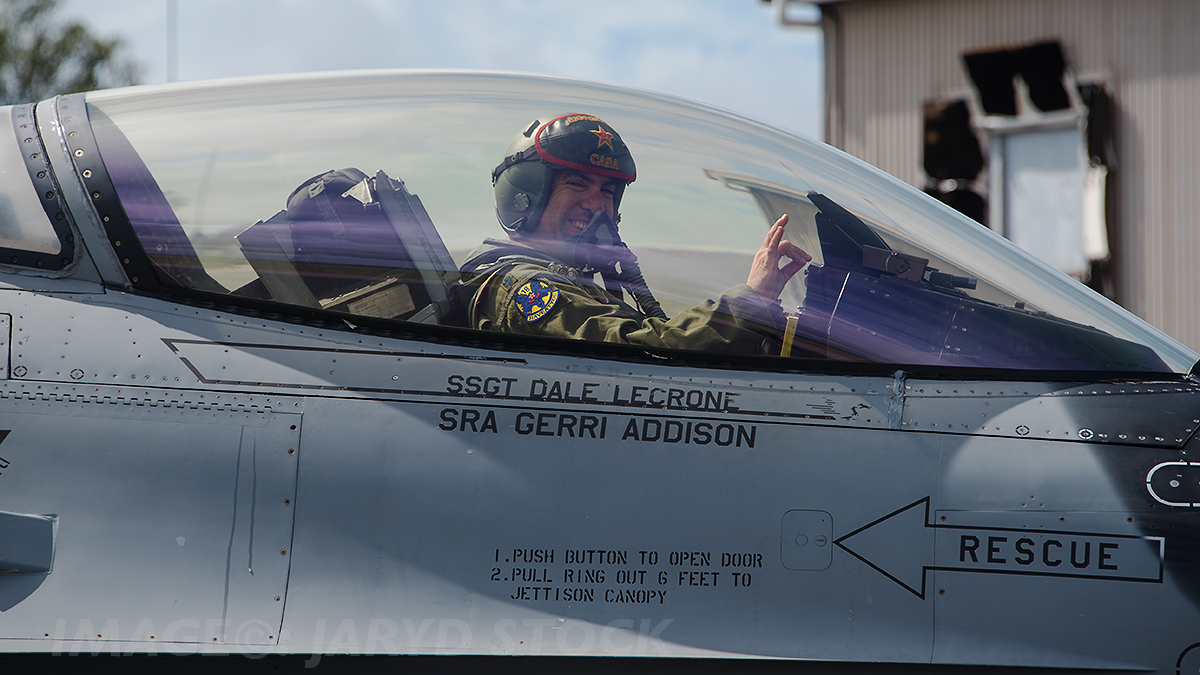 Click on an image below to page or swipe through the gallery: