'Tigers' complete historic Deployment to Australia.
B-2A 'Spirit' Stealth Bombers from the 509th Bomb Wing deployed to RAAF Base Amberley during July and August.
Article: Jaryd Stock
Images: Jaryd Stock, Joel Turner & Daniel Vorbach
U.S. Air Force B-2A Spirit stealth bombers apart of the 393rd Expeditionary Bomb Squadron nicknamed the 'Tigers' have completed their month long Bomber Task Force deployment to Australia after being based at Royal Australian Air Force (RAAF) Base Amberley.
The 'Tigers' apart of the the 509th Bomb Wing based at Whiteman Air Force Base, Missouri deployed four B-2's and around 200 personnel arriving on July 10 to support the U.S. Pacific Air Forces Bomber Task Force- Pacific deployment and operate with their Australian counterparts under the United States and Australian Enhanced Air Cooperation initiative and completing their deployment on August 11th.
The Airmen from the 393rd EBS were supported by Missouri Air National Guard 131st Bomb Wing and RAAF personnel on the ground at Amberley, in Australia the B-2's conducted training missions and strategic deterrence missions with allies, partners and joint forces in support of a free and open Indo-Pacific with participation in exercises Koolendong and Arnhem Thunder in Australia's Northern Territory conducting a photoex with RAAF 75 Squadron F-35A Lightnings over RAAF Base Curtain.
"This deployment of the B-2 to Australia demonstrates and enhances the readiness and lethality of our long-range penetrating strike force," said Lt. Col. Andrew 'Stitch' Kousgaard, 393rd Bomb Squadron commander. "We loved training and enhancing our interoperability with our RAAF teammates, as well as partners and allies across the Indo-Pacific as we meet PACAF objectives."

Apart of this deployment was the 393rd EBS training and getting certifications integrating with RAAF 33 Squadron Airbus KC-30 Multi Role Tanker Transports LtCol Kousgaard stated that working with 33SQN was a key objective for this BTF to Australia.
"Its a unique capability that the Australian Airforce has, and to gain interoperability with a strategic asset like the KC-30 operated by our Australian friends, it is huge for us and its another aspect to this first deployment of the 393rd to Australia apart of this BTF." (For more on on our interview with LtCol Kousgaard check out our video above)
A total of five B-2's deployed to Australia apart of this BTF deployment with two of the aircraft completing a swap mid deployment, the aircraft noted to deploy to Amberley were, "Spirit of New York" serial: 82-1068 (CO aircraft), "Spirit of Arizona" serial: 82-1067, "Spirit of Ohio" serial: 02-1070, "Spirit of Alaska" serial: 90-0040, "Spirit of Florida" serial: 92-0700.
The deployment also saw three KC-135T Stratotanker aircraft operated by the 909th Aerial Refuelling Squadron based out of Kadena Air Force Base in Okinawa, Japan deploy to Amberley supporting aerial refuelling operations with the B-2's with KC-135's also deployed to Diego Garcia supporting the B-2 deployment.
This makes it two visits in under four months to Australia by the 509thBW by six B-2A aircraft, with more BTF rotations set to continue through different bases in Australia.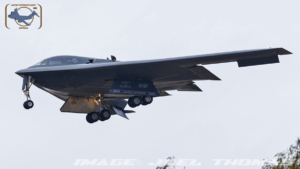 U.S. Strategic Command routinely conducts Bomber Task Force operations across the globe such as operating from Andersen AFB in Guam, Fairford in the UK and Diego Garcia and is a demonstration of U.S. commitment to collective defence and to integrate with Geographic Combatant Command operations and activities.
This deployment is in line with the National Defense Strategy's objectives of strategic predictability and operational unpredictability. The BTF enables different types of strategic bombers to operate forward in the Indo-Pacific region from a broad array of overseas and Continental U.S. locations with greater operational resilience.