Royal Australian Air Force EA-18G Growlers getting upgrades.
Article & Images: Jaryd Stock
On Monday 6th of February the Australian Government conformed that upgrades to Royal Australian Air Force's fleet of 11 (soon to be 12) Boeing EA-18G Growler electronic attack aircraft operated by No.6 Squadron based at RAAF Base Amberley and associated electronic ranges in the Northern Territory will strengthen Australia's electronic attack capability.
The EA-18G Growler capability is being overhauled through Project AIR 5349 Phase 6 – Advanced Growler, providing the Air Force with critical world-leading technology.
The electronic attack aircraft is capable of disrupting, deceiving or denying a broad range of military electronic systems, including radar and communications by currently carrying the ALQ-99 Tactical Jamming pods on external hard points located under each wing and under fuselage.
Australian Government offical Minister for Defence Industry Pat Conroy said the project was delivering the leading-edge technology the Air Force needed "to face an increasingly complex and uncertain strategic environment".
Upgrades include:
Cooperative development of the Next-Generation Jammer weapon system with the United States Navy to gradually replace the ALQ-99 Tactical Jamming System
Aircraft modifications, including sensor upgrades
Anti-radiation missile war stock
Longer-range and more advanced anti-radiation missiles
Enhanced electronic warfare training ranges capability
Facility improvements at Amberley near Brisbane and the Delamere Air training area near Katherine in the Northern Territory
The project will ensure commonality with United States Navy Electronic Attack Squadrons that also operate the EA-18G.
Australian radar company CEA Technologies has been awarded a $277 million contract to provide advanced capabilities for Australia's electronic warfare ranges.
The contract will include a number of fixed and portable emitters to support training exercises and strengthen capability across the joint force.
It is the first contract to be awarded under Phase 6, which has an approved budget of more than $2 billion.
Mr Conroy said the Australian companies would be "involved as much as possible throughout the life of this project".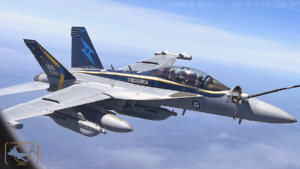 Currently elements of 6SQN are participating in exercise Red Flag located at Nellis Air Force Base in Nevada on a three week training exercise flying alongside Squadrons from the Royal Air Force and the United States Air Force.
RAAF 6SQN has deployed up to five EA-18G Growler aircraft from and approximately 100 aviators in support of the Exercise to enhance Australia's air power interoperability with partner nations.
RAAF's Director General Air – Air Commodore John Haly, said combined force training between the Royal Australian Air Force, the United States Air Force and the United Kingdom's Royal Air Force provided a critical opportunity for partner nations to enhance their skills.
"Exercises like Red Flag Nellis are an opportunity to advance relationships and interoperability with the United States and United Kingdom," Air Commodore Haly said.
"Although Australia conducts similar training activities domestically, the scope and scale of Red Flag Nellis cannot be replicated within Australia."
RAAF's Exercise Detachment Commander, Wing Commander Steven Thornton, said Exercise Red Flag Nellis would provide complex and advanced aerial training against simulated targets and realistic threat systems.
"This training helps ensure RAAF remains ready to deploy aircraft and personnel away from their home base and sustain high-tempo operations," Wing Commander Thornton said.
"It also provides the necessary environment for testing and development of new work practices, systems or role expansion."
Exercise Red Flag Nellis will conclude on 10 February 2023.