Air Wing of the Future.
Carrier Air Wing 9 embarked onboard USS Abraham Lincoln (CVN-72) showcasing its new capabilities during RIMPAC 22.
Article: Jaryd Stock
Images: Jaryd Stock, Chris S, USN.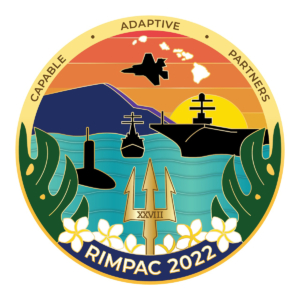 They bring power projection to any conflict and are quoted to be 100,000 tons of American diplomacy, but as with any capability that a nation has at its disposal new ways of doing things are developed and tactics evolve, and this is no different to the U.S. Navy's fleet of aircraft carriers and the carrier air wings embarked onboard.
Back in late 2021 the U.S. Navy released details for its vision of the "Air Wing of the Future" (AFW) which will be deployed onboard its Nimitz and Ford class Aircraft Carriers. A decade from now to make sure American aircraft carriers can still compete AFW will be increasingly lethal, survivable, networked, sustainable, and unmanned with autonomous capabilities.
Today most of the U.S. Navy carrier air wings continue to consist of F/A-18E/F Super Hornets, EA-18G Growler electronic warfare aircraft, and E-2 Hawkeye early warning aircraft. Carriers also employ rotary aircraft consisting of the MH-60S/R Seahawk helicopters and supply aircraft such as the C-2 Greyhound conducting the Carrier onboard Delivery role.
In January this year the USS Abraham Lincoln (CVN-72) departed San Diego for the ships Western Pacific cruise, and assigned to the carrier was Carrier Air Wing 9 (CVW-9) based out of NAS Lemoore, MCAS Miramar, NAS Point Mugu and NAS North Island. CVW-9 would deploy for the first time with the CMV-22B Osprey operated by Fleet Logistics Support Squadron 30 Detachment-2 (VRM-30) nicknamed the "Titans" and the F-35C Lightning II from Marine Fighter Attack Squadron 314 (VMFA-314) nicknamed the "Black Knights".
These new additions to the Air Wing highlighted the changing shift away from the predominant aircraft deployment among the U.S. Navy Air Wings of F/A-18E/F Super Hornets in the strike role and the C-2 Greyhound in the COD role. Added to that was the deployment of the E-2D Advanced Hawkeye Airborne command and control aircraft operated by Airborne Command & Control Squadron 117 (VAW-117) nicknamed the "Wallbangers". The Advanced Hawkeye features a new avionics suite, improved engines, a new "glass cockpit" and a refuelling probe sticking out above the flight deck for air-to-air refuelling.
The Marines deploying with the F-35C onboard CVN-72 marks the first time a U.S. Marine Corps VMFA Squadron has deployed with the Charlie Lightning apart of an embarked air wing onboard an aircraft carrier, the other F-35C Lightning squadron to deploy apart of a carrier air wing is U.S. Navy Strike Fighter Squadron 147 (VFA-147) "Argonauts" deployed onboard the USS Carl Vinson (CVN-70). VMFA-314 is the first Marine Corps squadron to transition to the F-35C variant after retiring its legacy F/A-18A/C aircraft and receiving its first F-35C on 21 January 2020.
At the time of CVW-9 WESTPAC deployment onboard CVN-72 seven months ago, USMC Maj. Gen. Bradford J. Gering, 3rd MAW commanding general stated "The Black Knight's deployment of F-35C Lightning II aboard USS Abraham Lincoln is the newest chapter in the Marine Corps' long history of naval integration.
The  deployment represents years of hard work and innovation by the Marines and Sailors of VMFA-314, MAG-11, and 3rd MAW. It also reinforces our commitment to fielding the most lethal and ready Navy-Marine Corps force as we project warfighting capabilities throughout the Indo-Pacific region, or globally wherever our nation calls."
The Marine Corps possessing the capability to deploy the F-35C is significant as the F-35C was designed and built specifically for aircraft carrier operations and brings with it the ability to enhance the inherent battle-space awareness of all naval aircraft it operates alongside in the air wing. Deploying this asset in a contested maritime region provides the CVW-9 a flexible, mobile force that provides security to the United States and allied nations abroad.
APD talked to Commanding Officer of VMFA-314 USMC LtCol Brendan M. Walsh onboard CVN-72 during Rim of the Pacific 2022 exercise as CVW-9 were conducting sorties for the exercise, and he was able to detail how the F-35 has benefitted the Air Wing and contributes to the Navy's AWF.
"Well the biggest thing that the F-35 has brought to carrier air wing 9 is the situational awareness and with the sensors all over the aircraft knowing is half the battle, knowing all the information an taking it all in knowing the disposition of enemy forces and where they lay out and then sharing that information with the rest of the air wing, coupled with the stealth capabilities we have a very capable force.
Together with the Air Wing onboard we call it the Air Wing of the Future, we have the E-2D Hawkeye and also the strike capabilities from the venerable F/A-18 Super Hornet and the Electronic Warfare capabilities of the EA-18G Growler, onboard the Abraham Lincoln we have a very capable force."
During RIMPAC 2022 the Air Wing operating from CVN-72 is conducting a variety of mission sets from offensive counter air to defensive counter air, participating as either the good guys, Blue Air or the Bad guys, Red Air. One mission saw a CVW-9 strike package launch from the Lincoln consisting of F-35C and F/A-18E/F aircraft with support roles conducted by E-2D and EA-18G providing command and control and electronic jamming in a SINKEX of decommissioned Frigate USSRodney M. Davis (FFG 60), with strike aircraft dropping live ordnance on the Frigate.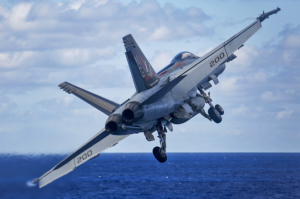 "We are doing a variety of mission sets out here for RIMPAC, and at the start we have been conducting a what we call a crawl phase as we worked upon the integration between out partners participating in the exercise and we are figuring out the command the control and the communication between our partners", said LtCol Walsh.
"Then we will be doing a variety of missions defensive in nature later on in the sea phase of the exercise, and we will be doing missions like close air support which is very near and dear to me as a marine corps aviator."
Carrier Air Wing 9 Commanding Officer or CAG Captain Lewis W. Callaway talked to APD about VMFA-314's deployment onboard the Lincoln and stated what a 5th generation aircraft brings to 4.5 generation Air Wing.
"I have forty four strike fighters onboard this ship and apart of that I have ten F-35 Charlie's have been a stand out asset to have in this air wing, and with the aircrafts abilities we are able to deter, malign and influence any battle space in the world. And the capabilities the aircraft brings as essentially a sensor its a new asset to this air wing that is invaluable and a new asset to the carrier aircraft wings that will enhance capabilities across the board.
Further the F-35 is incorporated with a lot of maintenance reach back via the navy networks, so many time where I have to fix something that is associated with the F-35, I'll use those networks to reach stateside to send data back and forth to analyse the engine data if you will, or to analyse flight control data and receive immediate responses so I can fix an aircraft.
And that exists with 4th generation aircraft, but the speed at which that happens now make the networks very important to make sure the F-35 Charlie maintenance succeeds, and that has been some very important lessons we have learnt on this deployment."
This deployment for the "Black Knights" comes as a culminating effort as VMFA-314 completed its workups last year with CVW-9 on board the Abraham Lincoln off the coast of California, concluding with VMFA-314 completing their final integrated training cycle along other elements of Carrier Strike Group Three in December as the Marine Corps continues to develop its 5th Generation strike fighter capabilities.
LtCol Walsh explains what it was like for his personnel from 314 to conduct those workups to be enabled to embark onboard the aircraft carrier for its WESTPAC cruise.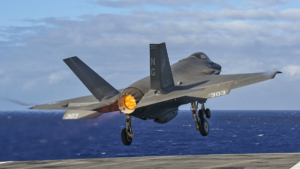 "It was a year long process and it consists of being a month away and month at home, so for that whole period its a constant process and it takes a lot of time away from loved ones and home especially when you deploy onboard a carrier at sea on the end of that year long training its a big commitment.
We started out doing basic level training and doing two deployments at sea, we validated our missile shoots validating our end to end checks for ordnance and we did them at Tyndall Air Force Base in Florida. And then we ramped up our training cycle that rotated between NAS Fallon in Nevada, and then back at home at NAS Miramar into Southern California operating areas off the coast of California near San Diego.
And that support we get is not only from the personnel it stretches from the marines and sailors apart of 314 right to their families, and we are very appreciative of the support we get from the families back home, the spouses, their patience and willingness to support their loved ones, we are really grateful for that because it is a huge time commitment from everyone."
Captain Amy Baureschmidt Commanding Officer of CVN-72 stated how proud she was of the ship and CVW-9 personnel conducting a long deployment with with the WESTPAC cruise culminating in RIMPAC after which the ship and her crew would head east back to San Diego.
"They're amazing sailors and pilots! They love their job and they are phenomenal at what they do, and my job is to make sure they have all the training and resources that they need, and yes there are some times and some days that they probably wish that they are sailing back home but they are such professionals and own the mission each and every single day, so its not hard for me to keep them engaged, they are a great team and have been so as we have participated in over six exercises during this cruise."
The CMV-22B Osprey deployment onboard the Lincoln has by all reports been a great success, with VRM-30 able to complete every task assigned to them for the duration of the WESTPAC deployment stated Captain Baurenschmidt.
CAG Callaway explains how their first deployment onboard the Lincoln has fared. "We now have a no better capability than to land ashore at a helicopter landing zone utilising the Osprey which we now have as apart of the air wing of the future, we have three CMV-22's that have replaced the two C-2's we used to operate apart of this air wing and the team at VRM-30 have been fantastic conducting their COD role."
For the personnel of the different squadrons apart of CVW-9 RIMPAC is designed to enhance interoperability with allied partners and to hone skills that will be needed either in a wartime setting or just as importantly and more often than not, a role conducting a humanitarian disaster relief response.
"Rarely do we have this chance to work with our international partners like this", stated LtCol Walsh. He continues "Carrier Air Wing 9 has the chance in this exercise to get everyone together to work that command and control piece with our allies, and if we can work out that stuff where our command control and especially communications are seamless so that if we do have to do any humanitarian aid, or defence of our allies, then we are able to do that seamlessly and integrate together."
The crew of USS Abraham Lincoln and Carrier Air Wing 9 have been able to develop skills using the latest hardware at the air wings disposal, there have been things to work on but as was witnessed onboard CVN-72, it seemed that the bugs had been ironed out and even though there will be new additions to the AFW in the future most notably the MQ-25 Stingray conducting the aerial refuelling role, and the yet to be named F/A-XX aircraft, this deployment for CVW-9 has been a success and the team has been able to learn and evolve its capabilities which along with the Carl Vinson and CVW-2 will be able to guide the U.S. Navy and its approach to 5th generation capabilities in the future.