United States Air Force 90th Fighter Squadron 'The Dicemen' deploy to Northern Australia apart of the EAC
Report by Jaryd Stock
Photos by William Nguyen Phuoc and Jaryd Stock
April 3, 2017
In late 2016 the United States Pacific Command announced that it would be sending a Squadron of F-22's to Australia for the aircraft's first-ever operational deployment to the land downunder. The deployment was a part of the Enhanced Air Cooperation (EAC) which is part of the US- Australia Force Posture Initiative that was signed by the two nations in 2014 and came into effect the following year.
The EAC partnership initiative between the United States and Australia it provides both the Royal Australian Air Force (RAAF) and the United States Air Force (USAF) the ability to increase participation between various aviation units from both countries helping to enrich the experience and the cohesiveness that the two militaries have in working together.

Much like the agreement between the two nations back in 2011 for the United States Marine Corps to base a 6 month long rotation of a Marine Air Ground Task Force in Darwin to train along side the Australian Army that would go through various phases until a full MAGTF would be based there on a rotational basis, the agreement allowed US forces particularly USAF to train in Australia for activities such as security operation exercises, joint and combined training exercises, humanitarian assistance and disaster relief as agreed upon by the two nations. The Australian Defence Minister Marisa Payne stated in a press release in early February 2016 that, "The EAC aims to strengthen bilateral collaboration and interoperability with the United States Air Force and the Royal Australian Air Force, and the EAC will see an increase in training, it will be on a short-term rotational basis using Australian facilities."
For the commencement of the EAC or the first phase to be implemented under the arrangement the first squadron to deploy and to train alongside the RAAF units was the 90th Fighter Squadron 'The Dicemen' (90th FS) based out of Joint Base Elmendorf-Richardson located near Anchorage, Alaska.

The 90th FS assigned to the 3rd Wing apart of the Pacific Air Forces sent 12 F-22A Raptors and around 240 airmen and women to RAAF Base Tindal in the Northern Territory just over 300 kilometres south from the City of Darwin for its EAC deployment the squadron also during it's three week deployment also based a few F-22's at RAAF Base Townsville which is located on the Northern East Coast of Australia near the Great Barrier Reef as a reference.
This deployment was huge in the fact that the logistical challenges and distance over water from Alaska to Australia needed to be correctly managed, with the deployment also consisting of aircraft and personnel from various squadrons such as the C-17 Globemaster III equiped 517th Airlift Squadron also from Elmendorf-Richardson and various KC-135R Stratotankers from the USAF ANG and AFRC particularly the 434th and 155th Air Refueling Wings respectively to support the 90th's operations here in Australia.
This is the first of several EAC rotations that will take place of United States aircraft from the various units and various arms of U.S. military that will be based in Australia on a rotational basis working together to gain that great workmanship between friends.
Working Together For The Future
The EAC is a classic example of how the RAAF and USAF continues to develop and grow in their understanding of each others tactics, operations, and working together to overcome potential problems that could arise when deployed together anywhere in the world in real time operations. The 90th FS worked along with various elements within the RAAF, mainly number 75 and number 2 squadron that was working as the AWE&C piece or the package commander flying their E-7A Wedgetail, No.2 SQN sent one aircraft to be based out of RAAF Base Tindal for the duration of the exercise from RAAF Base Williamtown.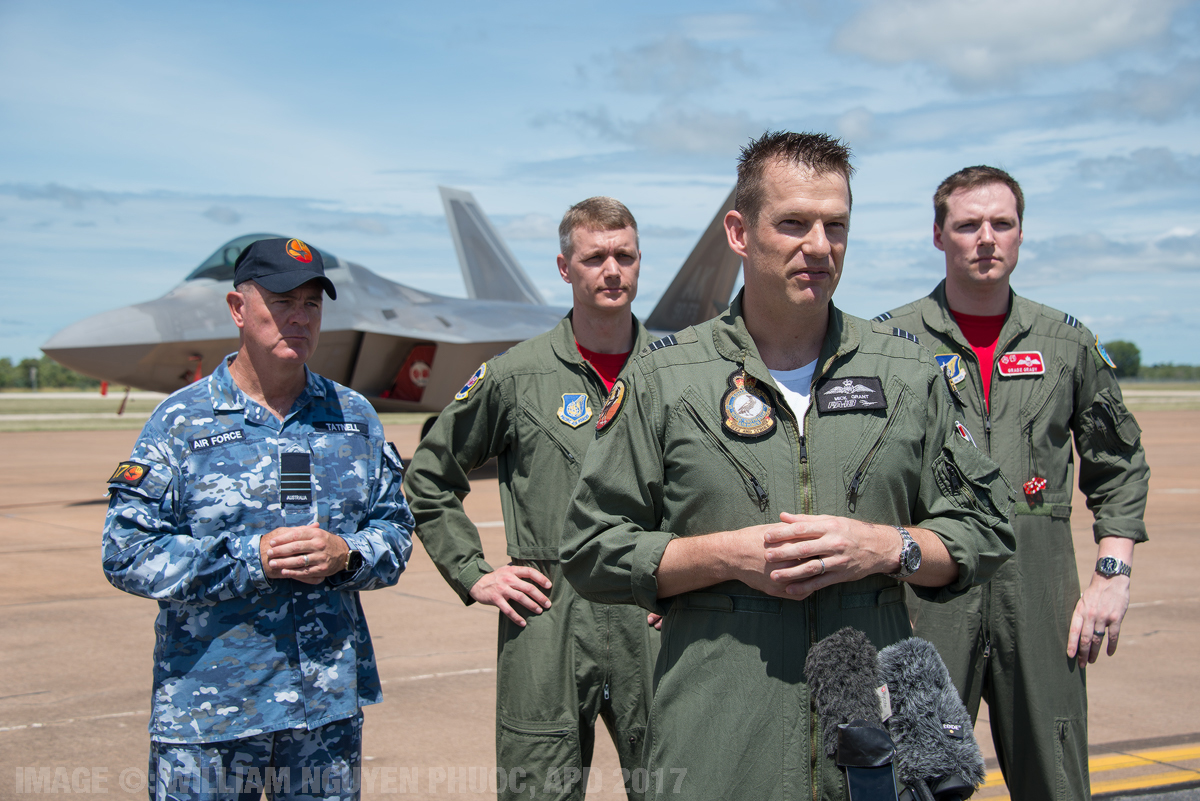 APD spoke to Wing Commander of RAAF number 75 Squadron 'Magpies' Micheal 'Mick' Grant, the squadron is equiped with F/A-18A/B+ Hornet and is the tenant squadron of RAAF Base Tindal. We get the WGCDR's thoughts on utilising 10 F/A-18A+ Hornets training with the 90th FS and growing together in that all important interoperability.
"Well firstly may I say how privileged we are to have the first ever operational deployment of a F-22 squadron to RAAF Base Tindal, and also how great it is to host and train with our mates from the 90th in our own backyard."
"Our focus from a commanding officers perspective is that of interoperability and developing between ourselves integrated tactics between a 5th generation aircraft example being the F-22 Raptor and a 4th generation aircraft being the F/A-18 Hornet, so basically to explain it in layman's terms is we take all the absolute strengths of a 4th generation aircraft and we combine them with the huge strengths of the F-22 being a 5th generation aircraft. This exercise has allowed us to work together to bundle those packages and strengths from each aircraft to work together against threats simulated in various sorties."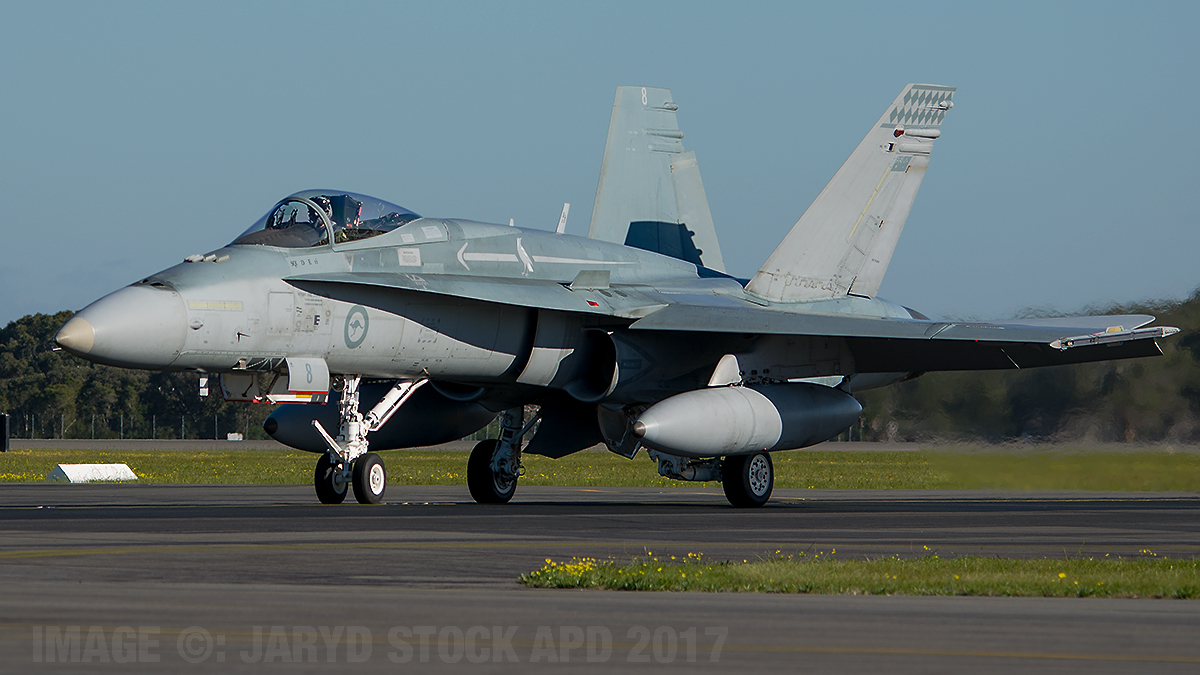 This experience training with a 5th gen aircraft such as the F-22 for 75SQN is something that is priceless in the eyes of the RAAF which soon will begin converting from 4th gen F/A-18A/B legacy Hornets to the 5th gen F-35A Lightning. WGCDR Grant continues on talking about what this current training is doing in helping the RAAF prepare for the F-35's introduction into service.
"Well as the F-35 comes online in a couple years that transition from Hornet with it's systems to the Lightning and its systems will not happen overnight, it will take a number of years to achieve. So whilst the training between 75 squadron and the 90th is fantastic for us and the Australian and United States alliance it is also really critical for Australia and the RAAF, because we will have that transition period where F-35's will be training with our legacy Hornets in the same scenarios that we have been undertaking over the two week exercise. And to be frank we need to be the best at it and that training we are getting over these couple of weeks is also apart of the focus here at the moment."
"The pleasing thing for us is we'll take away some lessons that will be learnt training alongside the 'Dicemen' it's been a very busy time for us where we have just come back from operations elsewhere where we have been operating with the USAF, and sometimes when we have two very different aircraft apart of two different squadrons from two countries things don't line up so to speak, but I can say confidently and happily that working along with them in this first EAC deployment has gone swimmingly it's been great."
"The benefit for us is more to the point, that on the integration level between personnel that is the more important factor for us, it has been fantastic especially when it has been those integrated tactics we have worked on utilising the 4th and 5th generation aircraft, so we are building experience in our aircrew to be competent in those integrated tactics. And from my aspect too, working on those logistical and admin things that are apart of any deployment my attention is on those, but my mind is on making sure we gain that experience in integration between the two units."
Lieutenant Colonel David Skalicky commander of the 90th FS was thrilled to be able to come to Australia with the team he leads, and be a part of something special where typically the only time his squadron would train with RAAF units would be at major exercises such as Red Flag in either Alaska or at Nellis Air Force Base in Nevada.
The Lt Col explains, "Well this is a great opportunity for my squadron to come and work with 75 squadron on an exclusive one-on-one basis. We very rarely get the opportunity to train together on a unit-to-unit basis. Our units have worked together in large scale combat operations before, we've worked together in various exercises before, but this exercise has made all of us, whether we're on the ground or in the air working together with our Aussie mates, it makes us a better team. Because we're working as a team we're better prepared and equipped to deal with emerging threats that might be challenging security anywhere in the world."
"For me personally, it's been fantastic to see the integration at work, and also to witness the logistical side of both of our forces working together. That has been phenomenal and something I am very proud in."
He continues, "One thing I'd also like to point out about our deployment is it's not just about the 90th Fighter Squadron. We have aircraft such as C-17s and KC-135s and airmen and women from those units that have supported the 90th's deployment to Tindal. They're also being integrated into the EAC and represent the larger logistical side of this team environment. So in bringing those logistics forces down, we're seeing that not only is the fighter to fighter integration between the units great, but also the logistical integration between the two forces is great as well."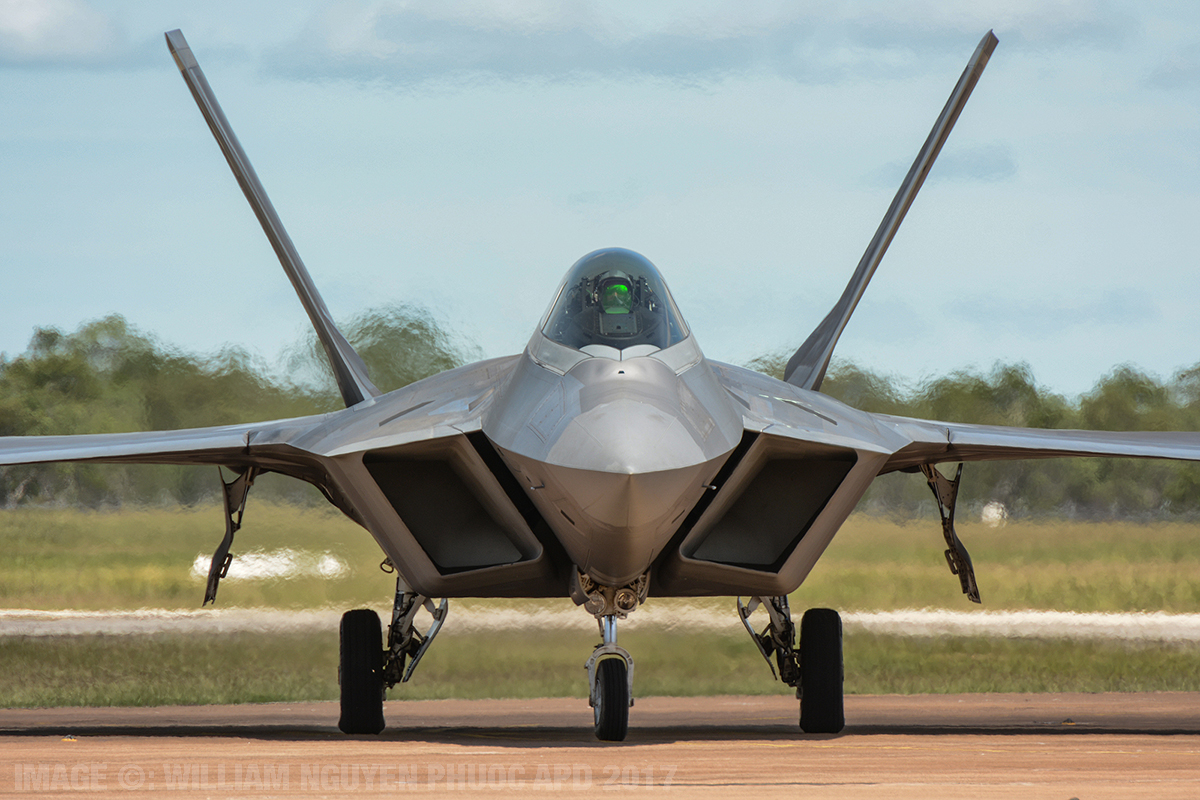 "The EAC makes sure that all spectrums of a deployment from maintainers on the ground to pilots in the air, everything works well together, and we are seeing positive effects when we combine our units and our efforts together as a team and meet the goals we set out to achieve. We also sent out a small team of F-22s, a C-17, a tanker, and several maintainers to RAAF Base Townsville on top of being based here at Tindal. That was an opportunity to really stress the logistics side of how we've been operating here. We wanted to see if we could operate out of a different base here in Australia and test the logistics side of deploying F-22's to multiple locations from an already deployed location."
A Close Friendship Forged Over 75 years
The 'The Dicemen' have a unique relationship with Australia and the RAAF, and that relationship was forged in hardship in a time of war. Back in World War II as war broke out across the Western Pacific the 90th Bombardment Squadron as it was known back then operated in the South Pacific flying A-20 Havoc and B-25 Mitchell aircraft out of the Northern Parts of Australia.
That tradition of the 'The Diemen' working with Australian forces continues today more recently pilot exchange programs have been already been initiated for a long period of time between the RAAF and USAF. The idea behind the exchange program is for a pilot from within the RAAF Air Combat Group (fighter pilot) be rated to fly a USAF fighter type and then be integrated into a USAF squadron in the United States. That integration involves daily training and ground training with that USAF unit as any member of a particular unit would carry out.
The premise of the exchange from the Australian point of view is to gain a good and solid understanding of how Australia's allies work and how they operate, and taking those techniques and knowledge gained and applying them to the RAAF's completely integrated 5th generation force under Plan Jericho. From the United States side of the exchange program is they gain a highly experienced fighter pilot embedded into their squadrons and also learn a different perspective on how to achieve goals and tasks set within the various missions carried out.
It's about that all important interoperability and cross talk between nations, but on a much longer term than a three week training exercise.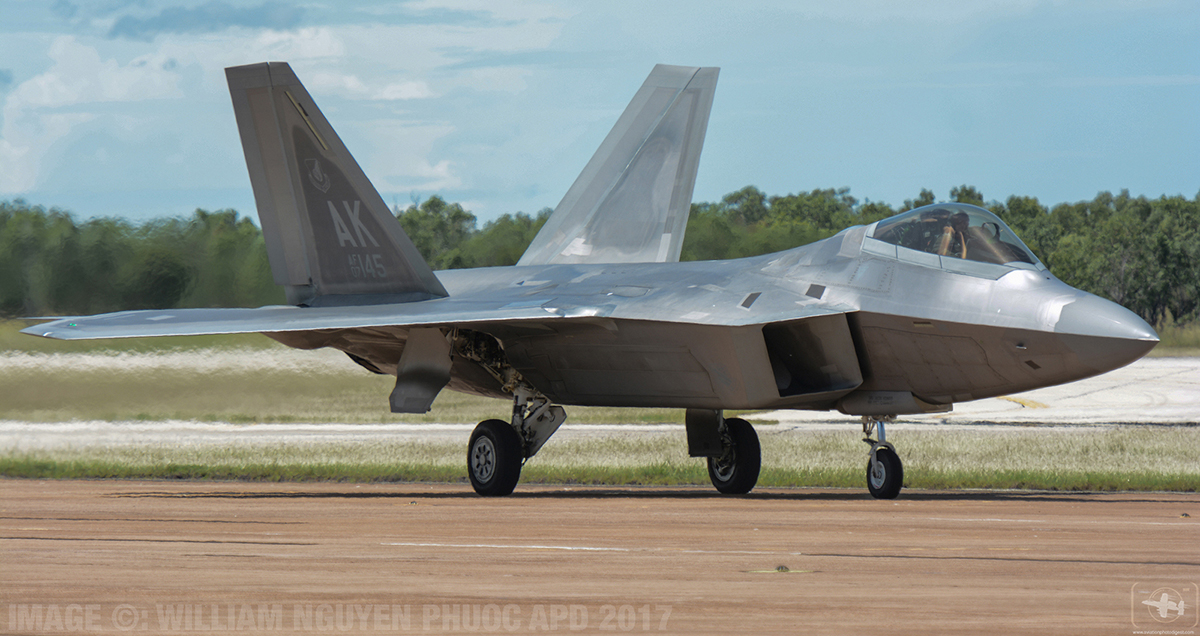 Apart of the 90th FS team this tradition is in effect with RAAF Flight Lieutenant William 'Gradz' Grady an exchange officer to the 90th FS on a three year exchange program with 'The Dicemen' which began in November 2014 and will then return to the RAAF in December this year. FLTLT Grady after qualifying to fly F/A-18 Hornets with Number 2 Operational Conversion Unit (2OCU) was assigned to Number 75 SQN at RAAF Base Tindal for three years before enrolling in the Fighter Course Instructor (FCI, RAAF's version of the U.S. Navy's Top Gun) he then returned to 2OCU as an instructor for the next FCI course that was established, then following that headed to Number 3 SQN as a tactician before a opening on the exchange program was made available.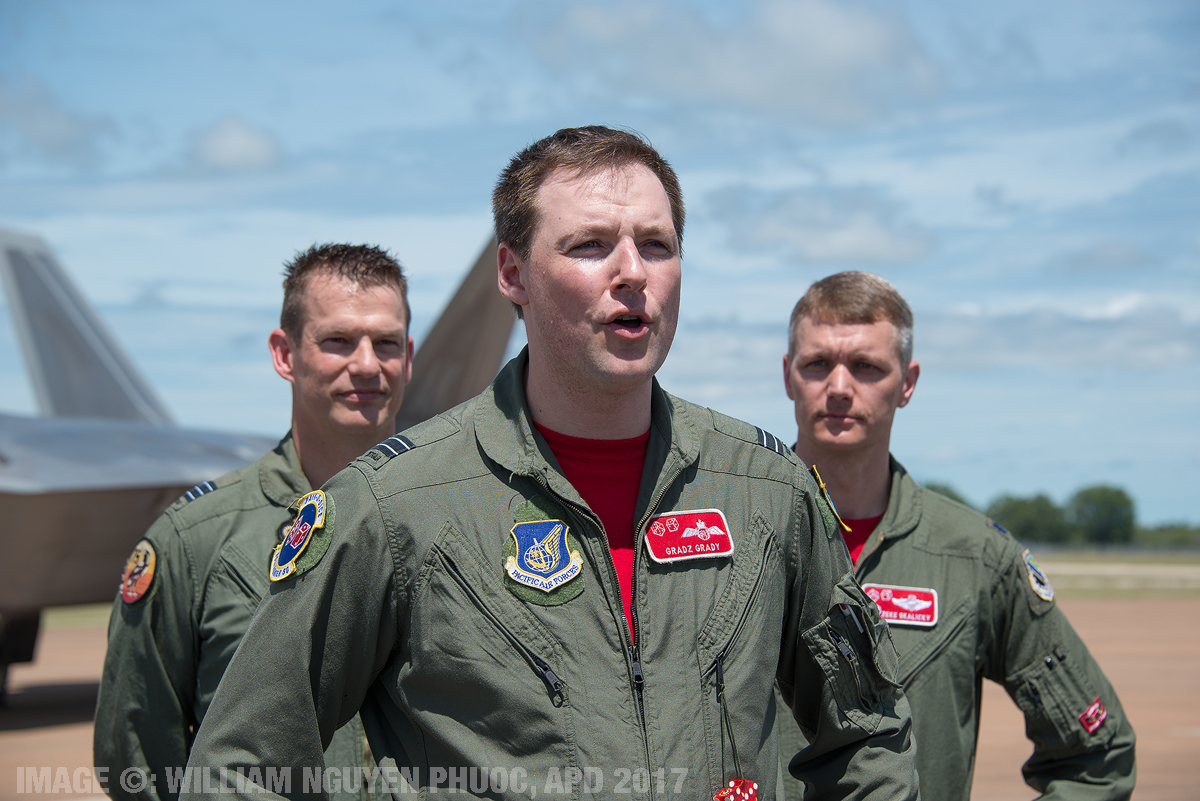 LtCol Skalicky stated that FLTLT Grady was an integral part of the team and a phenomenal asset to 'The Dicemen' . The LtCol says in his glowing endorsement of FLTLT Grady, "I would like to add that FLTLT Grady is a little modest when talking about what he brings and what a real asset he is to the squadron. He was actually the 90th's and 3rd Wing's instructor pilot of the year for 2016 which is an award that was competed for by the entire 3rd Wing so that's five different USAF squadrons with various aircraft, and he won the award for being the instructor of the year. So I can confidently say he's a true asset to not only the 90th and 3rd Wing but also to the RAAF and I want to go on record and say how honored I am to have him in my squadron and part of the United States Air Force."
APD spoke to FLTLT Grady on his role in the 90th FS and also what it means for him to be back in Australia planning some of the scenarios that were apart of the exercise.
He says, "It's a fantastic opportunity for me personally and professionally to be apart of the exchange program and to be back home it's great. When asked about if he enjoyed flying the F-22, and what he can bring to this exercise for everyone to learn, he says: "Even though I love flying the F/A-18 I really love flying the F-22 it's a fantastic aircraft. That is not only my role here at Tindal I also act in an weapons adviser role so for this particular exercise I built a scenario and all the special missions that go along with that, and I also did the coordination with the air traffic control and base services to provide the logistics that goes with the scenario utilising the C-17's and KC-135's. So talking about what we were talking about before in learning and growing together I hope in designing those scenarios I have been able to help the team effort in being able to learn more on how to work together as a team."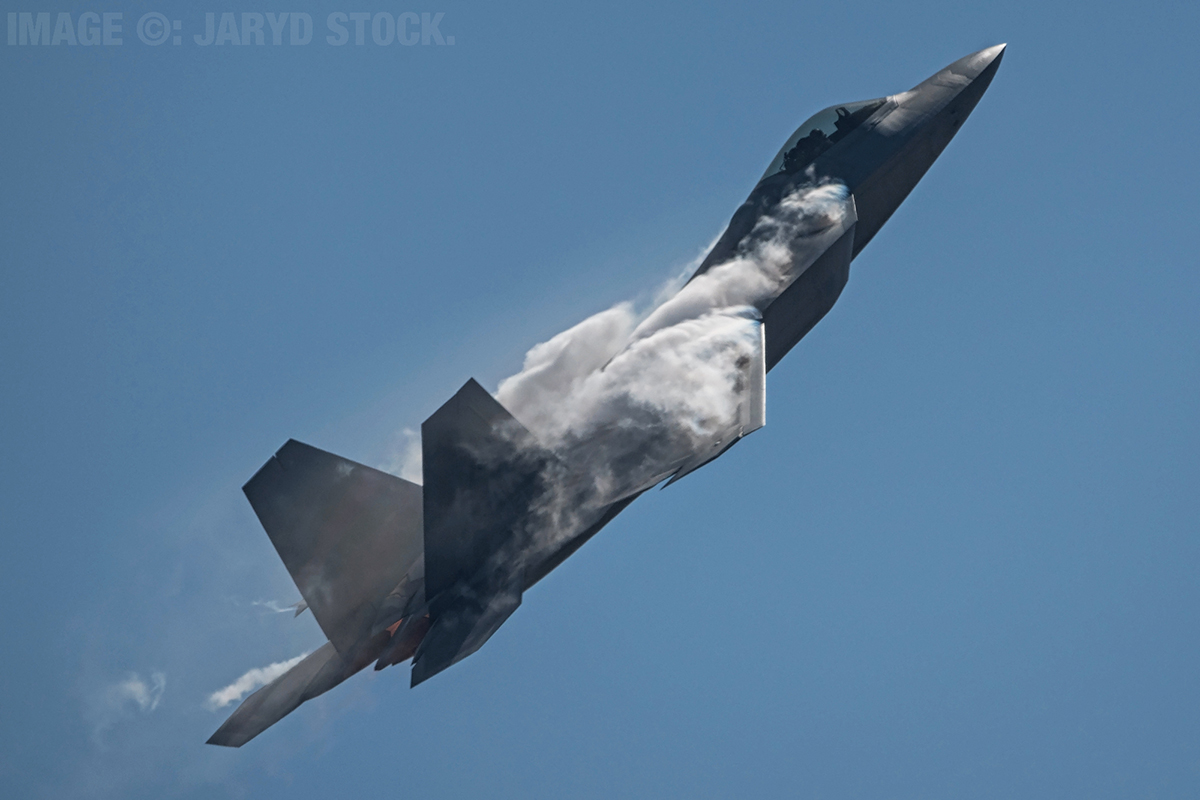 The partnership between the RAAF and USAF is only going to get bigger and stronger, on a political level this is the U.S. and Australian Governments and their respective Defence Departments commitment to each other in ensuring that the ties forged so long ago in conflict will stand the test of time. On the military side of things this level of working together is only going to strengthen ties between friends allowing them to build in their knowledge of how each other goes about achieving a common goal in working as a coalition anytime, anywhere, around the world.
APD would like to thank the following for their help:
WGCDR Tatnell RAAF Base Tindal
WGCDR Grant No. 75SQN
Lt Col Skalicky CO 90th FS
FLTLT Grady RAAF Exchange Officer
SQNLDR Smith RAAF PA
MAJ Hodge PACAF/PA PAOC Baysmore
JBER PAO Ms Hobson
ADF PAM NT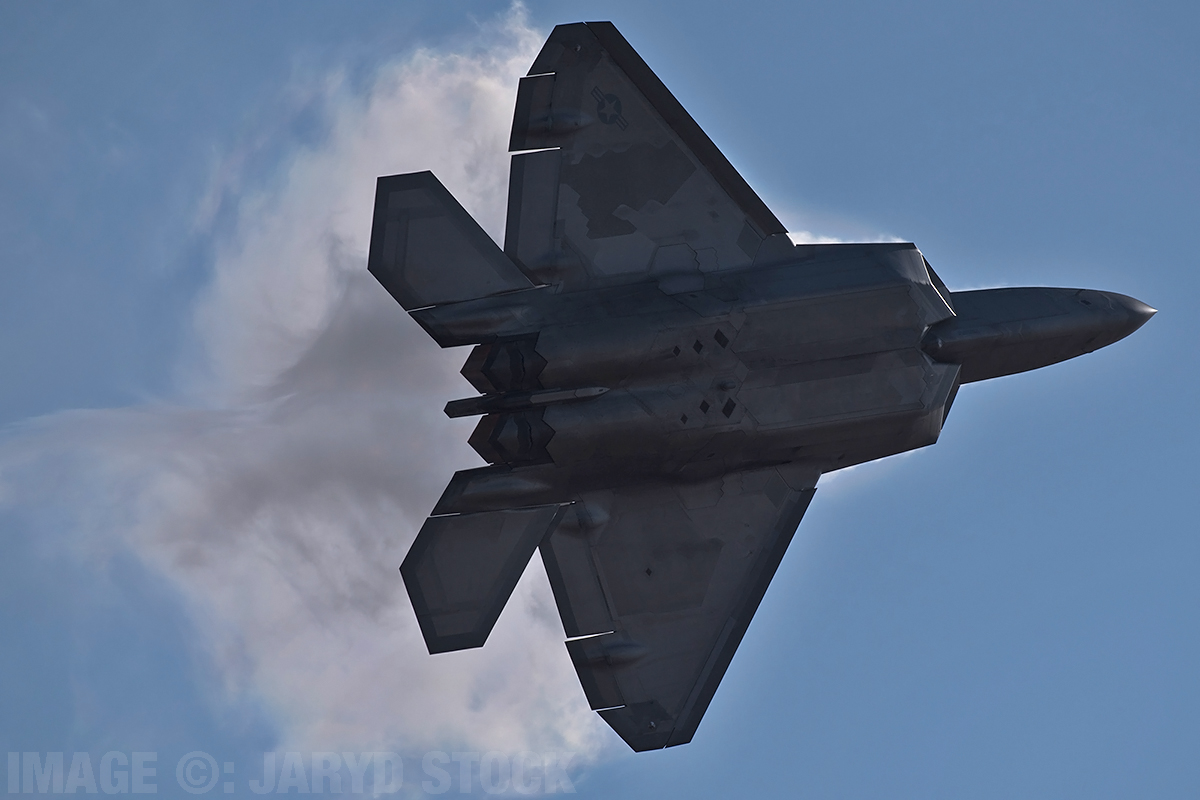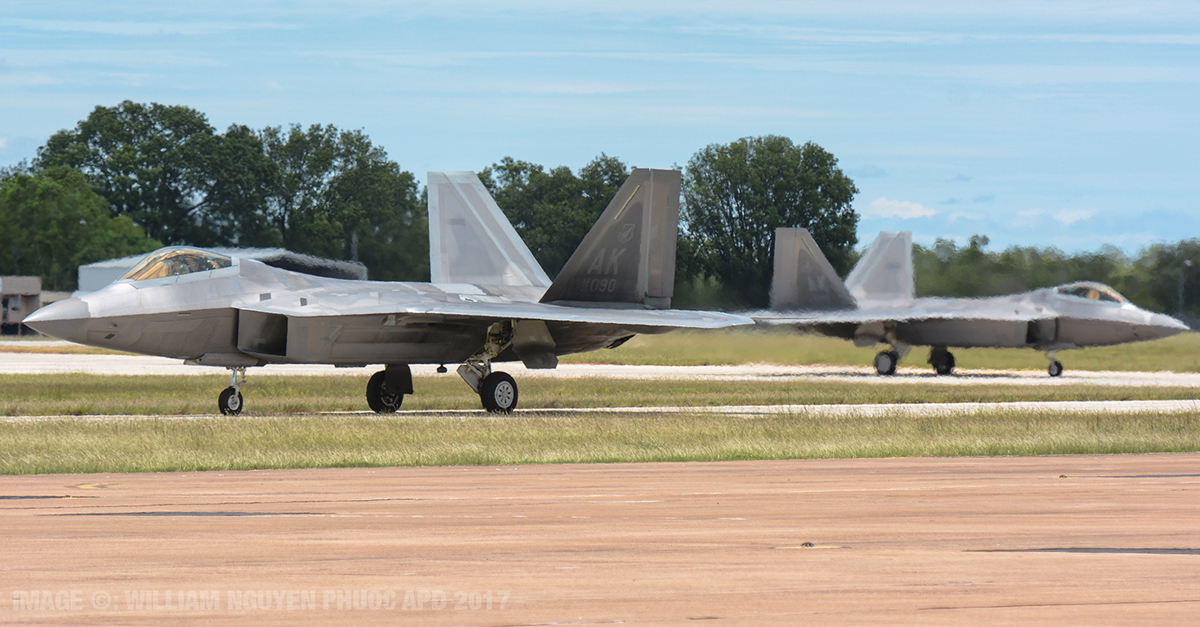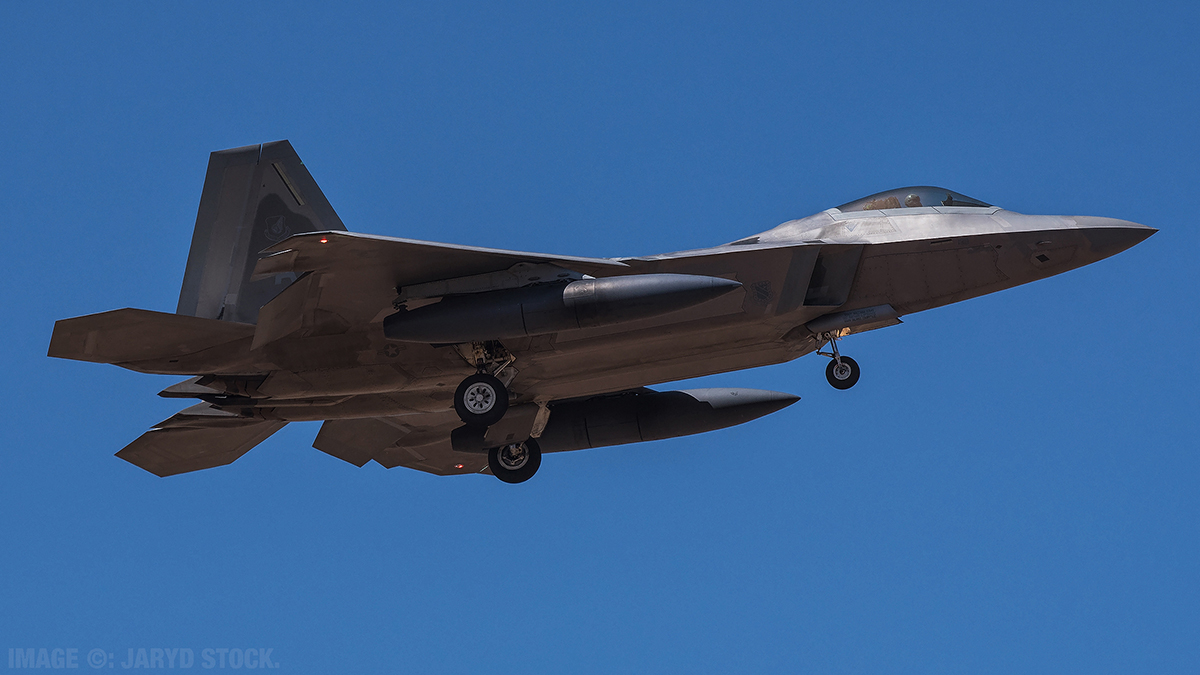 Click on an image below to page or swipe through the gallery: