77 Years and Still Going Strong
Royal Australian Air Force No.77 Squadron celebrates a milestone
Report by Jaryd Stock
Photos by Jaryd Stock, Nathan Rundle and Commonwealth of Australia, Department of Defence
July 5, 2019
Royal Australian Air Force's No. 77 Squadron (77SQN) conducted a flypast over RAAF Base Williamtown yesterday (5th of July), including the local Lower Hunter and Port Stephens region in a "double seven" formation celebrating 77 years of operations.
The formation included 16x F/A-18A/B Hornets from 77SQN which is a Tennant squadron from RAAF Base Williamtown.
The aircraft departed the base at around 11am and conducted the formation over Nelson Bay, Medowie, Raymond Terrace and Newcastle between 11.20 – 11.40am before returning to base at approximately 11.45am in the formation then broke to conduct to beat up over 77SQN headquarters at Williamtown.
The significance of the double seven formation was poignant as it was also flown back in 1955 using the Gloster Meteor aircraft 77SQN operated, when the Squadron conducted a return to Australia tour at the end of the Korean War.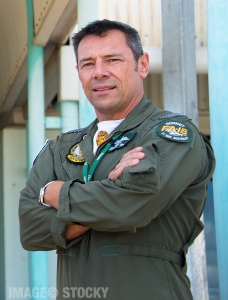 Commanding Officer 77SQN Wing Commander (WGCDR) Jason Easthope said that these flying activities play an important role in acknowledging the unit's proud history, upholding its rich legacy and honouring the sacrifices the Squadron has made.
"77 Squadron is a front line Operational Fighter Squadron which has supported campaigns in the South Pacific, Korea, Malaysia and most recently in Iraq," WGCDR Easthope said.
"We are also nearing the end of an era, where in 18 months 77SQN will cease Hornet operations and transition to the F-35A Joint Strike Fighter."
"The Hornet has served Australia well over the years and this commemorative flypast is also part of acknowledging that."
In May APD spoke with WGCDR Easthope during exercise Diamond Storm as the squadron was deployed to RAAF Base Tindal to conduct Defensive and Offensive Counter Air missions.
Up to that point it had been a very busy year for personnel of the squadron, deploying to various parts of the world to participate in exercises most notably Red Flag 19-1 at Nellis Air Force Base in Nevada, and also participating in numerous community based events around Australia.
With personnel working around the clock to keep the squadron at its normal working tempo during Diamond Storm and other exercises WGCDR was proud of the 77SQN team.
"My team has been charging hard since Christmas and I'm immensely proud of all the personnel at 77 Squadron." WGCDR Easthope said.
He continues, "In reference to Diamond Storm it's been a big slog for 77 Squadron in the contents it has been a busy year. And I am really proud, everyone is focused and everyone in the squadron goes that extra mile that they know what will be the answer to certain problems or questions raised and they just get those things done.
And what is awesome as a commander is that I see everyone is self-motivated and it makes me really proud to be a part of a team that is focused like that right down from our youngest, newest AC that has just joined the squadron this year that hasn't even absorbed the history or journey up to this point through to the senior people including myself in the squadron."
He finishes by saying, "The squadron is just great to be a part of."
77 Squadron is still at the forefront of the frontline fighter squadrons that make up the RAAF's Air Combat Unit. Soon it will transfer its operations to the F-35A Lightning II, but until then the squadron will operate the mighty F/A-18A Classic Hornets which will still be able to bare some teeth until that time WGCDR Easthope thanked the local community for their ongoing support of the squadron for yesterday's flyover of the base and surrounding areas.