BHR and 31st MEU combine for Talisman Sabre 17
Report by Jaryd Stock
Images by Timothy Hillier and Jaryd Stock
August 2, 2017
Forward deployed to Sasebo, Japan. The USS Bohnomme Richard and the 31st Marine Expeditionary Unit are at the forefront of operations during TS17.
Flanked by a U.S. destroyer and four Australian frigates, the Bonhomme Richard Expeditionary Strike Group successfully executed elements of the 'Up-Gunned ESG' concept while participating in more than two weeks of live action training as part of Talisman Saber 2017 (TS17).
The field training exercise (FTX) component of TS17 tested a combined and joint forces' ability to respond to a crisis situation. Amphibious forces played a critical role in seizing objectives ashore that allowed a land force led by Australian Army's 3rd Brigade to further deliver stability.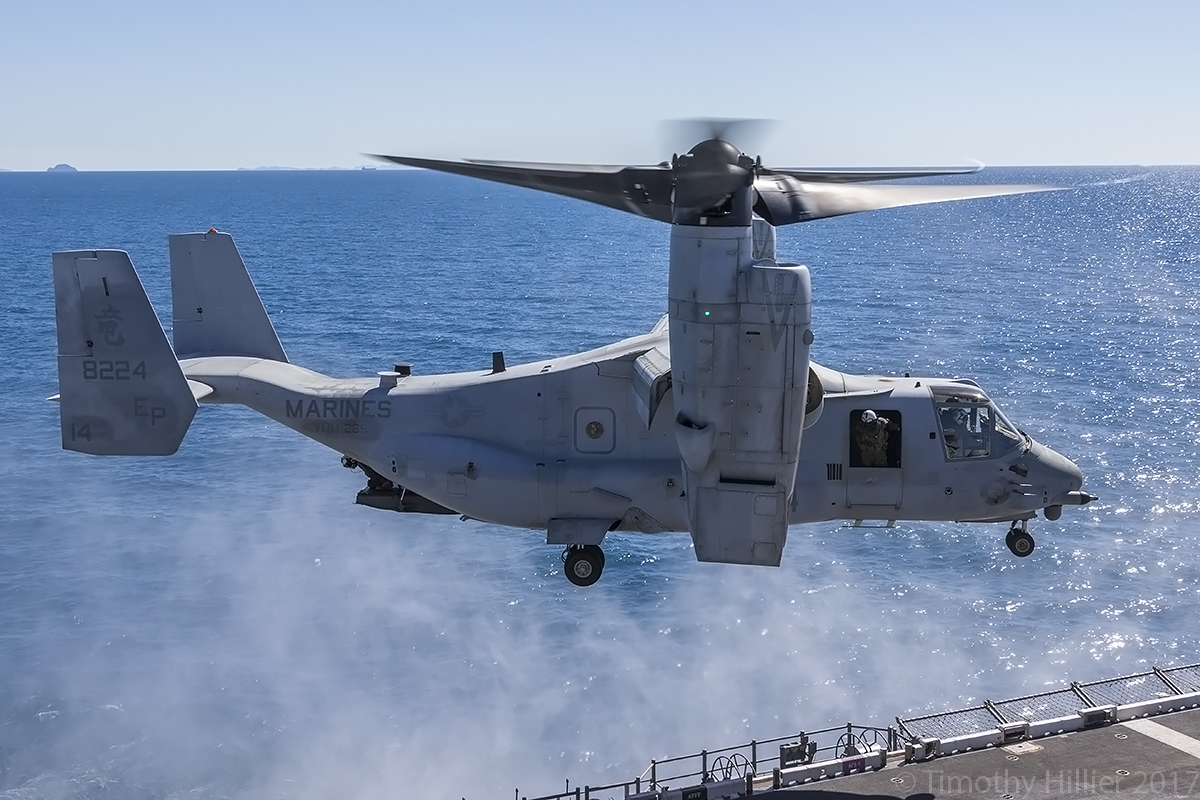 Throughout the exercise, the combined U.S.-Australia-New Zealand amphibious force defended against opposing exercise forces in the air comprising of various assets from the Royal Australian Air Force's "Fighting First" No.1 Squadron F/A-18F Super Hornets, surface, and undersea domains while delivering combat power against both those forces and opposing forces ashore. The scenarios allowed the ESG to flex its sensors, weapons, and maneuver capability to attain sea control and project power ashore.
"Australia has become one of our most capable amphibious allies in the region. Together we showed during Talisman Saber 17 that we are ready to fight our way into the littorals and simultaneously control the seas and land," said Rear Adm. Marc Dalton, commander, Expeditionary Strike Group 7 and commander of the combined amphibious force for the exercise. "I couldn't be more proud of our combined team. We integrated our warfare commanders, ships and embarked ground forces to successfully take the fight to the opposing forces."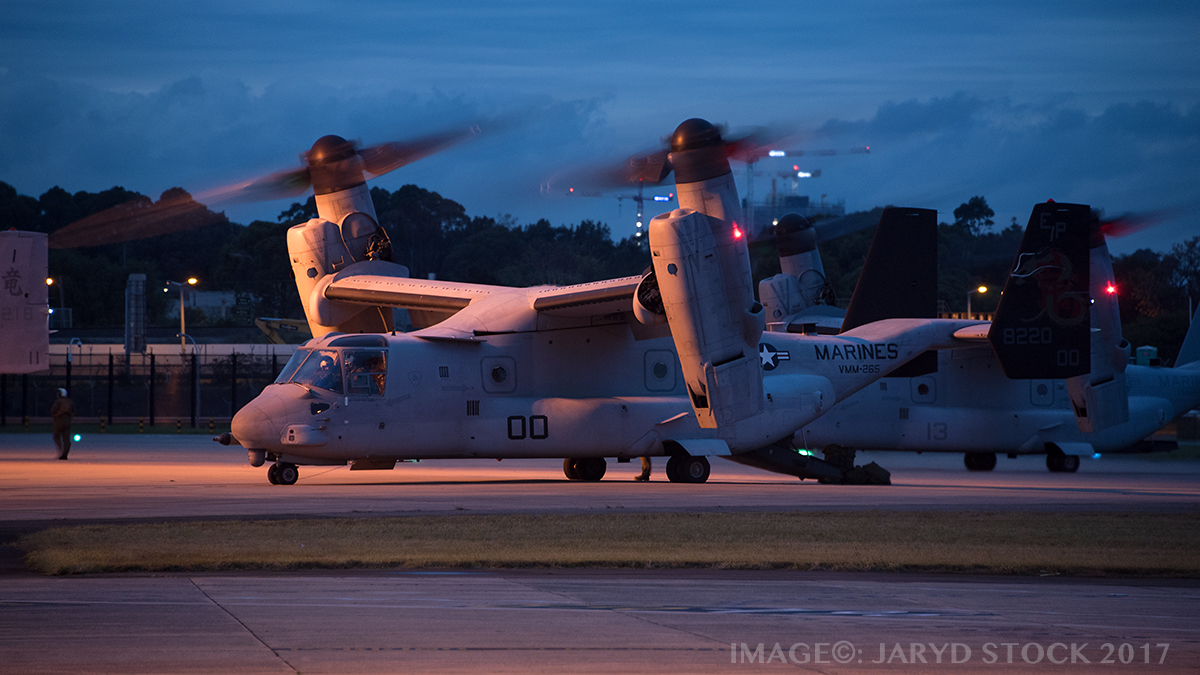 Talisman Saber is a biennial exercise that unites more than 33,000 U.S. and Australian personnel to build on partnerships, interoperability and the ability to respond to contingencies in the region. The exercise also doubled as ESG 7's certification exercise to remain the Navy's only forward-deployed certified expeditionary strike group staff.
The myriad of maritime threats put ESG watchstanders to the test. Sailors manning watch stations in their unit's combat information center (CIC) had to remain vigilant in using pre-planned responses and simulating employment of weapons systems in defence of the ships at sea. As some watchstanders worked to determine a sub's location, others were coordinating attacks to destroy opposition surface ships.
The Royal Australian Navy Fleet Battle Staff embarked the amphibious assault ship USS Bonhomme Richard (LHD 6) to perform duties as the Sea Combat Commander, managing U.S. and Australian surface forces, multi- mission helicopters, and shore-based maritime patrol aircraft to take control of the surface and undersea from opposing ships and submarines.
While the Fleet Battle Staff was on Bonhomme Richard, the Adelaide-class guided-missile frigate HMAS Darwin (FFG 04) was in charge of the air defense of the ESG, keenly monitoring the skies and directing lethal surface- to-air fires when needed.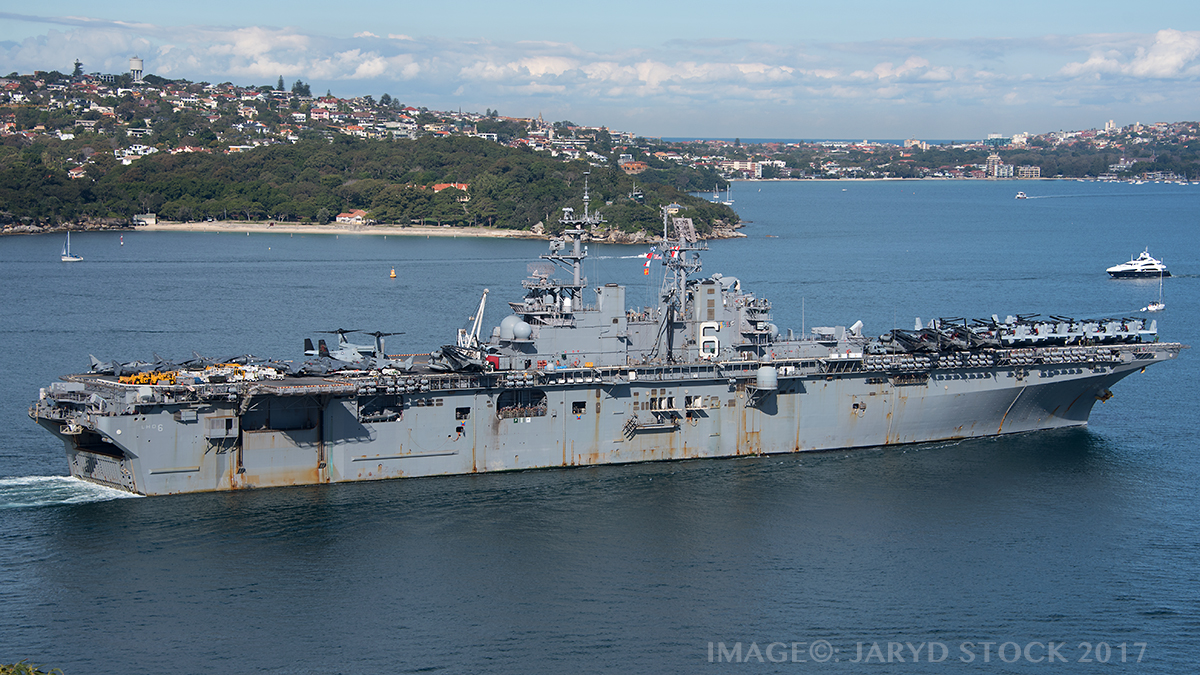 Both Australian-led warfare areas were critical to the survivability of the force.
"It was professionally and personally rewarding to be a part of something like this, where we could feel so integrated and part of an amazing team to accomplish the mission," said Lt. Cmdr. Aaron Scott, future operations officer for the Fleet Battle Staff. "The grouping of Australian frigates alongside the USS Sterrett allowed us to fold in tenets of distributed lethality, effectively using a number of sensors and weapons to protect the force. It was impressive to see how we were able to leverage each other's capabilities to achieve a combined effect."
Talisman Saber was also venue for testing capabilities across a wide spectrum. To add increased capability, the Bonhomme Richard embarked MH-60R Seahawk (aka: Knighthawk) helicopters assigned to the "Saberhawks" of Helicopter Maritime Strike Squadron (HSM) 77 who are deployed with USS Ronald Reagan (CVN 76). While the concept has been used in exercises like Rim of the Pacific, it was the first time MH-60Rs had been embarked on Bonhomme Richard in the Forward Deployed Naval Force.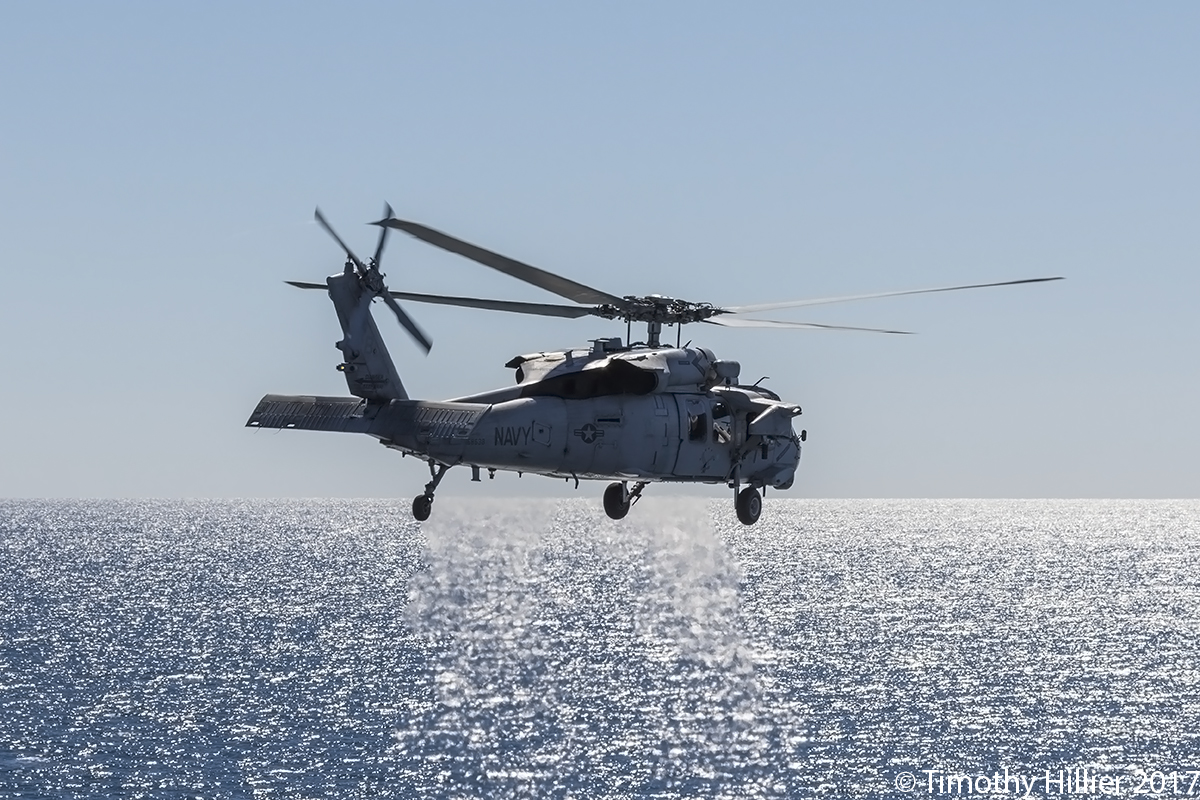 MH-60Rs provide long-range surface search and undersea search capabilities, as well as offensive firepower within the Up-Gunned ESG concept.
"It was great to work with a coalition partner and practice these skillsets," said Cmdr. Newt McKissick, executive officer of the "Saberhawks." "It was also a rewarding experience to partner with the Marine Corps and contribute Navy air capability."
Once in the littorals, the ESG conducted its primary mission: launching Marines ashore. A wave of landing craft and U.S. Marine Corps aircraft transported 31st Marine Expeditionary Unit Marines and equipment to landing zones at various junctures in the exercise. MEU Marines trained with the Australian Army within the framework of crisis response once ashore.
The expeditious offload of Marines ashore demonstrated ship-to-shore amphibious capability.
"Amphibious forces remain the heart of the ESG and our Sailors, ships and landing craft personnel did an amazing job off-loading the Marines safely and effectively," said Capt. George Doyon, commander, Amphibious Squadron 11, who commanded the amphibious operations for the strike group. "This exercise has challenged and made us better. I am confident we could stand together with Australia to respond to a contingency."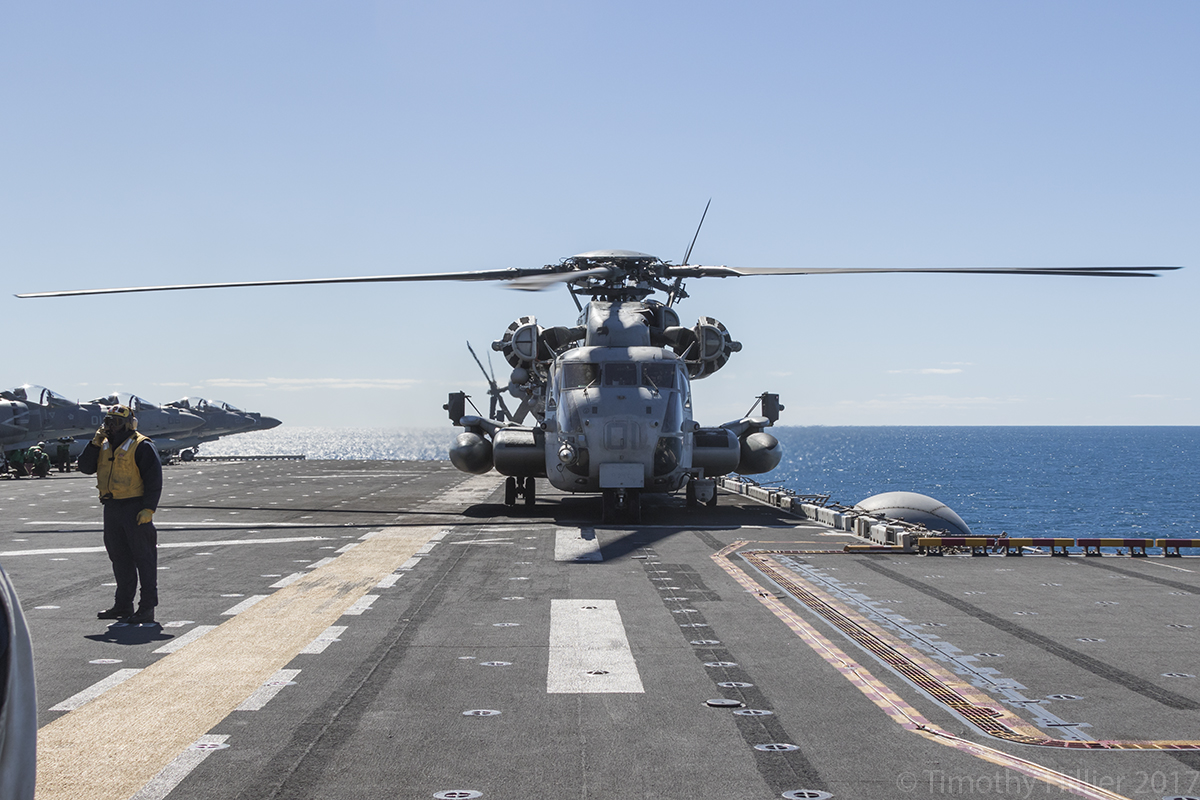 The U.S.-Australia-New Zealand amphibious force is the aggregate of a U.S.- led expeditionary strike group, an Australian-led amphibious task group, and a number of Australian and U.S. escort ships. The Royal Australian Navy amphibious assault ship HMAS Canberra (L02) has been serving as the amphibious assault ship counterpart to Bonhomme Richard.
The U.S. contribution to the expeditionary strike group consisted of USS Bonhomme Richard (LHD 6), USS Green Bay (LPD 20), USS Ashland (LSD 48), USS Sterett (DDG 104), Naval Beach Unit 7, Sea Helicopter Combat Squadron (HSC) 25, Tactical Squadron (TACRON) 12 and the embarked 31st Marine Expeditionary Unit.
MEU personnel include nearly 2,300 Marines from Battalion Landing Team, 3rd Battalion, 5th Marines, Combat Logistics Battalion 31, Marine Medium Tiltrotor Squadron (VMM) 265 (Reinforced) operating MV-22B Osprey's, CH-53E Super Stallion's, Bell AH-1Z Viper's and Bell UH-1Y Venom's and Marine Attack Squadron 311 which comprised of AV-8B Harrier's which would be the last time the Harrier would be in Australia as the USMC winds down it's operations replacing the legendary jump jet with the F-35B which would embark on the USS Wasp as the Bonhomme Richard is set to Hull Swap with the Wasp towards the end of 2017.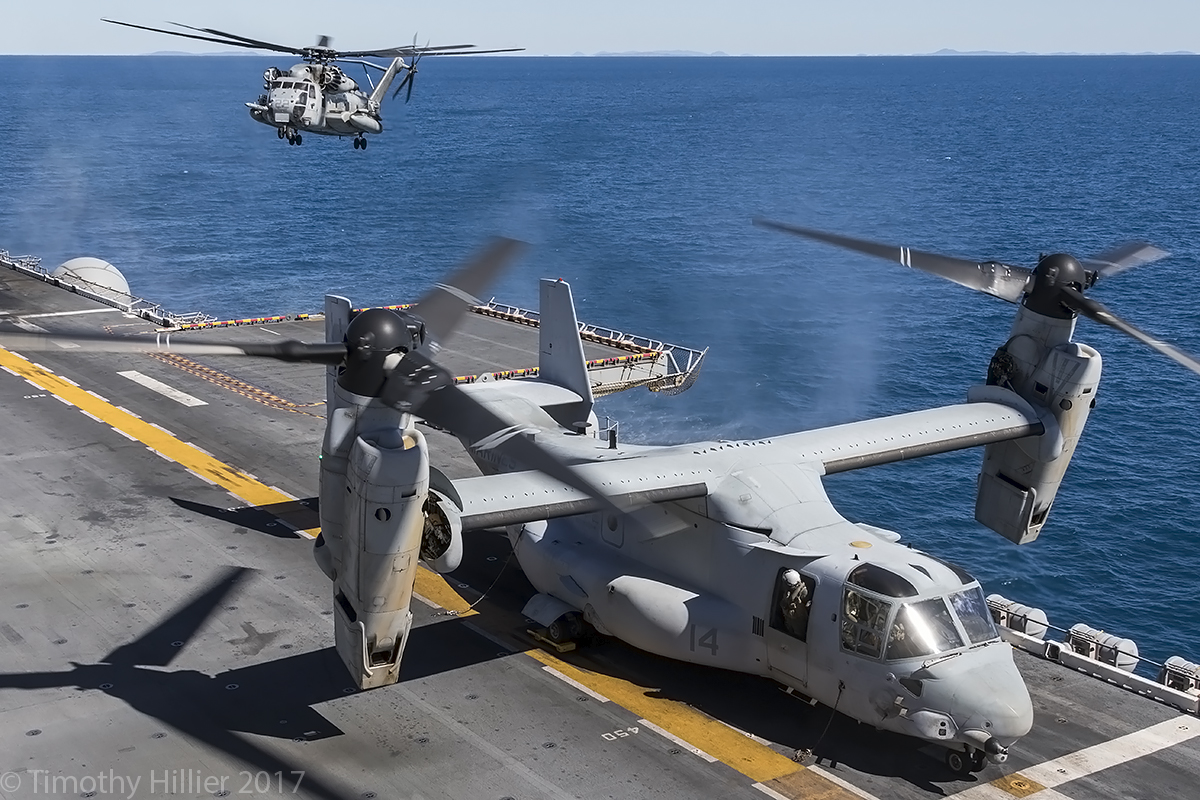 The exercise was a resounding success for the 31st MEU and the members of the Australian military, according to Col. Tye R. Wallace, commanding officer of the 31st MEU.
"Working with our allies and partners has been extremely rewarding. Talisman Saber offers a unique opportunity to increase our interoperability with the Australians," said U.S. Marine Corps Col. Tye R. Wallace, commanding officer of the 31st MEU.
"It is exercises like Talisman Saber that enable the 31st MEU to be ready to respond to contingencies throughout the Pacific. We will remain forward, flexible and ready to face any crisis throughout the region, and are grateful for the opportunity to work with our close allies."
Marines and Sailors with the 31st MEU, supported by the U.S. Navy Sailors of the BHR ESG, fanned out across the sprawling Australian Defence Force's Shoalwater Bay Training Area on Australia's east coast. During the exercise, Marines with the 31st MEU partnered with Australian Army, Air Force and Navy service members while ashore.
The thrust of the exercise included an amphibious assault on Shoalwater's Freshwater Beach. Marines with Lima and India Companies, Battalion Landing Team, 3rd Battalion, 5th Marines, riding aboard Combat Rubber Raiding Craft and Assault Amphibious Vehicles, landed at Freshwater Beach to display the amphibious capabilities of the 31st MEU. Kilo Company, BLT 3/5's vertical assault asset, patrolled ashore as battalion reserve before and during the assault.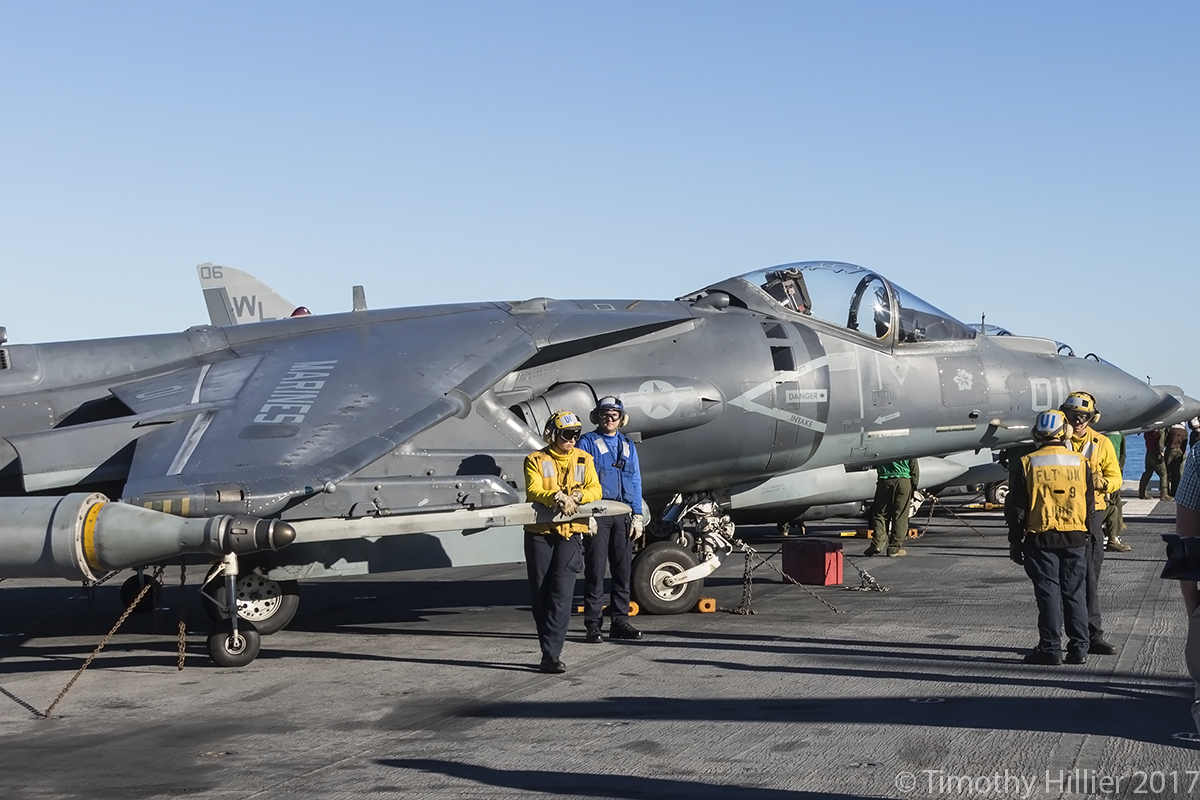 Several miles off-shore, on the bombing range of Townshend Island, Marines with BLT 3/5 and Combat Logistics Battalion 31 refined precision fire capabilities for nearly two weeks. During the three-day long capstone event, a combined joint live-fire exercise, Marines with the 31st MEU, the U.S. Air Force, and Australian Navy, Army and Air Force fired more than 500 155-mm artillery shells and 120-mm and 81-mm mortar shells.
The Australian Navy exhibited their naval surface fire support capabilities from several miles off-shore, targeting and hitting an area no larger than a standard football field.
The display of fire power took months of planning and coordination between both U.S. forces and their Australian counterparts. The accuracy of fire and paramount safety of the CJLFX proved the value of Talisman Saber for both the 31st MEU and the Australian forces, according to Capt. Nathan Jeffcoat, the CJLFX officer-in-charge and commanding officer of Weapons Company, BLT 3/5.
"Each participant in this exercise did phenomenally. From movement ashore, to setting up camp, to actually executing the CJLFX, everything was nearly perfect," said Jeffcoat. "Safety is always a huge concern when live ammunition and ordnance are involved, and everything went off without any issues."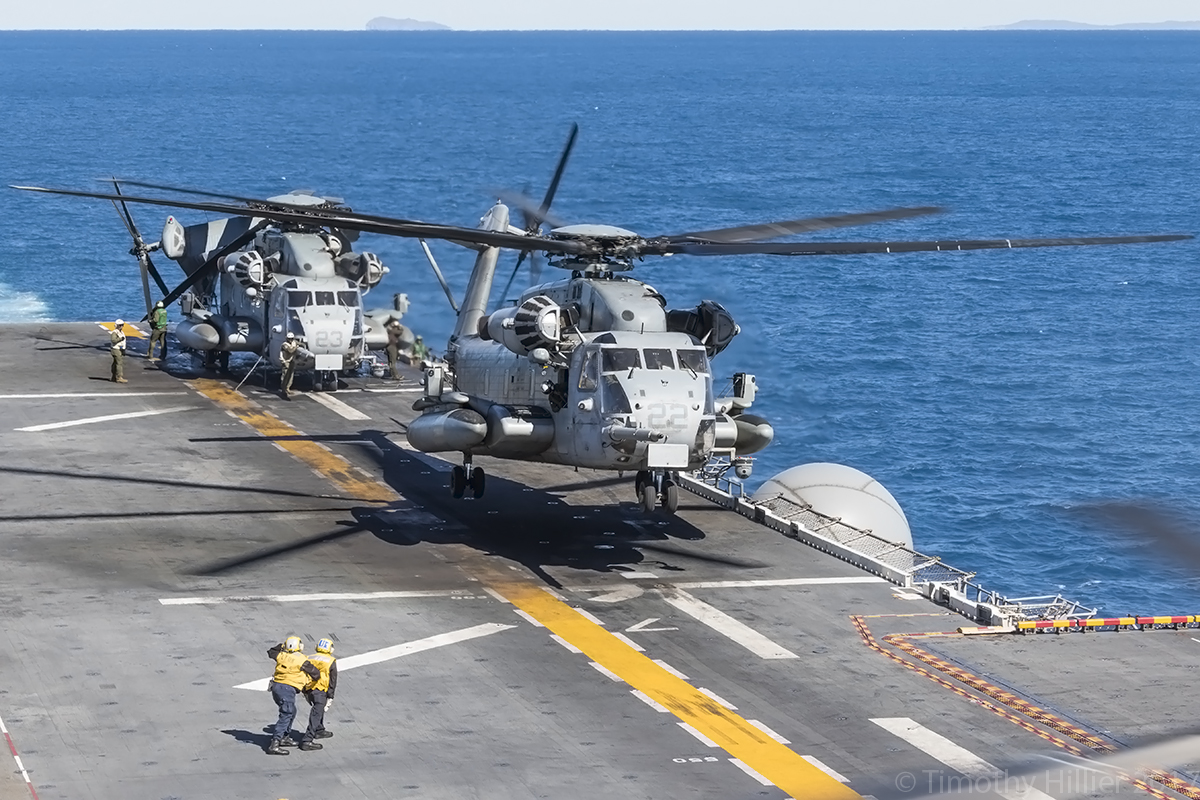 After the resounding success of Talisman Sabre 2017 crews onboard ships apart of the Bohnomme Richard task force are now enjoying RnR as ships dock in various Australian Ports for their Liberty calls, one such ship is the USS Green Bay.
Sailors and Marines assigned to the amphibious transport dock USS Green Bay (LPD 20) pulled into Brisbane for a routine port visit on July 27.
The visit to Brisbane will be a short break from the ship's operations and will give Sailors and Marines a time to relax.
"There is no better way to celebrate the successful conclusion of Talisman Saber than with a phenomenal port visit to Brisbane," said Capt. Nate Moyer, commanding officer of Green Bay. "Speaking from experience, I can say with all certainty that the crew is in for a truly magical experience. All Sailors and Marines aboard are excited and prepared to enjoy some 'R and R' and there is no finer port than Brisbane to do just that. We are very thankful to the citizens of Brisbane for hosting our visit."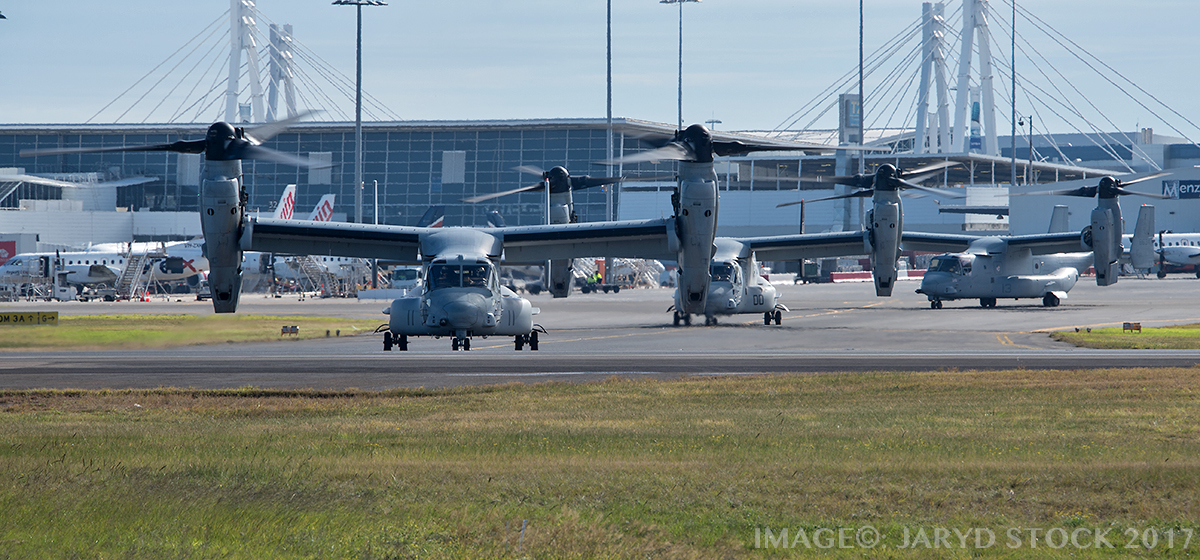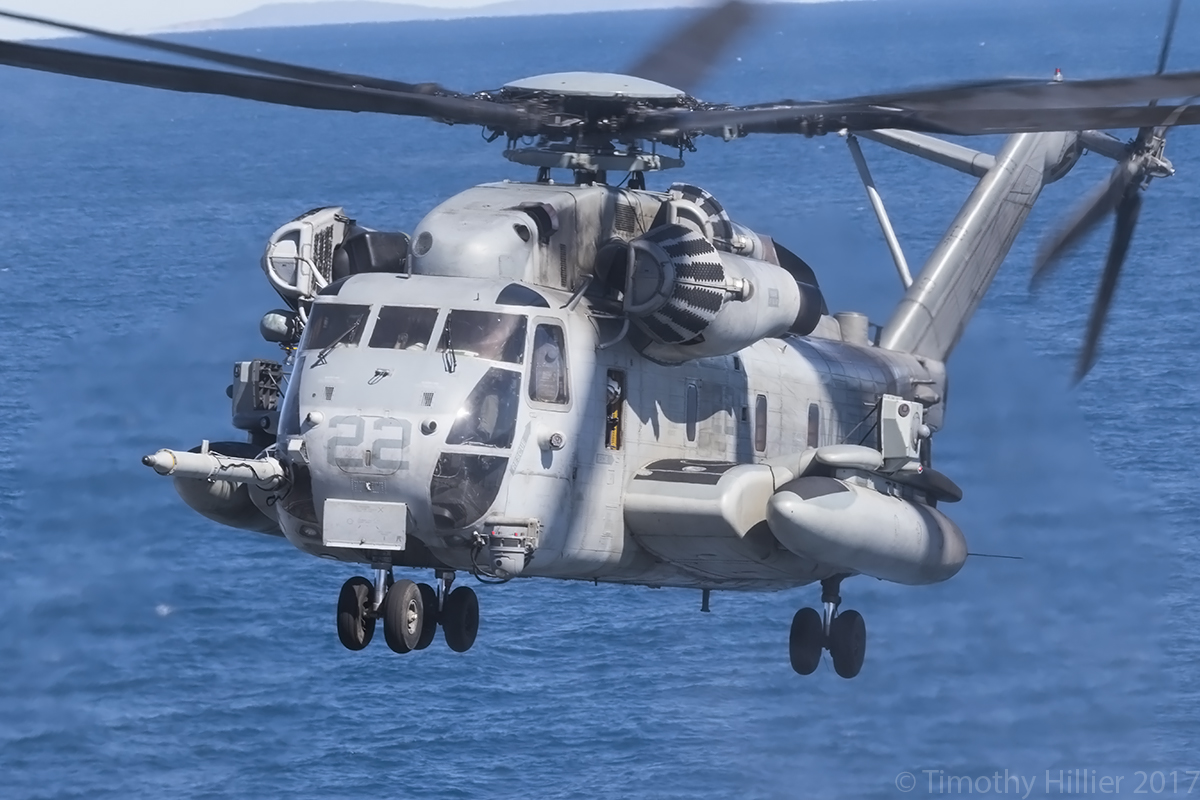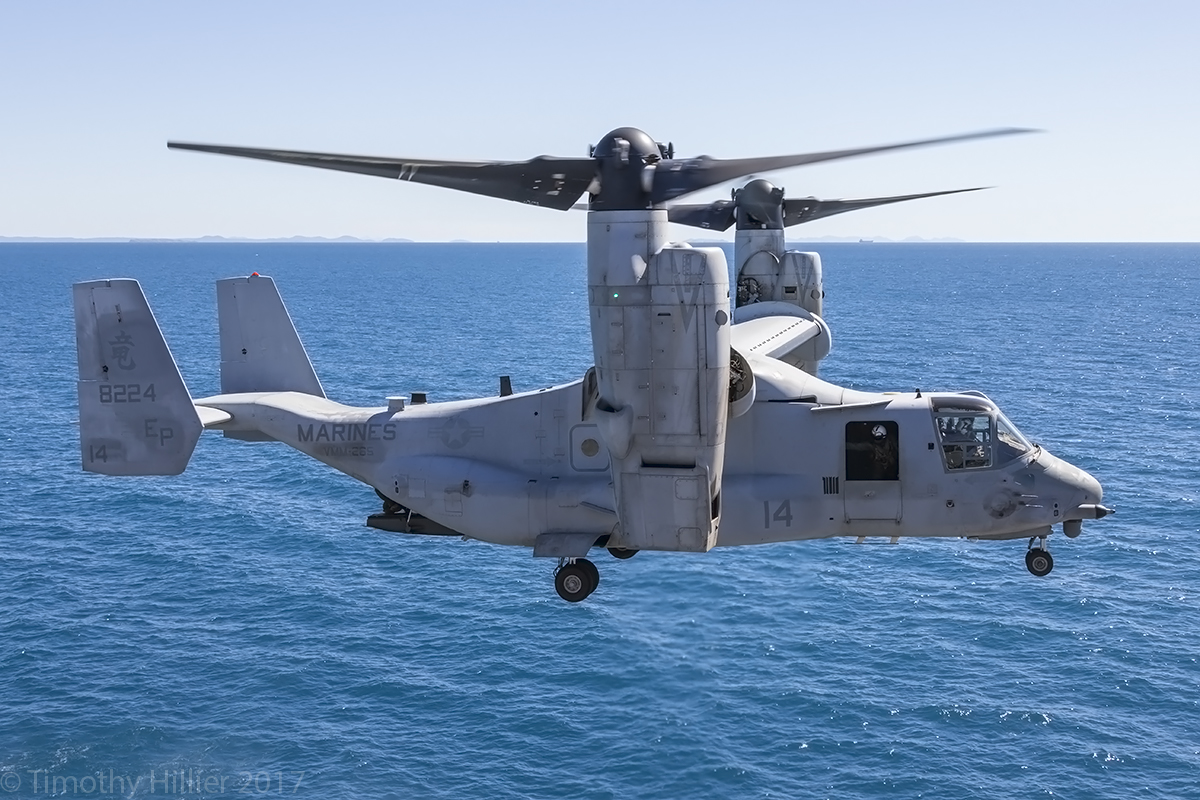 Click on an image below to page or swipe through the gallery: