305th Air Mobility Wing: Can Do, Anytime-Anywhere
APD's Isaac Lebowitz spent some time with the 305 AMW based at Joint Base McGuire-Dix-Lakehurst. Isaac learned about the critical role the 305 AMW plays in the global reach of the U.S. and its allies.
Article and Photos by Isaac Lebowitz
July 27, 2015
he global reach of the United States, and the ability to deploy aircraft, personnel, cargo and deliver humanitarian assistance globally, anywhere at any time, can be attributed to the success of the United States Air Force's (USAF) Air Mobility Wings.
What began as a Bombardment Wing in 1950, the 305th Air Mobility Wing (305 AMW) is now one of the USAF's finest Air Mobility Wings. With the motto "Can Do" (derived from the predecessor unit's courageous and innovative warriors in World War II), the more than 2400 men and women of the 305 AMW conduct strategic airlift and air refueling missions worldwide.
Aviation Photography Digest (APD) spent the day visiting the 305 AMW at Joint Base McGuire-Dix-Lakehurst and after meeting some of the personnel, came away with a new appreciation for the importance of their mission.
Mission
We went to meet with Colonel Erik Simonsen, the 305th Operations Group Commander. Colonel Simonsen described himself as "a career mobility guy" and he currently flies the KC-10. He also has experience flying the C-21 Learjet and the C-141 Starlifter, which was the first purpose built airlifter for the US military.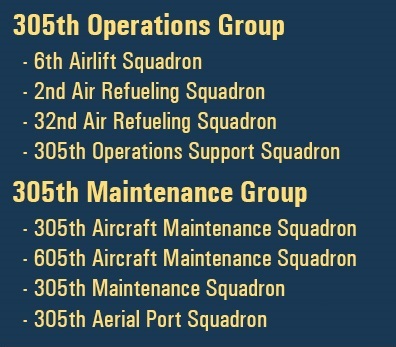 He explained that the USAF has 5 core missions : 1) air and space superiority, 2) intelligence, surveillance, and reconnaissance (ISR), 3) rapid global mobility, 4) global strike and 5) command and control. The Rapid Global Mobility mission capability is provided by the 305th Operations Group, where any place in the world can be reached in a matter of hours. Colonel Simonsen went on to say that "we have airlifters that are extremely capable in the C-17 that can land on short semi prepared runways. Depart here at home station and deliver to Afghanistan direct with a tanker top off. So rapid global mobility shrinks the world down from weeks to hours and days."
Colonel Simonsen described how missions are planned – the requirements come in and then they're sent over to the air operations center at Scott AFB. The mission planning takes into consideration diplomatic clearances if another nation needs to be flown over, a place to land that supports us with fuel and other supplies and crew flying limitations. "So there's a lot of planning that goes into it that is required and they do that along with our folks that are part of our current operations section, they match the plane up with the crew."
Some of the more interesting and rewarding missions have involved medical evacuations. Colonel Simonsen mentioned that there are critical care action teams that will get on a C-17 which gets diverted to someplace where it's needed, while it's out on a mission. "They'll reconfigure the airplane and put one of these teams on it and it'll take somebody that needs significant medical attention back … and that is meaningful because you're saving lives ".
Air Mobility Wings play a crucial role in providing humanitarian support at home and around the world. The 305th Air Mobility Wing participated in recent relief missions for the Nepal natural disaster, as well as, Ebola Relief in West Africa. According to Colonel Simonsen, Nepal relief is a good example of using both airplanes from the 305th AMW – "the C-17 launched, flew over Southwest Asia and we refueled with a KC-10 over the north coast of Scotland which is a capability only we in the U.S. have."
There are thirty two KC-10 and thirteen C-17 aircraft based at Joint Base McGuire Dix Lakehurst. One of the unique things about JB MDL is the fact that there are five branches of the military based there – Army, Air Force, Navy, Marines and Coast Guard. It is the only tri-service base in the US. Having learned about the mission of the 305th AMW, we wanted to find out more about the aircraft and the airmen that maintain and fly them.
Airlift Capability
The Boeing C-17 Globemaster III is a large military cargo aircraft which weighs 585,000 pounds fully loaded and can deliver 100 troops or 170,900 pounds of cargo anywhere on the globe. The C-17 can take off and land on runways as short as 3,500 feet long and only 90 feet wide. The C-17 which has been in service since 1993, can accommodate almost all of the U.S. Army's air-transportable vehicles and palletized cargo, including the Army's M-1 Abrams main battle tank. A normal crew consists of 2 pilots and a loadmaster, but longer more complex missions will consist of 3 pilots, 2 loadmasters and a crew chief.
The C-17 is operated by the 6th airlift squadron which is nicknamed the "Bully Beef Express" because it delivered tons of boiled beef to allied combat troops in Australia and New Guinea during World War II. It is the oldest airlift squadron in the US Air Force, serving with distinction since 1933.
1st Lieutenant Stephen Ching, a C-17 pilot, sat down with us to discuss the C-17 and his experience with it. When asked about some of the challenges performing missions in the C-17, he replied that some of the most challenging are those going in and out of combat zones such as Afghanistan. The aircraft are heavily loaded for these missions, and combined with the difficult terrain and the temperatures in those areas, make for a high workload. One of these missions could typically last 18-24 hours.
In describing the strengths of the aircraft, 1st Lieutenant Ching emphasized its versatility. He went on to say that "We are one of those airplanes that can do both air and land missions where you take off somewhere and you land at an airfield, and aerial delivery into other locations. This airplane's very maneuverable, so that anything we do we can move pretty quickly and on a dime ."
In addition to the pilots, the C-17 has a loadmaster and we met up with Sr Airman Corey Cochran to find out more about the loadmaster 's responsibilities. Sr Airman Cochran described what he does – "I'm the loadmaster, so I'm the supervisor of the onload and offload of cargo. I fly with the jet, I make sure I calculate restraint for flight criteria and then also play a key role with the pilots. Also if we have passengers, I take care of them and whatever needs they have and monitor their safety as well."
He mentioned that the cargo loads create some of the bigger challenges for the loadmaster – they could consist of passengers alone or passengers and cargo. "We can show up and we don't know what we're moving. We just know an approximate weight, we don't know whether it's a full cargo load of pallets or a helicopter – we just have an estimated weight a lot of times, so that's the biggest challenge probably".
Sr Airman Cochran is currently an instructor loadmaster and described the training path to becoming a loadmaster: "We go through a fundamentals course where we get the basic general knowledge of aviation and then we go to our survival schools. Next, we go to Altus Air Force Base in Oklahoma where we actually get our training for the C-17. We do a lot of simulator training and we have a loadmaster station like this in our training rooms, and we actually have a mock cargo floor. So we learn how to do that stuff prior to actually getting on a multi-million dollar jet. Then we actually go through about 5 flights for teaching basic cargo offloads and learning all the restraint criteria. That's the most important part of our job since we don't need cargo shifting in the aircraft."
As for what is the most interesting thing about being a C-17 loadmaster, Sr Airman Cochran said "Just where we're going. You know we've been all around the world and sometimes we get time off in places, so we actually see the cultures of these places we get to go to. We see different sights and also just meeting different people from different countries. Most of them are really accepting and really want to know what it's like in America."
Sr Airman Cochran and Lieutenant Ching both stressed that communication and coordination between the flight deck and loadmaster are crucial to functioning as an effective team.
Aerial Refueling Capability
This capability is provided by the McDonnell Douglas KC-10 Extender. Based on the civilian DC-10, this is a very large tanker aircraft that also has the ability to load 170,000 pounds of cargo. The lower cargo deck contains tanks which can carry 356,000 pounds of fuel almost twice as much as the KC-135 tanker. Fully loaded the KC-10 weighs approx. 590,000 pounds. The crew on a KC-10 consists of 2 pilots, a flight engineer and a boom operator. McGuire received their first KC-10 in 1979. Recent upgrades to the KC-10 have involved updated avionics, satellite communications capability and upgraded navigation capability with the RNP system.
While the KC-10's mission is primarily aerial refueling, it can accommodate loads ranging from 27 pallets to a mix of 17 pallets and 75 passengers. The KC-10 is also capable of transporting ambulatory patients using patient support pallets during aeromedical evacuations.
Captain Ken Lusignan, a KC-10 instructor pilot with the 2nd air refueling squadron, sat down with APD to discuss his experience with the KC-10. We asked him about the strengths of the platform, "… it does cargo and air refueling so it's kind of two missions in one and we can do both at the same time. It holds a very large amount of fuel, more than a KC-135, so it's used a lot for fighter drags across the ocean and receivers with a really large offload." He also mentioned that they occasionally offload fuel to another KC-10 or KC-135 prior to returning to base so that those refuelers can offload later on.
Captain Lusignan discussed the refueling of fighter jets over the ocean – "you are responsible for them and taking them across the ocean and they're depending on you to get them there safely". He went on to say that things can get challenging if weather becomes an issue or a problem develops requiring a divert.
Senior Airman Aaron Scott, a boom operator on the KC-10, gave us some insight as to what his many responsibilities are. He serves as a safety observer on the flight deck during certain portions of the flight, keeping an eye on the "big picture". When there are passengers present, he would be in charge of their safety and comfort. The boom operator also serves in a loadmaster role as well – "it's our job to make sure that all the cargo coming on is within regulations, that we can load it and where exactly we can load it on the aircraft. After we do all that, we're making sure that the weight and balance is okay so we're not going to tip the aircraft backwards."
Performing the aerial refueling task is the primary role of the boom operator. He described the refueling this way – "it's different every single time with what receivers you have, because even if it's a jet you've seen before, you've got a different pilot flying your plane and a different pilot flying that plane than what you did last time. So you don't know what their norms are, some pilots are real quick small corrections and some are big slow corrections and that's the hard part. When there's a lot of movement back there, you have to judge where the receiver's gonna be as you're extending that pole… so it's a new experience every time you're refueling somebody."
As far as training is concerned, they have a simulator or "boom operator trainer" on base at JB MDL. Sr Airman Scott described it as very realistic right down to actually hearing the wind noise. "They can make anything go wrong in the simulator that can actually go wrong on the aircraft. Stuff that's never actually gone wrong on the aircraft, they can make it go wrong in there, just so you're prepared for it when you actually get out on the aircraft."
Maintenance
The job of keeping these complex aircraft well maintained and ready to take on any mission, falls on the shoulders of the maintenance crews. Captain Todd Downs, the maintenance operations officer for the 605th AMXS, discussed this with APD. The 605th AMXS which is part of the 305th Maintenance Group, comprises more than 685 active-duty and Reserve Airmen who maintain the 32 KC-10 Extender aircraft. The squadron is known around the world for "bringing fuel to the fight". Personnel assigned to the 605th Aircraft Maintenance Squadron support three Active Duty and two Air Force Reserve Air Refueling Squadrons and are often tasked to deploy in support of worldwide contingency operations on a moment's notice.
Referring to the KC-10, Captain Downs stated "These airframe weapons systems are 35 years old now, so as it continues to age and we continue to deploy to the environments we're taking it to, we're finding new things that we haven't seen yet since the airlines don't fly this aircraft anymore. It's fallen more and more on us to find these little things here and there that keep going wrong… So as we continue to fly the airplane more than what we expect to fly, we have a certain number of hours every year that we program it for and every year we've doubled and sometimes tripled that number."
Captain Downs referred to the current KC-10 upgrades that they are working on. It is the first major avionics upgrade in 20 years – "We're processing through 1 or 2 airplanes at a time and it'll take us a couple of years and we'll get through all of them, so that we can comply with all the aviation restrictions primarily in European airspace in addition to what's coming through FAA airspace here shortly in the next 10 years or so." The newer avionics run cooler and less energy is needed for air conditioning and they handle the dusty sandy environments better than the older equipment – "… so it's helping to drive the health of the fleet as we call it."
He talked about how the maintenance teams are structured; they are divided into 3 skill levels. Level 3 are the newest maintainers fresh out of technical training, level 5 are the intermediates with some experience, and who don't need continual supervision, the level 7 techs are the experts that perform the really complex tasks. The level 3 techs will always have a level 5 or 7 person supervising them. In addition, there are quality assurance (QA) personnel who keep an eye on work being performed. They do not work for the squadron, they work for the commander of the group.
The 605th Aircraft Maintenance Squadron works 24/7 365 days a year to ensure a fleet of KC-10 Extenders are always ready for any operational requirement.
A Training Mission
APD was invited to go aboard a KC-10 on a refueling training mission to experience firsthand the skill and high level of training in action. The aircraft departed JB MDL and headed north to upstate New York for a rendezvous with a KC-135 Stratotanker. Once in the refueling track, we could see the KC-135 about a mile away. Captain Marty Geldhof skillfully brought the huge KC-10 closer to the KC-135. The turbulence was evident as the two aircraft moved about as the distance closed. In the flight deck you could hear the refueling probe connect with our aircraft and we took on approximately 1000 pounds of fuel. This is a small offload, since this was a training mission for both aircraft crews. We disconnected and backed off slightly and then went through the connection process again.
A KC-10 refueling a C-17
A Boeing C-17 Globemaster III takes on fuel from a McDonnell Douglas KC-10 Extender. The KC-10 is the military version of the DC-10 airliner. Powered by 3 × F103/General Electric CF6-50C2 turbofans, the KC-10 has a maximum fuel capacity of 356,000 lb (161,480 kg) and a range of 4,400 mi (7,080 km).
We were then briefed that an emergency disconnect would be practiced next. In this exercise, the probe is disconnected and the receiving aircraft descends while the tanker aircraft retracts the probe and climbs. After that successful test, we headed south over eastern New Jersey and out over the Atlantic to the ocean refueling tracks. Once there, the aircraft was put into a "race track" pattern while waiting for a C-17 to meet up and get some fuel from us.
At that point boom operator, Sr Airman Aaron Scott, took us over to the Air Refueling Operator (ARO) compartment and set up the controls, constraints, limits and other parameters according to the refuel requirements. The large viewing window was opened and moments later a C-17 was spotted closing in on us. The large cargo jet gradually got into position despite the buffeting from the KC-10 – the engines on the C-17 were visibly shaking on their pylons due to the turbulence. The boom operator then flew the boom into the receptacle on the C-17 and the connection was held for a few minutes. This process was repeated a few more times as the crew of the C-17 practiced the aerial refueling process. At the end, we performed the same emergency disconnect procedure and headed back to Joint Base McGuire-Dix-Lakehurst.
After landing, the cargo was offloaded efficiently as Sr Airman Scott trained the other airmen on how to offload the pallets, which included a Humvee military vehicle. The cargo floor has a series of multi directional rollers which make the movement of cargo a simple and efficient process.
The visit to the 305th AMW showcased the professionalism, dedication and pride of the women and men that serve at JB MDL. They certainly live up to the "Can Do" motto. We would like to thank Colonel Erik Simonsen, the KC-10 and C-17 crews for giving us an insight into the vital role that the 305th Air Mobility Wing plays in today's air force. Also, thanks to Sr Airman Lauren Pitts, Christina Douglas and their public affairs team for all their assistance in making this visit possible.