USAF 22nd Airlift Squadron returns to Australia to celebrate 80 years of operations and train with RAAF and MRF-D.
C-5M Super Galaxy deploys to RAAF Base Amberley and RAAF Base Darwin to develop key training to Royal Australian Air Force and Marine Rotational Force-Darwin 22 personnel.
Article: Jaryd Stock
Images: Joel Thomas, Jaryd Stock & Karla Parra.
The 22nd Airlift Squadron (22AS) nicknamed the "Mulies" based at Travis Air Force Base, California and operates the C-5M Galaxy celebrated 80 years of operations with Royal Australian Air Force (RAAF) at RAAF Base Amberley in Queensland, Australia last week as part of the Major Command Service Tail Trainer (MSTT) program, and the Australia-United States airforces Enhanced Air Cooperation initiative.
The MSTT program is managed by Air Mobility Command and allots monthly flight hours to the C-5M specifically for training, the visit also coincided with a visit to RAAF Base Darwin to train along with the U.S. Marine Corps annual 6 month rotation of the Marine Rotational Force-Darwin.
"Opportunities like this allow all parties to learn and improve," said Capt. Justin Wilson, 22AS pilot and aircraft commander. "Within the first hour or two of our arrival, we were already learning techniques from our RAAF partners that we hadn't considered — that's the purpose of training together."
Wilson explained that through these broadening opportunities, the squadron and the aircrew are able to refine tactics, techniques and procedures for tomorrow's fight.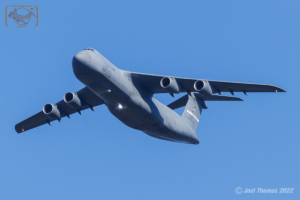 "By working with our RAAF partners, their aerial port squadrons and their loadmasters, it enhances the proficiency and effectiveness in how we respond to humanitarian and wartime efforts," said Wilson. "We are the only air force with the C-5M aircraft — through showing our RAAF counterparts how the C-5M works and maneuvers, it better prepares both forces for future bilateral and multilateral operations."
This is the first time that a C-5M has landed at RAAF Base Amberley and worked with their Australian counterparts presenting a unique training environment for the members of the Australian Air Force assigned to RAAF Base Amberley.
"It makes sense for us to capitalize on our existing close relationship with the U.S. Air Force and take advantage of training opportunities on the C-5M," said Air Commodore Sandra Turner, Director General of U.S. Force Posture Initiatives and Singapore Military Training Initiatives for the Australian Defense Force.
"The international order built since World War II is being contested and the global competition is intensifying. Together with our allies and partners, Australia is postured to further promote an open, inclusive, and prosperous Indo-Pacific region and build regional resilience to 21st century transnational threats."
This was also a unique experience for the members of the 22nd AS because it was an opportunity to celebrate 80 years of heritage in the squadron's birthplace.
"To come back to Australia, the place where it all started, is a once-in-a-lifetime opportunity and a first for many people in the squadron," said Wilson. "We worked together 80 years ago and are still working together today… that signifies that our bond has only gotten stronger."
The squadron was established April 3, 1942 during the Second World War as the 22nd Transport Squadron at Essendon Airport in Melbourne, Australia, coinciding with the formation of several RAAF transport squadrons as well such as 36 Squadron which is based at Amberley and operates the Boeing C-17A Globemaster III.
Assigned to U.S. Army forces in Australia under U.S. Air Transport Command, the 22nd AS was created with the mission of providing combat airlift support to the Indo-Pacific region. Earning two Distinguished Unit Citations for its actions over Papua New Guinea, the squadron quickly became a major operating unit within the region, and was instrumental in lifting the Japanese threat against Australia.
To commemorate this milestone, members of the 22nd AS and 60th Air Mobility Wing attended a heritage ceremony alongside Australian distinguished visitors, lawmakers, and RAAF Base Amberley civic leaders and defence personnel.
Following the ceremony, guests in attendance were given a tour of the massive C-5M Galaxy (Serial: 87-0032) and received a demonstration of its cargo capabilities.
"The aircraft and the load training are great, the equipment that we have is great, but it's really about getting to know and work alongside the people in the Australian Defense Force," said Wilson. "We can have the airframe work and we can have the maintenance work, but it's through strengthening our relationships with our allies that we enhance our interoperability."
After spending over a day on the ground at Amberley the Super Galaxy departed for RAAF Base Darwin to train with ground crews from the RAAF and MRF-D.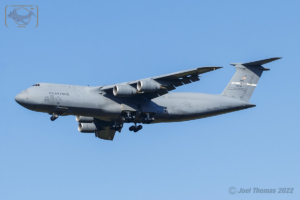 Although the USMC usually will train along side Air Mobility units that operate the C-17A Globemaster the C-5's visit to Darwin gave ground crews from the RAAF and the MRF-D a unique look at how best to utilise the C-5 with Marine ground equipment such as trucks.
Speaking to a spokesperson from this years MRF-D rotation, MRF-D were able to detail what this training gives them.
"USAF Airlift Squadrons provide valuable lift to the USMC when available typically with C-17 Globemasters.  C-5s are a low-density, high demand asset.  This is a crucial tool for logistical operations to enhance a Marine Air Ground Task Force's ability to operate at home and abroad. Utilizing assets such as USAF airlift missions help us
close long distances to accomplish logistics tasks."
While there is not a scheduled or regular C-5 lift capability to the MRF-D especially as equipment now starts to arrive from Hawaii and mainland United States, the MRF-D will continue to work with their USAF counterparts when necessary to facilitate critical logistics and transportation operations.
The benefit for the 22ndAS to train along side the MRF-D in Australia and also with RAAF ground crews gives not only the squadron but everyone involved to build on an already established foundation and to learn and grow gaining interoperability in working together as cohesive team.
For the MRF-D this C-5 mission was part of MRF-D 22's effort to modernise the force; the crews used the C-5 to retrograde inoperable equipment to allow MRF-D 22 and future rotations to bring in new and more advanced
equipment.