Fly Along With The U.S. Air Force 2016 Viper Demo Team
Report and Photography by Mike Killian
This past weekend Florida's "Space Coast" roared not to the sound of rockets launching to space, but because of another rocket, U.S. Air Force Major Craig Baker.
Call sign "Rocket", F-16 demo pilot for the 2016 U.S. Air Force Viper Demo Team.
The team mounted a GoPro onboard for both Rocket's Friday sunset and Sunday afternoon demos, changing the camera's POV for each flight to provide two angles.
Epic is an understatement.
Watch as a P-51 Mustang joins at the end for the U.S. Air Force Heritage Flight too!
F-16 Viper Demo - Inside the Cockpit
– F-16 VIPER DEMO TEAM on Facebook: www.facebook.com/ViperDemo
Crowds at Melbourne's show, sponsored by Northrop Grumman (among others), were all smiles & a lot of families came out to enjoy the shows together, complaints were few and far between. Many people came out for the Friday night & Sunday shows, and while Saturday's show did go on the weather was stormy, as was expected earlier in the week ahead of the air show. Therefore crowds were minimal on Saturday.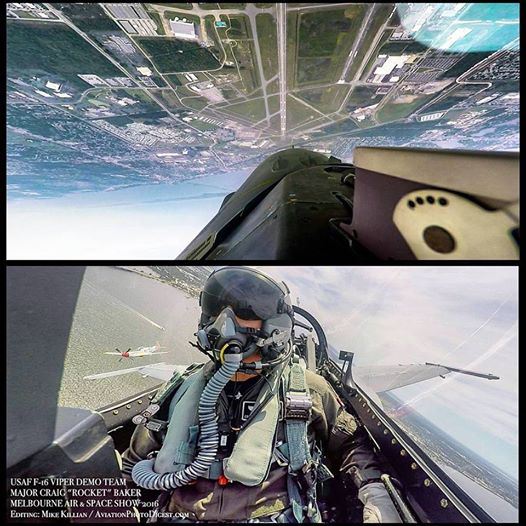 That said, no record crowds for 2016, but organizers reported strong turnouts for both Friday night and Sunday (put on a fireworks finale next year Air & Space Show, hint hint).
Melbourne PD reported no incidents at the show through the entire weekend, except a lost purse – which was eventually found.
The Breitling Jet Team headlined the weekend's performances, along with Viper Demo & Team Aeroshell. Other acts included Kent Pietsch with his Jelly Belly aerobatics and landing on RV's, John Black in the Super Decathlon, Buck Roetman Pitts Aerobatic Demo, Bob Carlton in the SubSonex MicroJet, Home Wrecker Jet Truck, a P-51 demo and a very rare demo for the world's only flying Royal Air Force DH-100 Vampire.
Many static displays flew in from various military bases as well, including Pave Hawks from Patrick AFB & the USAFR 920th Rescue Wing and a C-130 Hurricane Hunter from Keesler AFB.
Organizers are already focusing on their 2017 show, which will be headlined by the U.S. Air Force Thunderbirds.
For more information visit http://airandspaceshow.com.
Melbourne's show organizers are also nearly ready to put this year's highly anticipated Ft Lauderdale Air Show as well, scheduled on the beach for May 7-8.
For more information visit http://fortlauderdaleairshow.com.
Click on an image below to be able to page through the gallery: