2015 Red Bull Air Race World Championship – Fort Worth
High G's over Texas
Article and Photos by Steve Gurley
September 28, 2015
Air racing's rich history dates back as far as 1909 with the Prix de Lagatinerie in Paris, France. In more modern times, Bill Stead, a Nevada rancher and pilot, began the Reno Air Races back in 1964. The Reno Air Races would go on to pave the way for air racing as we know it today.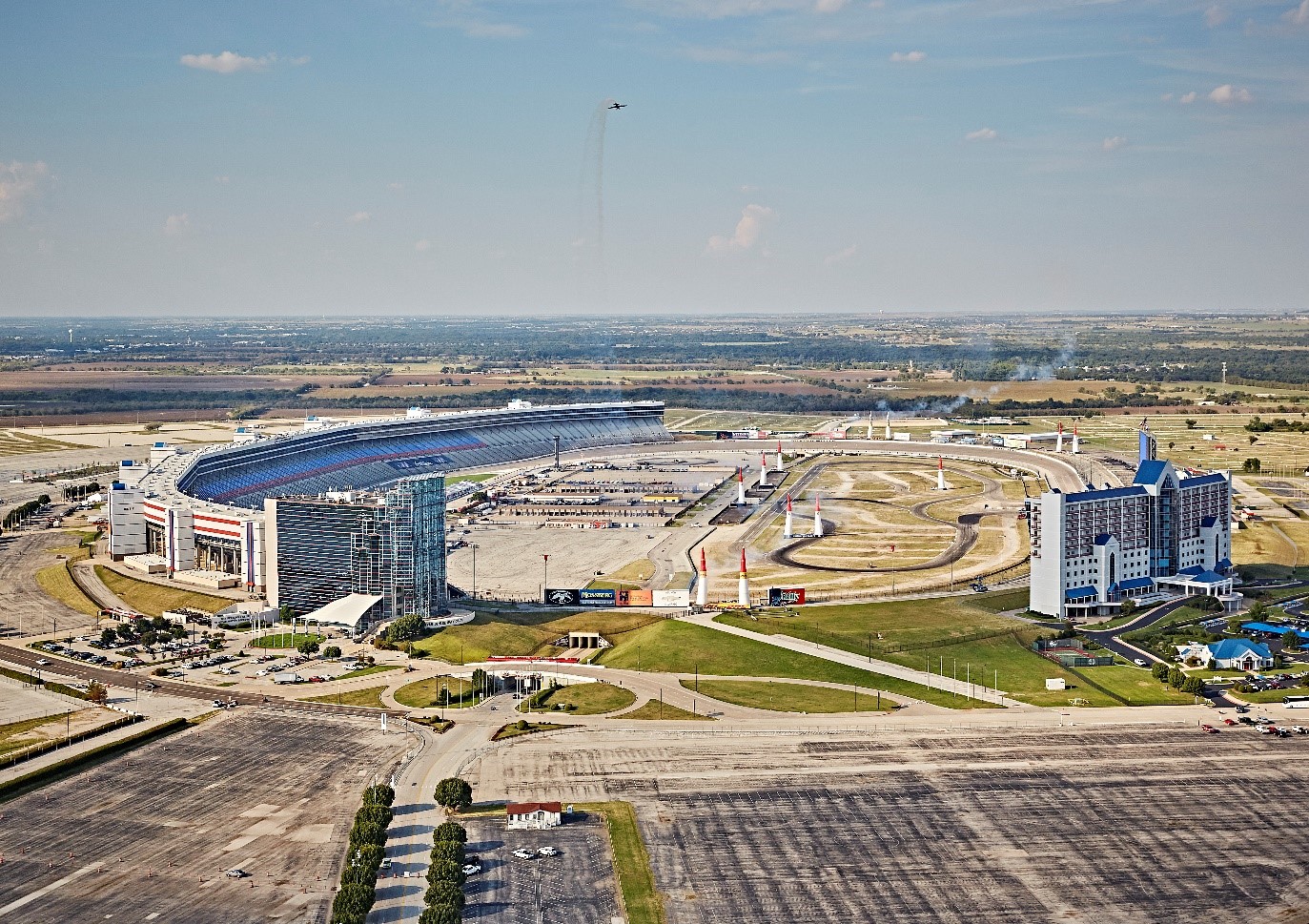 Photo courtesy of Red Bull (P-20150926-00072 )
The Red Bull Air Race, now known as the Red Bull Air Race World Championship, was established in 2003 to create an exciting new way for some of the world's top pilots to push the limits of speed, precision and skill, while entertaining hundreds of thousands of spectators around the world.
The Red Bull Air Race World Championship has become globally renowned as the fastest and most exhilarating motorsport on the planet since its inauguration as a championship in 2007. The Red Bull Air Race World Championship is an official World Championship, accredited by the FAI – The World Air Sports Federation.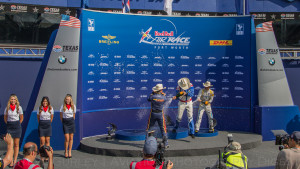 Red Bull's initial goal was to create world's most challenging aerial event known. What has become the Red Bull Air Race World Championship, is a far greater spectacle than ever imagined. It is a visual experience like no other. The combination of speed, altitude and extreme maneuverability make it only feasible for the world's most exceptional aerobatic pilots.
For the second year in a row, Fort Worth, TX and the Texas Motor Speedway have played host to the Red Bull Air Race World Championship Series on one of its 8 stops around the world. With spectators in excess of thirty-thousand, it's likely a venue to see the race return in the coming seasons.
This year, Great Britain's Paul Bonhomme found his fourth Red Bull Air Race victory of the season at Texas Motor Speedway by edging out Australian Matt Hall, by 0.767 seconds in Sunday's final round of action. With the victory, Bonhomme extends his lead to eight points over Hall and put himself in prime position to finish atop the podium in Las Vegas during the final race of 2015.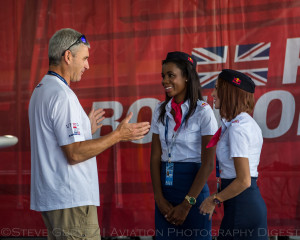 "We put a lot of hard work into winning this today," Bonhomme said. He now turns his focus to preparing for Vegas and the Series Championship.
The Red Bull Air Race World Championship features 14 of the world's best race pilots in a motorsport competition that combines speed, precision and skill.  Pilots navigate race planes through a low-level aerial track made up of air-filled pylons 80 feet high at speeds of up to 230 mph while enduring forces of up to 10Gs.
"You have to become one with the plane, and then one with the course," Germany's Matthias Dolderer said. Dolderer was the fastest in qualifying but was edged out by Australia's Matt Hall in the Round of 8, ending his push for the podium in Texas.
In Fort Worth and Las Vegas, the Master Class pilots find an added degree of difficulty for the weekend. "The racetrack is in a bowl so if the wind picks up expect some turbulence," explained track analyst Mike Mangold. "The temperature will also cause issues for the turbulence. The ground at the speedway varies and will be at different temperatures, meaning the hot air thermals will rise at different speeds causing a bumpy, turbulent flight – and whenever we see turbulence, we'll see pylon hits," he concluded. Pylons weren't the only concern as we found out Friday during Master Class Training. The Master Class pilots takeoff and land from inside the speedway where they find a runway that's a mere 35 feet wide and 1600 feet long. Upon completing his second training session on Friday, American Michael Goulian ran into trouble on landing. With the winds swirling, Goulian bounced his Zivko Edge 540 V2 on landing. The resulting prop strike and sheared off landing gear all but ended his race weekend before it had really begun. The mishap forced the change of the landing gear strut, wheel, brakes and wheel pant as well as a new engine and prop assembly. The repair demanded the efforts of Team Ivanoff, Team Chambliss and the devotion of Goulian's Technician Dax Wanless. The crews worked thru the night and just 20 hours after the incident, Goulian was back in the sky in the #99 Cirrus Aircraft, Hartzell propellers racing machine.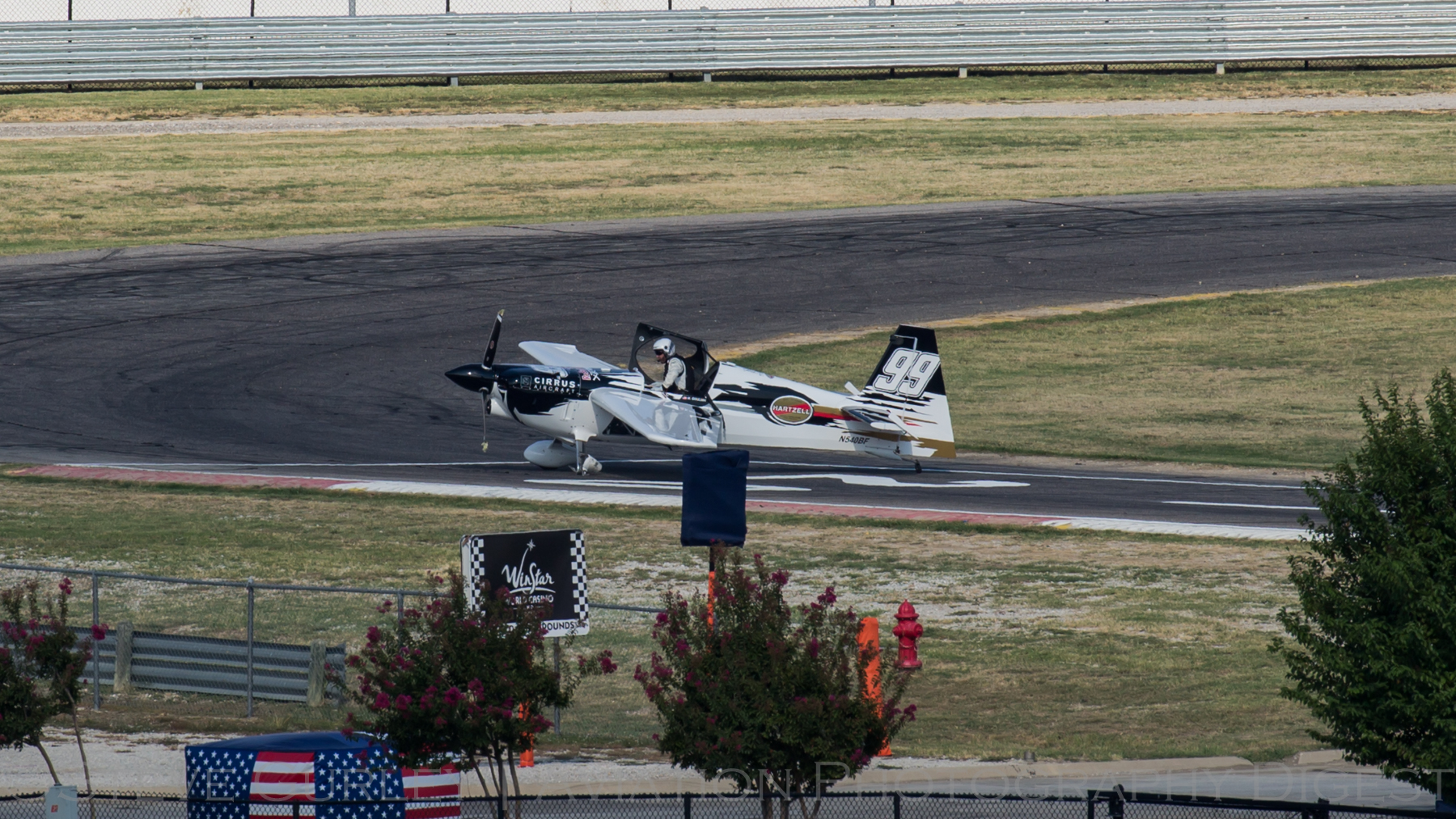 Matt Hall took second place in the next to last stop of the season, with Japan's Yoshihide Muroya finishing third ahead of Czech Republic's Martin Sonka, who clipped a pylon in the final round. Texas native and crowd favorite Kirby Chambliss was not able to deliver the strong showing he had hoped for and finished eleventh overall.  After an impressive display on Saturday where Chambliss turned in the fifth best qualifying time, he fell to Martin Sonka in the round of 14 after taking a penalty for incorrect level though a gate.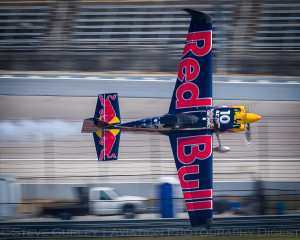 "Some days the bear gets you, and some days you get the bear. Today, the bear definitely got me," Chambliss said. "Now we're going to focus on the plane – we've got a few weeks before the season finale in Las Vegas, so we're going to do everything we can to make it a bit faster." Chambliss recently added a newly designed winglet to his Zivko Edge 540 V3. "They definitely change the way the plane flies," Chambliss said.
When the Red Bull Air Race World Championship takes over Las Vegas in October, all eyes will be on the former Royal Australian Air Force fighter pilot, Matt Hall, who will have the difficult mission of overtaking Bonhomme.  With only the eight points between them, Hall will need a top-two podium position to have any chance of taking the Series Championship away from Bonhomme.
Master Class Final Results Fort Worth, Texas:
Paul Bonhomme (GBR), 2. Matt Hall (AUS), 3. Yoshihide Muroya (JPN), 4. Martin Sonka (CZE), 5. Matthias Dolderer (GER), 6. Nigel Lamb (GBR), 7. Nicolas Ivanoff (FRA), 8. Pete McLeod (CAN), 9. Michael Goulian (USA), 10. Hannes Arch (AUT), 11. Kirby Chambliss (USA), 12. Peter Besenyei (HUN), 13. Juan Velarde (ESP), 14. Francois Le Vot (FRA)
Current World Master Class Championship Standings:
Bonhomme – 67 points, 2. Hall – 59, 3. Arch – 30, 4. Sonka – 28, 5. Lamb – 20, 6. McLeod – 19, 7. Dolderer – 19, 8. Muroya – 18, 9. Ivanoff – 13, 10. Goulian – 10, 11. Chamblis – 9, 12. Besenyei – 8, Velarde – 0, Le Vot – 0.
The Red Bull Air Race World Championship's eighth season kicked off in February with an opener in Abu Dhabi, UAE, and has since made stops in Chiba, Japan; Rovinj, Croatia; Budapest, Hungary; Ascot, United Kingdom and Spielberg, Austria. The series concludes in Las Vegas on October 17-18, where the champion will hoist the crown!
The Master Class Planes
The Master Class pilots compete with a standardized propulsion system to include the Lycoming Thunderbolt AEIO-540-EXP engine and the Hartzell 3-bladed 7690 structural composite propeller.  Both the prop and the engine have undergone rigorous testing to insure its ability to withstand the demands the airframe and pilots will throw at it.
There are two different airframes used in the Master Class:
EDGE 540
EDGE 540: Zivko Aeronautics, USA
LENGTH: 6.3m
WINGSPAN: 7.44m
ROLL RATE: 420°/sec
CLIMB RATE: 3,700ft/min
TOP SPEED: 425.97kph (230kts)
MAX G: +/-10G
WING DESIGN: Symmetric, carbon fiber
V2 PILOTS: Bonhomme, Goulian, Le Vot
V3 PILOTS: Arch, Besenyei, Chambliss, Dolderer, Ivanoff, McLeod, Muroya, Sonka and Velarde
MXS-R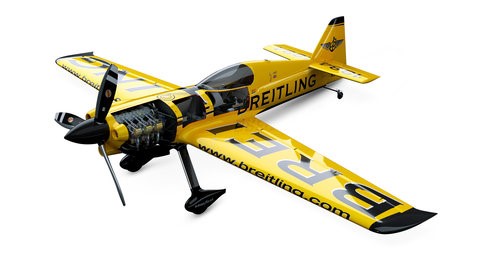 MXS-R: MX Aircraft, USA
LENGTH: 6.51m
WINGSPAN: 7.32m
ROLL RATE: 420°/sec
CLIMB RATE: 3,500ft/min
TOP SPEED: 425.97kph (230kts)
MAX G: +/-12G
WING DESIGN: Symmetric, carbon fiber
PILOTS: Hall and Lamb
Red Bull Air Race Challenger Class
On Sunday at Texas Motor Speedway, Mikael Brageot (FRA) made history by becoming the first Challenger Class pilot to have back to back victories at the same destination in the newest element of the Red Bull Air Races.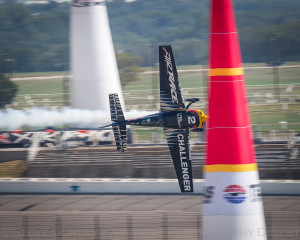 Peter Podlunsek of Slovenia was second and Florian Berger of Germany, a newcomer this year found the podium with third.
With his victory last month at the Red Bull Ring in Austria, and in addition to his two wins in Texas, Brageot is building a history of excellence at motorsports venues. That bodes well for his chances at the finale to be held at Las Vegas Motor Speedway in Las Vegas, NV, USA next month.
"I'm really comfortable in these races over land where you have marks on the ground and other reference points to target in lining up for the Air Gates, although it's far from easy because there are obstacles that you don't have when flying over water," said Brageot. "I'm feeling really great heading toward Las Vegas, but it'll be a clean slate and the winner there will be the champion. The most important thing now is not to get over-confident just because I've won two races in row."
In its second season, the Challenger Cup is a new element of the Red Bull Air Race that gives the next generation of pilots the chance to develop their mental and physical skills under race conditions. The 2015 Challenger Cup champion will be crowned in Las Vegas on October 17–18, where Brageot will battle five other Challenger Class pilots for the title.
Challenger Cup Season Finale Lineup:
Mikael Brageot (France)
Petr Kopfstein (Czech Republic)
Daniel Ryfa (Sweden)
Cristian Bolton (Chile)
Peter Podlunsek (Slovenia)
Florian Berger (Germany)
RESULTS CHALLENGER CUP FORT WORTH:
Mikael Brageot (FRA) 10 pts., 2. Peter Podlunsek (SLO) 8 pts., 3. Florian Berger (GER) 6 pts., 4. Cristian Bolton (CHI) 4 pts., 5. Francis Barros (BRA) 2 pts., 6. Petr Kopfstein (CZE) 0 pts
The Challenger Class Planes
The Challenger Class pilots will compete in Extra 330LX aircraft that are identical in airframe and propulsion. The 330LX is built by Extra Aircraft GMBH.
Looking Ahead
While dragster racing can reach higher top speeds, aircraft at the Red Bull Air Race World Championship's, sometimes referred to as the Formula One of the skies, pull up to 10G's of force during maneuvers, making it the fastest motorsport in the world.
The 2015 Red Bull Air Race World Championship's stop in Fort Worth, Texas showed over 30,000 spectators just how fast this sport can be.
The next, and final stop in the 2015 circuit will take place October 17-18, 2015 in Las Vegas, Nevada and promises to be a fast-paced grand finale for this year's championship.
The 2015 Red Bull Air Race World Championship – Fort Worth, Texas took place September 26-27.