2014 Gateway Aviation Day
Article and Photos by Steven Valinski
March 12, 2014
Phoenix-Mesa Gateway Airport is located 20 miles southeast of Phoenix, Arizona. From 1941 until 1993, Phoenix-Mesa Gateway Airport was known by several names such as Mesa Military Airport, Higley Field, Williams Field, and Williams Air Force Base. where it eventually served as the U.S. Military's first jet training base. Even with it's long and rich history as a training base for the military, Williams Air Force Base closed in 1993 and became a civilian airport in 1994. Originally called Williams Gateway Airport, Phoenix-Mesa Gateway airport now serves as a civilian/commercial airport with over 1 million passengers per year traveling through it.
Today, at Phoenix-Mesa Gateway Airport you can still sense the military heritage. Many local residents still refer to the airport as "Willie" after the former Williams Air Force Base title. The U.S. Military continues to utilize the airport throughout the week, but, especially, on weekends. It is not uncommon to see AV-8B's, F5's, C-130's, and F/A-18's parked on the main ramp while using Phoenix-Mesa Gateway Airport as a base for weekend exercises. This activity often attracts crowds to the "hill", which is a park-like area near the main ramp which is ideal for watching aircraft.
Saturday March 8, 2014, Phoenix-Mesa Gateway Airport celebrated it's 20 years as a civilian airport with a celebration called: Gateway Aviation Day. With great weather for the day and a nice selection of static aircraft, the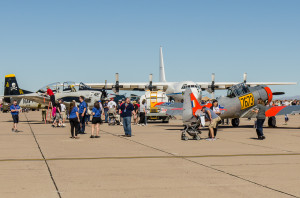 event did not disappoint. There were activities to keep the children busy, which included Jungle Gym-like activities and simulated rock/wall climbing. There were many exciting static aircraft displays such as a B-17, B-25, C-130, P-51, a beautiful Ford Tri Motor, and many more. Unfortunately, due to all the budget cuts in Washington, the U.S. Military could not provide support for the show. This did not stop "normal military operations" from taking place at the airport at the same time as the event. AV-8B Harriers, F-5N Tiger II's, and F/A-18 Hornets were staging training operations throughout the day. Due to the level of military activity, most people thought their operations were part of the "show". At one point, the F-5's did a dramatic left bank while departing which excited the crowd and made an excellent photo opportunity.
With great weather, great aircraft, activities for the kids, and regular military activity, Gateway Aviation Day was a huge success. All the hard work and planning that went into the event paid off by being able to show the surrounding communities what Phoenix-Mesa Gateway Airport, in the past and the present, is all about. With the Valley of the Sun's continued expansion, Phoenix-Mesa Gateway will become very important transportation hub for one of the largest metropolitan areas in the U.S.. During Gateway Aviation Day, residents were able to gain a better understanding as to just how important Phoenix-Mesa Gateway Airport is to the community.