Red Flag 14-1
Article and Photos by Steven Valinski
February 20, 2014
Nellis Air Force Base in Nevada is one of the largest fighter bases in the world. With over 15,000 square miles of airspace, 4,700 square miles of restricted land, and 1900 potential targets, the Nevada Test and Training Range makes an ideal training ground for this exercise. Nellis AFB's large size and proximity to the range makes Nellis AFB the quintessential base to host several military exercises throughout the year. These exercises include Green Flag and Red Flag.
Red Flag is one of the premier tactical aerial training exercises in the world and is executed through the 414th Combat Training Squadron. Aircraft squadrons from all branches of the United States Armed Forces and Reserve Forces, with the addition of several squadrons from some United States ally/NATO countries, are invited to participate in the Red Flag exercises. According to a Nellis AFB press release: "Red Flag is a realistic combat training exercise involving the air, space, and cyber forces of the United States and its allies". When there are no constraints on the U.S.A.F.'s budget, there are typically four Red Flag exercises per year at Nellis AFB and several others based in Alaska for Red Flag Alaska. The Nellis-based Red Flag exercises last 2 to 3 weeks with 2 "waves" of sorties per day. There are 3 key components of the Red Flag Exercises. These compone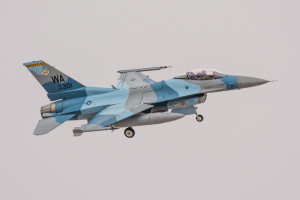 nts are: mission planning, mission execution (flying), and debriefing.
Mission planning involves developing the strategies that will be employed during the missions. The mission group consists of multiple forces. The Blue Forces (the good guys), the Red Forces (the enemy), and the White (neutral) Force. The Blue Forces consist of the participating squadrons. The Red Forces typically consist of Nellis AFB's own 64th Aggressor Squadron (General Dynamic F-16C Fighting Falcons) and the 65th Aggressor Squadron (McDonnell Douglas F-15C Eagles). These aggressor aircraft are painted in some interesting camouflage paint schemes designed to emulate enemy aircraft. These aggressors present a formidable challenge for the Blue Forces. The pilots of these aggressor aircraft are often former instructor pilots with an abundance of flight hours. Just to be considered for training as an aggressor pilot, candidates must have up-to-date experience flying an F-15 or F16 and be a previously qualified instructor pilot with a minimum of 600 fighter hours. The aggressor pilots are trained to mimic the tactics potential adversaries may use. The rigorous training program is based on intelligence gathered by intelligence agencies such as the CIA and various U.S. and ally countries intelligence branches. There is also a White (neutral) Force involved in the Red Flag exercise. Based on the Nellis AFB Red Flag Fact Sheet: "The Red Flag White Force uses the Nellis Air Combat Training System (NACTS) monitor this mock combat between Red and Blue. NACTS is the world's most sophisticated tracking system for combat training exercises and allows commanders, safety observers and exercise directors to monitor the mission and keep score of simulated 'kills' while viewing the simulated air battle as it occurs".
As mentioned earlier, the flying is in two "waves" of sorties per day (Monday through Friday) during Red Flag. At approximately 12:30PM daily, the first wave begins. Each wave begins with the strategic resources launching first. "Heavies" such as the bombers, reconnaissance aircraft, tankers, and command and control aircraft begin the wave. After the heavies, the aggressor aircraft launch followed by the participating squadrons. Several hours later, when the recoveries begin to arrive, they do so in reverse order with the participating aircraft and aggressors arriving back to the base first. The evening sorties typically begin at 7PM and last until approximately 11PM.
Some of the more intense learning during Red Flag takes place during the debriefing phase. This military version of a "lessons learned" session requires pilots to take an introspective look at themselves as the mission is reconstructed "play-by-play", with an intense discussion on what went well, and what went wrong. Typically these debriefing sessions consist of a mass debrief including all participants and a smaller squadron debrief at a later time. These debriefings are a critical part of the learning process and are a key to the success of the Red Flag exercises.
Red Flag 14-1 was the first Red Flag exercise of 2014 and took place from January 27th to February 14th. Participating squadrons came from the United States Air Force, The United States Marine Corps, the United States Navy, the Royal Australian Air Force, and the Royal Air Force. As an aviation enthusiast/photographer, one of the most interesting aspects of Red Flag is the variety of aircraft flown. In this case, exotic aircraft as the Northrop B-2 Spirit stealth bomber, and foreign aircraft such as the Eurofighter Typhoon and the Panavia Tornado GR4, helped showcase a solid lineup of aircraft.
| Aircraft | Squadron | Base/Location |
| --- | --- | --- |
| Lockheed Martin F-22A Raptor | 27th Fighter Squadron | Langley AFB, VA USA |
| General Dynamics F-16CM Fighting Falcon | 55th Fighter Squadron | Shaw AFB, SC USA |
| Lockheed EC-130 | 43rd Electronic Combat Squadron | Davis-Monthan AFB, AZ USA |
| Boeing EA-18G Growler | Electronic Attack Squadron 132 | NAS Whidbey Island, WA USA |
| Northrop Grumman EA-6B Prowler | Marine Tactical Electronic Warfare Squadron 4 | MCAS Cherry Point, NC USA |
| Northrop B-2 Spirit | 13th Bomb Squadron | Whiteman AFB, MO USA |
| Boeing F-15E Strike Eagle | 391st Fighter Squadron | Mountain Home AFB, ID USA |
| General Dynamics F-16C Fighting Falcon | 120th Fighter Squadron | Buckley AFB, CO USA |
| MacDonnell Douglas F/A-18 Hornet | Marine Fighter Attack Squadron 314 | MCAS Miramar, CA USA |
| Northrop Grumman E-8 Joint STARS | 16th Airborne Command and Control Squadron | Robbins AFB, GA USA |
| Boeing RC-135 | 38th Reconnaissance Squadron | Offutt AFB, NE USA |
| Lockheed EP-3C | Fleet Air Reconnaissance Squadron 1 | NAS Whidbey Island, WA USA |
| Lockheed P-3C Orion | Patrol Squadron 40 | NAS Whidbey Island, WA USA |
| Sikorsky HH-60 Pave Hawk | 41st Rescue Squadron | Davis-Monthan AFB, AZ USA |
| Boeing KC-135 Stratotanker | 92nd Air Refueling Wing | Fairchild AFB, WA USA |
| Boeing E-3 Sentry | 964th Airborne Air Control Squadron | Tinker AFB, OK USA |
| General Dynamics F-16C Fighting Falcon | 64th Aggressor Squadron | Nellis AFB, NV USA |
| McDonnell Douglas F-15C Eagle | 65th Aggressor Squadron | Nellis AFB, NV USA |
| Boeing F/A-18 E/F Super Hornet | Air Test and Evaluation Squadron 31 | NAWS China Lake, CA USA |
| MacDonnell Douglas F/A-18 Hornet | Royal Australian Air Force | Australia |
| Boeing E-7A Wedgetail | Royal Australian Air Force | Australia |
| Panavia GR-4 Tornado | Royal Air Force | United Kingdom |
| Eurofighter Typhoon | Royal Air Force | United Kingdom |
| Boeing E-3D Sentry | Royal Air Force | United Kingdom |
Overall, I spent a total of four days photographing the aircraft participating in Red Flag 14-1. Throughout these four days I experienced several challenges. The main challenge I experienced was the weather. With the exception of one day, the skies were mostly cloudy in which the brightness fluctuated by the minute. I was constantly modifying my ISO and exposure settings often sacrificing any detail in the sky to properly expose the aircraft. One morning, when I set out to photograph some of the local Nellis-based aircraft, it rained for a while followed by a heavy mist. This made photography a challenge for most of the morning. The weather forecast prior to my trip was useless as it was predicted that three of the four days would have clear skies. Another challenge was the runway selection. Most of the Red Flag departures used the "3" runways for departures and the "21" runways for arrivals. This made it difficult to photograph departure due to the high angle of departure on most of the aircraft. Arrivals from the afternoon launch were ideal due to the angle of approach and the lighting at that time of day. Lastly, arrivals on runway "21L" required at least 800mm of focal length reach to capture a decent photograph. If one was able to overcome this with 800mm or more, these shots were ideal as they yielded a spectacular mountainous backdrop.
Regardless of some of the challenges involved in photographing at Red Flag, it was a wonderful experience. Hundreds of aviation photographers and enthusiasts from around the world marvel at the wonderful selection of aircraft and the volume of aircraft activity that takes place during Red Flag. To me, it was a worthwhile experience that has me looking forward to the next Red Flag at Nellis AFB in March.