Patrick Roegies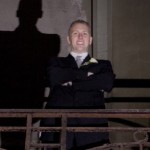 Patrick Roegies is born and raised in Tilburg, the Netherlands and currently resides in Sittard in the south of the Netherlands where he lives with his wife Joyce. Patrick graduated from a technical study at the HTS in Tilburg in 1997. He currently works as a head of an equipment engineering department in the south of the Netherlands.
His passion towards aviation started at the age of 7 in 1977 when his father took him to nearby Gilze Rijen Air Force base where he witnessed his first howling F-104 Starfighters which were practicing and as a result he got addicted immediately. The F-104's were present in order to determine a tactic to create a diversion for the "train highjack" which was going on in the Netherlands at that time. The F-104's were meant to create a diversion by performing an overshoot, kicking in the afterburner directly over the train, creating confusion with the hijackers and enabling the police to master the hijackers. This action has actually been performed and worked.
This is when his passion towards aviation was born. He got permission from his parents to visit the airbase every free hour he had and his father showed him the way by bicycle. Patrick got his first camera in 1984 which was a Canon T50 and shot Kodachrome 64 slides of mainly military aircraft. He changed his gear in the mid-nineties to Nikon and is a Nikon user ever since.
When Patrick obtained his driver license in 1989 he started to visit airbases all over Europe and from 1997 onwards he made worldwide visits to military airbases.
In order to further professionalize his work as an aviation photographer and journalist he started to write military aviation related articles based upon his visits to various nations and their Air Forces. He managed to publish his first article in 2003 and increased the numbers of publications every year.
Patrick can be reached at: [email protected]